Contents
---
---
The upcoming marriage brings not only joy, but also a strong emotional stress, because you need to do so much, but there is not enough time. But before the wedding, you should relax a bit and nothing better will help in this, like a noisy parting with a bachelor's life. In addition, friends will prepare nice gifts for a bachelorette party. And in order for presentations and souvenirs to remind the bride about past fun for a long time, the main thing is to know what to give.
What to consider when choosing a gift for a bachelorette party?
Before you begin an active search for gifts for a bachelorette party, check out the selection criteria for a presentation:
The bachelorette party itself is a comic and cheerful holiday, therefore the surprise should be the same. Remember, the gift you choose must have a certain meaning so that it can give a fond memory to the bride.
When choosing a gift, consider the taste of the young so that you can not only surprise, but also please your girlfriend that will not go unnoticed.
If you decide to give some cool gift to a bachelorette party, think carefully whether it will turn out to be insulting, because humor can have a very fine line and there is a risk of injuring not only the guests present, but also the bride.
Soon a holiday, and you don't have time to go shopping? Do not worry, because there are a large number of specialized Internet resources that will help you choose an original and interesting gift. However, even an order on the Internet is made no later than a week before the bachelorette party..
Discuss with other guests the option of a common gift - for example, order a restaurant and surprise the bride.
When choosing a gift, consider the degree of intimacy with the bride. If you are just friends or work in the same company, do not buy underwear.

Original Gift Ideas for the Bride
A wedding is an important event, but on his eve, the bachelorette party is traditionally celebrated. This memorable day should leave only joyful memories, so girlfriends should try and prepare not only pleasant, but also original gifts. If you were invited to a close friend's bachelorette party, do not forget to pick up the image in which you will come for the holiday.
Things
If the girl is a homebody, then she will like a gift that will help her to feel comfortable in her own home. For example, it can be some kind of beautiful peignoir, pajamas, tracksuit, dressing gown, made in the Chinese style or from a soft and comfortable fabric. Choose not only among the elements of the wardrobe, because a set of foam for baths, salts or oils will be a wonderful gift for a bachelorette party. Your girlfriend must love to relax after a tiring day..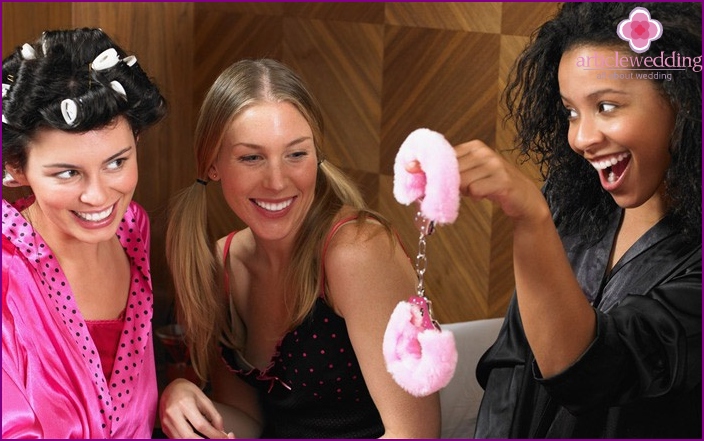 Candles will also be a good gift (choose aromatic sets, taking into account the tastes of a friend), an aroma lamp with various types of oils. At the bachelorette party, you can present a set of rugs, terry towels, on which the initials of young people embroider or stylish sofa pillows with anti-stress effect. If the young people plan to move to their own home after the wedding, then a soft carpet hide on which they can lie on long winter evenings, a rocking chair, a beautiful vase, a picture, a set of dishes or something from the technique will be a good gift.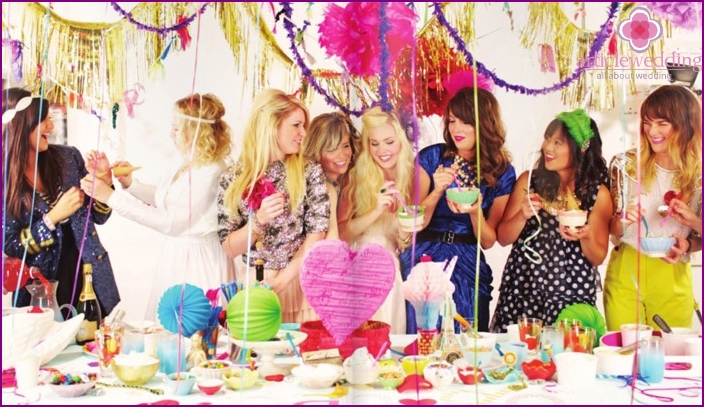 Gift certificates
There are more and more cases when friends simply don't know what kind of present to give to a bachelorette party — for example, it can be a book, a photo album with memorable pictures, cosmetics or a planned party. But, recently, gift certificates have become increasingly popular, which will become just the perfect gift, because you don't have to rack your brains on what is better to choose, and the bride will be satisfied. Surely you know in which stores the future bride likes to be and it will not be difficult to purchase a gift certificate in it.

Cool gifts
If you want to make not only a good, but also an unusual gift, consider the following options:
Buy a recipe book so that when you get married, your girlfriend only cooks delicious dishes for her chosen one or for guests who might unexpectedly come to visit.
Erotic book. The shops offer a wide selection of diverse literature, offering new sexual entertainment for every day..
Man control panel.
Aprons with funny pictures.
Set for intimate drawing, which will help diversify your personal life and bring new colors to it.
Organize a festive evening and give the bride a private dance as a gift.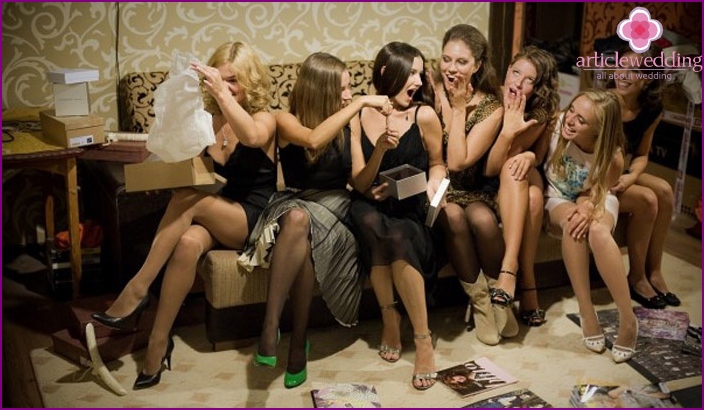 What kind of gifts you can do yourself?
You can make memorable gifts with your own hands:
Soap. Probably, you have at least once thought about how to make soap with your own hands - this is a wonderful gift for a bride for a bachelorette party. Get glycerin and your favorite young aromatic oils from the pharmacy, as well as silicone molds and dyes in specialized stores. Do not be lazy and make a whole set that will give young pleasant memories for a long time.
An album with a photo of young before marriage, made in the style of scrapbooking. You can take photos of the bride from relatives or in your own album if you have been friends for many years. This is one of the best bachelorette party presents that will be remembered.
Beautiful mugs. One should have a photo of the bride, and the second of the groom. To order such a present is not difficult.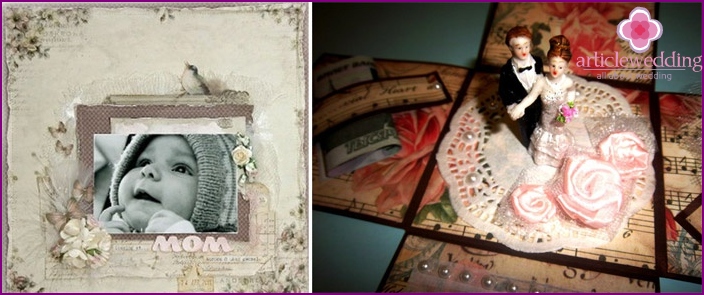 What to give bridesmaids?
If a bride at a bachelorette party wants to make gifts to her friends, here are some interesting ideas:
A variety of jewelry - beads, pendants, bracelets that they can wear for a wedding.
Soft toys that make sense.
Clutches or wallets - buy the same small handbags for all your friends, and on their inside make an insert with a text that will remind you of a bachelorette party.
Gift sets - for example, cosmetic, from some well-known company.
Glasses on which the wedding date will be.
Garter belt - present to your close friends with such a beautiful gift, and then take a photo in which you will show your legs. Pick garters that are different in color to create an interesting contrast.