Contents
---
---
The organization of a wedding takes a lot of energy from the bride. Therefore, at the end of all the organizational aspects associated with the wedding, it is customary to hold a bachelorette party. If the bride, as well as her friends, are not going to turn the event into an evening of frenzy, it is worth thinking about organizing a party at the spa. There, girls will be able to relax, to feel the effect of wellness procedures. How to arrange a party in the SPA salon so that it gives visible results and is not boring?
Which spa to choose?
Each SPA salon offers a certain range of services, and some salons provide guests of the bachelorette party with entire programs that involve the conduct of certain procedures. All programs vary in duration and cost. Many salons provide programs for a certain number of people. Firstly, you need to decide what result you want to get from visiting the spa, and secondly, make a list of guests at the bachelorette party.
What beauty programs do spa salons often offer? Consider possible scenarios.
Bachelorette party begins with a visit to the hamam - Turkish bath. There you need to arrange an entertainment program on your own, and also order exquisite oriental treats. In addition, there is allowed to try a hookah. After visiting the Turkish bath, a pool with a waterfall effect, peels, body wraps, massages is provided. End the wellness party with a tea ceremony.
The next program begins with a visit to the hamam, then peels for the skin of the face and body are provided. A jacuzzi and a cedar barrel will help restore normal blood circulation, make the skin velvety.
The anti-cellulite program includes a visit to the entire spa area, hammam, massage under water. A prerequisite for such a program are chocolate wraps. Finishing a bachelorette party should be a drink of ginger tea, which relieves the body of toxins, toxins.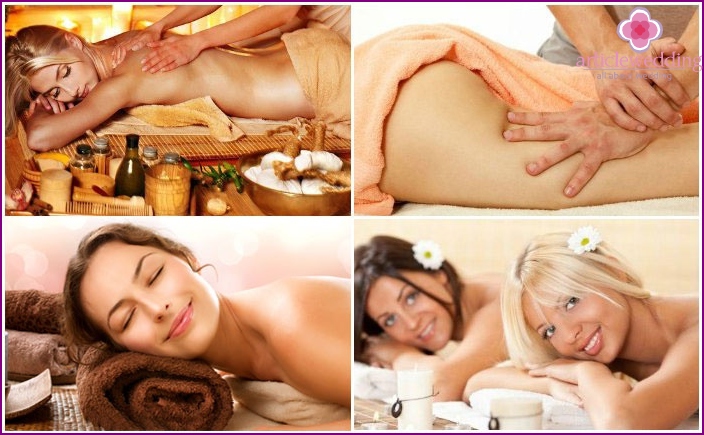 The above programs conducted in SPA salons are considered standard for pre-wedding girls. Optionally, you can add other elements to a pre-compiled script. It is worth mentioning that many spa salons offer significant discounts, so you can save on a bachelorette party. Therefore, in the process of finding the right salon for a bachelorette party, be sure to ask about the current discount.
How and who to invite?
Before planning a bachelorette party, do not be lazy to make a list of invited friends. So it will be easier for you to navigate when choosing a wellness program for the SPA salon, because they are all designed for a specific number of people. There are few guests to invite, 5-6 close friends will be enough, because a noisy party is not provided. Next, send the guests invitations, where the date and time of the bachelorette party, as well as the location of the spa.
How to spend a bachelorette party?
On the eve of the bachelorette party, you should carefully consider all the nuances regarding the design of the premises where the event will take place. Fresh flowers will become a very appropriate decorative element. Complement the room with other accessories as you wish. Proper design will help create a good impression when entering the spa..
It is good to meet guests with a light buffet consisting of seafood and snacks. It is better not to make a menu of heavy dishes, because this will interfere with a good rest in the SPA zone. It is advisable that during the buffet dinner light music be heard that is conducive to rest, relaxation - this is a great way to set up friends for a pleasant pastime. We offer to end the buffet with a photo shoot in a swimsuit. After this, you should proceed to the main part of the bachelorette party..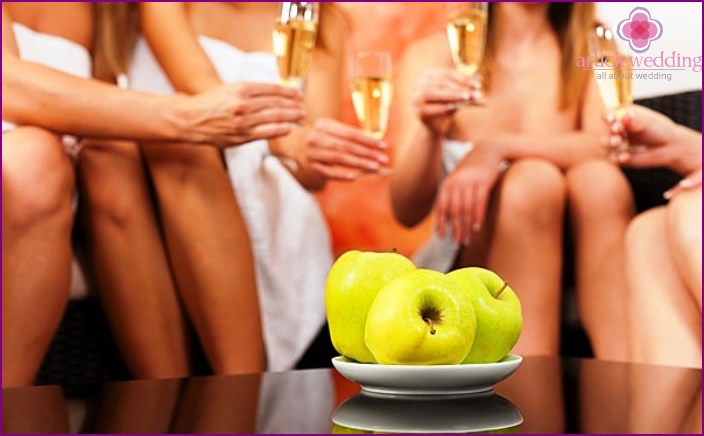 Spa treatments
Modern SPA salons have a wide range of services provided to their clients, thanks to this you will definitely be satisfied after a bachelorette party. The standard set of procedures consists of a sauna, body wraps, peeling, manicure, pedicure. This range of services helps restore your skin and hair in just one session of spa treatments. Therefore, a bachelorette party will bring you, as well as your friends, not only joy, but also benefit. Consider the effect obtained from the procedures, more details.
Sauna
Each spa area has a sauna: this is not surprising, because steam has a beneficial effect on the skin, revealing pores, and removes all impurities well from them. Modern SPA salons offer several varieties of saunas - hammam, infrared sauna, Roman steam room. There is a great option - use a few of them in the bachelorette party program.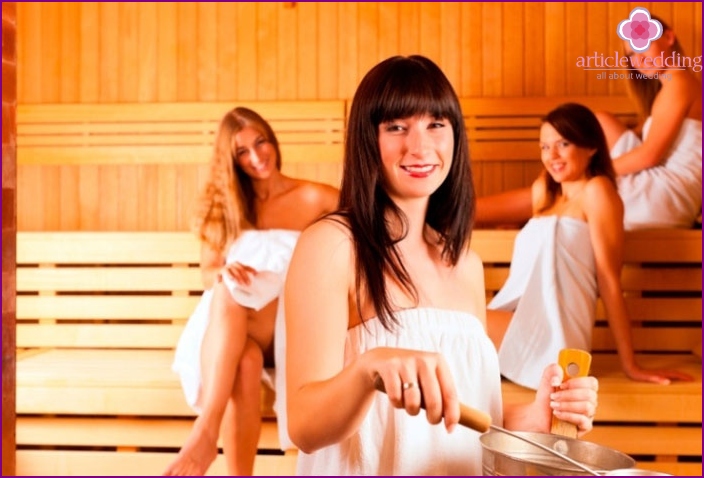 During the procedures carried out in the sauna, you should arrange an entertainment program for yourself, as well as for your guests. So, so as not to get bored, spend a few quizzes (for more information on entertainment programs at such a bachelorette party, see «Contests and games») It will also be appropriate to order a striptease if the company does not have ardent opponents of this action. Admire a slender male body before separation from his unmarried life - what could be better at a bachelorette party?
Body and face care
To restore the skin of the face and body before a responsible event - and the wedding always looks like this - the SPA salon provides several varieties of cleansing peels:
Saline - deeply affects the skin, removing black spots, pimples, small scars. Also, mineral salt peeling helps eliminate the first wrinkles.
Coconut, using shavings - cleans steamed skin well. In addition, after such a peeling, the possibility of irritation, peeling of the skin is minimized.
Mud - is carried out using volcanic mud, which contains useful minerals, as well as trace elements. The skin looks much younger after such a peeling.
With grape seeds - tones and rejuvenates the skin, because the acid contained in the peeling mixture helps to renew collagen in the skin cells.
After peeling the face, you need to moisturize the skin with various masks. The spa offers masks based on honey, milk, cosmetic clay, black soap, salt, as well as other effective elements that make the skin beautiful. Masks after peeling eliminate the feeling of tightness and prevent skin irritation, and all girls will enjoy it.
Wrap
The wrapping procedure helps to get rid of cellulite, extra pounds, toxins, toxins. With the help of useful cosmetic mixtures, the skin is saturated with beneficial trace elements and minerals, which makes it healthy, velvety. Modern SPA salons offer a wrap with honey, chocolate, algae, mud, rice, coffee grounds. Wraps are warm and cold. If you are not a fan of extreme sensations, then you better stop at warm wraps.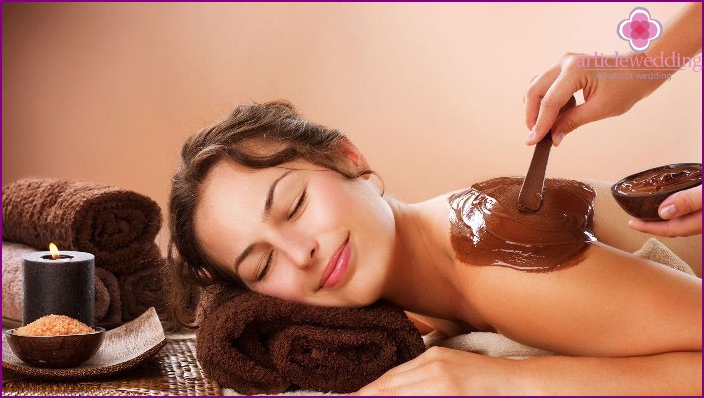 Manicure and pedicure
A bachelorette party in a fashionable SPA salon will help to prepare your body for the wedding completely, as a wide range of services allows you to do this. During a bachelorette party it will be possible not only to restore your skin and hair, but also to make high-quality manicure and pedicure.
Manicure, pedicure in the spa provides for softening, as well as removing the cuticle from the nails, giving them the correct shape, creating a beautiful pattern on the nails at the request of the client. In addition, herbal baths, which are done before manicure and pedicure, soften the skin of the hands and feet, saturating it with nutritious vitamins, trace elements. After these procedures, your arms and legs will look great.!
Are you curious how to carry out hand spa treatments in the salon? Then watch this video, which demonstrates the procedure of peeling and hand massage:
Watch this video if you are interested in learning about the foot spa:
Contests and games
When carrying out cosmetic procedures, there will certainly be time for an entertainment program at a bachelorette party. Drinking hot drinks or tasting a delicious cake, it is worth holding games and competitions so as not to get bored. Let's see what contests, as well as games, can be held during the bachelorette party, which takes place in the SPA salon:
An original compliment to the bride. Let's not forget that at the bachelorette party, most attention should be paid to the hero of the occasion - the bride. Therefore, wishes, as well as compliments to the bride at the bachelorette party, will be quite appropriate. But the speech should be original, with humor. The winner of the most successful compliment is determined by the bride herself.
Guess the man. The essence of this fun contest is as follows: one girl depicts the walk of a man who is known to everyone present at the bachelorette party. The one who first guesses the person will win, only on the basis of the depicted gait.
A story from the unmarried life of a bride. Before the wedding, it would be nice to recall the adventures of the future wife, and the girlfriends of the girl will also have some fun, remembering joint tricks. The winner is the bride's closest girlfriend, that is, the one who tells the most stories about her friend.
Contests and games at the bachelorette party is a great opportunity to have fun in the spa. But no competition is complete without gifts, otherwise all the excitement with participation in it disappears. Therefore, it is worth preparing symbolic prizes for the winners..
Giving presents
As prizes for winning or even participating in a contest at a bachelorette party, women's trifles, such as tights, stockings, panties, nail polishes and the like, are suitable. Also, your friends will be pleased with unusual gifts, such as tarot cards, fragrant spices, exotic tea. A perfectly appropriate present will be a bottle of champagne. Make sure that no guest is left without a prize, then your bachelorette party will leave only pleasant memories.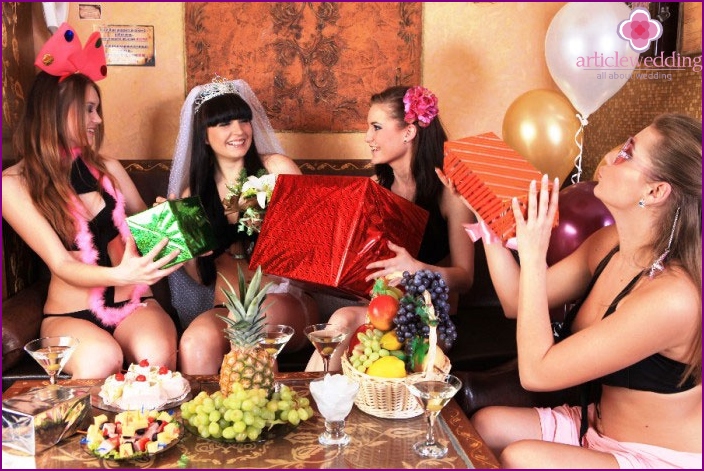 A bachelorette party spent in the spa will bring a lot of pleasure and positive emotions. In addition, after useful pleasant procedures, you will relax and look updated. And interesting contests and games will make this evening memorable, fun. So that you can refresh the memories of this evening at any time, take care of creating photos or even videos from a bachelorette party.
Do you have experience organizing similar bachelorette parties? Or have you ever participated in a party that took place at a spa? Leave a comment on the article!