Contents
---
---
Before the wedding day, every bride awaits a cheerful bachelorette party. This event is held so that the bride could relax, rest after solving organizational issues related to the wedding. There are many original ideas for a holiday. But how to organize a bachelorette party in a limousine so that each participant in the event enjoys the holiday?
Scenario of a bachelorette party in a limousine
A pre-designed scenario will help you navigate in time, as well as fill unusual gatherings in a limousine with maximum entertainment:
Before the party, you should prepare a limousine and all the necessary elements for its holding. Auto salon must be decorated with colorful ribbons, balls and fresh flowers. You also need to take care of the availability of cocktails and alcoholic drinks, pick up pleasant music that will sound while riding around the city.
The preparation is over, which means it's time to start inviting female friends for the holiday. Do not forget that the car - a limousine is no exception - provides a limited number of seats - from 10 to 18. Take into account the number of guests you have invited so that force majeure does not happen.
It is advisable to spend a bachelorette party at night. Everyone will be set up for relaxation, entertainment, which means that you can come up with a lot of interesting things, including competitions.
Start the holiday with a light conversation, which is conducive to sincere congratulations, wishes of happiness and success to the bride.
Next begins the bachelorette party entertainment program, which consists of several stops, contests, and fun. More information about entertainment at such a bachelorette party you will find further.
Finish the bachelorette party should be in the limousine, drinking champagne, tasting snacks. After a substantive evening of a girl's company, there is certainly something to discuss.
Having thought over the details of the bachelorette party, you will all get an unforgettable evening!
Bachelorette Party Clothing Style
To feel comfortable during a bachelorette party, you must choose the appropriate clothing. The outfit and shoes should be comfortable, otherwise it is unlikely to have fun. As you know, the beauty of clothes for such a party is not a decisive factor, the convenience of the outfit is more likely. But for this holiday you should choose a feminine outfit that will emphasize all the advantages of the figure, and hide the flaws. A stylish fitted dress with a catchy print and low-heeled shoes are perfect for such an event..
It would also be a good idea to coordinate all the details regarding clothes with the girls. Similar outfits will strengthen the collective spirit, cheer up. You will not lose by choosing bright tutu skirts: it is desirable that all participants have colorful motley skirts, and the culprit of the event has a plain white. This will highlight the bride among the other guests.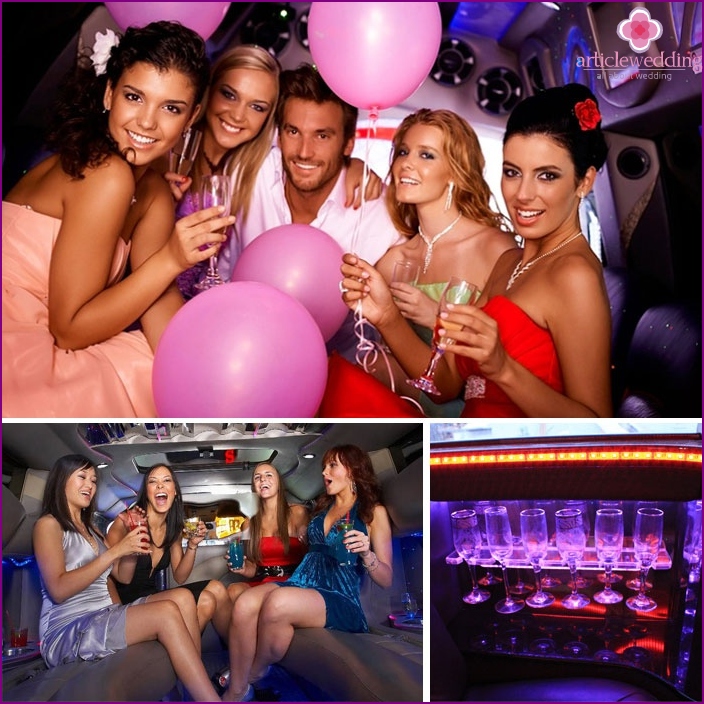 Trip route
When traveling in a limousine there should be at least two stops, when the girls can get out of the car, changing the comfortable cabin to fresh air. It is no secret that a trip with constant turns bores; moreover, sitting all evening in the car's interior, it is impossible to gain new impressions. Consider a couple of ideas for stopping during a bachelorette party:
The first stop is carried out shortly after the start of the bachelorette party. It is advisable to make it on the square or the famous boulevard of your city. There you will be able to arrange a photo shoot: photos or videos taken at such a stop will subsequently become valuable memories of your last days before the wedding day. In addition, everyone can have fun inventing stories or funny poses for photos.
Traditionally, after the first stop of the limousine, girls visit a club or any other entertainment venue. It is advisable to book a table shortly before the holiday, so that later you don't crowd around a club near the club while waiting.
Following a pre-designed route, you will receive a charge of positive emotions from a bachelorette party!
What contests can be held in the limousine?
The salon of the limousine does not provide enough space to hold active contests, but during the trip you will have the opportunity to have fun through fun arcades. The following are some interesting contests for successful «limousine» bachelorette party:
Tell a story from «bachelor» life of the bride. Close friends of the hero of the occasion probably know more than one funny story that happened to the girl shortly before the wedding. Nostalgia, memories from the old days will cheer you up and give you the opportunity to laugh heartily at the adventures of the bride.
Guess your name. For the competition you will need sticky paper and a felt-tip pen. Its essence is as follows: the leader comes up with each party member «name» (for example: a tiger, a refrigerator, a physical education instructor), writes it on paper, which the guest sculpts on his forehead. Each contestant must guess their name with the help of others..
Compliment to the bride. Do not forget about the hero of the occasion - she should be given the most attention at the bachelorette party. Competition for an original compliment will cheer up a girl, and guests will be given the opportunity to show off wit.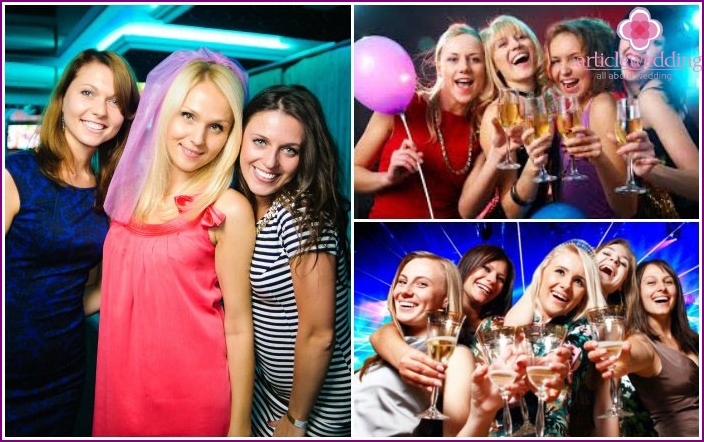 As gifts for winning contests at a bachelorette party, various trifles suitable for a woman — stockings, tights, underwear, lipstick — are suitable. Also a surprise will be commemorative T-shirts with funny inscriptions, magnets, accessories.
Where to cheaply rent a limousine for a bachelorette party?
In Moscow, there are many companies offering luxury car rental, including limousines, for hen parties and weddings. Consider the three main Moscow fleet that specialize in presentable car rental:
Grand-Limo ​​- provides comfortable and fashionable limousines. Depending on the day of the week when you want to order a car, as well as a car model, you will have to pay from 1000 to 3600 rubles. per night.
TK-Limo ​​- here you can rent luxury limousines. The rental price varies from 2000 to 3500 rubles. A car can drive anywhere to take the bride and her girlfriends wherever they want.
«Limo Olympus» - specializes in renting VIP-class cars. Wedding limousine rental is possible from 1100 to 5500 rubles.
Watch a video review of the best premium limousine «Infiniti M35X» and appreciate the advantages of this car for a bachelorette party:
The organization of such an unusual party is troublesome, but interesting. Approach him with all responsibility, think over every little thing, give vent to your imagination.!
If you have ideas on how to spend such a bachelorette party, leave comments and suggestions below.