Contents
---
---
Preparing for the wedding ceremony, as well as for the next party, takes a lot of time and energy from the future bride. A good idea to cheer up a girl who is in anticipation of her own wedding is to hold a bachelorette party. This event will help her relax body and soul. Faithful friends will be happy to deal with the chores associated with the organization of a bachelorette party. Will create the atmosphere of the holiday an original gift for the bride. What to present to the future wife?
Surprise for the bride: tips for girlfriends
When planning a bachelorette party with a surprise for the bride, it is necessary to take into account some of the nuances that will make the event truly memorable and impressive:
Create an impromptu veil for a girl. It should be made of light, transparent fabric. So you highlight the hero of the occasion among other guests of the holiday.

A T-shirt or T-shirt with a cool inscription intended for the future bride will amuse her and also create a pleasant holiday atmosphere. Now it is possible to order printing of various inscriptions on outerwear. Choose a funny inscription, or print a phrase on a T-shirt, the meaning of which is clear only to your company.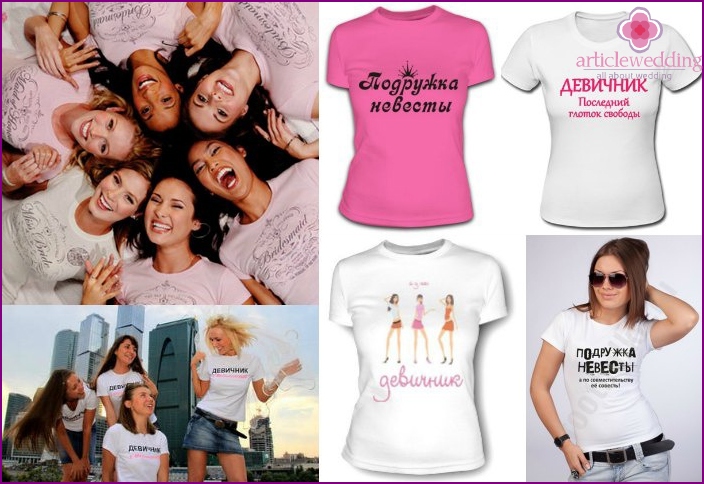 A video workshop on painting on a T-shirt will help you decorate the bride's clothes with an original inscription.
To enjoy the evening for all the girls in the bachelorette party, organize fun contests for the victory in which girls can get interesting surprises. Think over the scenario of contests as a whole female company, but one person / leader should conduct them. Souvenirs for themed bachelorette party should be related to the theme of the evening. As presentations, photo frames, stockings, panties, magnets, other similar pleasant trifles are suitable.
Guided by these recommendations, you will diversify the bachelorette party not only with surprises for the bride and party participants, but also organize a good entertainment program.
Traditional bridal shower gifts
The experience of organizing bachelorette parties with a surprise shows that most girlfriends prefer to choose traditional presents as a gift. After all, they are time-tested, which means that the likelihood of getting into a mess is minimized. Consider the options for traditional surprises for the bride:
An excellent solution will be the right gift for the bride, which will come in handy at the upcoming wedding. For example, you can give her a bridal cake figurine or a garter, which will be used during a wedding celebration. Such a surprise will be a pleasant gift for the future wife.

A set of cosmetics remains a relevant gift. Make sure that the cosmetics are of high quality and natural, otherwise you may be accused of lack of taste.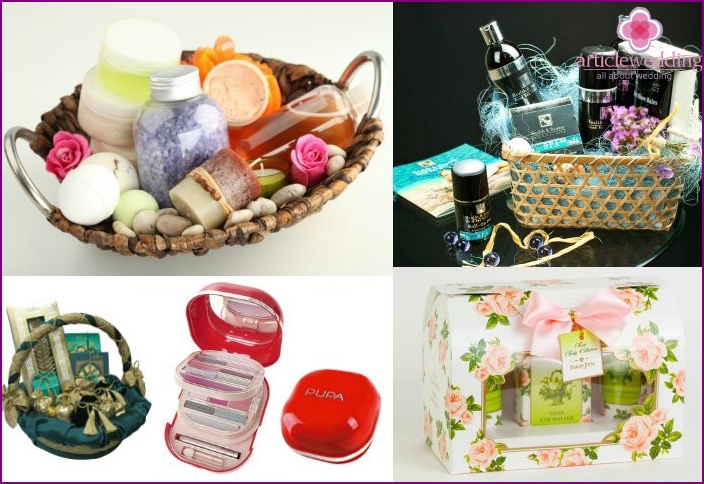 Fashion accessories will be a wonderful memorable gift for the bride. After all, putting on bright beads, a varnished belt, or feminine gloves, the girl will remember you. Choose a sophisticated accessory that accentuates the beauty.
The above surprises are accepted at «Hooray». But if you like to experiment and surprise, and are not afraid to use your imagination when choosing a gift, you should look into the next section!
Fancy bachelorette party presents
Unusual surprises for the bride include the following presents:
A sentimental person will like a photo album where your joint photos will be collected. It is advisable that you complete the album with handwritten wishes, some fun stories from her bachelor life.

An intimate but welcome surprise is a set of underwear. Piquant and elegant linen will certainly come in handy for a girl to seduce her newly-made husband. You can also safely present a practical outfit for the wedding night. It should not be too frank, but the presence of some zest is welcome.

An extremely fashionable trend is now considered a video recording, where all girlfriends must tell one story from her bachelor life. Watching such a video will be a wonderful entertainment element for a bachelorette party..
Surprise, experiment, turn on your imagination - the bride will be crazy about your surprise!
Ideas for Intangible Gifts
Who said that only what can be held in your hands is suitable as a surprise? As practice shows, the bride will receive much more pleasure from the impressions that an intangible gift will bring!
Male striptease at a bachelorette party is a popular attraction in many advanced European countries. Entry into family life is considered a worthy occasion to admire a beautiful male body.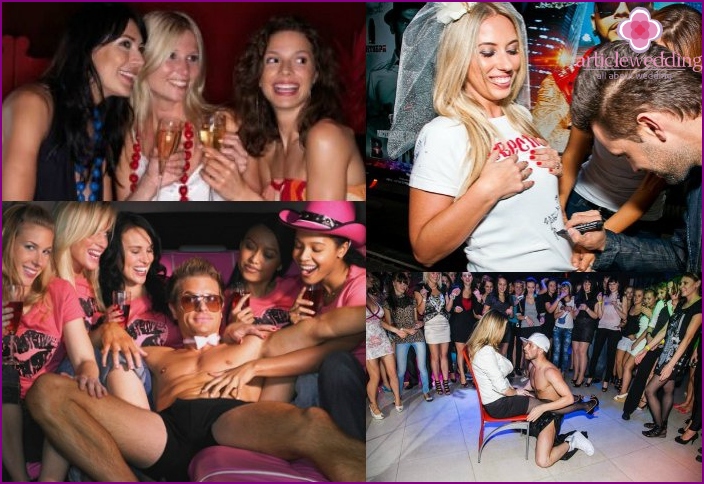 A certificate for a course of relaxing massage will be useful to a newly made bride, this procedure will help her get rid of stress and negative emotions..

A lover of beauty will be glad to receive a couple of tickets to an art gallery or theater. Just do not forget to take into account her preferences, otherwise the surprise may remain unappreciated..
Intangible gifts should be given so that the bride receives the maximum of positive impressions.
How to make a surprise for a bachelorette party?
Successful perception of your gift by 50% depends on the presentation design. It is better to pack material surprises in a box of a suitable size, then with the help of improvised materials and imagination create a stylish wrapper for a presentation. Buy mother-of-pearl paper, colored ribbons, decorative cords. Complete the gift wrapped with decorations: rhinestones, sequins, beads. You can purchase these materials in the stationery store, besides, they are inexpensive.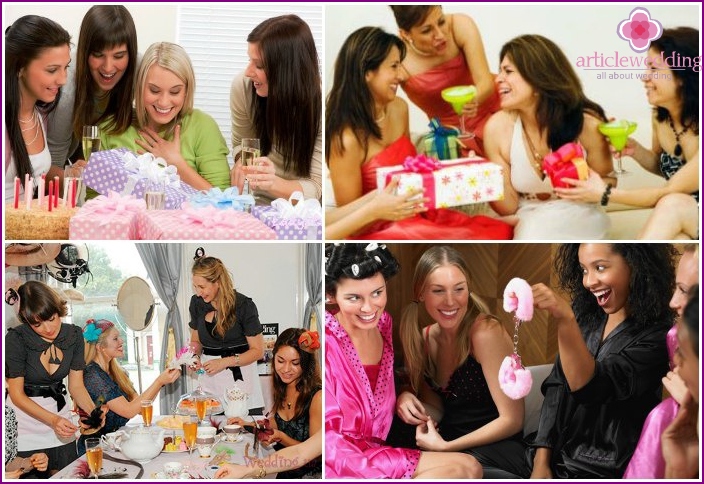 Wishes to the bride
The process of presenting a surprise must be accompanied by congratulations and wishes. This will defuse the situation, and also set the culprit in a positive way. Since the bride needs support during the preparation for the wedding, express her admiration and enthusiasm for the responsible decision to marry. Dilute the gift ceremony with a few compliments to the girl. After receiving a surprise, the bride needs to wish a strong marriage, love and understanding.
Choosing a surprise for a bride for a bachelorette party is a troublesome business. But if you take full responsibility not only for the choice of a gift, but also for its design, as well as the gift process, then a charge of positive emotions will be provided!
Do you have experience organizing similar bachelorette parties with giving surprises? Share your impressions in the comments!