Contents
---
---
Witnesses are always in the spotlight, because they spend all day with young people. And in order to look beautiful in the photo, you need to choose the right dress for the witness. The hardest thing is to choose an outfit for the bridesmaid, because I want to look gorgeous and luxurious, but this day may not be the easiest, so there is a desire to opt for a simpler style, but as comfortable as possible. What model, color and length of the dress to choose? Will a chic evening dress fit?
Tips for choosing a witness outfit
If you were invited to the wedding as a bridesmaid, when choosing holiday clothes, follow simple but important tips. No matter how much I would like to get a beautiful evening dress, it is important to remember that you are not the main heroine of the wedding. A friend should choose a model that does not overshadow the bride.
Dress color: why not white and not black?
Dresses for white buddies are taboo, because this is a traditional shade for brides. Wearing such an outfit, you will have great success, and, going to the registry office, you may be mistaken for a bride. You don't want to cause awkward situations? If the bride and the friend are in dresses of the same color, then the witness will simply be lost on the background of a happy young. Opt for colored dresses.
It is not recommended that the witness choose plain black colors and shades, because they will look too mournful against the bright background of the guests. If you no longer have other ideas or black clothes hide the flaws of the figure, then wear it, but in this case dilute the image with bright accessories, choose a model that has a contrasting finish.

The dress of the witness can be blue, yellow, orange, pink, honey, green, gently lilac. Opt for soft, soft pastel shades. The outfit is golden, silver. If you do not like light colors, then pay attention to evening dresses of a dark blue, burgundy, chocolate shade. Red looks bright and rich, but its shade should be restrained so as not to overtake all the attention of guests.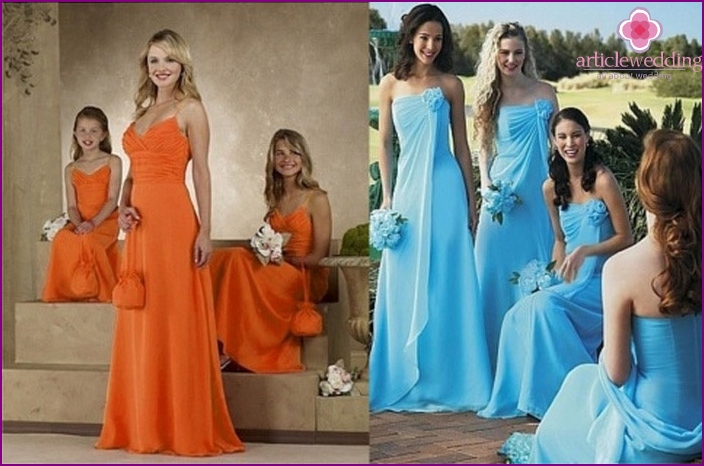 Style
In almost all of their collections, designers present dresses of an A-shaped silhouette - this is a one-piece dress that has a tight-fitting top and gradually expands to the bottom without forming folds. Style «Empire» also great for a witness. This dress model has a high waist, a skirt on the floor, a detachable top, has pleats. Choose direct models - detachable under the chest or at the waist or solid.
Great option - outfit in style «Mermaid». If you prefer a tight-fitting and very narrow style, then complement it with a short bolero jacket, because such a dress in combination with a jacket looks interesting and stylish. Friends should refuse very short dresses, trousers, blouses with skirts, summer sundresses, ballroom styles.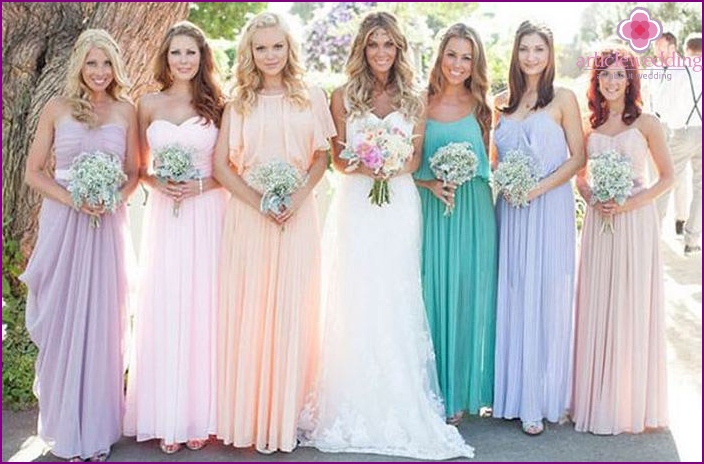 Length and degree «openness»
A wedding witness can safely choose a long, short version of the dress, guided exclusively by her own taste and preferences. An outfit with a small neckline is quite acceptable. It is important to adhere to one main rule: the shorter the skirt of the dress, the more closed its top should be. Having chosen a long dress, allow yourself a deeper neckline, but do not step over decency so as not to create a vulgar image.
Do not forget about etiquette - wear long evening dresses only at those events that are held after 17 pm. If the marriage is registered in the morning, at lunchtime, the witness's outfit should not be long. Wear cocktail dresses safely at any time - the item with lace looks very interesting.
A wedding friend can safely get a cocktail dress, the main feature of which is its length - not lower than the knees. If you wish, prepare two options at once, that is, cocktail for the day, and for the evening in the restaurant a long evening. But this is not the most important rule of etiquette, and it is often violated by both witnesses and guests at the wedding.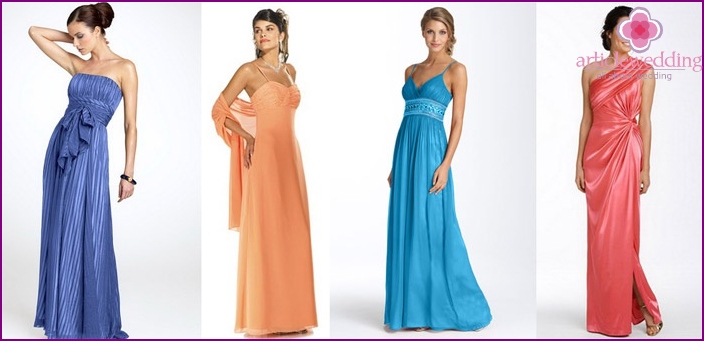 It is strictly forbidden for friends to wear a suit in a business style. In some cases, a combination of a skirt and an evening bright top is allowed, but it is best to purchase a beautiful dress in which you will feel comfortable. Completely exclude not only the option of trousers, but also other, unusual and too bright festive clothes that do not correspond to the wedding event. In the case of a thematic wedding, the witness must select an outfit taking into account the established dress code.
Accessories
A great responsibility is placed on the shoulders of the witness, because she has to fulfill a lot of duties that will appear during the celebration. With special attention, select accessories for your holiday decoration. The bachelorette party and preparations for the wedding are already behind, you need to create your own image. The selection of shoes deserves special attention. It is advisable to give preference to shoes with medium heels. Remember that throughout the day you will have to not only walk and dance, but also run.
Do not be lazy and grab comfortable ballet shoes with you, which you change into and give a chance to relax your legs a little. If you purchased new shoes, walk around at home for a couple of days, because at first glance it will seem very comfortable, and during the holiday will bring many unpleasant surprises. It is equally important to choose the right heel height. To do this, compare your and your bride's growth parameters - the main thing is that you should not be higher than the young, but you can't be much lower, because in the photo such a tandem does not look very good.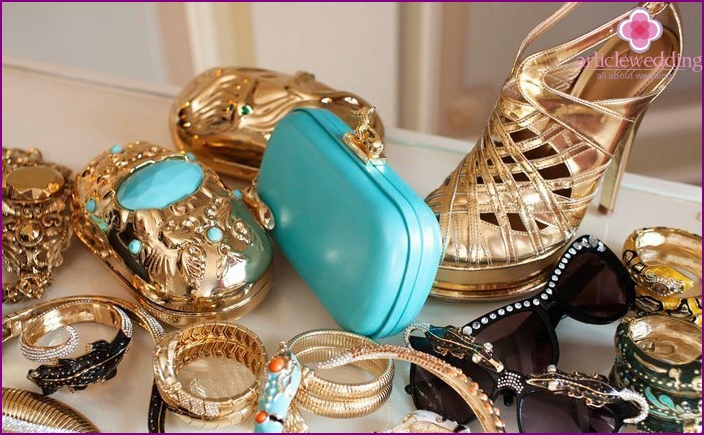 September is the perfect time for a wedding, because it is not hot and not cold. When choosing clothes for the celebration at this time of the year, think about a light jacket, a jacket that should fully match the dress and the chosen style. The combination of an evening dress with gloves looks very elegant. But this is not always convenient, because the friend becomes the first and main assistant for the bride - hold a bouquet, tighten it tightly or slightly loosen the corset of the dress, straighten the hair.
Equally important is the buddy's handbag. On the wedding day, only a bouquet will be in the hands of the bride, and the witness will have to carry everything necessary. The ideal option is to choose a handbag for the dress, which must fit a cosmetic bag, thread, needle, hair clips, napkins, pills against headaches. If a dress for a wedding friend is sewn to order, then the salon can also provide the service of making a beautiful, roomy handbag that will be perfect for the dress.
As an interesting accessory, you can choose a hat, but only if the bride's hairstyle is not decorated with an elegant hat. To complement the hairstyle, feel free to use beautiful hair clips, flowers. Most importantly, the selected accessories should not interfere with either the witness herself or the bride. Refuse too big hat which will close several people at once on a group photo. Complete your image with jewelry, but in a small amount.
What dress to wear a witness in the winter for a wedding?
If the wedding is held in winter, the witness can safely choose absolutely any dress, but not too open so as not to freeze. For a photo shoot on the street, boleros, capes, stoles, a voluminous scarf, stylish boots, a fur coat, a coat are perfect. As an option - a product made of artificial wool, which has a rich appearance and is perfect for a photo shoot on the street.

Wedding fashion 2016 for bridesmaids
If you are a bridesmaid, feel free to choose any style of dress - with a corset bodice, on one shoulder, with thick, thin straps, a boat neckline. There are absolutely no restrictions. If you wish, complement your image with a beautiful colored ribbon, a belt of a contrasting shade, however, pick up a handbag, gloves and shoes of the same style.
Photo of dresses for a witness for a wedding