Contents
---
---
Many modern couples refuse the classic wedding, instead of organizing a thematic celebration corresponding to their tastes, hobbies or hobbies. A steampunk wedding is an event that will suit romantic people who are fond of technology, science fiction and antiquity. This style of the holiday will appeal to those who love the books of Jules Verne, Mark Twain, Herbert Wales, and also delighted with films of recent years «Sherlock Holmes» and «Wild Wild West».
How to organize a steampunk wedding
Steampunk is, above all, a trend in science fiction books. Steampunk books simulate an alternative reality that tries to answer the question: what would happen to humanity if civilization didn't follow the electric path of development, but continued to improve the technology of steam engines? «Steam» in translation from English - it's steam, in Russia this direction is even sometimes called steam park. «Punk» in the name of the genre speaks of the described cynical, often evil world.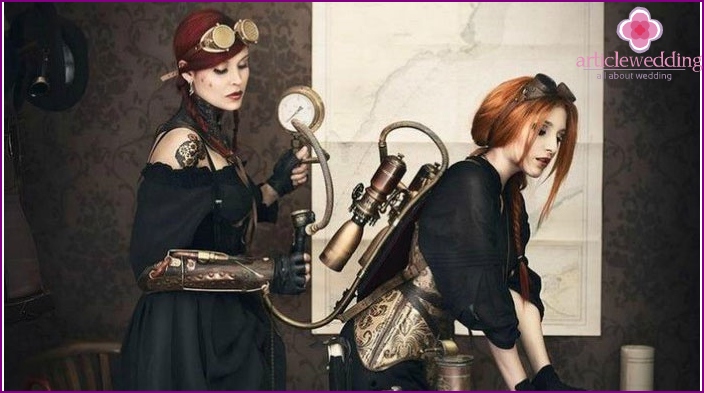 Steampunk basically reflects the era of late nineteenth century Victorian England, intersecting with fantastic motifs and sometimes magical creatures. Recently, this style has become popular, a new subculture is being formed, whose followers wear appropriate clothing. Often, steampunk becomes a beautiful solution for the design of computer games, it is used in graphics, sculpture, illustrations, literature and is only gaining momentum.
Where to start and what needs to be done to organize a wedding in this style:
Choose a venue. It is ideal to celebrate a steampunk wedding in the summer, because then it will be possible to organize a celebration in nature and create all the scenery from scratch - this is easier than looking for a suitable place. Otherwise, you should choose a banquet hall of the restaurant, where the interior will be made using wood and metal. Given the increasing popularity of steampunk, there is a chance that it will be possible to find a cafe or restaurant stylized for this direction.
Another option of the premises is to eat a country estate. The architecture of Victorian England may be reflected in some palace complexes or ancient estates..
Send out invitation cards. The first thing that guests will see regarding the upcoming wedding is invitations, so you should seriously approach the creation of their style. The culprits of the Steampunk celebration can not easily send cards to guests, and real watches, the arrows of which will be pointed at the date and time of the celebration, and time can be engraved on the back panel. A cheaper option is classic cards decorated with gears and other steampunk elements..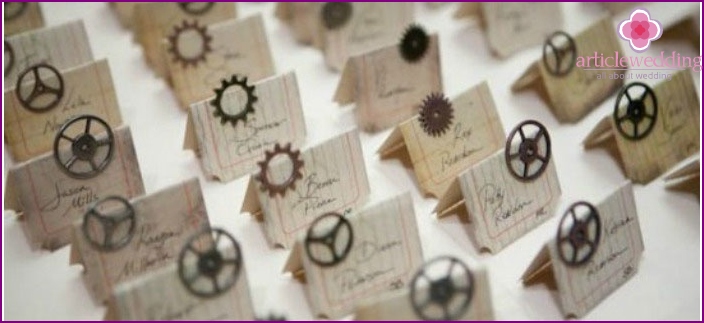 It's good if the invitations are delivered by a courier dressed according to the theme of the wedding - then the guests will immediately have an idea about the dress code. If it is an indispensable part of the holiday, it is better to send postcards in two months, so that guests can pick up costumes.
Think over a dress code. It is good if the wedding becomes not just an ordinary holiday, but a carefully planned costumed event, each participant of which will turn into a steampunk world resident for a day. Pocket and watch chains, hats, cylinders, gears, all kinds of mechanisms, puffy dresses with corsets, men's suits with plenty of leather - all this and much more should be part of the steampunk dress code.
Choose a holiday menu. To reflect the style of the event, future spouses should create a menu using delicious European dishes. Despite the fact that steampunk belongs to England, French cuisine is also perfect. Delicious fish dishes, meat snacks, light salads will be an excellent decoration of the future buffet. The main item in the dessert menu will be a steampunk-made cake - a real pastry work of art.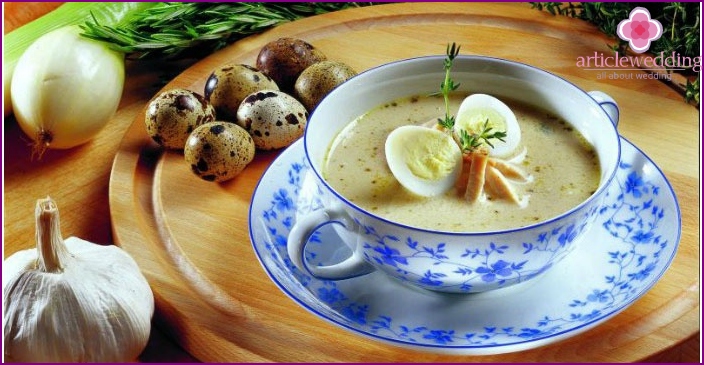 Alcohol should also be present during the celebration: strong drinks, such as whiskey, rum, cognac, will suit, for ladies it will be possible to prepare lighter alcohol - several types of wine, weak berry drinks, cider.
Order a wedding procession. The first cars appeared just at the end of the nineteenth century, they worked on steam traction, so the heroes of the occasion can try to get a model that is slightly reminiscent of old cars. If such an option is not possible, a jeweled carriage that matches the style of Victorian England will be a great solution..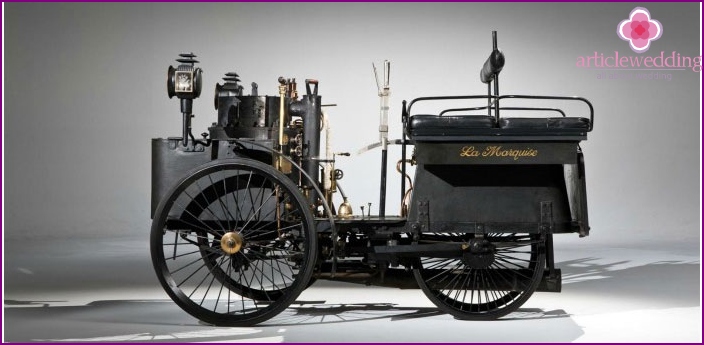 Order the services of a professional photographer. Steampunk wedding is a unique event. Carefully prepared, it deserves to be captured not only in the photo, but also in the video. Invite a photographer who will take beautiful high-quality pictures, help you choose the requisites, and also call the operator to receive a beautiful video clip after the celebration.
The image of the bride and groom in the style of steampunk
The main characters of the celebration, the bride and groom, should look like a needle on this day - before the wedding, you need to carefully consider the image, collect the necessary details. You may have to create a costume yourself using the found elements of the steampunk style and improvised means. Steampunk is becoming more and more famous, but so far it's not so easy to find an outfit that matches this style in a costume store, so you need to prepare wedding dresses long before the wedding day.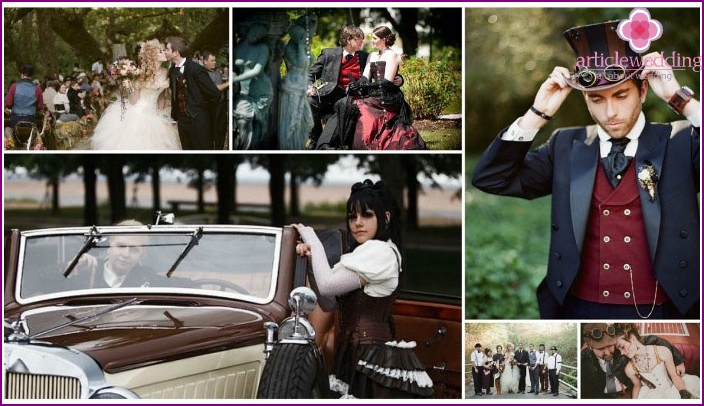 To create an amazing image of a steampunk style bride, first of all, you need to find a dress. It can be an outfit in the style of Victorian England - with a tight tight corset, a fluffy skirt, many frills. An excellent solution would be a white dress and a brown corset, made of leather, drawn in laces. Mandatory accessories will be «heavy» boots with fasteners, ties and high stockings.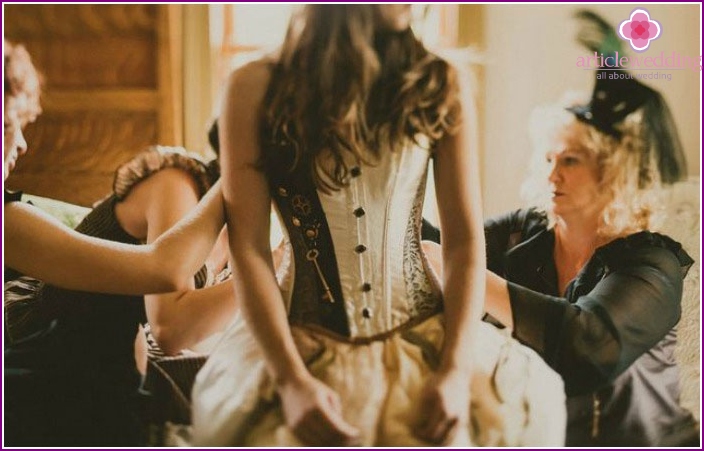 As for the hairstyle, it can be loose curled hair, asymmetrically chopped on one side, high multi-level hairstyles, smooth or fluffy buns, retro hairstyle «cold wave». As a hair accessory, a hat-cylinder with a veil is suitable, and the classic veil should be abandoned. Makeup can be clear and dark: highlighted cheekbones, lips with burgundy or dark cherry lipstick, arrows on the eyes, but the bride can easily experiment.
The image will be complemented by watches, antique brooches, gears and other mechanical elements that decorate the outfit. A great option for a neck is an original velvet, which fits perfectly into the steampunk style. A bouquet may consist of plants or possess futuristic motifs: replace flowers with bulbs, make wire details.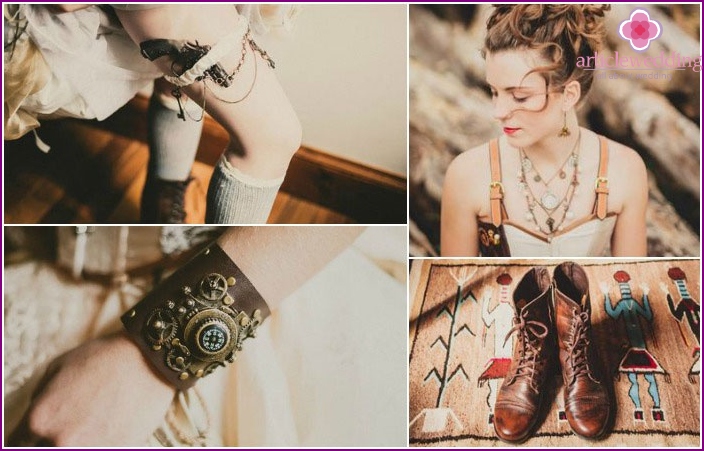 The male image for a steampunk wedding looks no less interesting: it is a tuxedo with a vest, trousers in color, a shirt of a suitable shade. Do not be afraid to experiment, feel free to combine several colors and textures: use leather inserts, buy pants that differ in material from a tuxedo. The cylinder will complement the image, on top of which the goggles will be worn, which are big round glasses, like a pilot's - they should not be worn on the face.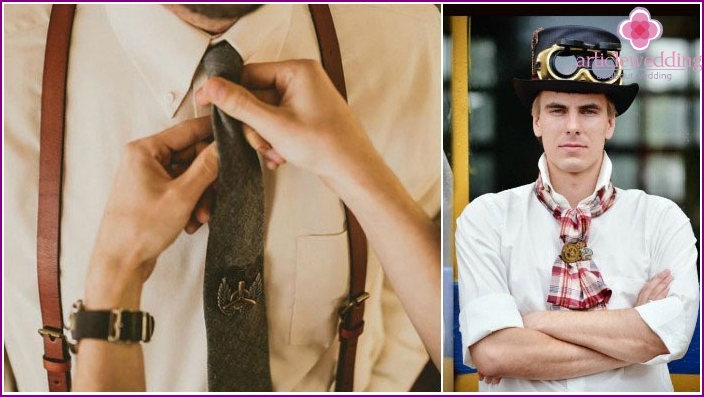 Small details like a pocket watch, a graceful cane with elements of the steampunk style, heavy men's brooches, interesting cufflinks will give the image of completeness.
Steampunk style wedding decor photo
When a wedding venue is chosen, it remains only to create a style of room decoration. First of all, take care of a beautiful combination of wedding colors that reflect steampunk. It differs from many other styles of wedding decoration in that there may not be a background light shade, and it will turn out to decorate the surrounding space with dark deep colors. It can be burgundy, black, navy, the whole brown-yellow, gold palette looks great.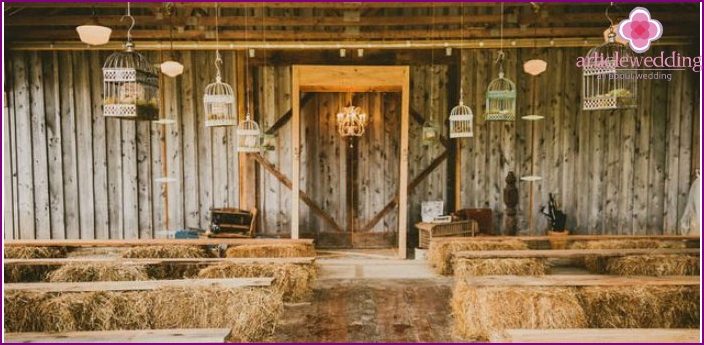 Another interesting color of the steampunk wedding will be copper, because most of the additional decorations will be made of it. Make sure that the room is decorated with all kinds of levers, large gears, old mechanisms - let everything reflect the spirit of old Europe, combined with mechanics. The clock has become an unchanging symbol of steampunk, so there should be a lot of them (or their parts, which is even better).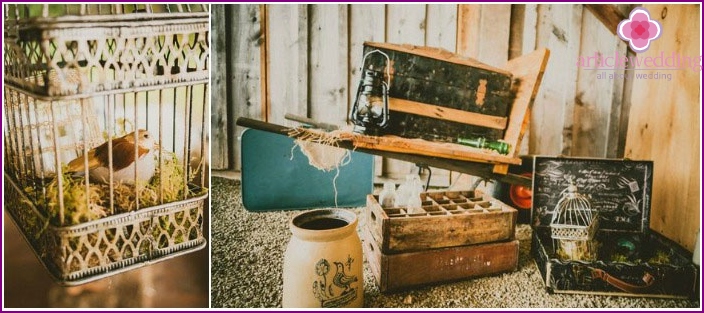 A good decoration of the wedding will also be paintings with futuristic views, airships. It will be great to make a mock airship for a wedding and hang it on the ceiling or put on a table - usually this type of movement is closely associated with steampunk. In addition, lanterns, leather, wooden details, unusual old objects, aged photographs, fantastic cards can decorate the wedding - do not be afraid to show imagination!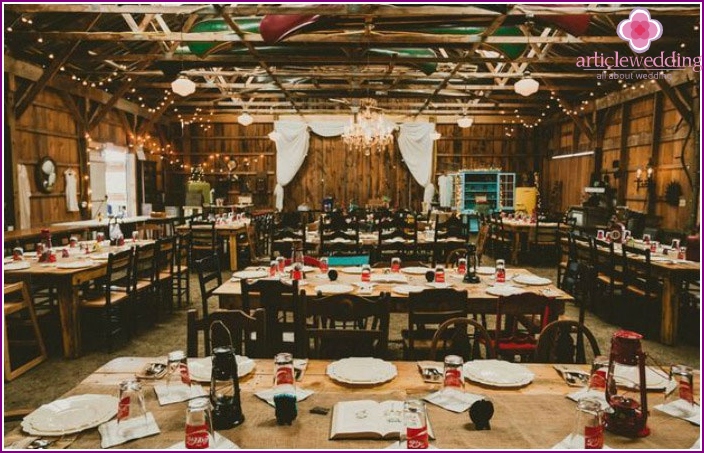 Steampunk style wedding script
In such a wedding, it will turn out to include all the stages of a typical wedding day, if the newlyweds want it, adapting them to the steampunk style. For example, at the beginning of the day, a ransom can take place, where the future spouse has to solve a difficult puzzle to open the locked door, behind which the bride is waiting. Girlfriends can get ideas for puzzles or entourage for a wedding ransom from steampunk computer games «Machinearium», «The myth».
When the ransom is over, it is good if the spouses go on exit registration, which will reflect the style of the event. After the groom and the bride become newlyweds, it is time for a photo session with the guests of the steampunk wedding, which will present unique photos to the participants in the process. It is worthwhile to prepare a room or area for steampunk style in advance, so that everything looks organic and thought out in detail.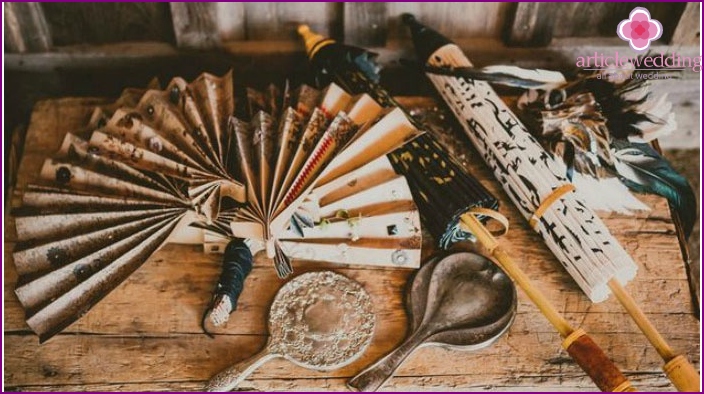 After the photoshoot, the culprits of the Steampunk celebration along with the wedding guests go to a banquet, where the rest of the guests are waiting for them. An excellent solution would be to order the services of a professional host, who, together with future spouses, will think through a wedding program and create unique contests in the steampunk style. Good presenters will be able to cope with the task on their own by finding suitable tasks, coming up with interesting toasts, but it is better to control the process so that everything is perfect during the wedding steampunk.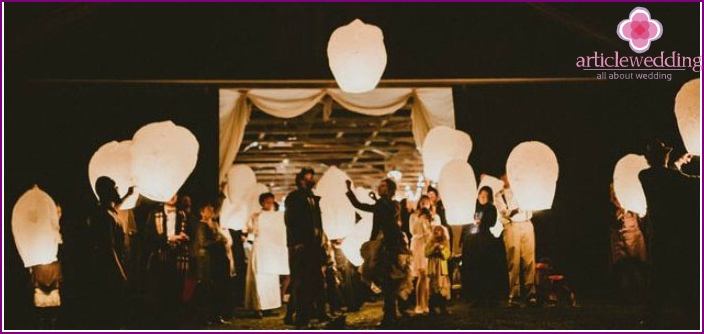 At the wedding, steampunk should play music - as a basis it will turn out to take unusual instrumental melodies with sometimes disturbing, sometimes exciting motifs. Classics will also be a great solution. Invite a musical group where violin musicians, cellists, flutists, drummers, other interesting instruments or sound effects play. When the wedding is over, the newlyweds can arrange for the guests a beautiful festive fireworks.
Process video
A wedding in the original steampunk style is an event that will become unforgettable for newly-made spouses and guests of the celebration. Stylized costumes, an unusually decorated room, fantastic motifs, ancient mechanisms - all this is a wonderful world of steampunk, interesting and mysterious, which will create a unique atmosphere of your wedding.