Contents
---
---
More and more newlyweds express a desire to arrange an original wedding instead of a traditional one. This holiday is in many ways different from generally accepted marriage registration. Each ceremony has its own individual characteristics, but a creative wedding at the same time combines courage, shocking, fantasy and uniqueness. Some extreme people are ready to say goodbye to the last money to organize a celebration under water or in the air.
Choosing a venue for the celebration
When choosing a venue for a wedding, it is worth considering the number of guests. If the groom and the bride were invited only best friends, then the ceremony will be a creative decision in a balloon. But a wedding with several hundred guests requires a lot of space. Surprise the audience with a format, for example, make a celebration in the style of a movie or in a retro style. You can arrange a wedding banquet in such places:
On the seashore.
Near the swimming pool.
On a ship in the open sea.
At the casino
At the bowling club.
In gym.
On any island.
In the circus.
On the roof of a skyscraper.
In a dolphinarium or aquarium.
Creative image of the bride and groom
Unusual bright costumes of the bride and groom will become a feature of a creative wedding celebration. To impress, when choosing outfits, consider their harmonious combination with the overall style of the holiday. For example, choosing a scenario dedicated to a certain movie, the bride and groom should wear the costumes of the main characters of the film. Do not be too lazy to create complete images, carefully work out the details, including hairstyle, accessories, behavior. And then arrange a full-fledged show, which guests will surely enjoy!
If the wedding does not have a specific theme, then a dress made of bright material will be a creative outfit for the bride: scarlet, white with a juicy green veil, burgundy with black, etc. Choose original styles (asymmetric cut, embroidered with colored threads, batik) or show creativity by creating a sketch of the desired outfit and ordering it to sew in the atelier. For the groom, a suit that contrasts with the color of the bride's dress will be a good solution.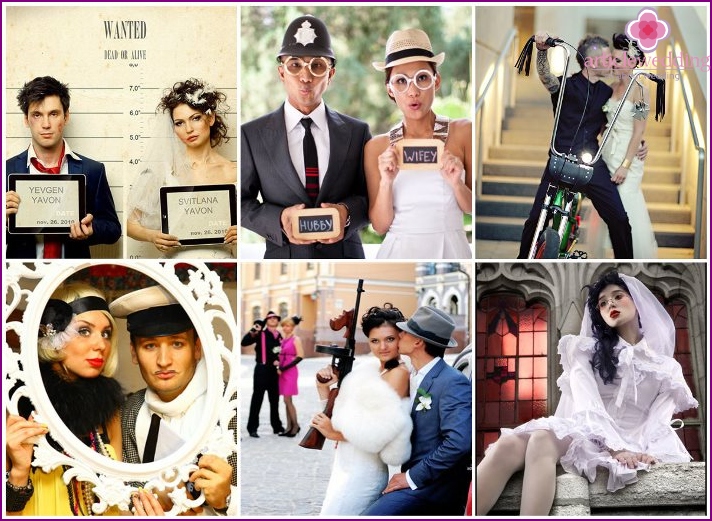 Custom dress code for guests
In the wedding invitations, indicate the dress code for the guests, so you will warn them in advance about the choice of clothes of a particular style or color. It's not necessary to demand that guests have a complete match. You can do it more democratically - indicate that a certain part of the toilet should be, say, turquoise or orange, as well as the design of the banquet hall. If the bride and groom intend to hold a wedding in a specific style (masquerade ball, carnival), then guests should choose masks and colorful accessories for themselves.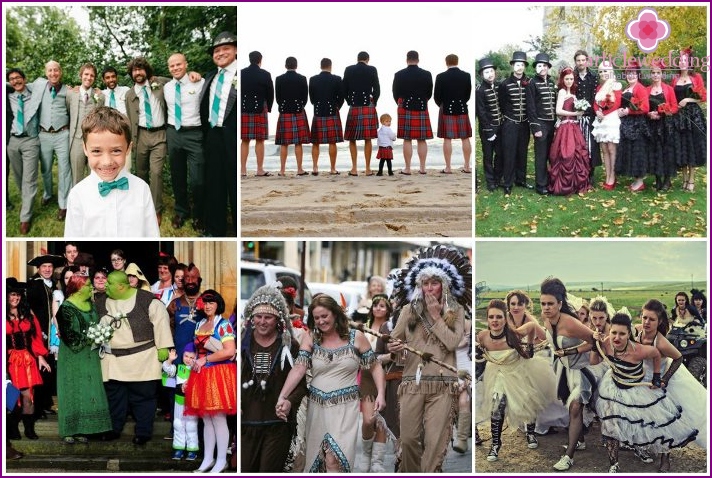 Creative Wedding Ideas
Instead of the traditional way of showering the bride and groom with rice or rose petals, choose a more creative solution - soft confetti. These small multi-colored balls will cheer up the audience, and the groom and the bride will not get dirty suits.
Place a small but vibrant candy bar at the wedding venue. Pour all kinds of sweets - sweets, dried fruits, candies, marmalade and marshmallows into beautiful baskets and bowls. This uncomplicated wedding attribute will surprise and delight guests, especially the youngest ones..
On the table in front of each guest you can put a crossword puzzle with questions about the two of you. So those invited for his decision pass the time waiting for snacks. Make a competition out of this entertainment and assign a prize to the one who will be the first to be able to answer all questions correctly.
Order predictive biscuit cookies in advance - this is a wonderful and creative wedding idea. However, make sure all wishes are good..
Guest Invitations
Invitation wedding cards form the first impression of guests about the upcoming celebration. It would seem a trifle, but it attracts the attention of the invitees and creates their first idea of ​​the upcoming event. Therefore, the bride and groom should work hard on the design of postcards if you want the celebration really to be creative. The original design of the invitation will complement the overall style of the wedding..
Replace the standard paper version with a balloon, on which write the date, time and place of the wedding. Recipients will only be able to see information if they inflate the ball. Believe me, such a wedding invitation will make a good impression and give you a sea of ​​positive emotions..
Mini letters were developed by one American company as creative wedding invitations. The envelope is drawn up according to standard rules, and inside it guests will find a card with details of the event and a map of the area.
An ancient scroll is suitable if you started a celebration in the style of Ancient Greece or something like that. Moreover, such invitations can be made with your own hands using the technology of aging paper.
Paper CD - this creative invitation will perfectly complement the wedding, the style of which is dedicated to music or a dance film.
A movie poster or movie tickets will suit cinema fans and other creative people. If your guests include creative personalities, they will definitely appreciate such invitations.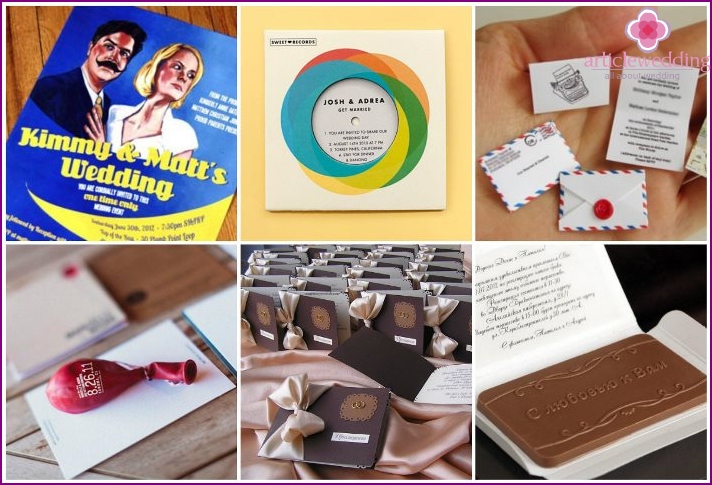 Seating Card Decor
If a creative celebration is what you are striving for, then the seating cards should be stylish, not banal leaflets with names. Having included imagination, feel free to move away from the existing rules. For example, you can fix the seating cards on skewers that will be stuck in the trap. Named wedding sandwiches will look unusual and will definitely please guests!
The original solution will be to fasten the cards to sweets or candies. A business card on a skewer that is inserted into an apple looks stylish. It will turn out two in one - both tasty and beautiful. You can use other fruits instead of apples, for example, in a pineapple, standing in the center of the table it is possible to place several sticks with seating cards at once. So, guests can choose any place at this table, and in the case of arranging tables for 4-6 guests, this will immediately indicate the place of a company.
Cards made in the form of cookies, on which the names of guests are written with icing, will look creative. Such an original solution will not hit the finances of the bride and groom, especially if you cook the pastries yourself. There are a lot of options for seating cards for the wedding, but the easiest solution is to attach them to the cocktail tubes that will be placed in the glasses of each guest.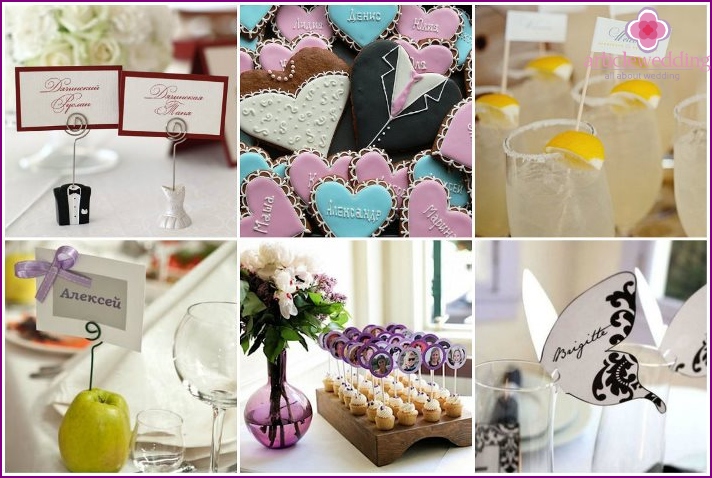 Banquet Hall Decoration
Lighting looks a bit spectacular a la starry sky: beautiful wedding pictures and pleasant surprise of guests are guaranteed. You can turn on such lighting during a solemn moment, for example, when the first wedding dance of the bride and groom begins. If the wedding is planned for the warm season, decorate the space with flowerpots and flowerpots (pots on pendants).
A creative wedding provides originality in everything, even in the arrangement of tables. Why do not you make tables in an unusual way, for example, with a snake? Cover them with a stylish golden tablecloth - this will give the wedding a glamor. Check in advance whether a solid line of tables will fit in the room and whether it will be convenient for staff to move around the room.
Turntables are a fresh and creative idea for wedding decoration of an open banquet ground. Accessories will be especially beautiful in windy weather. Guests should be invited to leave their wishes to the bride and groom on a pre-prepared beautiful board. Forms for wedding greetings can take the form of a heart or a flower, and after filling them you will need to glue them on the board.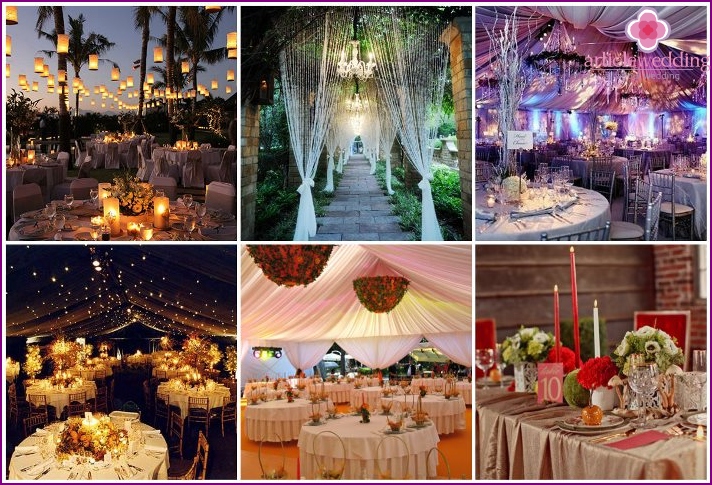 Creative Cake Options
Each couple has common interests that can be used to create a wedding cake. Groom and bride are fans of Shrek, love football, collect butterflies, go snowboarding or skiing? Then dessert for the wedding can be ordered in this theme. It will reflect the personality of this couple and will surely turn out to be creative, unforgettable.
Romantic people should choose a wedding cake style that reflects this. No need to think that such a solution is not creative, because it is not necessary to choose the classics. For example, wedding cakes made of macaroons - protein-almond cakes are gaining popularity in Europe. Why not dwell on such an original solution? Creative patriots will love a wedding pancake cake. It is very tasty and original..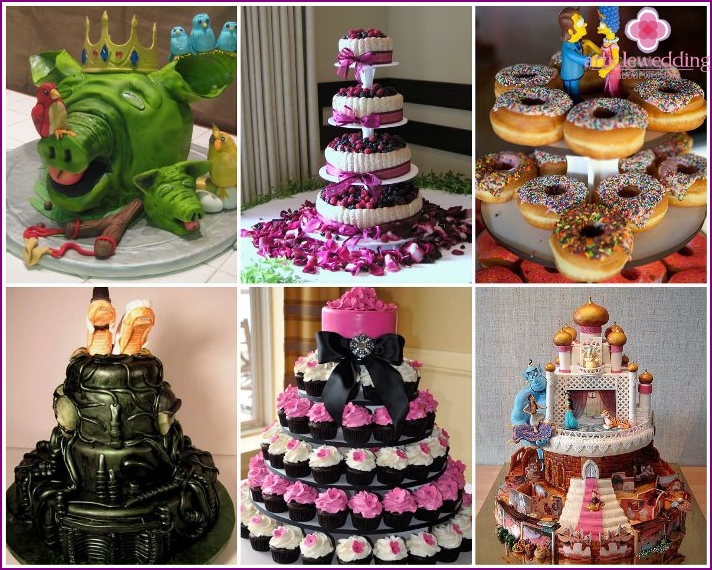 The bride's bouquet
A bouquet for the bride is an important wedding attribute. To be creative, it is worth coming up with an unusual, interesting form. With the help of a bouquet, the bride will be able to create a stylish, original wedding image, emphasize her personality. However, make sure that it harmoniously fits into the general theme of the celebration. Depending on the style, a wedding bouquet can be made using:
fruits and berries;
balloons;
shells, sea pebbles;
sweets, candies;
plush or knitted toys;
paper, cloth or ribbons;
beads, crystals, strass4
Christmas tree branches, toys.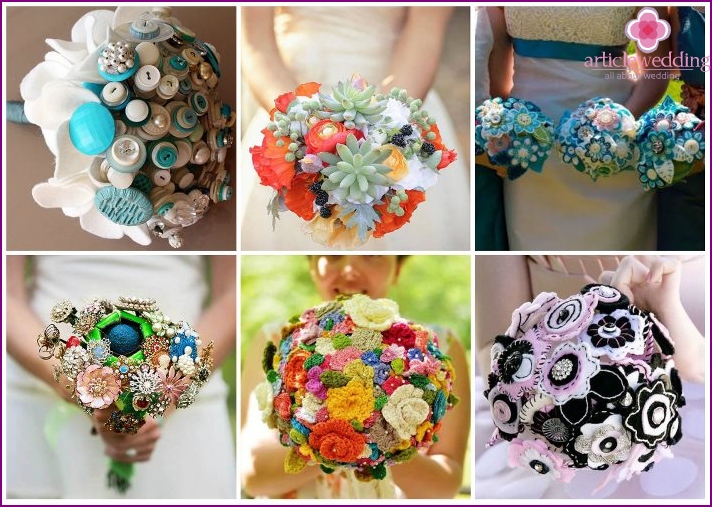 Creative Wedding Accessories
Wedding accessories and jewelry play a big role in planning a creative celebration. The original solution will be necklaces or wreaths made of exotic flowers that the presenter can wear on arriving guests. Hand out inviting maracas, and say shake them instead of the traditional scream «Bitterly». Do not forget to take care of wedding bonbonnieres - small pleasant presentations for guests. It can be boxes with cookies and sweets, pieces of handmade soap, jars of jam.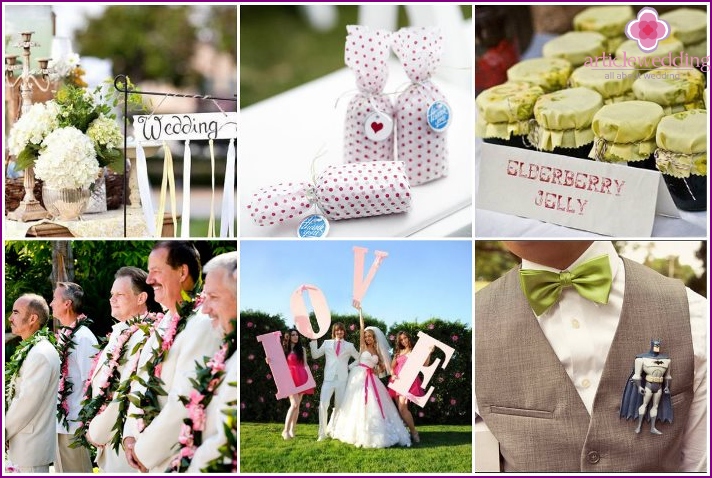 Video: creative wedding in sneakers
Many people want a creative wedding ceremony, but not everyone dares to move away from wedding norms and traditions. Often, those who want to stand out just refuse a couple of wedding attributes. For example, when choosing a dress, extreme measures are resorted to only occasionally. However, there is a small but very creative piece of couples that boldly break the accepted wedding traditions, changing a white classic dress for a flashy outfit, and stylish classic shoes for sneakers. They do not have freedom, imagination, the ability to abandon stereotypes and annoying wedding ceremonies.
Creative ideas for a wedding photo shoot
A wedding is an important event, and it depends only on you whether pleasant memories will remain after it. Despite the fact that each couple after the celebration has numerous photos and videos, not many can boast of their creativity. Any young family wants to get high-quality, and most importantly original and creative pictures, but there are not always ideas for a creative photo shoot. Here are just a few:
Swing. They will create a good mood and light atmosphere. Their bride and groom can be ordered individually, for example, in a rustic style. And then decorate the wedding swing with flowers or colorful ribbons.
Boats - an original solution for a photo shoot. With their help it is possible to create a whole romantic story about a couple.
Umbrellas. This is the most popular wedding accessory, but despite the prevalence of umbrellas, they will provide the opportunity to make a creative photo shoot. The bride and groom should choose bright shades that will contrast with each other.
Bicycles To make the photos a worthy decoration of the wedding album, the bride and groom can choose a picturesque place and go there with bicycles, which should be decorated with colored fabric or flowers for more creativity.