Contents
---
---
Many brides dream at least once to turn into a medieval lady, for whose attention the knights would fight. Therefore, a knight-style wedding is very popular, transferring lovers and invited guests to ancient times. Can there be anything more beautiful than jousting tournaments and exciting battles popular in the Middle Ages? But to conduct a wedding in this style, you need to know a few nuances.
Knight-style wedding image of the bride and groom
The attention of invited guests at the wedding will be riveted to the groom and the bride. It is worth taking care of outfits in advance, because the images of the young must fully comply with the medieval style. A true lady should give preference to the classic white model. Such a wedding dress can be decorated with unique medieval elements - a bright bodice, contrast lacing, an elongated silhouette, which will be obtained with the help of long smooth folds flowing into the train.
Preparing a bride's wedding dress can take a lot of energy. Please note that before the ladies got married in the best dress, which does not have to be white. If you want to express your own personality and love bright colors, feel free to choose a color wedding attire. Embroidery or precious stones can be used to decorate the fabric. Makeup bride for a knightly wedding should be easy, unobtrusive. Pick up hair and tie a ribbon to match the dress - this is the perfect hairstyle for a medieval bride.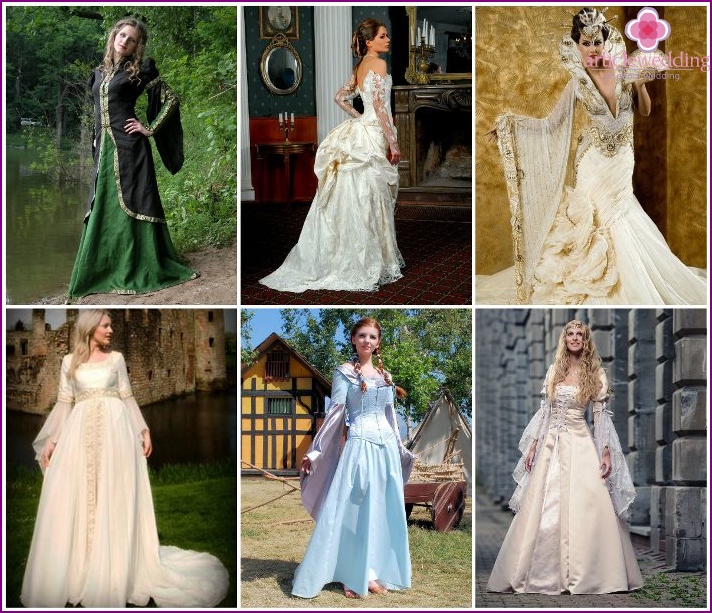 The image of the groom must match the chosen style. Do not try to put knightly armor on your lover. They are very heavy, the groom in them will feel very uncomfortable. An ideal option would be an elongated tunic, tight pants, a bright cloak, draped over the shoulders. Such an outfit will turn the beloved into a noble medieval knight.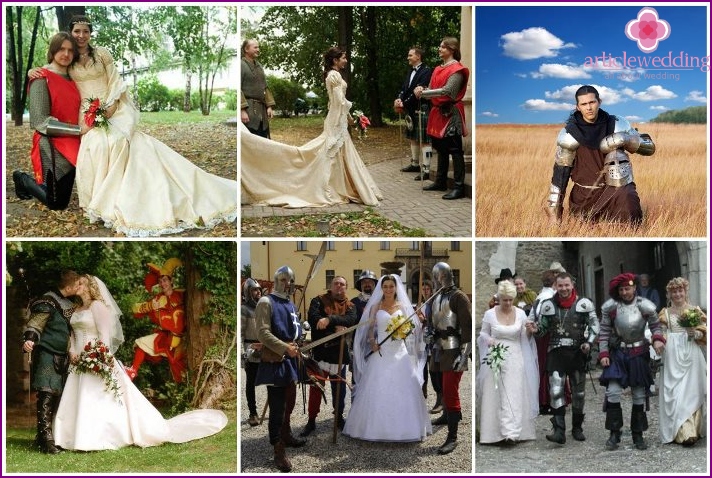 Dress code for guests
In order for the atmosphere of the chosen era to be fully conveyed, all guests invited to the wedding should be appropriately dressed. Stylized dresses from the Middle Ages with suits, they can easily be rented in a specialized salon. A massive bracelet will be a wonderful decoration for ladies, and heavy gold chains for men. To convey the knightly style, large rings, pendants, fake swords, shields, spears can be used. Ladies can use a veil as additional accessories.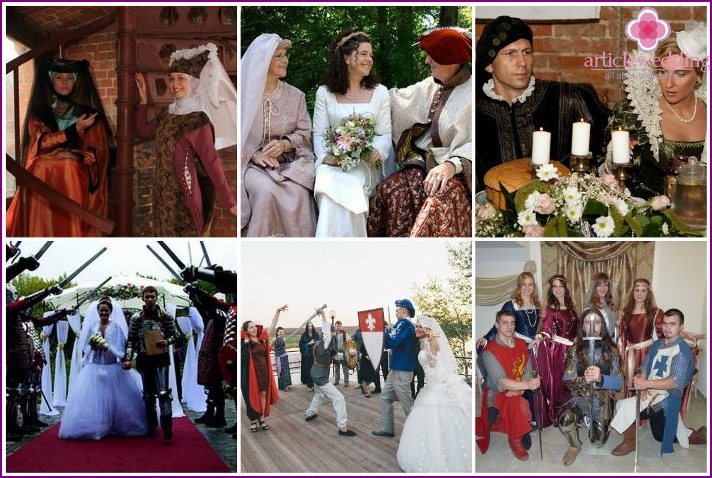 Where to hold a knightly wedding?
Take care in advance of where you will hold the wedding in a knightly style. The best option would be a medieval castle, but if you do not have such an opportunity, pay attention to restaurants and cafes. You will need to hire a decorator or do your own decorating the banquet hall. Accessories for styling the Middle Ages will perfectly serve: old dishes, heavy curtains, paintings depicting palaces or knights. All this will help you travel to the right era..
Old castle
A wedding ceremony in an old medieval castle will be remembered for a lifetime. If you have such an opportunity, rent a fabulous palace with towers, fortified walls, which will be guarded by armed knights. In order to completely recreate the spirit and beauty of that era, it is worth organizing a knightly tournament on the territory of a medieval castle, warning guests that everyone can participate.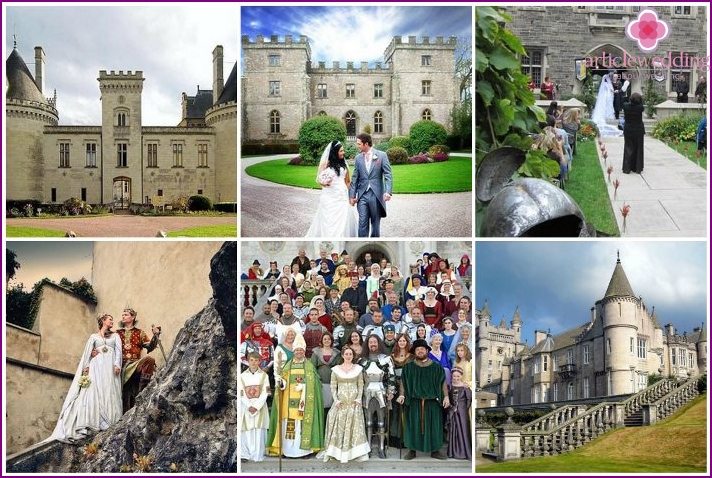 Medieval style restaurant
A wedding in a knightly style can be held in the territory of a stylized restaurant, where this era will be clearly felt. A great choice would be a hotel reminiscent of an old building with a banquet hall. Thanks to this, renting a room will be much cheaper, and you will not have to independently engage in artificial recreation of the chivalrous atmosphere with the help of decorations and attributes. For example, walls can be decorated with animal heads..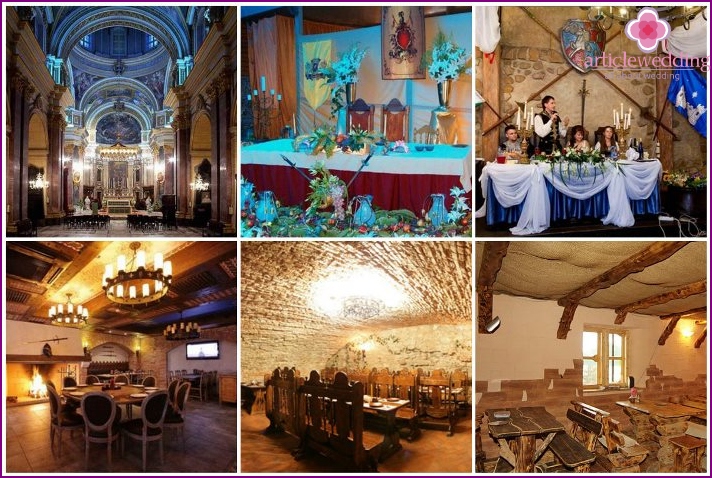 Nature party
If the wedding is scheduled for the warm season, and you want to spend it in an unusual setting, it is worth considering the option of a holiday in nature. A touching away ceremony and guests' competitions, knightly tournaments will leave a lasting impression and a lot of positive emotions. You can sit in a park, forest or shore of a reservoir. You need to take care of the wooden chairs in advance, find a massive table, stylized antique dishes. Any wildflowers and antique candles will be wonderful decorations and give a touch of romanticism.
Medieval style wedding decoration
A wedding in the style of knights is perfect for romantic and dreamy natures. In preparation for the wedding, you can safely use all available knowledge about the chosen era, it is useful to familiarize yourself with historical literature. The most important thing is to correctly recreate the general atmosphere of the Middle Ages so that not only the bride and groom, but also all invited guests will plunge into the world of tournaments, battles for the heart of a lady and uncontrollable adventures.
Scroll Wedding Invitations
Particular attention should be paid to invitations, which can tell guests about the theme of the wedding. For example, if you chose a knightly style of marriage, invitations in the form of a note on old parchment would be an ideal option (you can use specially aged paper). You can bandage them with a bright ribbon or put a wax seal. A classic text or with a hint of antiquity will do. Immediately indicate that the wedding will be held in a knightly style.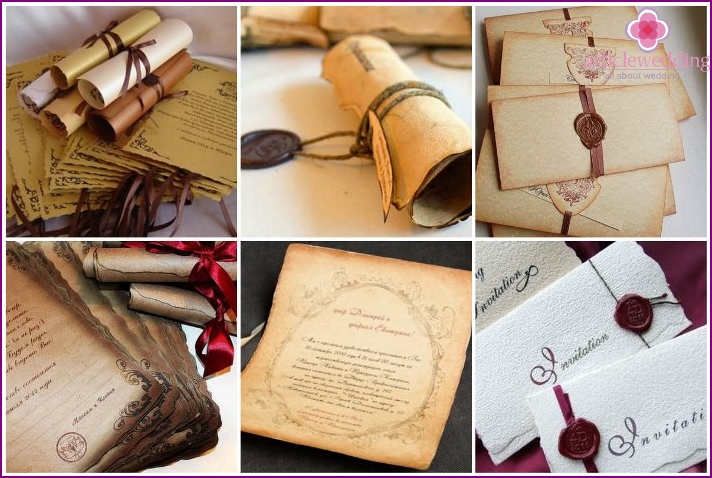 Party Decoration
The hall for the celebration of a knightly wedding needs to be designed so that, having entered it, guests can be transported to the mysterious Middle Ages. The main attributes are bulky furniture made of wood, chairs with high backs, a large chandelier should hang above the table. To create an aura of mystery, light a banquet hall with a large number of candles. Ensure that safety is fully observed..
An excellent addition will be a fireplace with burning wood, antique candlesticks arranged around the perimeter of the hall. And modern paintings and portraits need to be replaced with luxurious tapestries, which were popular during the Middle Ages. The walls of stylized restaurants can be decorated with animal heads or weapons. These small details are the perfect decoration to create a chivalrous wedding atmosphere. To create an interesting play of shadows from candles and a fireplace, make slightly dimmed lighting in the room.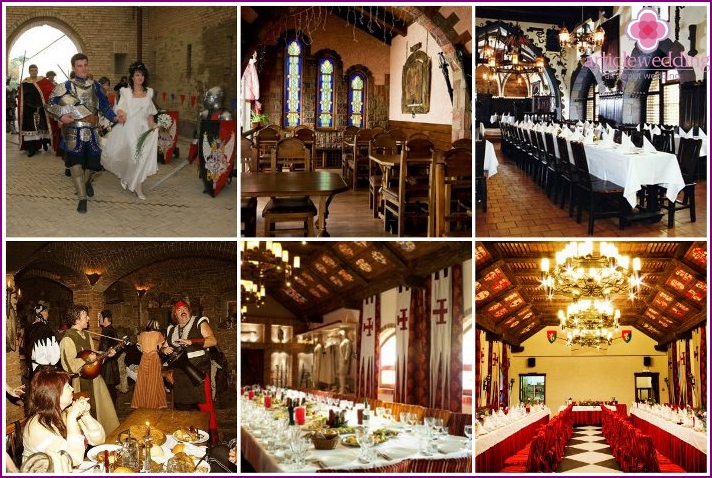 Medieval Wedding Menu
Massive wooden tables need to be covered with beautiful tablecloths, arrange vases with wildflowers. If you have the opportunity, use old medieval crockery and candelabra as a decoration. This will add mystery to the banquet hall. The wedding menu should consist mainly of meat dishes - lamb, venison, all types of game, wild boar meat, fish dishes.
A great choice would be a baked bird on beautiful old trays or a piggy decorated with vegetables, fruits and herbs. Previously, on the table of the knights must have been homemade cheese. When choosing drinks, it is better to give preference to lemonade or cider, which must be poured into jugs and served to guests in bulky bowls. Of particular note is the wine, which has always been a lot at the weddings of knights. On the table must be fruit, but not exotic, but apples, grapes, pears.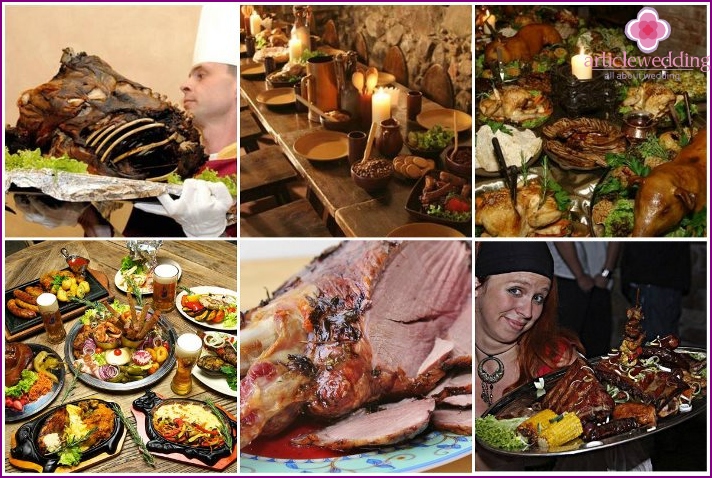 Video: Knightly Wedding Ideas
A modern person practically does not devote time to romance, and even a long-awaited wedding can turn into a banal painting with a visit to the registry office. If you want this day to be remembered for a lifetime, you should think about a holiday organized in a knightly style. Check out the following video, which shows in detail how a medieval-styled wedding should take place:
Thematic photo session in the castle
A photoshoot in an old castle will help to feel the spirit of the Middle Ages, when every man wanted to become a knight. The pictures taken will help to remember the wedding for life, and it is not necessary to search for old dresses, the classic suit of the groom and the snow-white dress of the bride are perfect. To make a bright and unforgettable photo shoot, dress up your girlfriends in maids of honor, and dress men in knightly armor.