Contents
---
---
A modern wedding is not only a large-scale celebration with dozens of guests, but also the opportunity to make your secret dreams come true. If in childhood you read books about royal courts, beautiful princesses and knights fighting for their heart, then a medieval-style wedding is what you and your partner need. This event will create a truly unique atmosphere that will amaze guests with its beauty, sophistication, and will leave incredible impressions for a long time..
How to organize a wedding in a medieval style
Ancient times were not as rosy as they are described in books. The famous plague of those years, the poor standard of living of poor people who were subordinate to the powerful of this world, the Inquisition - all these are satellites of the dark medieval time. Despite these terrible things, this era gave mankind a unique architecture. And also, in those distant times, a real romance was born - remember at least the knights who tried with all their might to defend the honor of their lady of the heart.
The heroes of the medieval celebration do not have to reflect the cruel culture of that time: it is better to focus on the beauty of the palace interior, magnificent, rich outfits, royal and court entertainments. What you need to plan to organize a medieval wedding:
Choose a suitable venue. This style of wedding requires a certain interior to create an atmosphere of bygone time, so future spouses need to seriously try to find the perfect venue. If the medieval bride and groom have the financial means, an excellent solution would be to rent a hall of a country castle or estate, which uses interior details of the time.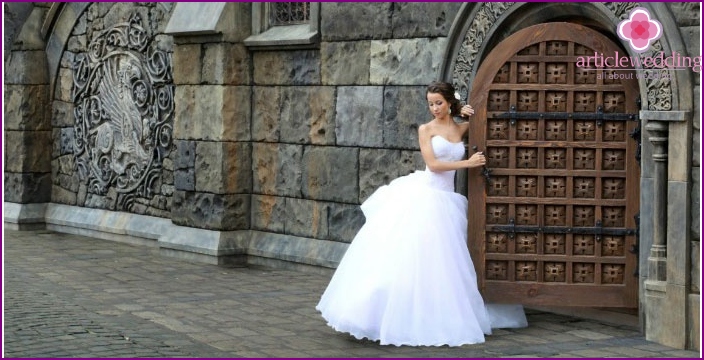 If this option is not possible, future spouses can rent a restaurant for a wedding, full of wood and stone details. Also, the perpetrators of the medieval festivities can always arrange a holiday in the tavern, focusing on the fun life of the poor. If the wedding takes place in the summer, it will be possible to spend it outdoors in a tent, somewhere in a picturesque place.
Send out invitation cards. Invitations - this is what is intended to tell guests about the style of the upcoming wedding, so you need to take their creation seriously. It can be wax-sealed envelopes with the emblem of the royal family, where a letter with a calligraphic font will be enclosed. Another interesting option is the aged scrolls tied with twine with a seal. It's good if postcards are delivered by a courier dressed as a page.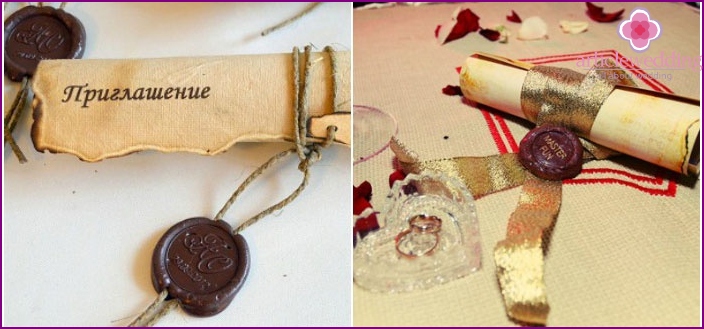 The presence of a medieval wedding dress code should be written in invitations, and send out cards a month or two before the celebration, so that guests have time to think over the festive style and prepare gifts.
Think over a dress code. You can give guests the opportunity to independently find the costumes that can be found in costume stores, or to help them with this difficult task. At the entrance to the banquet hall there can be a stand with clothes: men's cloaks, plastic swords, chic raincoats for ladies, exquisite hats. Let every guest pick something he likes best.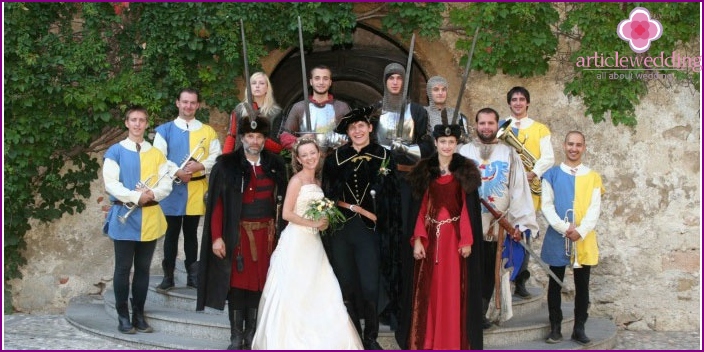 Create a family coat of arms. If you decide to celebrate a royal or just a noble wedding, you need a family coat of arms - how else to emphasize the status of a medieval couple? You can entrust this business to the artist or draw a symbol of the future family yourself, come up with the motto of your couple. It will be possible to decorate the festive hall with this emblem, it can decorate invitation cards for guests.
Choose a holiday menu. To create a unique atmosphere for the wedding, you need to carefully prepare everything, even the festive menu. Such dishes must be on the table: stewed vegetables, baked game, all kinds of soups, different types of fish dishes. The decoration of the center of the table will be a baked goose or pig. As for fruits, give up exotic options, preferring grapes, apples. As a dessert, a fruit pie is suitable.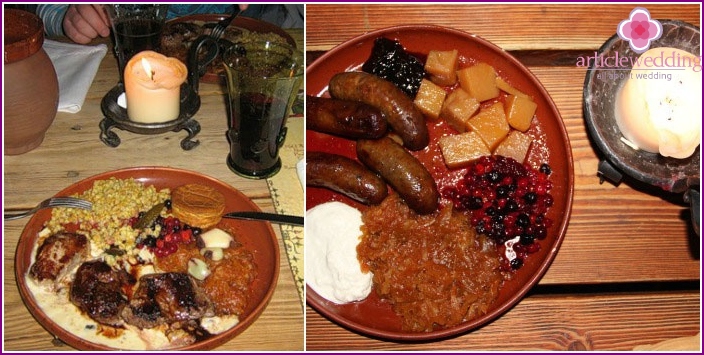 Buy alcohol. Alcoholic drinks were mainly a variety of wines, cider, liquors and tinctures, so decorate the table with them. Fortified wine or cognac may be a stronger drink..
Order a wedding procession. For such an event, modern cars will not work, because in those days, they simply did not exist. An excellent replacement for the classic motorcade will be a real carriage or horse drawn cart. If young people have horse riding skills, they can ride them on their own.
Order the services of a photographer. An unusual wedding will surely become a beautiful, amazing event, so it must be captured in the photo. A professional photographer will help you find the right props for this style of photo shoot and come up with stage shots. If you have the financial means, you will be able to hire an operator who will mount an interesting video about your medieval wedding.
The image of the bride and groom photo
To create unique images of those centuries, the bride and groom will have to work hard. Some costume stores provide dresses and outfits for men in this style, but it is unlikely to be able to immediately find a robe that fits perfectly and perfectly looks. What the image of a medieval bride should look like: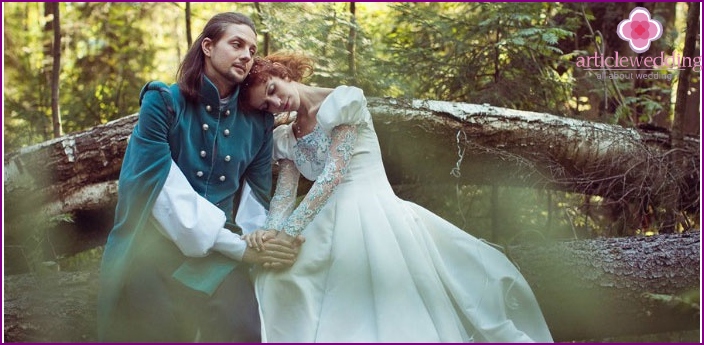 Dress. The dress for the wedding is a perfectly fitting, tight corset, a fluffy skirt, long sleeves. Sleeves are a must-have item, they perfectly emphasize the medieval style. If the wedding is celebrated in the summer, give preference to light, flowing fabrics and lush sleeves. In winter, the bride can wear a warmer outfit, sewn with heavy satin and velvet - this corresponds to the style of the holiday.
As for the color of the dress for the wedding, it should not be a white shade, on the contrary - prefer a darker palette that suits your color type. Ideally, a robe for a medieval wedding should be generously decorated with embroidery, lace, beads, because before you could always determine the consistency of a lady from a dress. The more elegant the outfit, the richer the woman.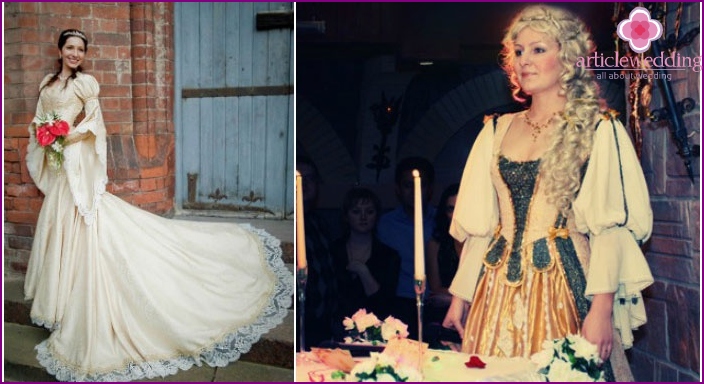 Makeup and hairstyle. Makeup should be simple, natural, because in medieval times the girls almost did not paint, only powder their face to hide the imperfections of appearance. Hairstyle also should not be made too complicated: in those days the lady did without styling.
Accessories The shoes can be neat leather boats, flats without heels or shoes decorated in a medieval style, the main thing is to avoid modern sandals, sandals, shoes with an open cape. Complete the look with stockings, chic jewelry, a small diadem, gloves, an exquisite handbag and everything that you will like from the image of a medieval lady.
Bouquet. A simple bouquet of field plants that create a delicate, romantic composition is suitable, but if you like roses, you are allowed to include them in the bouquet.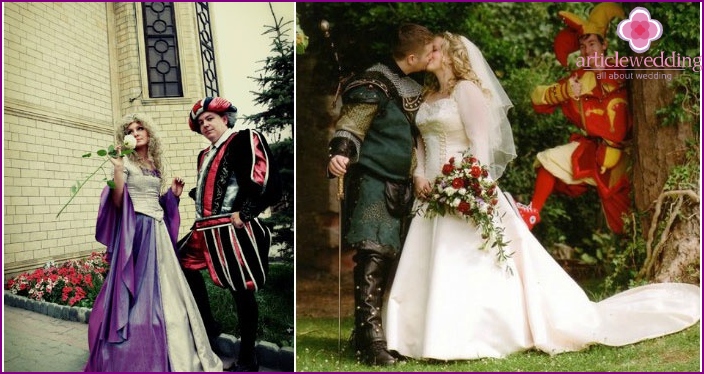 Choosing a suit for the groom is perhaps an even more difficult task than creating the image of the bride. The groom for the wedding can dress up in a noble knightly style: put on light chain mail, armor, boots, arm himself with a real sword. Such an image perfectly emphasizes the medieval style, but will tire the future spouse. A royal or noble image will be a good option - this is a camisole, soft velvet pants, boots with buckles, a comfortable spacious shirt, a raincoat. The robe should be decorated with beautiful embroidery.
Medieval style hall decoration
When a wedding venue is chosen, it is necessary to think over and create a certain style to decorate the room. A medieval castle is luxury and darkness at the same time. Heavy, massive fabrics, cold stone walls, knightly armor on pedestals, huge rooms where light hardly penetrates, rich decoration of interior details - a similar atmosphere will be created for the perpetrators of a medieval wedding.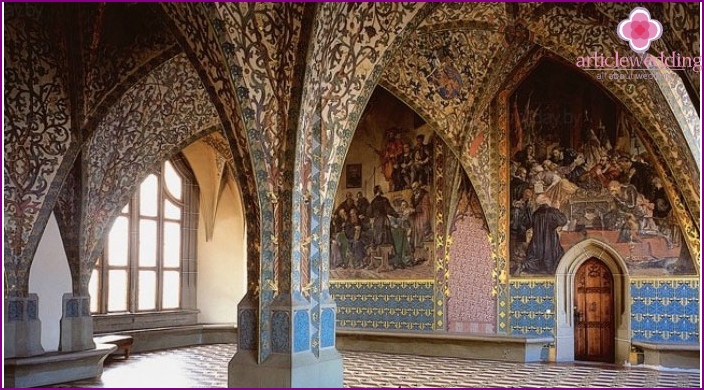 It is necessary to choose colors for the holiday. It should be deep dark shades, such as burgundy, navy blue, emerald green, black. Shading dark colors, contrasting details will make them pleasing to the eye: gold embroidery and stylish interior elements. Do not use light shades, they do not correspond to the medieval style of decoration for weddings.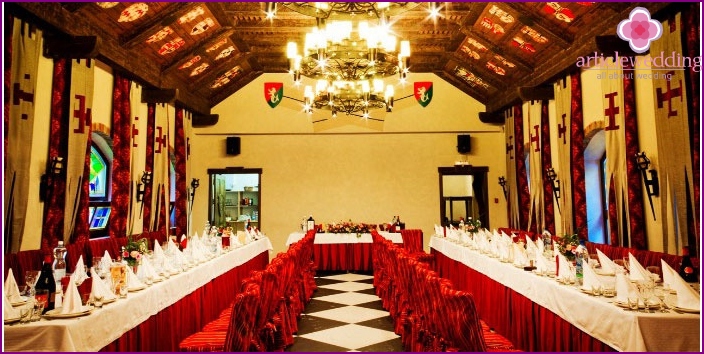 Decorate tables with bouquets of plants, dishes suitable for a wedding in a medieval style: these are clay plates, wooden and iron trays, golden and silver goblets, silver cutlery, ceramic products, jugs of wine and other drinks (do not put alcohol in purchased bottles) . Also, a banquet at the wedding, decorated with an embroidered dark tablecloth.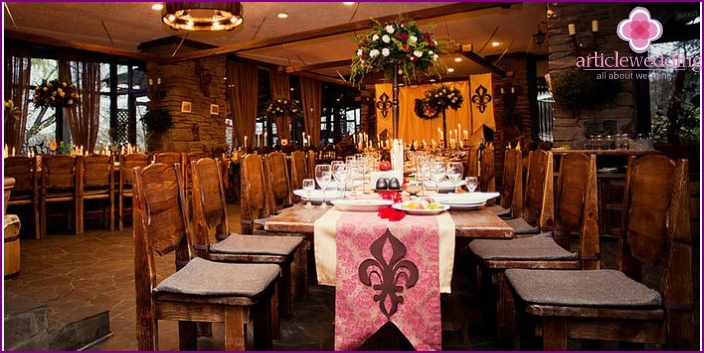 The walls are decorated with massive tapestries with images of jousting tournaments, royal families, emblems of nobles. If the perpetrators of the wedding came up with their coat of arms, it will turn out to order a tapestry for the wedding, which the bride and groom will hang over their table. Swords, heads of dead game, and paintings in massive frames can also hang on the walls. Remember that in medieval times there was no electricity - place beautiful candles everywhere.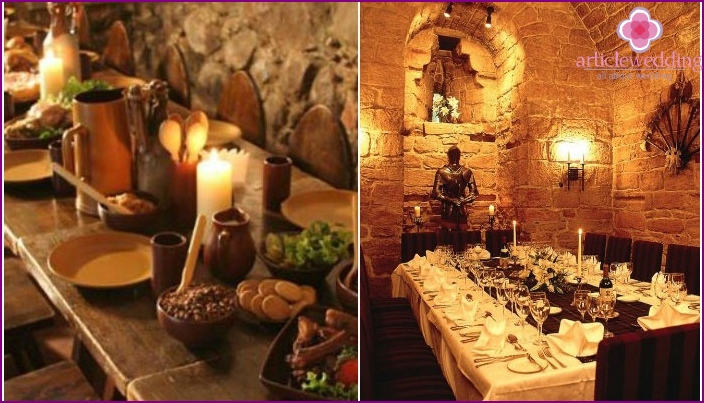 Medieval style wedding script
A wedding script in the style of past years will be fun and interesting if you carefully prepare for the holiday. The morning will begin with the process of redeeming the bride, where the groom needs to prove that his heart belongs to a beautiful lady, fight with the best knights of the kingdom, and, possibly, with dangerous dragons - let the girlfriends come up with suitable contests themselves. After the ransom, the future spouses will go on an exit medieval registration.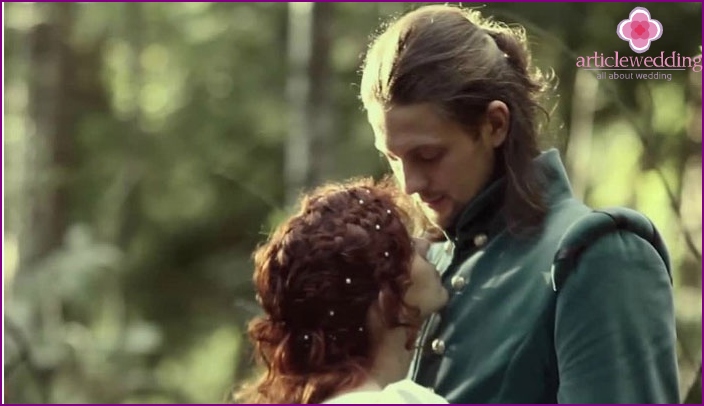 Registration will come out at the registry office, but others may not appreciate your stylized costumes, but on the visiting wedding option you can even dress the registrar in the robe of a middle-aged priest. After the marriage is registered, newly-married newlyweds with guests will go to a photo shoot, where a professional photographer will put some interesting shots. When the beautiful production photo session is over, the couple go to the guests for a festive banquet.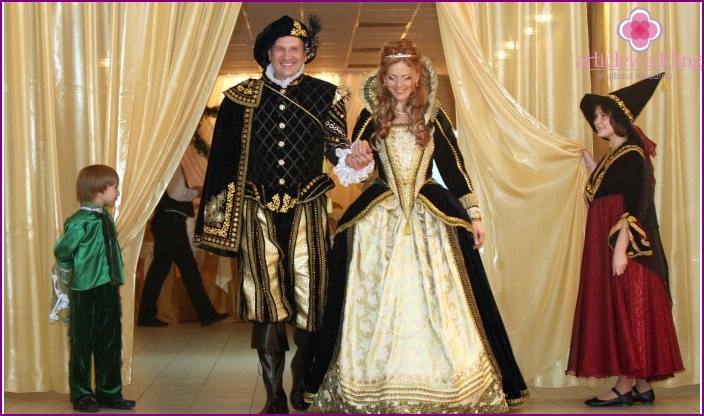 A bridegroom and a bride should be hired for a medieval wedding as a professional leader who will create an interesting scenario for the holiday with contests, tasks stylized as knights' tournaments, and come up with several tests for maids of honor. In parallel, guests can be entertained by animators dressed as medieval jesters, real magicians, fortunetellers, and the magnificent fire show will perfectly end the evening.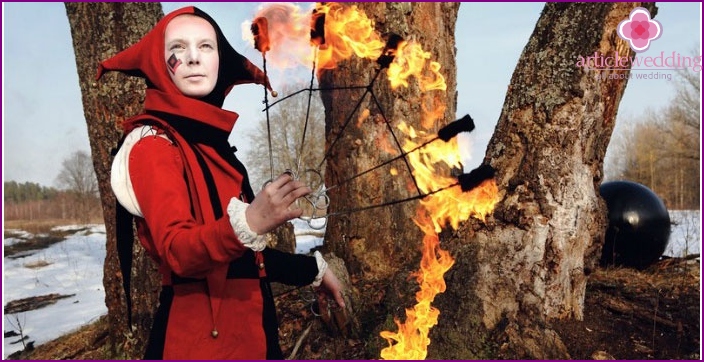 Also, for a medieval wedding, you need to hire musicians who will play beautiful old works - minuets, waltzes. The bride and groom can even learn an interesting medieval dance, some courses specialize in this style. This perfectly emphasizes their love for each other..
Process video
A wedding in a unique medieval style is a celebration that will surprise and delight guests. The original holiday will cause a lot of positive emotions, amaze with its splendor, will be unforgettable for all participants in the process. A carefully prepared medieval event is a great way to celebrate a wedding..