Contents
---
---
What could be more beautiful weddings in early autumn? This time is rich in colors and gifts of nature. Do not miss this opportunity, make your holiday delicious, juicy and vibrant. Grapes ripening under the warm autumn sun on the plantation, wine barrels are the details that will create a romantic atmosphere at your celebration. A wedding abroad in France or Italy is an ideal option for holding a celebration for those who are fond of wine themes. How to organize the perfect grape ceremony?
The image of the bride and groom
To choose clothes for the newlyweds, you need to decide on a specific place of marriage. The most successful option is a grape-style wedding in an old villa, next to which there is a winery. Picturesque, spacious territory will give you and guests an unforgettable experience, frames, emotions. The bride can choose not only a traditional white wedding dress, but also an outfit of shades of ivory, champagne, lavender. Having decided on the main tone of the color scheme, accessories and shoes can choose a shade darker.
The bride's wedding bouquet is the embodiment of delicious and juicy fantasies. It may contain sweet grones of green or purple grapes, white orchids, crocuses, small roses, lilacs, ranunculi, eustomas, gladioli or freesias. An interesting solution will be flowers in a cascading design. You can complement this floral composition with a wedding band on the hair of vines and grape fruits..
The image of the groom must fully match the bride. A standard black tuxedo is definitely not suitable, in a grape celebration you need fresh, bright solutions. You can use gray, blue color in any shades for a suit, white, pale pink, light lilac for a shirt, bright purple for a tie or bow tie. The buttonhole is the main element that fully reveals the theme of the wedding. Choose for her, instead of a regular flower, an artificial small bunch of grapes in addition with green foliage.
Even if your wedding will not take place abroad, on the pedigree of the vineyards, you can still successfully play the ceremony in this style. To do this, stick to the primary colors - purple, green, white. If such a gamut for a wedding is not enough, complement it with red wine, yellow or pink color, using them in accessories.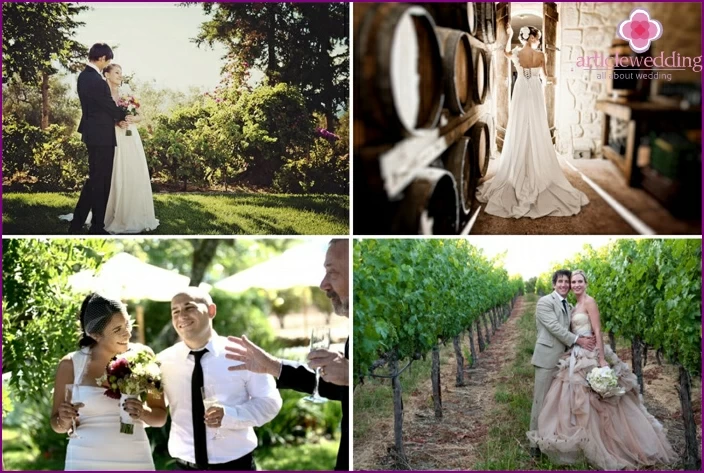 Dress code for guests
There should not be a strict style of clothing for guests at a wedding, because it is not always possible to adhere to it. Settle this question in advance with all your loved ones. By sending grape invitations to a thematic wedding, you can set the color landmarks in the clothes that you would like to see. For example, many people find dresses and men's suits in gray and white, and to them suggest adding a bright purple or green accessory.
The images of bridesmaids and boyfriends of the groom should be approached more responsibly. These people complement the couple at the wedding photo shoot, so they must fully comply with the grape theme. They don't have to look the same, but a solid gamut and similar styles will emphasize the importance of your event. Speak with each individually the style of grape accessories.
The shade of the bridesmaids dresses should overlap with the colors of the bride's wedding bouquet. For dark grapes, purple, lilac clothes are suitable, and for green grapes - light (ivory, beige, champagne) a pleasant satin or chiffon fabric. A bouquet in grape style should not merge with the general image of girls at a thematic wedding. Create a contrast: for dark purple dresses, choose white, delicate flowers, and for light - brighter floral arrangements.
Friends can pick up suits a tone darker than the groom's wedding clothes. Navy blue, gray trousers, vests, and light shirts will look great. If your friends want to wear jackets, then you can choose to them buttonholes in the form of white flowers, which will resonate with bouquets of girlfriends. A successful accessory for buddies at a wedding will be a purple bow tie or grape print.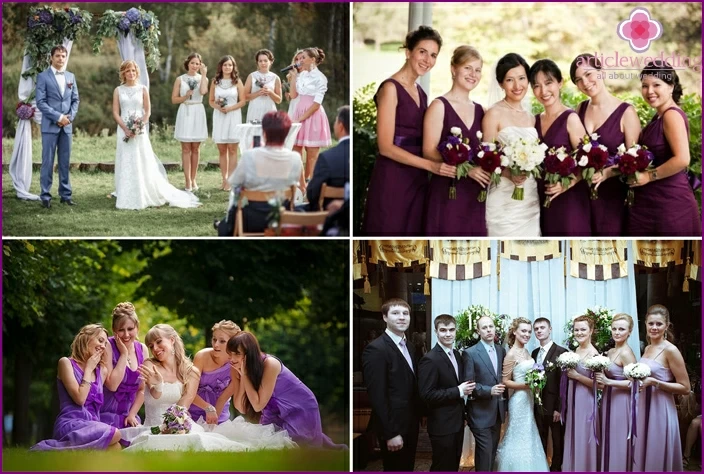 Guest Invitations
The first impression of the guests of your wedding may appear much earlier than the ceremony itself. By sending invitations, you hint at the theme of the celebration, indicating in the text not only the date of the event, but also the main colors and accessories. This may not be a standard postcard, but a thematic box of purple color, in which there will be a magnet in the form of grapes, a note with prints of wine barrels, a calendar of the winery with a marked date of the ceremony, or whatever you plan with decorators.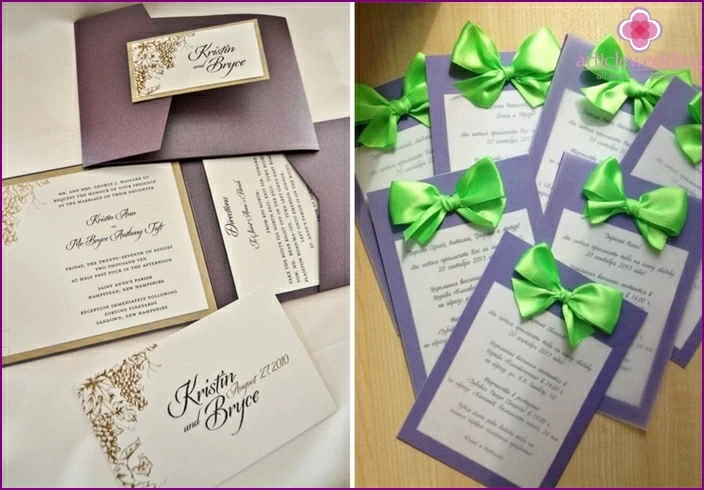 Grape-style banquet room decor
To set the right mood for the whole celebration, you need to choose themed grape decor. Much depends on the wedding venue. A banquet hall in the basement restaurant, a cafe in the open, a grape villa will help you decide how to complement these rooms. If you are not satisfied with any option, you can order a tent, but in this case you will need to decorate everything from scratch. How to decorate a wedding banquet hall so that the decor of the room matches the grape style?
If the wedding venue is a basement type restaurant with stone arches and the atmosphere of a wine cellar, then you will need:
fabrics of purple, white, green, pink, wine colors, which in the future will turn into tablecloths, covers for chairs, curtains;
wine barrels (if possible);
floristic compositions with bunches of grapes that will adorn both the ceiling and walls;
additional light sources of violet or lilac hue to give romance and grape style.
If you have chosen an outdoor cafe for your wedding, prepare:
fabrics of thematic shades for sewing covers for chairs, tablecloths on tables, elegant awnings;
transparent PVC curtains to protect against wind, rain;
grape floristic decor.
Ancient grape villas originally have charm and a specific atmosphere. When planning a wedding in this place, you will only need to slightly supplement it:
fabrics of white, purple flowers to create a wedding mood;
bouquets with buds of eust, lilac, ranunculus, freesia, gladiolus and grape;
light sources, as you see fit.
A wedding in a tent involves the creation of a banquet hall from scratch. The advantage of this place is that you yourself choose its location, with the help of decor you make it unlike other rooms. Creating, decorating a wedding banquet hall is best negotiated with professional event decorators.
You can also turn to economical options for wedding decor: balloons, paper flowers, garlands, three-dimensional letters of white, purple, green, pink flowers, figurines of grapes. The main thing - it is appropriate to pick them up, without going too far with the decorations of the grape theme. You can decorate the entrance to the wedding banquet hall with a twisted vine with bunches of grapes, colorful, motley flowers.
Festive table decoration
You can use the above decor to achieve a bright and festive mood, but do not forget about floral arrangements, without which no modern wedding can do. Small bouquets, supplemented with artificial grapes, are suitable for decorating the central area of ​​the guest tables, and the places of the newlyweds, in addition to juicy fruits, can be decorated with thematic attributes of violet, green colors.
The main rule of decorating the festive table is a seasoned wedding theme, nothing more. Use your imagination or consult professional decorators for innovative solutions. At the grape wedding table there may be cork compositions, wine bottles with wishes inside, medieval-style candlesticks, cards with French or Italian design for each guest.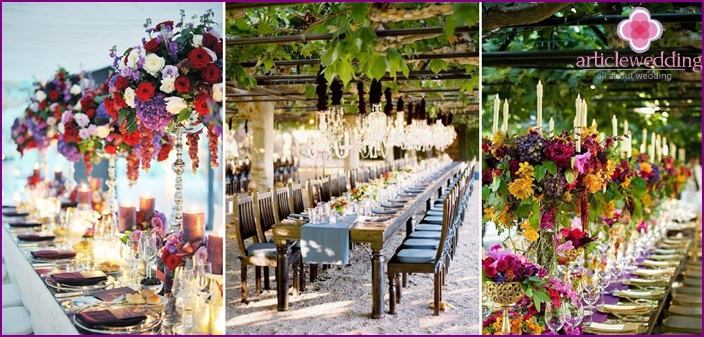 Grape Style Wedding Accessories
A grape wedding is characterized not so much by the fruits of this plant as by themed accessories. Choosing them correctly, you will create an indescribable atmosphere at the celebration. Use the entire wedding printing industry: invitation cards, seating cards, menus, table numbers, and a guest book for guests. Every detail should have a grape theme. Choose the appropriate attributes: barrels, corks, vines, glass bottles for wine. When organizing a wedding, provide guests with warm rugs of purple shades on a cool evening.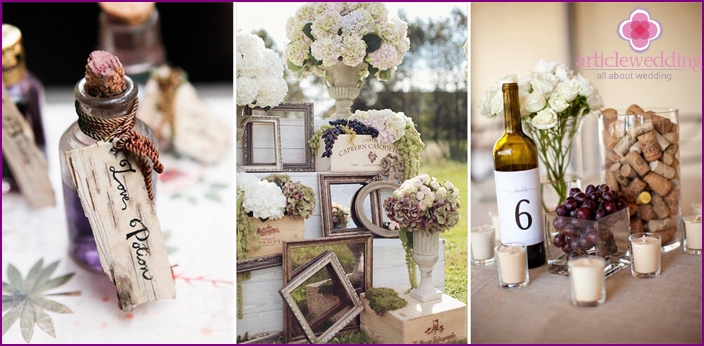 Grape Wedding Treats
The newlyweds make the menu with the chefs of the selected restaurant, based on their own wishes. Be sure to think over not only the main dishes at the wedding in a grape style, but also themed snacks, a small Candy-bar. Prepare light snacks in the form of different cheeses. An original idea at a grape-style wedding is a separate table for serving, along with fine wines such as «Chardonnay», «Merlot», «Nutmeg», «Pinot noir», «Rislin», «Sauvignon Blanc», «Shiraz».
Candy-bar is a favorite place for sweet tooths. This is a small buffet table with desserts, on which there are designer accessories in the form of jars, bottles, trays. Surprise your guests with original cupcakes with purple mastic decor, muffins with berry jam inside, yoghurts, puddings, fruit compositions and raw fruits of different grape varieties. At the end of the wedding, you can give everyone present a bonbonniere with a berry symbol of the occasion, pre-soaked in wine, boned in sugar and frozen.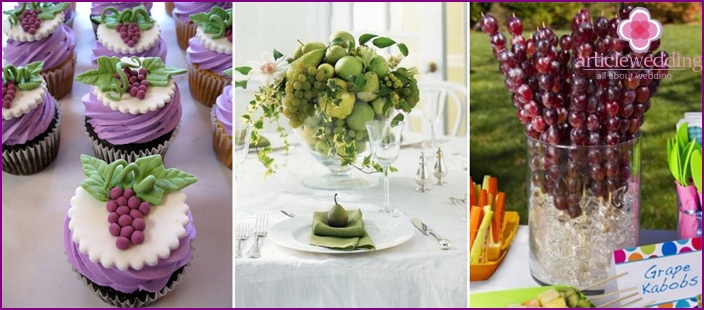 Wedding Cake with Grapes
Depending on where your grape wedding will take place, you will need to choose a special place for the cake. If the temperature allows, the delicacy throughout the celebration will be in a prominent place, seducing guests. The original idea will be wine barrels decorated with vine and grapes, or a wooden, rustic table on which the cake will be located.
Grape theme gives you many variations of the decoration of the leading delicacies at the festival. The main accents can be juicy clusters of fruits, and in the role of additions, choose floral arrangements from mastic in violet, white, green colors, mint, bows, ribbons of thematic shades. The main cream let it be white (curd, creamy), cakes - biscuit, jelly.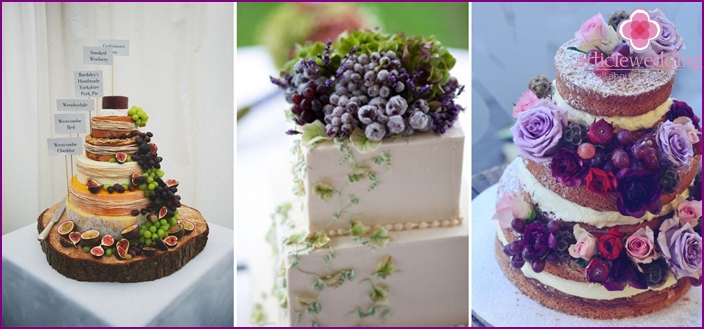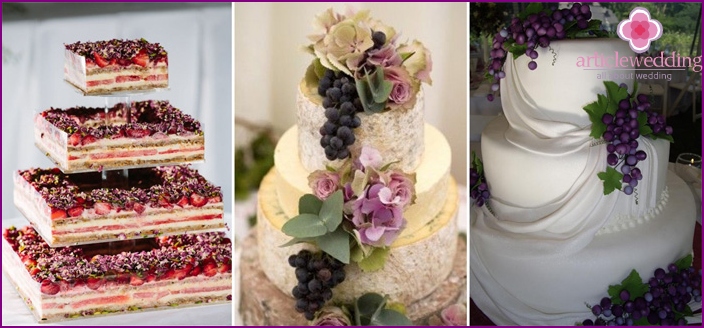 Ideas for grape photosession
The main attribute that will serve as an inspiration for the photographer and honeymooners is clusters of white, purple grapes. Regardless of the venue of the banquet, you can find small vineyards in the district of any city. Choose a good time (from 15:00 to 17:00), when the sun does not blind, but gently sheds light. Then the photos will come out warm, atmospheric, without white highlights.
Truly juicy shots will turn out if you borrow the French tradition of trampling grapes underfoot. You can supplement this idea with various decorations - a flower arch with a vine, wine barrels, candlesticks, and floral arrangements in violet shades. Gorgeous photos will turn out, if you visit an old winery and wine cellars, then the wedding in grape style will be held on «Hooray».