Contents
---
---
The bride and groom want their wedding day to become an outstanding event in life, unforgettable for themselves and for the guests. Variants of celebration with fireworks, limousines, chic outfits are considered commonplace - this will not surprise anyone. What to come up with a new one, what would surprise everyone? Recall the famous saying: «Everything new is well forgotten old». Let's go back in time, return the old fashion, but in a new guise. A vintage wedding is just what you need!
What is vintage?
Vintage fashion has firmly entered our modern life. Under the word «vintage» all the most beautiful and fashionable that was in the past is meant. For example, an old ball gown lying in a grandmother's chest or family jewelry stored for centuries in a casket.

This new retro style is associated with good taste and quality and gradually replaces the impudent glamor. Vintage style (antique) is present not only in clothes, it has taken root well in furniture, in the design of apartments, and even in the design of mobile phones.
It is important not to confuse retro styling with second-hand. The thing should not be old, but old, almost antique. Things under the age of 20 are not used here. Vintage style allows you to create your own individual image and not be like anyone else.
A vintage wedding is distinguished by a combination of simplicity and elegance, memories of it will warm the soul of everyone present for a long time.
How to start a wedding?
To clearly maintain the style, first decide what time phase you want to go to. Maybe you want to be in the 30s or 70s of the last century, or you risk trying on yourself the century before last?
Having decided on the era, study the fashion trends of those times, try to find the right clothes and accessories. To reproduce this more accurately, watch movies, photographs, postcards of past eras.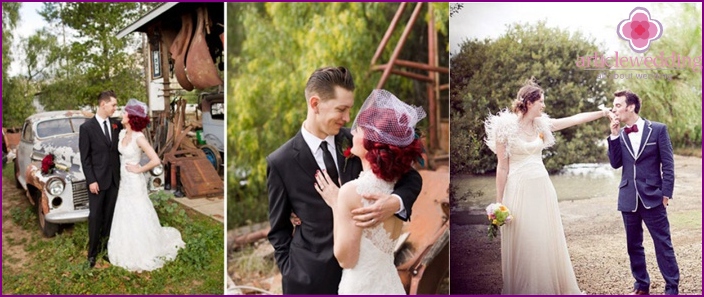 Vintage style invitation decor
Want to impress your guests from the first minute? Then get your original wedding invitations ready.
A vintage invitation card can really be done with your own hands. Make inscriptions in vintage font, ink. Let's have an invitation text on one side of the postcard, and on the other, an aged photograph of the newlyweds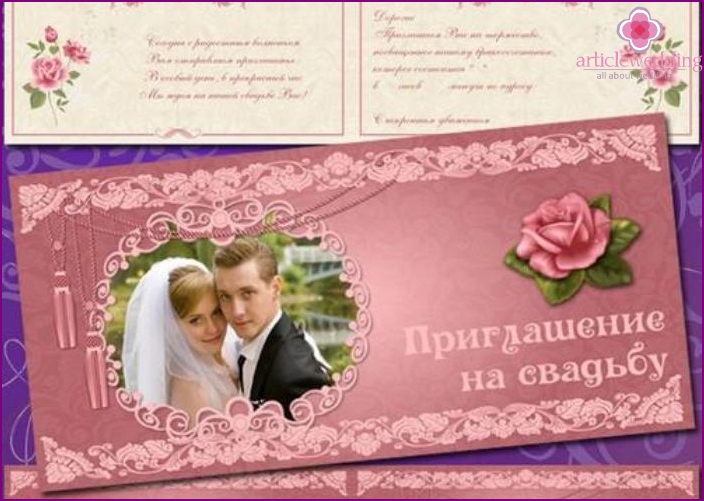 Invitation cards in the style of an old Old Russian letter, rolled up and tied with ribbons, will look interesting.

Wedding invitations decorated with various details - satin bows, lace, beads, artificial flowers, are distinguished by special charm..

When inviting guests, negotiate with them the subject of the wedding and dress code. Let the ladies put on light, low-key dresses and graceful veillets, and men decorate their outfit with a bow tie and suspenders..
In the vintage palette there should not be bright, evocative colors. Try to choose soft, calm pastel shades. Mostly, it is coffee with milk, white, pale pink, champagne splashes. Acceptable also pale green, light blue.
Vintage outfits of the newlyweds and guests
Vintage bridesmaid dress does not have to be white, beige or light pink is fine. Dresses are sewn with lace, beads or decorative beads. On the head instead of a veil - an elegant veil, hat or brooch.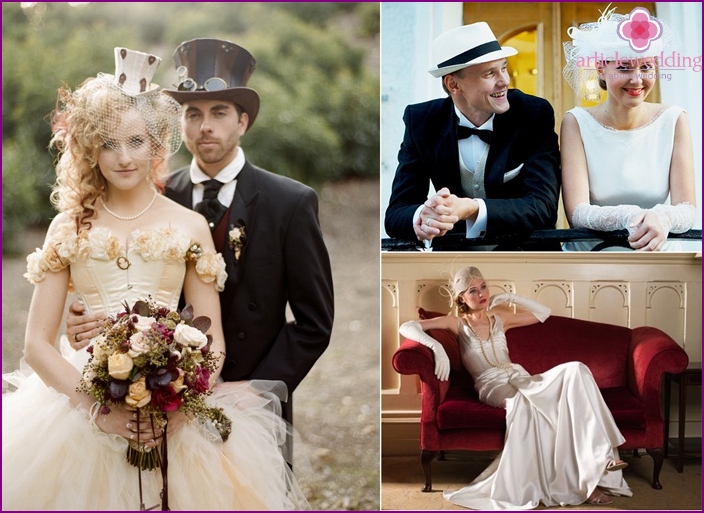 To match the dress, shoes, lace stockings and gloves are selected.
Lace is a basic element of vintage style. A pearl necklace will fit in well with the overall look. The hairstyle, makeup and jewelry of the bride should be elegant, restrained.
In a groom's suit, suspenders or a vest, tie, hat will be determining. The bow tie will look original. Decorate a suit with a flower buttonhole and a watch on a chain.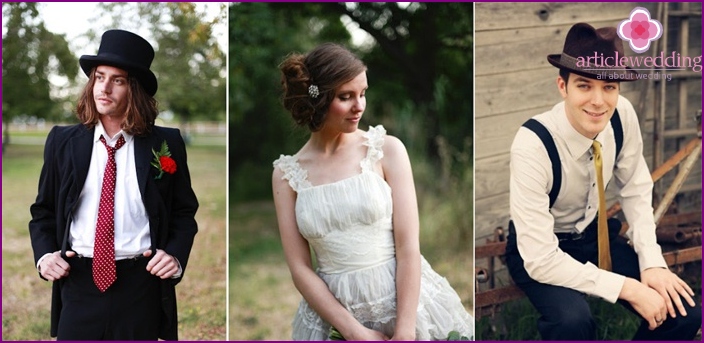 Guests at a wedding in a vintage style can be dressed either arbitrarily or stylistically: girls in dresses of the same color, guys in vests or with suspenders. It's good when you use the same hair clips and bouquets.

Vintage wedding bouquet and boutonniere
The bride's bouquet is selected to match the dress, it should be uncomplicated and stylish at the same time. It includes flowers that were in bouquets of brides of previous generations. A combination of such flowers: violets, jasmine, pansies, peony is ideal for a vintage style. Let the bouquet be small, modest, without modern decorations.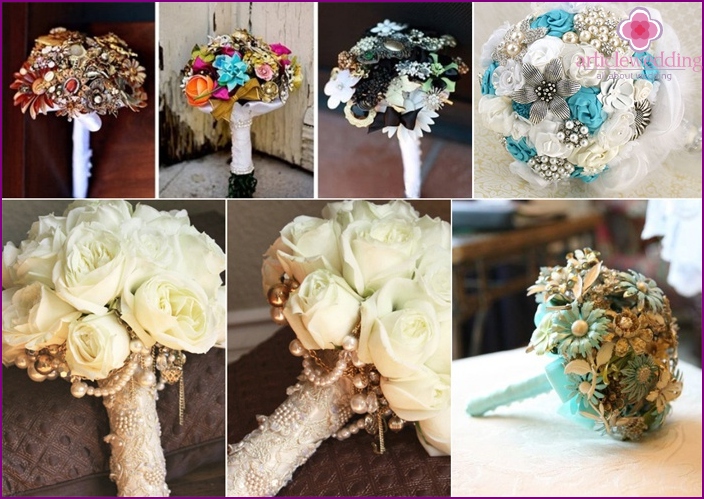 Small bouquets can also be with bridesmaids.
The buttonhole must be in the buttonhole of the groom's jacket - cute and original, eye-catching. Ideally, with the same colors as in the bride's hands.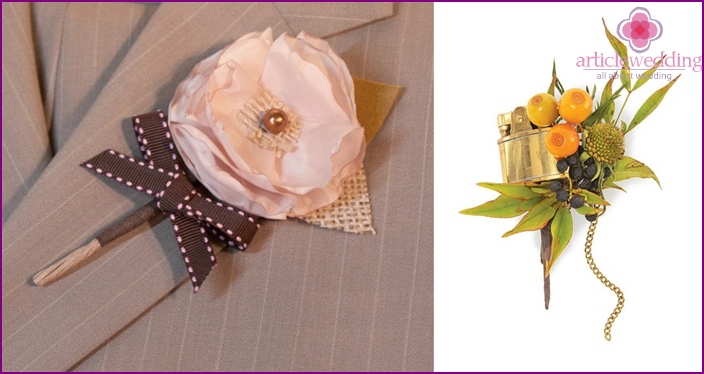 Vintage wedding celebration venue
Ideal for the event will be an exquisite place somewhere in nature - a flowering garden, the sea or river, a sunny forest glade.

If the wedding is planned for the cool season, it is better to hold it in a good classic restaurant or estate, which will be decorated in the desired style - soft fabrics, in pastel colors. Design should cause a feeling of comfort and warmth.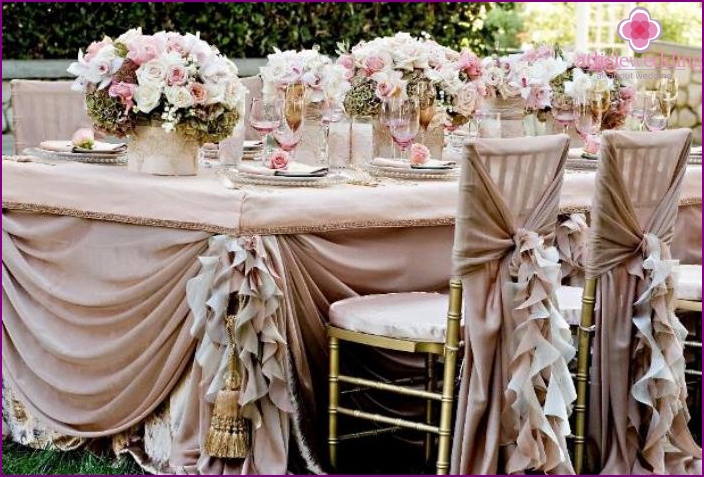 Banquet hall decoration for a vintage wedding
Guests will be pleasantly surprised when they see a wish tree in front of the entrance to the wedding hall. Cards decorated with miniature ribbons, with wishes for the newlyweds, are fastened to him. Such a tree is woven from thick wire.

The decor of the wedding hall is made in one style, everything is harmonious and beautiful. Serving items - antique dishes, lace napkins of muted colors. Decorated with soft falling fabrics, furniture and floral ornaments will make the room fabulously beautiful. Add romance forged candlesticks, mirrors in antique frames, birdcages, porcelain and copper figurines..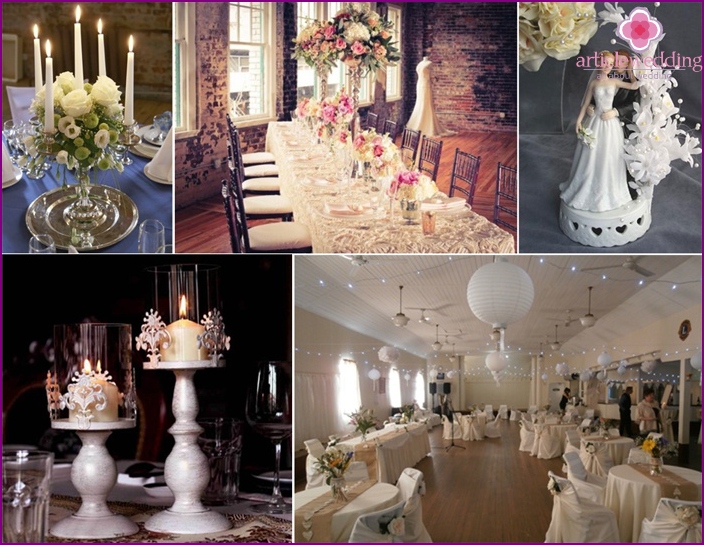 Music will create a romantic mood for the wedding guests. They will be fascinated by the melody that sounds from an old gramophone or gramophone..
An example of a hall for a vintage wedding, see the video.
Wedding table decoration
Bouquets of flowers in vases, stylish napkins decorated with artificial flowers, pearl threads, lace will give a special presentable tables. The backs of the chairs are tied with elegant ribbons or satin fabric.

To decorate the hall, you can use floral garlands of openwork paper, antique lanterns, serpentine. An original solution will be a wedding photo stand - decorating one wall with old-fashioned photographs of young, in beautiful frames.

Dishes for a wedding in a vintage style do not have to be cooked according to grandmother's recipes; these can be quite modern dishes, but unusually decorated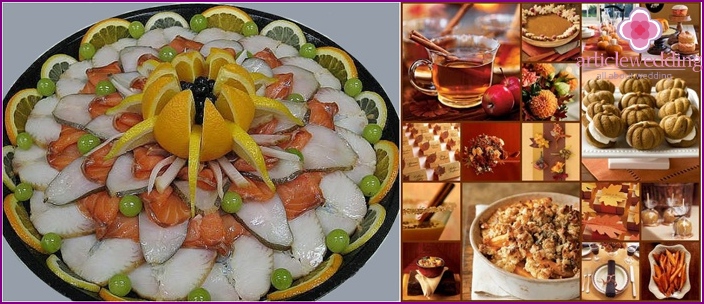 The most anticipated moment will be the appearance of a wedding cake - airy and light, a real masterpiece of cooking, decorated with pastry lace.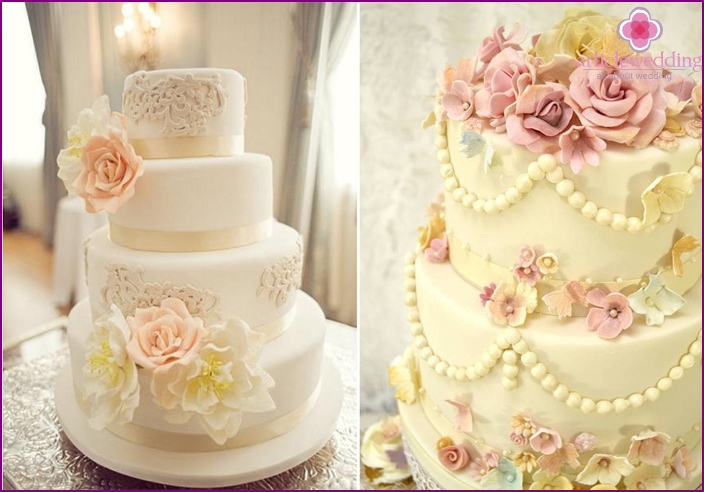 At the end of the celebration, newlyweds can give guests small gifts - sweets, badges and other little things hidden in elegant vintage wedding bonbonnieres.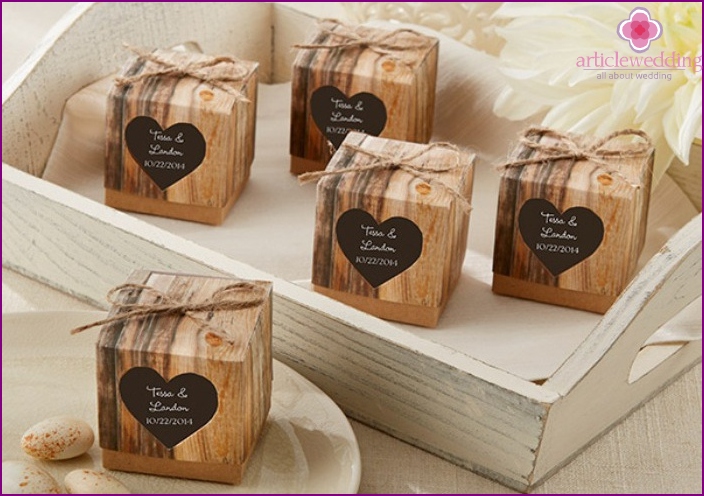 Wedding procession
A real sensation will make a wedding procession led by a retro car festively decorated with flowers and ribbons. A car, like all other attributes of a wedding in a vintage style, must correspond to the chosen era.

Video: retro vintage wedding
A wedding in a vintage style requires a lot of time, effort and financial expense in preparation. But it will become an unforgettable celebration for the newlyweds, they will be happy to once again watch the video and admire themselves in the main roles of a retro movie, as the girl in the video does.
If you are about to start a family soon, consider a vintage wedding option. Share your impressions and thoughts, ask your questions in the comments under the article.