Contents
---
---
In the modern world, themed fashion is considered to be themed weddings. If the newlyweds dream of a bright, unforgettable celebration, then the design of the ceremony in an oriental style is what you need! The alluring East will create an unusual and magical atmosphere at the wedding ceremony. In order for the Oriental-style wedding to be successful, you should choose the right outfits, snacks, and design the hall beautifully. How to organize a holiday with an oriental touch?
How to organize and conduct a wedding in oriental style?
Many people associate a wedding resembling oriental holidays with a fairy tale: it will be pleasant for young guests to plunge into a colorful oriental holiday for the bride and groom. To arrange it, you must follow all the eastern traditions. The color scheme of outfits and the design of the hall should correspond to the theme of the holiday. Next, decide on the dishes that you will treat guests. Pay attention even to details such as a honeymoon car and oriental entertainment for guests.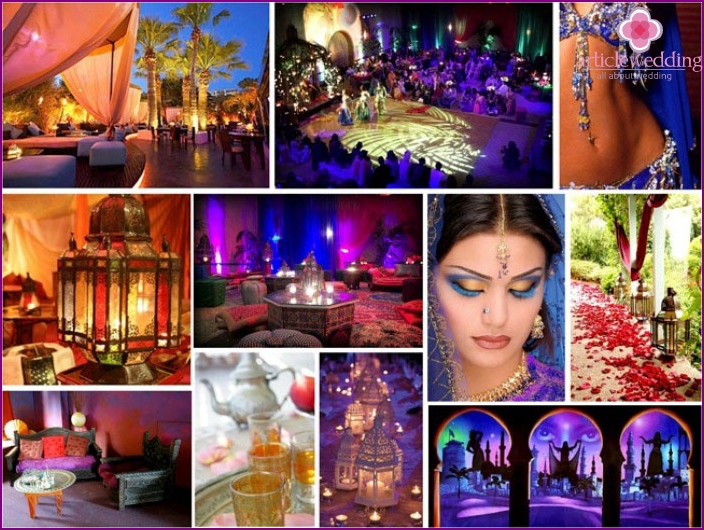 The image of the bride and groom: photo
Dress code is the most important component of any holiday. The bride should look truly luxurious: bright red, white with a pattern, blue or gold dress, complemented by unusual accessories and jewelry, will create an oriental image. There is only one «but» - the outfit should not be tight or open. Pay attention to the dresses of Arabian dancers, which are an example of style - their outfits are embroidered with beads and gold threads, which gives the woman charm and mystery. This dress is considered ideal for the hero of the occasion.
Do not forget about creating oriental make-up: the beauties of the East use bright, juicy shades to create an intriguing image.
The base for makeup will serve as a matte foundation without flickering sparkles.
For centuries draw arrows with a black pencil or eyeliner.
Eye makeup should be done in purple, dark blue, black colors.
Lipstick with scarlet or dark red lipstick, while you should not use a lip pencil.
A man is recommended to wear a white suit, which in the East is considered a traditional outfit of the groom. A large number of jewelry, especially rings and rings, are welcomed: this is how a man shows his prosperity and social status. A wedding in an interesting oriental style will not do without a traditional men's headdress - turban. Choose a motley colored turban decorated with rhinestones and sparkles.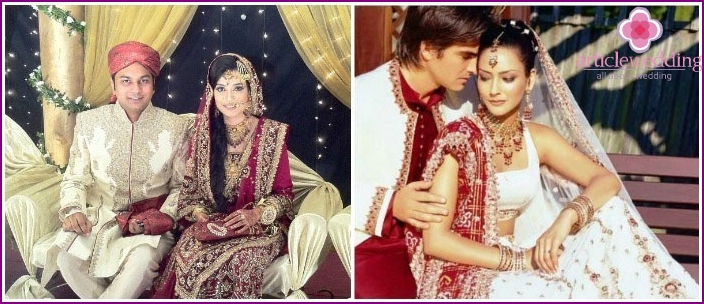 Menu for an oriental wedding
In the East, it is customary to arrange weddings with a rich festive table. Fragrant food spiced with spices is the main attribute of oriental cuisine. If you want to maximally reproduce the cuisine of this country, stock up on various spices, because the Arabs respect them.
Greet guests with green tea, which is considered a national drink in many Arab countries..
On the eastern festive table there is always a noodle called «Udon», flavored with chicken and vegetables.
Sushi or rolls will be an extraordinary delicacy.
Traditional oriental sweets such as halva, sorbet, Turkish delight will delight guests..
A layered wedding pineapple cake as the main dessert will satisfy even the discerning sweet tooth.
Pay special attention to lamb - an important component of an oriental wedding. Know that Muslims do not consume pork, so dishes from it will be inappropriate. Also, prepare pilaf in a cauldron, which is subsequently allowed to be used as a side dish for main snacks..
Wedding and invitation design
The wedding venue should be chosen based on the time of year during which the celebration will be held. If the eastern ceremony is scheduled for summer or spring, equip a large tent in a spacious meadow. But if you are planning to celebrate a wedding in winter or autumn, an ordinary cafe or restaurant is also suitable..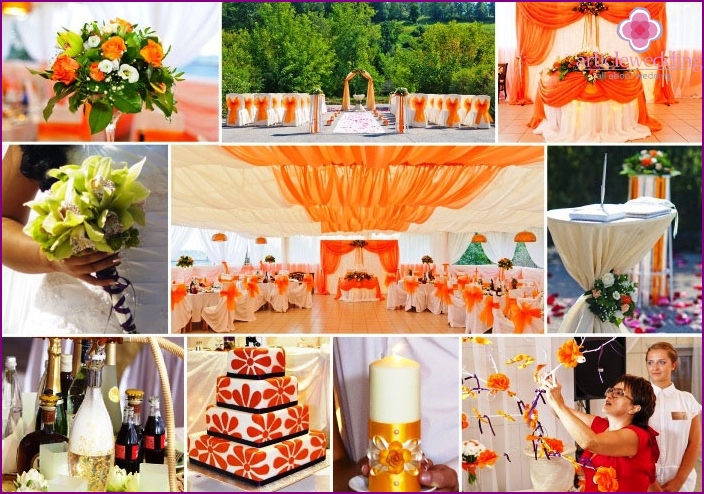 Floors should be carpeted with fancy ornaments. Regular tables and chairs will be replaced by one low table and pillows instead of chairs. The interior is complemented by many heavy curtains in yellow, burgundy or red. Make sure that the oriental aromas reigned during the wedding: eucalyptus, rosemary, clary sage, sandalwood. Decorate the room with fresh flowers.
Properly issue invitation cards for guests. You can make a wedding invitation using cards or cards with a predominance of red, purple, burgundy. Decorate your invitation cards with sparkles, beads, bright drawings, then the invitees will look forward to this unusual celebration.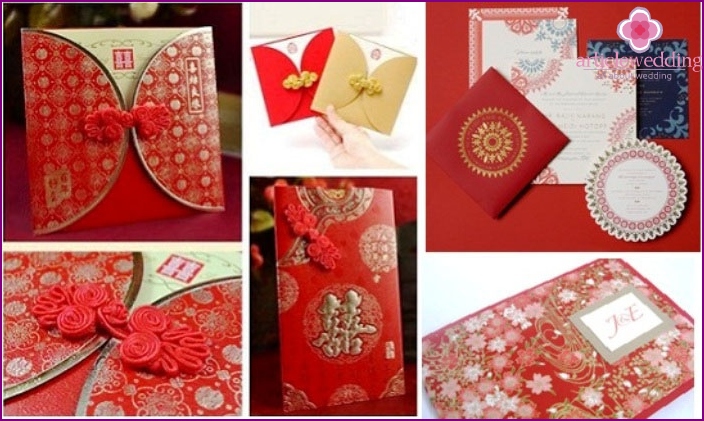 Dress code for guests
A wedding in a trendy oriental style involves catchy, but not too overt clothes. It is recommended that invited people wear costumes or dresses made of expensive fabrics such as silk, chiffon, velvet, which will allow them to look no less bright than the heroes of the occasion. The image of a girl for a wedding consists of elements such as an airy top made of flying fabric and harem pants. A long dress embroidered with silver threads is also suitable. A man should wear ordinary cotton pants and a tunic, complementing the image with a colorful vest.
Women should cover their heads with shawls, according to Eastern customs. You need to choose a modest outfit that covers all the intimate parts of the body: arms, shoulders, legs, neck. The outfit should not have a deep neckline and frank cuts. And it is desirable for a man to come to the wedding in a headdress, as provided for by eastern customs.
Wedding Scenario
To entertain guests, it is worth calling professional dancers who will perform oriental dances. Also suitable entertainment would be a group of illusionists, able to impress even the most demanding guest. Smoking a hookah, the aroma of which creates a special atmosphere, many will like it. An oriental wedding script will help you organize the event. If you follow it, the wedding in a bright oriental style will be held without unforeseen problems..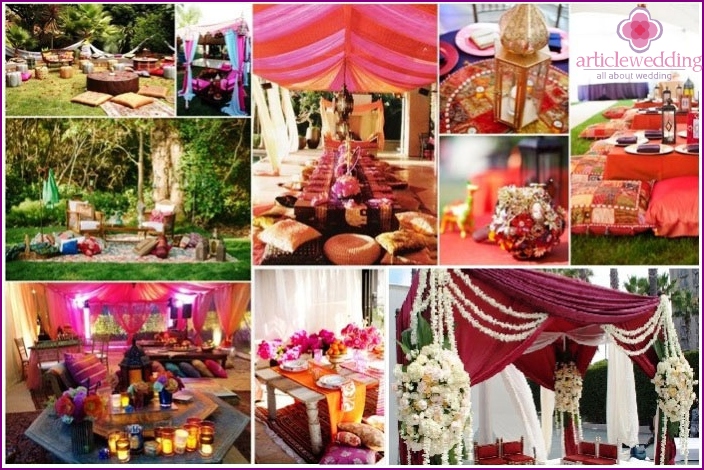 What begins the wedding in oriental style?
The event does not begin with a wedding ceremony, but with a bachelorette party. This stage involves preparing the bride for the wedding. Girlfriends help her become more stylish, attractive. They bathe her in a bath with aromatic oils, rub henna into her hair, and relieve excess vegetation on her body. On the eve of the wedding, the groom traditionally gathers with his friends to drink tea and taste delicious oriental sweets.
On the wedding day, a man goes to the parents of his future wife to redeem her. Ransom are chocolate coins or a cute teddy bear. The girl needs to give a bouquet of fragrant flowers - a symbol of a man's love for her. After the buyback, the couple signs. It is better to order a painting on the road, if the bride and groom decided to celebrate a wedding outside the city, it will not be easy to get to the registry office. Only after these events begins the wedding in an oriental.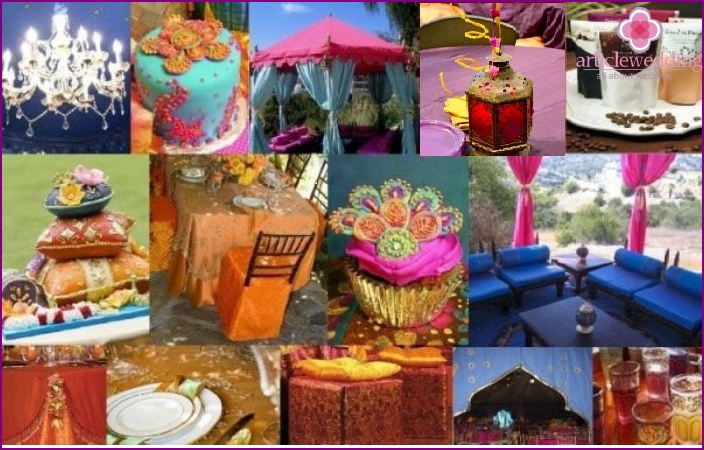 Invite a toastmaster or a host who will successfully hold all the planned contests and hold an event for the holiday. The holiday should begin with a short story:
Leading:
- Dear ladies and gentlemen! I am pleased to welcome you to the festival of endless love and uncontrollable passion - the wedding of a worthy Name of the Groom and the beautiful Name of the bride. Today we have the opportunity to open the veil of the mysterious, mysterious, uncontrollable East. We will plunge into the colorful oriental atmosphere, taste outlandish dishes, feel wonderful aromas. But first, we should congratulate our young valuable gifts, thanks to which they will increase their wealth.
On trays they bring gifts to the newlyweds from the guests. At this time, congratulations sound, wishes to the newlyweds. After the ceremony of giving, it is worth starting a meal. During lunch, you need to take toast breaks. After a while, take a short break:
Leading:
- Dear guests, have you really tasted these delicious dishes, you don't want to enjoy other entertainments? Is it possible to imagine the East without languid beauties, as well as brave young people whose movements are exciting blood? Meet beautiful dancers who are ready to please you with their art!
Next comes a dance group performing oriental dances. Guests are allowed to smoke hookah during this entertaining part of the program..
What contests are suitable for guests?
After the dance, a competitive wedding program begins. A wedding in the style of the East does not include vulgar, vulgar contests, so follow their content.
Leading:
- After watching the dance we wanted to have some fun ourselves, right? So let's take part in fun contests that make you feel the atmosphere of the East!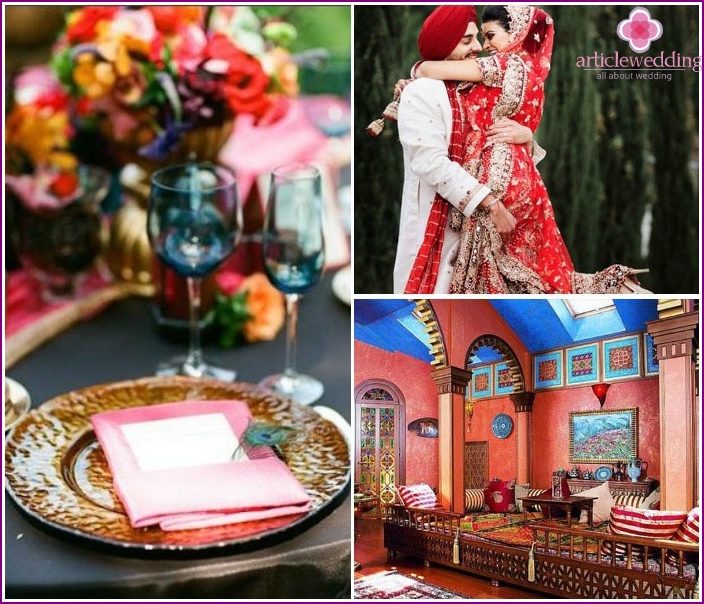 «Turban Jigita». Friends of the groom need to build a turban on their heads with a towel. The competition runs on time. The participant who succeeds in completing the task first receives an incentive prize - a traditional oriental alcoholic drink. «Arak».
«Toast to the newlyweds». You need to give an original speech on the bride and groom.
«Eastern song». Arrange a competition for the best performance of an oriental-themed song. It may be known to all. «If I were a Sultan» and other eastern songs.
«Dexterous hands». The next competition is held among women: they need to fasten necklaces on their girlfriends. The competition takes place at a speed.
Leading:
- We had a great time, and now it's time to present worthy gifts to our dear winners!
Prizes should correspond to the theme of the evening: it is advisable to award the winners with oriental sweets, pillows of red, lilac, black shades, a book of fairy tales from Arab countries.
How to finish a wedding night beautifully?
An oriental wedding promises to be eventful, so the evening is worth ending calmly, for example, with the first dance of the bride and groom.
Leading:
- The first dance is always a touching moment, during which you rejoice for the newlyweds as never before. Especially when this dance is performed in an oriental style - passionate, unstoppable. We all want to see this amazing action, so I invite here the charming (Name of the Bride) and courageous (Name of the Groom)!
Since the theme evening involves melodies of the East, choose a track with a slow bewitching composition for the dance of the newlyweds. At the end, make an entire performance by launching many sky lanterns. It is advisable that they are in tone with the tent where the event took place.
Oriental style wedding video
Watch a good video example of an oriental wedding and get some details for your celebration:
To keep the wedding of the newlyweds in an oriental style for a lifetime, do not forget to take photos and videos during the celebration. Reviewing them, you refresh the bright moments of the wedding at any time!
Do you have any other ideas on organizing an oriental wedding? Leave them in the comments to the article..