Contents
---
---
Modern youth - shocking, bright, denying all sorts of patterns and standards. New subcultures come and go, leaving their attributes and rules in fashion. The most shocking, bright direction is the Goths, in which people fall in love, meet, and then get married. But a Gothic wedding is completely different from a traditional ceremony. This is an extraordinary, memorable holiday, sustained in a gloomy style, which is why it is attractive for extraordinary couples who do not consider themselves to be Goths..
How to organize a wedding in the Gothic style?
If the newlyweds want to stand out among other newlyweds or make the celebration memorable, then a Gothic-style wedding is what they need. But this does not mean that the Gothic triumph will be joyless or gloomy. Most people have the opinion that Gothic is cold, despondency, dark tones, but few people know, this is still an elegant, solemn and strict style that appeared in the 12th century in France.
Gothic is the clarity of the vertical lines that can be traced in all the elements of the celebration, which are directed to heaven. To create the necessary surroundings of the wedding, the venue must be taken care of in advance. It is advisable to rent a hotel, mansion or restaurant located outside the city, or on the outskirts away from residential buildings, to provide the necessary privacy and solemnity.
Gothic bride image
Wedding fashion has a large number of styles, but the most shocking is Gothic. If the traditional snow-white dress symbolizes the innocence and purity of the bride, then the red-black outfit is ready shows the insidious side of a woman. The choice of images of this style is also large. If the bride chooses a black dress, then she should be a white-skinned brunette to perfectly match the Gothic. Smooth hair is not suitable for a gothic hairstyle, the key to success is splendor.
In addition to black, the Gothic style implies many components. For example, in order to create a seductive image of a vampire, you need to dress in a blood-red medieval dress with raven lace. This extraordinary image will emphasize the corresponding make-up with eyes summed up with a charcoal-black pencil and eye-catching bright red lips..
Gothic wedding dress
Gothic wedding is, first of all, the corresponding outfits of the newlyweds. A black, red or purple wedding dress looks great on any girl, regardless of eye color, hair and skin. You can maintain accessories and shoes in the same style as the dress, but it is allowed to pick them up in absolute discrepancy - the bride will still look harmonious. The style standard is ready - a black wedding dress, but it has many modifications and various solutions.
Looks great in short black dresses, complemented by a high-heeled corset and over the knee boots. Long black and white Gothic outfits complemented by varnish gloves add an image of mystery. Brocade, chiffon, satin, leather, velvet are perfect for such dresses. As for the flowers, the outfits of the bride and groom can be purple, dark red and tomato or white with black lace trim. There is no specific standard for the Gothic dress, the girl chooses an image that most closely matches her inner world.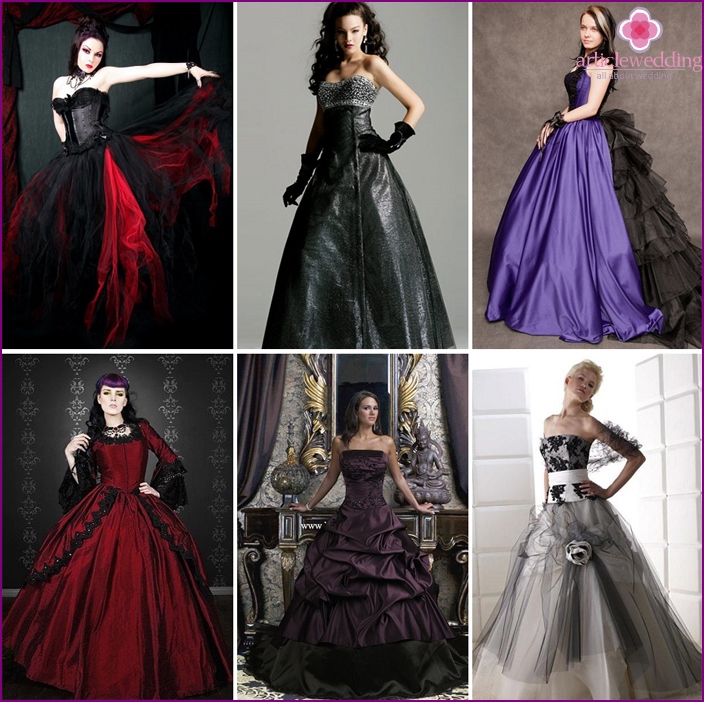 Makeup & Accessories
Gothic makeup is extravagant and unusual. The bride's face should be pale, for which powder or the tonal foundation of the lightest shade is used. Eyes should be as expressive as possible, and therefore they are let down in black pencil, adorned with rhinestones, and glued on long false eyelashes. Lips are painted intensively and brightly. Good lipstick colors for a gothic bride:
Violet;
the black;
brown;
blood red;
blue;
burgundy.
For a perfect Gothic look, the newlyweds apply temporary tattoos on the body in the form of three main symbols: the Egyptian cross Ankh (eternal life, justice), the bat (mystery, sexuality), the Celtic cross (the connection of the four elements). Gothic hairstyles are also diverse. Their features are grandeur, splendor and volume. If the bride wants to decorate her head with a veil, then this accessory is chosen in black or red. As a rule, girls at Gothic weddings are limited to styling or headdresses in the form of black veils.
The decorations of the Gothic brides are massive and large. They should not be gold - this is unacceptable. At the ready, only silver, platinum or white metals are held in high esteem. The shape of the jewelry should also match the style: look a little intimidating. The combination of bright makeup and elegant gloomy jewelry looks very elegant and without a drop of bad taste.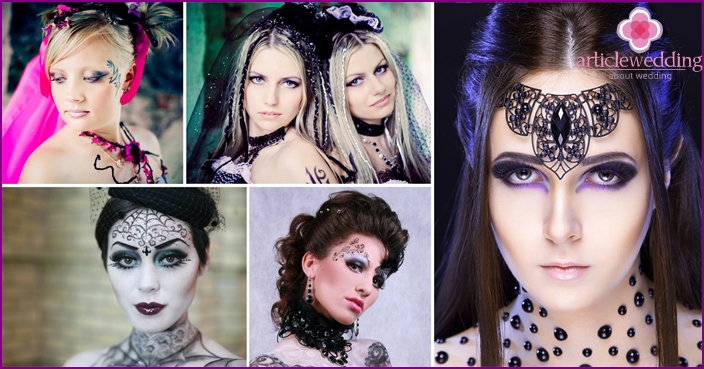 Bridal bouquet
The bouquet of the Gothic bride should look luxurious and gloomy. Sometimes, to give an appropriate shade, fresh flowers are painted with special paint or black artificial buds are added to the composition. Often in black bouquets you can see feathers, silver beads or a variety of purple decor. Looks great red bouquets of the bride against the background of black dresses.
Gothic style groom
Goth grooms can dress in classic costumes of the 12th century with a white frill and a black top hat. Or in a camisole, the pattern of which imitates a web. A gothic groom may appear at a wedding in a white tuxedo or emerald-colored suit. But if a man is not a real Goth, then at his thematic wedding, he will choose an outfit that perfectly complements the style of his chosen one's dress.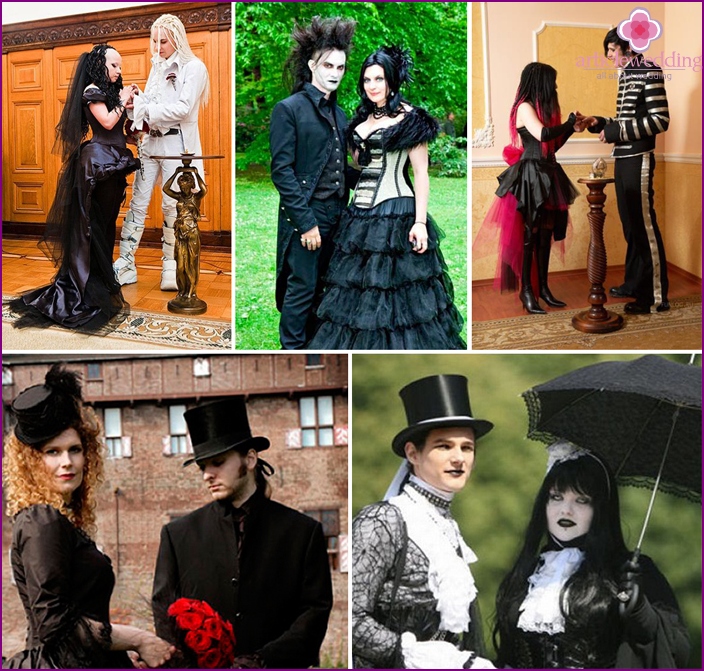 Gothic style wedding ideas
Gothic is a gloomy romance, so any room that remotely resembles an old castle is suitable for a Gothic wedding. Ideally, an old country estate or a Victorian Baroque restaurant will serve this purpose. It is imperative to invite musicians who play classical music to create medieval comfort. Indoors must be lit candles throughout the holiday.
Wedding Invitation Decor
Pay attention to all the details. And since any wedding begins with invitations, you need to take a special part in their design. It is better to choose red-black shades, Celtic patterns and vintage fonts for Gothic invitation cards. An interesting idea is to send guests wedding invitations by mail in an envelope with a wax seal. You need to select high-quality embossed paper on which Gothic elements are depicted: tall towers with spiers, red roses on a black background or images of spiders with a web, coffins, blood or other similar drawings.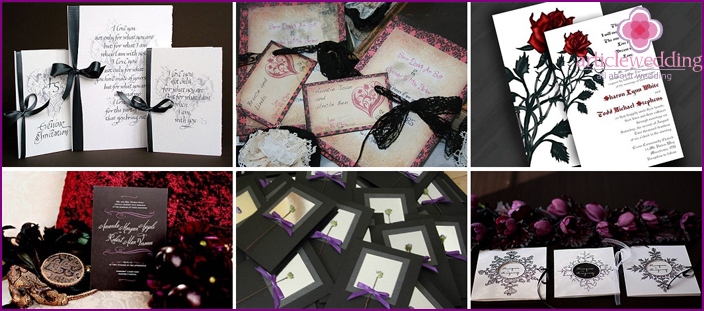 Banquet Hall Decoration
The banquet room is made in three basic colors:
The black.
White.
Red.
At a Gothic wedding, there should be candles of different sizes installed in heavy candelabra, as medieval aristocrats did. Or decorate the candlesticks yourself with black lace and glue. The room should have a lot of red or black roses, dried flowers and herbs will fit perfectly into the theme. Many mirrors will reflect candles, which will create the illusion of a mysterious multidimensionality of space. Decorations for the banquet hall are selected according to the Gothic style. But you need to take into account the age of the guests so that they are not shocked by the abundance of gloomy elements.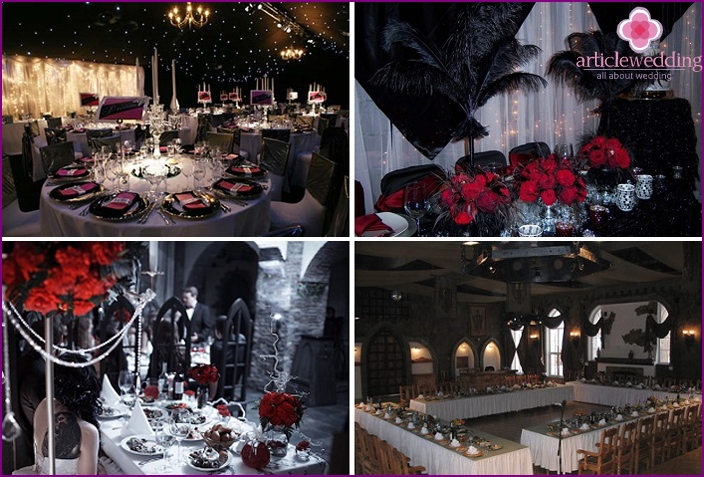 A wedding cake
The appearance of the cake at a vampire wedding can be terrible: bloody, with white skulls, demons, zombies and ghosts. But if the couple decided to hold a celebration in this style, it means that they are not afraid of such stories, but, on the contrary, amuse them. The most common gloomy cakes are made in the form of a tall dark castle with a falling spire or with figures of winged vampires, and instead of sugar flowers, the newlyweds prefer to see a shiny skull.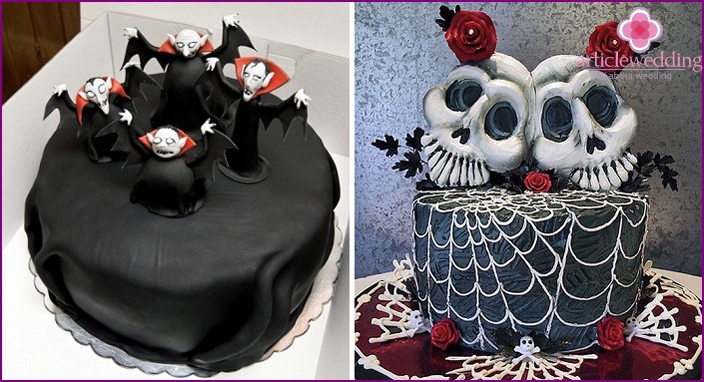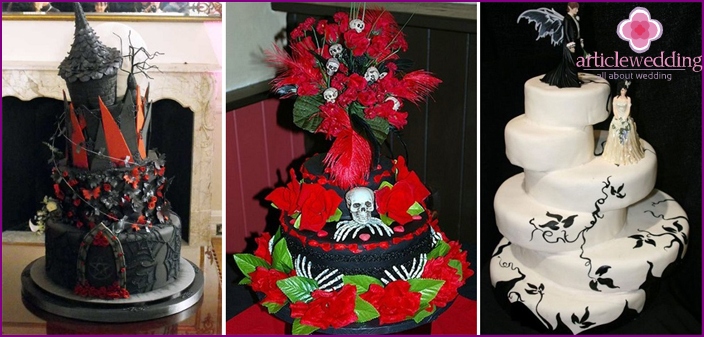 Video: Gothic wedding example
A Gothic style wedding is always something unique. Its scenarios can be very original and varied. For example, the Count Dracula's wedding, where the groom plays the main role. His image is a long black cloak, a predatory, bloodthirsty smirk and sharp fangs. The bride is his victim, which he does not release from his hands with long nails. Walking takes place after sunset in a dark and gloomy room..
Another popular scenario: the wedding of the Adams family. Here, the groom is dressed in Gomez's costume, and the bride is dressed in a long tight black Martisha dress. Instead of a wedding car, the bride and groom is a hearse or a black limousine. Traditional champagne at such a wedding replaces absinthe, and instead of flowers, guests give young people funeral wreaths. The owners of this video present their own version of the Gothic wedding ceremony:
Photo of weddings in the Gothic style
In the perception of the word «Gothic» Gothic medieval style and youth informal subculture intertwined. This direction has many peculiar features and characteristics, but the most important advantage is the desire for luxury and gloomy coloring. The only negative of such a gloomy wedding is that the older generation is unlikely to like it. And the rest is an interesting, vibrant and impressive show..