Contents
---
---
Themed weddings are very popular. They are bright, memorable, non-standard, they are preferred by extraordinary young couples. Denim wedding, subject to all the nuances, can be the most original event in the life of the newlyweds. The advantages of such a celebration are many:
a young couple will be comfortable and comfortable in jeans;
a wedding ceremony of this style is extraordinary and stylish;
it is an economically advantageous option for guests and honeymooners;
you can have an emotional, vibrant photo shoot in unusual places.
Where to hold a denim wedding?
The venue of the ceremony of this style depends on the preferences of the newlyweds, weather conditions. The most interesting options are a modest picnic in nature, a celebration in a village house, a tent. The whole holiday should be stylish and as simple as possible. If you choose a city institution, then consider its decor in white, blue, blue colors, and denim elements will remind you of the theme of the wedding. But do not overdo it with the use of jeans, otherwise the atmosphere will be depressing. You can decorate the room in the style of the Wild West.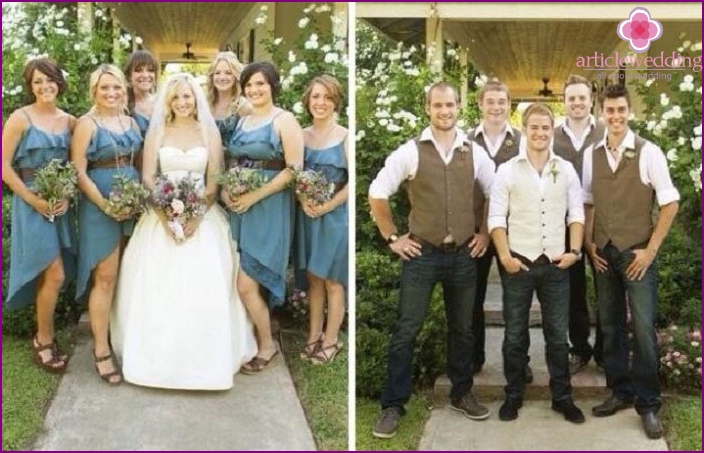 Small accessories will help give the celebration of the chosen style a special charm: jewelry for bottles of jeans, light denim napkins, covers and chair covers, denim envelopes for cutlery. You should think over the scenario of the holiday in advance: dances, competitions should be thematic. Toastmaster can play the role of a sheriff, come up with fun in the cowboy style: throwing a lasso, a competition for a well-aimed shooter, searching for a criminal according to signs. The musical accompaniment should be in the country style, which will create the necessary atmosphere of the wedding.
The image of the bride
The bride should carefully consider her image. It can be completely jeans or only with elements of this matter. For a wedding in this style, you can wear a denim skirt, trousers, a classic dress with jeans shoes. There are a lot of options for adding denim to the bride's image. Connect your imagination and you will certainly be able to create a stunning original image.
You can choose a wedding dress with a minimalistic cut, in the style of empire, a mermaid, a short model. It remains to supplement the apparel with jeans accessories: vest, jacket, headband, shoes, an umbrella or a handbag. It is not forbidden to opt for a sundress with a short stylish denim jacket or bolero. If the pathos of the wedding dislikes you, you can go to the registry office in a snow-white shirt or a T-shirt and jeans. You can dilute this option with a real veil, such an image will be very creative. The groom must also dress up to match the bride.
Denim Wedding Dress
Bright stylish denim dress will become the basis for a stunning image of the bride. Add to it a veil, fashionable shoes. This option is economical, as a denim outfit will cost less than usual. You can order a dress for the jeans style ceremony according to an exclusive sketch. Such fabric is softened with lace inserts, a combination of knitted elements and denim in the wedges of the skirt. Matter is diluted with beige, white lace, leather stripes, braid. The contrast of delicate lace and coarse jeans looks amazing..
An interesting option would be to use a lace corset with lace up in the image of a bride for a celebration of jeans style. It is worn over a blouse or shirt, decorated with sequins, beads. The sparkle of jewelry will soften the denim, make the image elegant, light. On such material embroidery in pastel shades of beige or white looks original. Denim wedding dresses look great, decorated with white lace or satin flowers. Denim outfits are in many cases complemented by an umbrella or gloves using lace.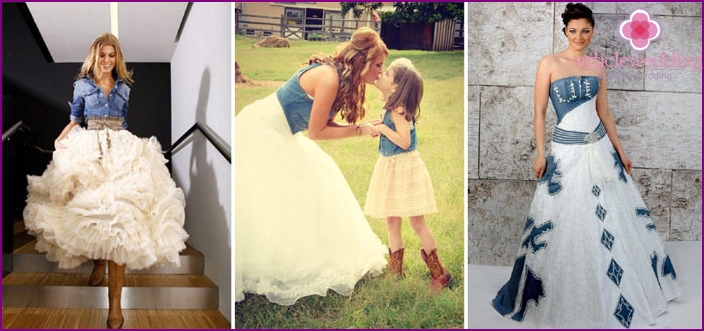 Shoes & Accessories
Without decoration and shoes, the image will be unfinished. Accessories can be made in an auxiliary color, for example, it can be a red belt, large beads, shoes. Or use the traditional white: necklace, veil, sandals. You can find cowboy-themed ideas for a denim-style wedding ceremony. Feel free to choose a hat and boots in this style. If you want to observe the denim theme of the wedding in everything, you will have to find shoes from this material.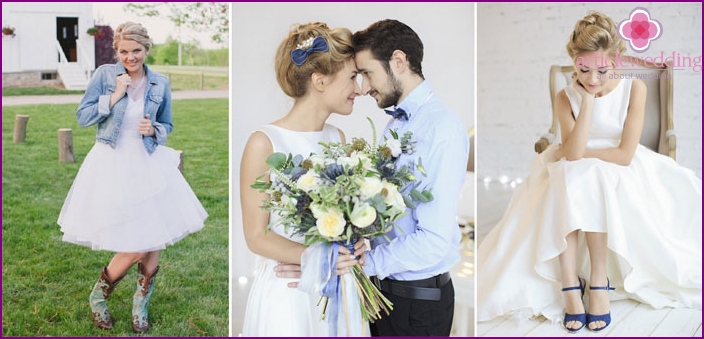 Bridal bouquet
The bouquet for the bride should not look intricate, pretentious. Ideally they will combine blue and white in the color composition, diluted with blue, pale lilac. In addition to roses, choose matthiols, irises, agapanthus, delphiniums. The floristic composition made with the use of meadow and wildflowers looks excellent, which perfectly matches the chosen theme with its unobtrusiveness. Homemade bouquets look original in the manufacture of which denim was used.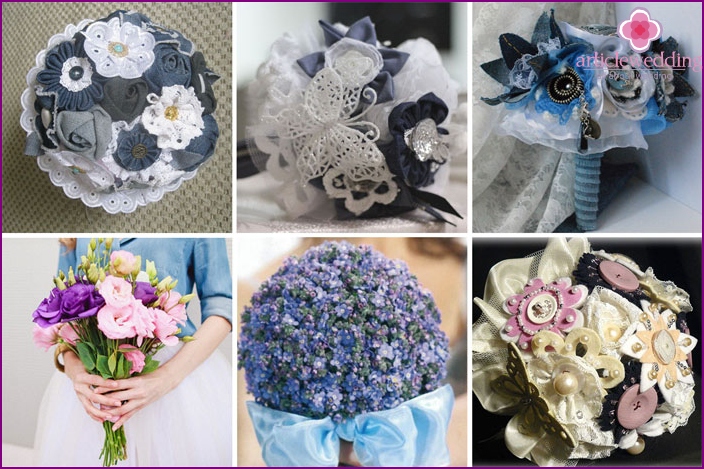 The image of the groom in jeans style
It is very easy for the groom to choose a costume for such a thematic celebration. Get high-quality jeans, paying particular attention to the length of the leg: they should end in the middle of the heel of the shoe. It is better to choose black shoes. Massive boots look stylish. As a top, give preference to a t-shirt, a classic shirt, complementing them with a denim vest. Turtlenecks and polo shirts look great in combination with a classic stylish jacket..
The white shirt looks original, complemented by a jeans bow-tie, tie, and a scarf in the breast pocket. So that the top does not look too catchy, just one denim detail is enough. If the tie does not fit into the overall look, wrap the boutonniere with jeans. Choose a style of trousers so that it harmonizes with the outfit of the bride. White sneakers or loafers are perfect as shoes..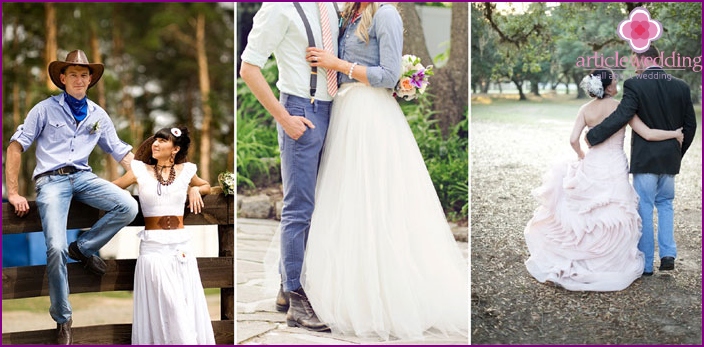 Outfits for bridesmaids and guests
Guest attire should support the denim theme of the wedding. In invitations, focus on the fact that the celebration will be held in a certain style. Young people will like it, but those invited by the older generation may not understand you. You may have to find a compromise. Then the wedding style can only be supported by friends of the groom and bridesmaids.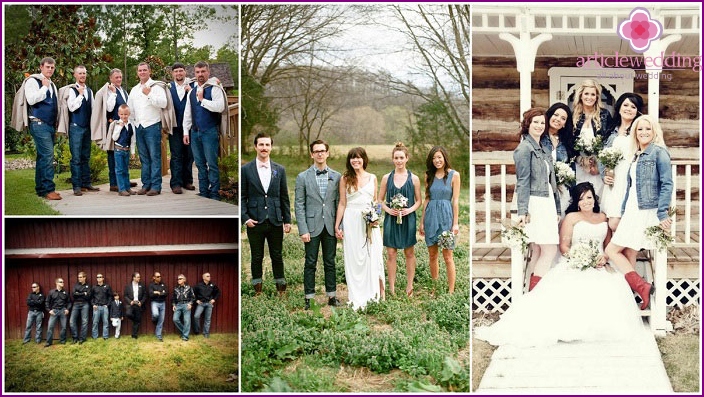 Jeans Wedding Design Ideas
The triumph in this style is original, and not everyone will decide on this step. But if you are eccentric, modern, like to challenge the traditions, then this style solution is for you. When making a wedding, the main thing is not to overdo it. If there is too much denim, this will create a gloomy atmosphere. Use jeans only as an additional element, which will be a red thread throughout the decor, but will become the main.
Wedding invitations for guests
Choosing invitation cards, you will not run into difficulties: there are many suitable decor, jeans texture, prints on sale. Do not forget that invitations are the first thing that guests will see. Therefore, reflect the style of the wedding in them. Use designer paper for jeans, matching fabric. You can make cards yourself by decorating them with denim applique.


Banquet room decor
When designing the hall, you need to apply denim decor. Decorate the backs of chairs with bows, pick up jeans cushions for seats, covers. Wedding tables are decorated with decorative denim napkins, and vases with ribbons from this fabric. Decorate the guests' nameplates with a print imitating jeans or add them with details of this material. Design the hall in blue and white. Some elements of the decor can be made in a country style, since jeans are an attribute of the Wild West..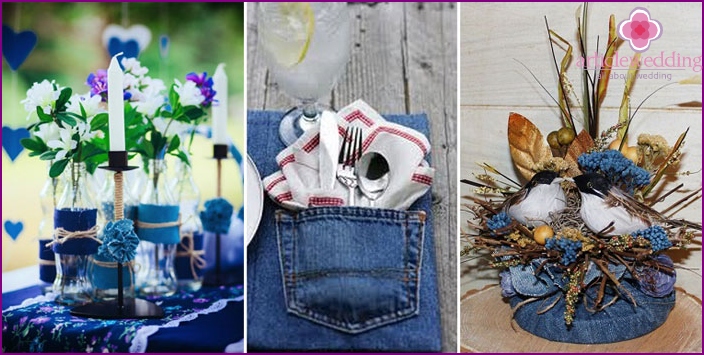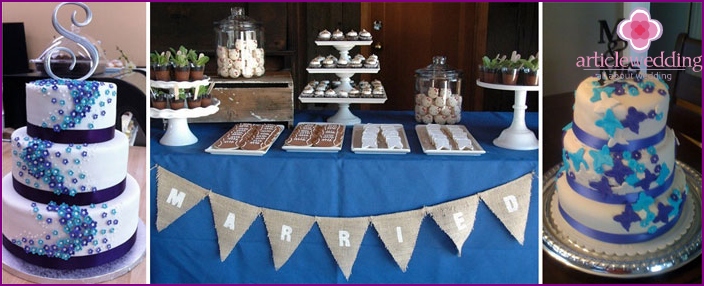 Denim Wedding Accessories
A denim style wedding can be extravagant, or sophisticated and elegant. In accessories, use a muted color palette - dusted with green, gray, white and blue. In floral wedding arrangements, add a sense of energy and movement through hanging and protruding elements. Decorate the leg of the bride's bouquet with jeans and a waterfall of long ribbons.
Denim can be different, based on which the scope of its application in wedding accessories is selected:
choose cheaper material for jeans for less significant details, for example, garlands;
use denim as the highest quality and most expensive material when decorating paramount accessories - glasses, pillows for rings, baskets, bottles;
light chambray fabric is suitable for napkins, tablecloths, and other details from delicate materials;
jeans imitation paper is suitable for invitations, bonbonnieres;
if it is supposed to be a candy bar, arrange it in an appropriate style, for example, glaze of goodies can repeat jeans.


Photos of weddings in jeans style
Individuality, originality is now very much appreciated. If you dream of a custom wedding, then denim styling is what you need. People around the world choose jeans, so why not bring it to your wedding? This holiday will be spectacular and stylish, and these recommendations will help organize everything at the highest level..