Contents
---
---
Each couple of newlyweds wants to stand out and choose a style of wedding celebration that has not been used by anyone. And it is possible. There are so many beautiful things in the world that can become a source of inspiration. For example, the love of sports for future spouses and the ball, as its symbol, are an excellent clue for organizing a wedding day. Can you imagine what a sports wedding is? This topic has not yet been beaten, you can come up with a lot of interesting things, and you will not have to banally confine yourself to the ceremony in the registry office. Do not think that the celebration will be held in tracksuits.
Images of the bride and groom
A beautiful white dress with a train and veil, a dark suit with a bow tie are the main components of a wedding in a sporty style. Drop thoughts of an old tracksuit, sneakers, even people come to the stadium in smartly dressed clothes. Choose which sport will be the main one for the event - tennis, football, hockey, basketball, swimming or running. Write a list of accessories that are inherent in each of these sports styles, they will be needed for the wedding plan.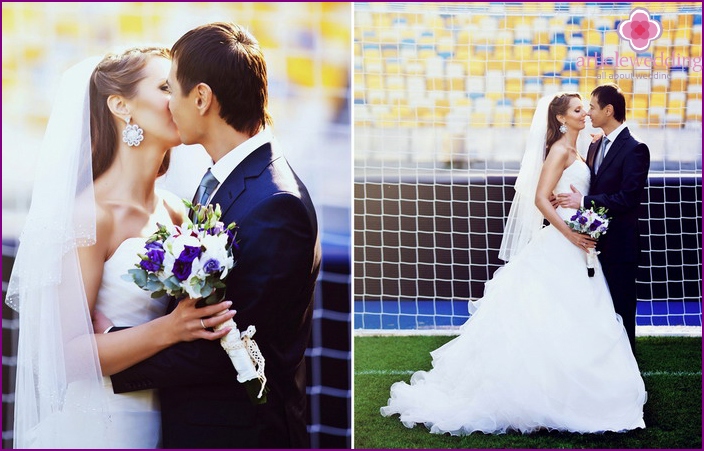 Having determined the sport, analyze whether it is worth supporting this direction in clothing. If yes, then select sneakers and gym shoes as shoes. Put the bow-tie with the drawn balls on the future husband, and decorate the boutonniere with a small sports accessory. Standard costumes, dresses will in front of our eyes become completely different clothes, if you approach their decoration creatively.
If the bride wants to distinguish herself, she can also put on sneakers or prepare them as replaceable shoes for a photo shoot. It is advisable to intersperse specific colors on the outfits. For example, for a wedding in the style of football, you can use white, black color of the ball and green - the lawn. When choosing a water sport, the main shades can be blue, blue, white.
Dress code for guests
Sports-related wedding invitations may not support your ideas, and you don't need to force them to shoe sneakers. But the team of beloved, dear girlfriends, friends still have to dress with a specific dress code. For girls, you can pick up multi-colored high-top sports sneakers with lace up and short dresses, and for friends of the groom buy the same shoes in combination with narrower shorts to the knees.

In addition to the selected dress code, select the appropriate accessories: rackets, balls, flags. You can make or buy special paper mustaches, smiles, hearts on wooden sticks for a photo shoot, so that later you will be happy to review photos from your sporting event. The evening will succeed with any dress code, because the theme of sports for weddings is not beaten.
Sports-inspired wedding design ideas
Decorate the hall, prepare wedding gifts, planting cards and an event plan - all these tasks should be included in the wedding check list and thought out in advance by the bride or the organizer. This should be recorded in a sports wedding script. To decorate the room, you will need non-classical design paper, accessories and related material. Let's consider the ideas of wedding design in more detail..
Banquet Hall Decoration
The place for the bride and groom needs to be especially decorated. It can be bright sports balls of different sizes and shapes on a luminous frame, medals for achievements or cups. You can choose the standard option - flowers, but then decorate the interior with specific accessories. Use balloons for this purpose, which are combined in design with the color palette of the event. You can use the bike if it is suitable for the theme.
In the hall, place large inflatable balls that will play the role of decoration and entertainment for guests. If you choose a sport - golf, decorate the hall with mini-complexes with clubs. Use the prepared list of thematic accessories to select the necessary attributes of the holiday and add a special touch to the design of the hall. Remember that guests came to have fun, and this task must be realized even in design.

Festive table decor
All holiday tables should have boarding cards made in the form of a ball or other sports accessory. The seating plan for the guests may take the form of a football or other field in which the guests are players or participants, and the host is the referee. Be sure to make a floral and sports composition for each guest table. Use your imagination to the maximum, thinking over the design of the wedding cake, which will be the center of attention at the gala banquet.
As gifts, you can make stylized cookies with inscriptions and pack it in single bags. It can be standard bonbonnieres, but decorate them with an unusual sports accessory. In every detail of the decoration of the festive table, the spirit of sport, a healthy lifestyle and strength should be reflected. Give your guests a wedding jar of soft drink. Nobody has ever used such a gift..
Sports-themed wedding accessories
Accessories for the wedding celebration will depend on the sport that you make the main one at the holiday. Let only your wishes with the groom be taken into account here. Do everything as you see fit, as your soul and imagination tell you. Any accessory can become a sensation of the evening. Here are some attribute options for your chosen sport:
Basketball. Arrange a photoshoot in the gym with the appropriate balls. To decorate the celebration, prepare a lot of basketball inflatable accessories, sneakers, a mini-ring with a net.
Tennis. Small balls will be a great addition to decorate the festive table. It is simply necessary to purchase rackets, not only for yourself, but also for guests (at least for girlfriends and friends). Be sure to consider the option of a photo shoot on the court.
Football. A large stadium with many seats will be an ideal option not only for holding a wedding ceremony. There will also be a place for a photo shoot and a walk. Prepare for shooting leggings, balls, whistles, cups.
Golf. Balls with such themes will be an ideal decoration for a wedding table, and clubs can replace a bouquet of flowers in front of guests. A wedding on a green field with a freshly cut lawn will look great. Especially if many guests support this style and come in black suits with butterflies. An optional accessory for such a sporty wedding celebration can be a can of drink for the bride and groom.
Swimming. The pool is a very unpopular idea for a wedding; few people dare to plunge there. But for the most risky couples of the newlyweds, it can become a godsend. Accessories for such a wedding will be swimming suits, inflatable balls, circles. On the table you can place small aquariums simulating a pool.
Every bride wants to be in a beautiful wedding dress. If you choose a sporty style, you can complement the classic outfit with an elegant shading bow (for example, blue or green), with buttons. The groom will be in a suit with a bow tie made of the same material. When planning a celebration, the newlyweds must independently determine what exactly will be in their images and which accessories are better to use.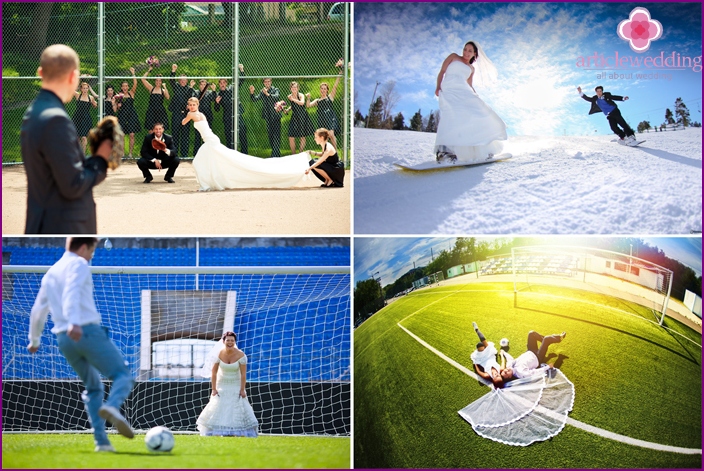 Video: photo session of a sports wedding at the stadium
If you have not yet been fully inspired by this trend for celebration, watch the video below. Its main characters - the newlyweds chose a sports theme for the wedding and did a photo shoot at the stadium. All guests supported this idea. Although there was no special dress code, commitment to a healthy lifestyle was on the face. Be inspired, perhaps you will like this idea for a wedding more than others.