Contents
---
---
Wedding – a big holiday, which is traditionally customary to decorate with all kinds of decorations. Today, many contemporary decorators replace luxurious floral arrangements with original paper products. Bouquets, boutonnieres, garlands, as well as other decorative elements made using colored paper, look stylish and unusual. Moreover, such jewelry is very simple in execution and does not require serious time or financial costs..
Paper Flowers Wedding Tips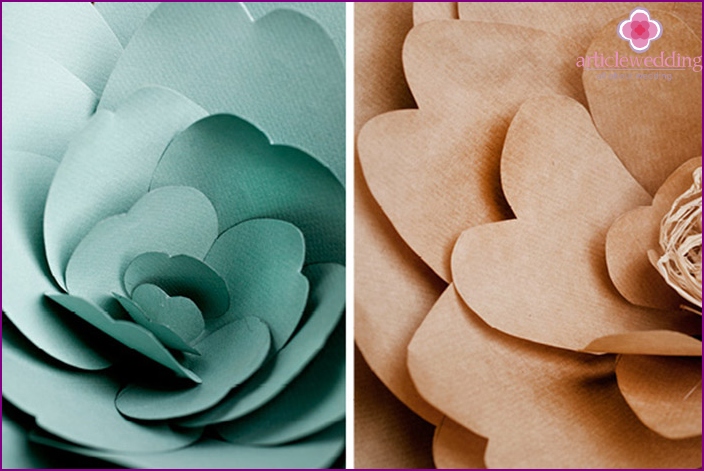 Wedding decor should be approached seriously and thoroughly. Decorations are the basis for the formation of a festive atmosphere at the holiday. To effectively decorate the wedding, you need to connect all your imagination. Festive decor involves the use of various products, the appearance of which is determined by the style chosen by the newlyweds for the wedding. A popular idea for a celebration – original decorative accents made using colored paper.
Jewelry for the wedding in the form of flowers or balloons, made by hand using paper, these days have gained wide popularity. Home-made decorative elements provide a unique opportunity to creatively design a wedding venue, create a romantic atmosphere in the banquet hall and at the same time not waste the festive budget of a young family.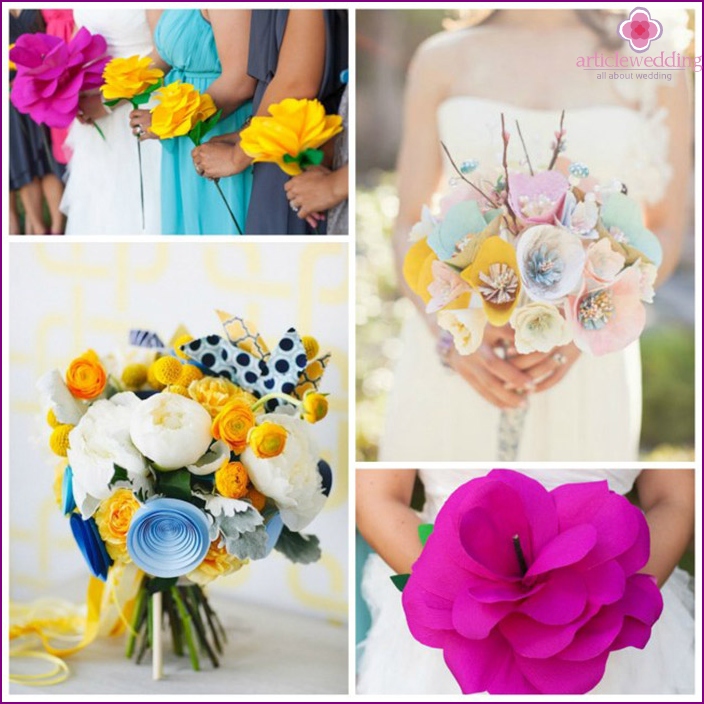 With the help of such simple and affordable material as paper, they do amazing things. There are many variations on the theme of paper decor for the wedding. Particularly popular are the bright volumetric flowers that decorate arches, tables, chairs in banquet rooms. To create beautiful lush flowers using a variety of techniques and various types of paper. When decorating the hall with such decorative elements, note that the paper is flammable, so artificial flowers and decorations should be at a safe distance from candles.
The main advantage of holiday decorations is their efficiency. Paper, even if colored, compacted or corrugated, costs significantly less than fresh flowers. In addition, artificial jewelry will not lose its attractive appearance; throughout the holiday they will delight young people and guests. Handmade decorative jewelry – it is not only very beautiful, but also symbolic.
Options for using paper flowers at a wedding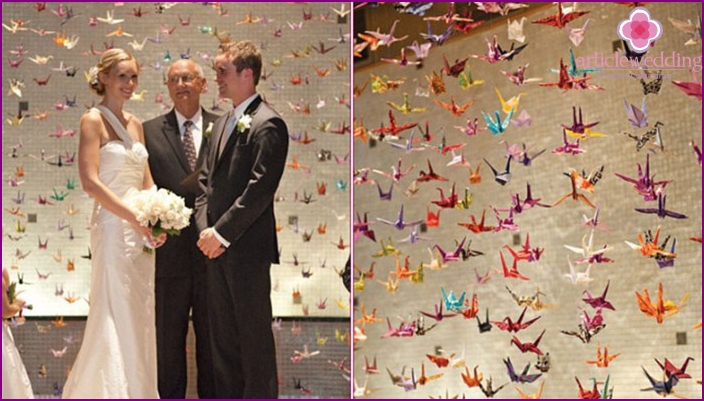 Paper – excellent material, which today is widely used for the manufacture of decorative jewelry and artificial flowers for the wedding. Among the decorations, especially often used in the design of a wedding celebration, there are garlands that adorn arbors or banquet halls. Garlands made using paper can be of the most unimaginable forms, consist of squares, circles, stars, hearts, other details. This decoration forms a passage to the altar or chairs for guests.
Paper pompons – Another interesting type of wedding decor. Lightweight airy peonies made with colored paper and suspended from the ceiling look fabulously beautiful. Such spectacular details will help create a festive atmosphere in the most modest room. Pompons of different sizes and colors are interconnected, turning into colorful volume garlands. In addition, these decorations are often used during a wedding photo shoot. If the wedding takes place outdoors in summer, trees are decorated with improvised paper flowers in the form of pompons..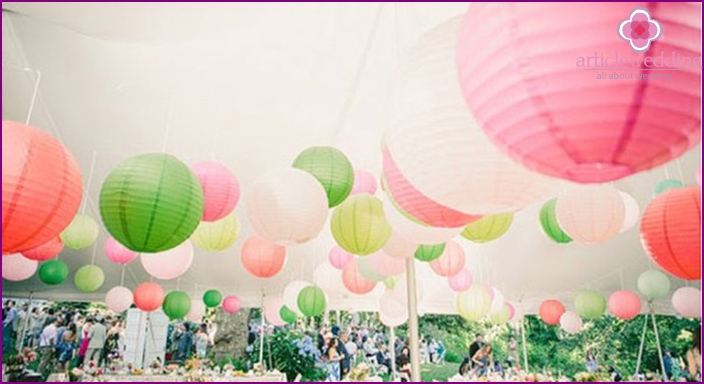 Origami lanterns and birds are widely used to decorate venues for weddings or banquets. Such decorative details will help to create a suitable romantic atmosphere indoors or outdoors, to decorate wedding photos. With the help of paper and developed imagination create amazing fabulous compositions. The decor uses flags, fans, lettering on paper, turntables on sticks.
As for flowers made with paper, scissors and glue, they usually decorate the arches for the wedding ceremony. The scale of the design of the holiday in such colors is almost limitless. Such flowers are effectively combined with satin ribbons, light fabric. Peonies with incredibly large buds will be interesting to watch, behind which you can playfully hide the kisses of the young. Confetti in the form of small flowers will be the perfect finishing touch to your wedding decor.
The bride's bouquet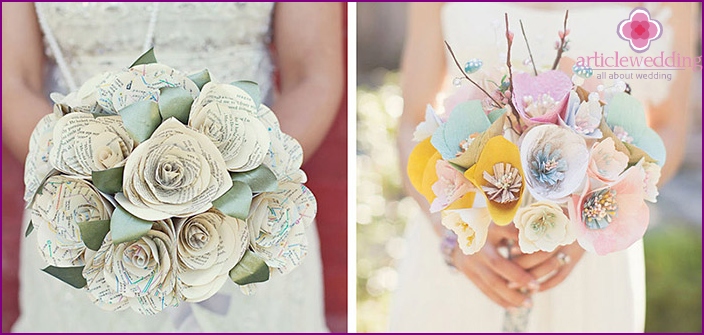 A small elegant bouquet – an essential attribute of a wedding ceremony, as well as an important element in the image of a beautiful bride. Bright lush flowers made with paper will look especially impressive and original. The main advantage of such an accessory – its durability. The memory of a wonderful wedding day can be preserved for many years. Many brides order custom-made bouquets in the author's decor studios, however, if you like to create yourself, be sure to try making an accessory using paper yourself.
Decorative bouquets are cut out using sheets of music books, crepe and thin colored paper, special materials for scrapbooking. To create a holistic composition, make bouquets for the bride, her friends, a buttonhole for the groom, using the same paper, or in a similar color scheme. If you decide to make accessories with your own hands, be sure to make a few probes to get started.
Groom's boutonniere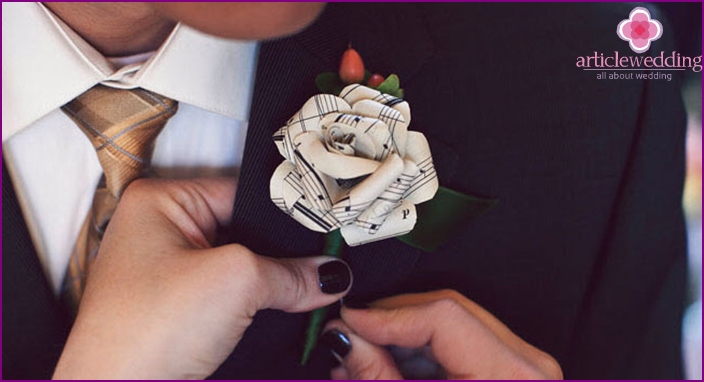 Boutonniere – this is a small-sized neat male accessory traditionally made using several flower buds. A graceful boutonniere of the groom is attached to the left lapel of his jacket. The name came to us from the French language, and the male tradition of decorating your costume with flowers goes back to ancient Greece, where men dressed their wedding dresses in modest floral arrangements and fragrant herbs. According to legend, a small accessory protects the love of the bride and groom from evil spirits.
Neat flower bouquets were worn on the chest by knights in medieval Europe. The decoration symbolized the endless devotion of its owner to his beloved lady. By the way, this accessory was worn not only on holidays, but also in everyday life. Modern wedding fashion dictates its rules, and boutonnieres from fresh flowers are losing popularity. Decorating a jacket with real flowers is not practical, so instead of living bouquets they use small paper decorations that are not inferior in beauty to natural buds.
Decoration of tables and banquet hall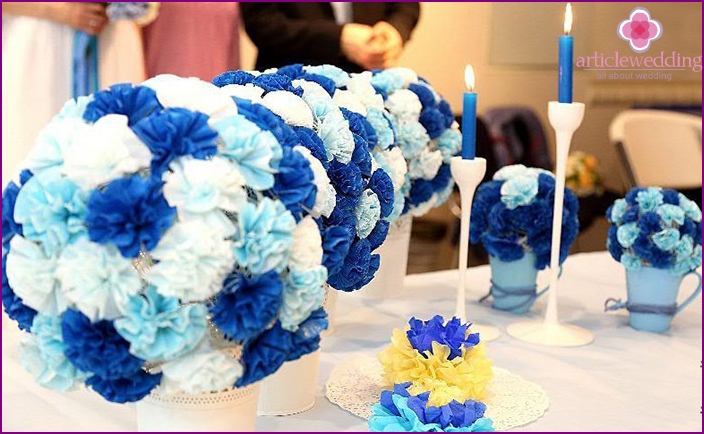 To create a truly fabulous atmosphere at the wedding, you need to carefully consider the decor of the holiday. Decorations made using paper are the best suited for decorating a gala event, a festive banquet. There are a huge number of various ways to arrange a wedding venue. Large paper balls hanging from the ceiling will help to add some bright colors to the interior of the room. In addition, such products will be a wonderful basis for the panel, which will be located behind the backs of young.
Original paper peonies are also used to decorate a sweet table and photo zone. To complement the design of the hall, put each guest on a flower plate with a small note in which briefly thank those who came to your wedding. Flowers made of paper will be a spectacular decoration on the table of the newlyweds or holiday cake. Try to create an original composition using fruits, as well as homemade accessories.
DIY paper flowers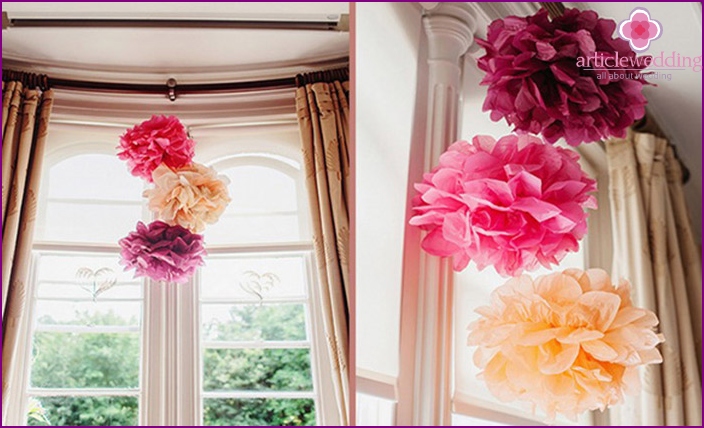 Charming lush peonies of bright colors, as well as incredibly gigantic sizes will help make the wedding decoration more intense and spectacular. At the same time, there is no need to contact the author's decor studios. Each bride can make such accessories for the wedding on her own. It is only necessary to allocate a little free time, stock up on the necessary materials. Below is a detailed instruction for making paper flowers for a wedding..
Materials and Tools
Before you start creating spectacular wedding accessories, you need to prepare the materials, as well as the necessary tools. To make lush peonies, stock up on suitable paper. It is allowed to use material of both one and different colors. Better buy thin packaging paper – This is an ideal option. The parameter of one sheet should be 50? 80. Size vary as you wish. So you will need:
eight sheets of tissue paper;
strong threads;
large scissors;
fishing line or transparent wire.
Step by step instructions with photos
Fold eight sheets of paper on top of each other. If you will use material of different colors, try to make a flower in the style of ombre – It looks very impressive. To do this, take, for example, two sheets of cream shade, put on them three pale orange, and then three bright orange.­

Fold all the sheets with one accordion. Remember how in childhood you made paper fans. Let the bend width vary from three to eight centimeters. The result should be one long strip of paper.

Bend the strip in the middle, and then use the threads to tie the bend. Do not tie the thread very tight. Just lock the middle of the strip.

Cut the edges of the strip in a semicircle, as shown in the photo below. When cutting paper, keep all sheets firmly pressed against each other. They should not leave. If you sharpen the edges, you get a no less original and beautiful pompom.

Fan each edge of the strip from the center. Keep the bend in the middle. Gently fold the folds of paper.

After that, carefully, so as not to tear, separate the sheets from each other – it will be the petals. Straighten one side of the strip first and then the other. Shake the product a little, fluff it. Charming volumetric peony is ready.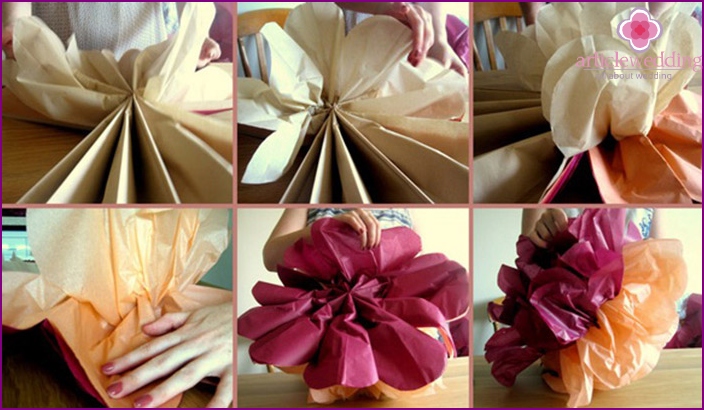 Master Class "Corrugated Paper Roses"
Elegant flowers, made by yourself, look spectacular and original. Such an accessory will become a wonderful decoration of a wedding ceremony, as well as a festive banquet. This decor element can be an excellent material for the manufacture of topiary..