Contents
---
---
Although the yard is also the 21st century, we still continue to believe in various signs. Some consider them funny, others believe in them with complete seriousness. The bride's bouquet has interesting, unusual ones. If you want to organize a traditional wedding, then you should familiarize yourself with the customs associated with the main symbol of the celebration. What signs relate to a wedding bouquet?
How did tradition come about? «Catch the bride's bouquet»?
According to legend, before, when flowers did not attach much importance, the bride's friends tried to touch her outfit or veil - this was considered a good sign. Sometimes the culprit's dress was even endangered, because some ladies tried to tear a piece of cloth from the dress «for luck». To distract attention from her person, the girl threw flowers to them. The one who caught them was considered a lucky woman who would soon meet her future bridegroom and get married.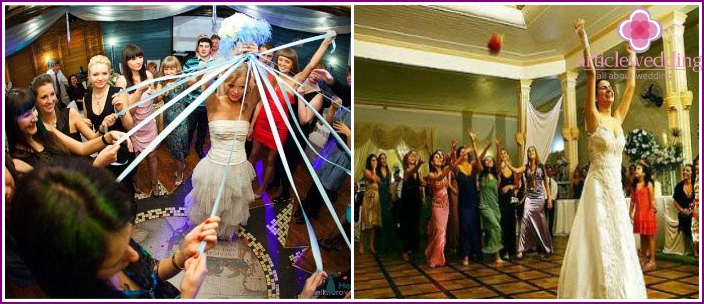 In Russia, the girl did not throw a wedding bouquet, but passed it to an unmarried woman. This was done like this: unmarried friends stood in a circle and led a round dance, the culprit of the wedding, standing in the center of the circle, with closed eyes handed flowers at random. It was considered a good sign for a girl to get this accessory. In the modern interpretation, flowers are allowed both to be thrown (western custom) and to be handed over (ancient Russian tradition).
Signs associated with flowers in a wedding bouquet
An ancient custom says that before the wedding ceremony, the groom himself must acquire flowers for his beloved. Each flower in the composition symbolizes the relationship of a guy to a girl. If the young lady took flowers, it meant that she agreed to marriage.The bride's bouquet has signs that we suggest you familiarize yourself with.
Roses - mean gentle affection of a man to a woman. However, the color of roses also depends on their meaning. So, white roses symbolize tender affection, a man's complete willingness to marry a woman, whom he gives a flower arrangement. Reds are love and passion. Yellow symbolize rather friendly sympathy than love. Tea roses mean a quick breakup, as the man is not yet ready for family life.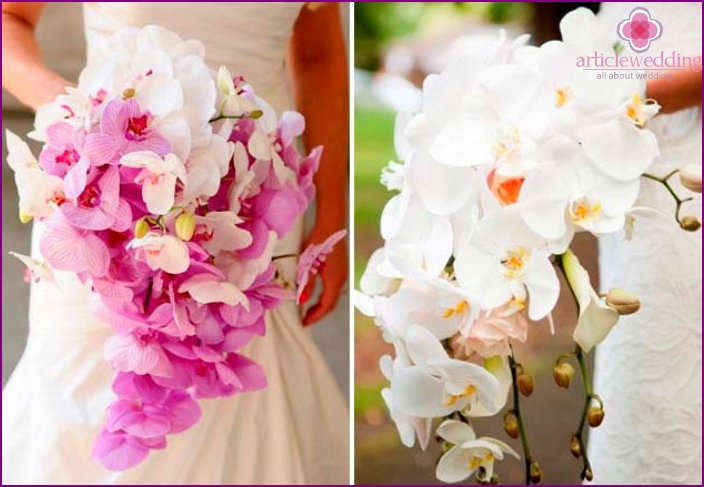 Orchids - mean extreme affection, loyalty to a woman. Signs say that orchids symbolize passion and tenderness for a woman.
Gerberas - symbolize easy relationships, flirt, great friendship.
Lilies - characterize a young man as a reliable, stable man. He expects from his chosen one a thorough approach to family life.
Chrysanthemums and gerberas are elegant plants that will be appreciated by the hero of the occasion. To create such a floral arrangement yourself, watch this video clip and you will surprise the girl with your ingenuity!
Chrysanthemums - the beloved is sincere towards his lady. He trusts her in both love and financial affairs..
What to do with the bride's bouquet after the wedding?
After throwing the wedding accessory, he will remain with one of the unmarried friends. But an old sign says that giving the main symbol of the celebration, the bride deprives herself of love. What then to do? Order two wedding arrangements! One of them will remain with you, saving your family union, and with the help of the second you should determine which of your friends will be married soon. In the West, a newly-made wife saves flowers for one year, after which she burns them. A bright flame emanating from dry petals is a good sign for a couple.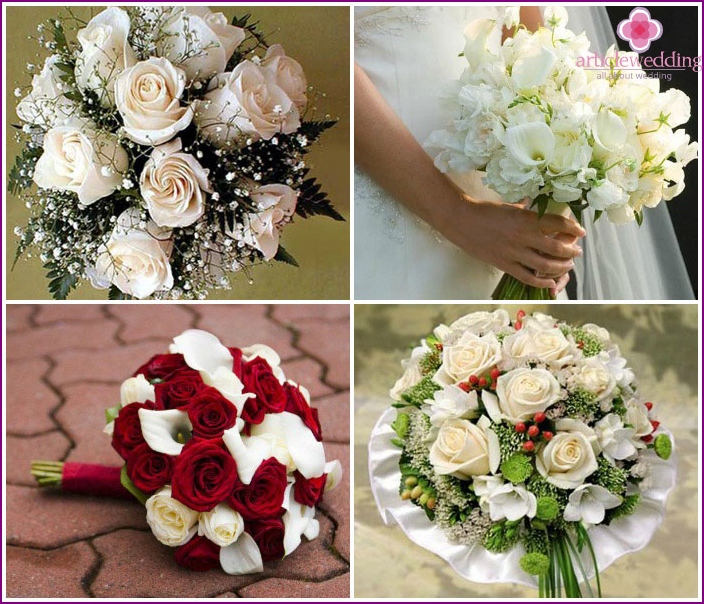 Why dream a wedding bouquet
To see wedding accessories or a bride's bouquet in a dream are good omens, because this is an omen of quick joy, fun, and possibly unexpected gifts of fate. And to catch him means that very soon you will meet your true love. Dreams, where this symbol of the wedding appears, portend only good events.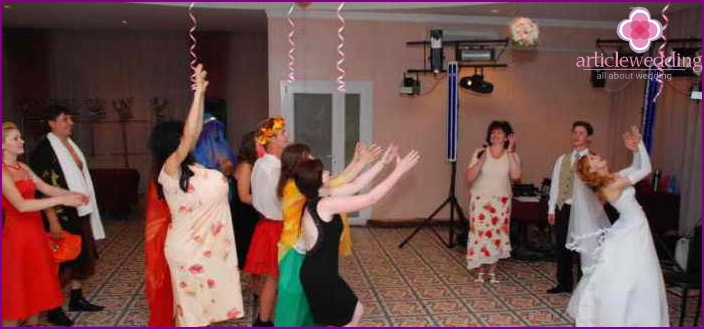 Bouquet has always been an integral attribute of a wedding celebration. Many signs are associated with it. Therefore, if you want to diversify your wedding, do not neglect the old tradition - throwing flowers into the crowd of unmarried ladies. Follow signs and traditions, then your marriage will definitely be happy!