Contents
---
---
Fear of heights, many guests and few seats in the basket - there are few counterarguments for a balloon wedding. But, this is not a reason to abandon a dream. The wedding portal www.articlewedding.com invites you to style your wedding with balloons of all stripes..
Airy image
A creative idea for the most courageous brides is a wedding dress in the shape of a balloon. Fresh, interesting, non-standard. True, there are several nuances «against». Firstly, we'll be frank, such a dress will not decorate every figure. Well, and secondly, the older generation of guests can be shocked by an unimaginable bodice, a mesh at the waist and a mini-skirt in the form of a basket. Therefore, we advise you to get rid of a little blood. And this, believe me, will look no worse. An outfit with a colorful print in the form of a balloon, or maybe even a whole cavalcade of balloons? Intricate embroidery in the theme of the hem of the dress. The most non-standard can be found or made to order shoes with heels in the form of balloons. Not the fact that it will be convenient, but very original. The image can be complemented by a variety of wedding accessories «in tone»: earrings, elegant bracelets with ball pendants, bride's handbag.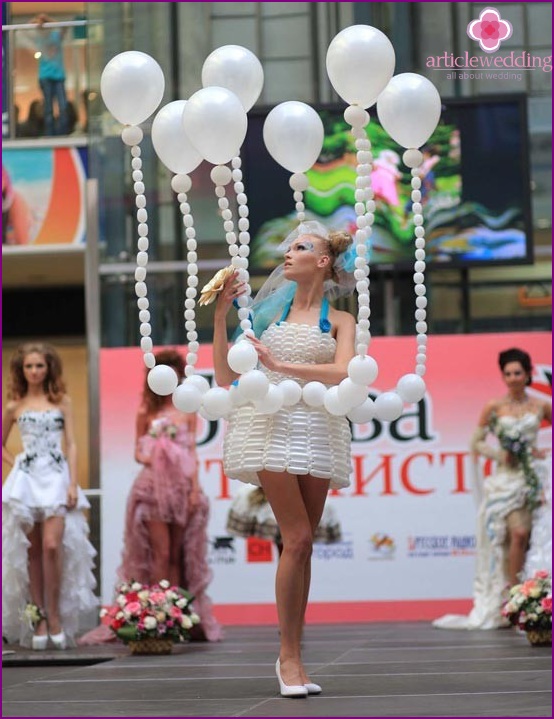 The groom, of course, is not hung with earrings, rings, pendants in the form of balloons. But he cannot be left behind the general theme. A tie to match the bride's shoes, bright cufflinks in the form of balloons. Even socks can be picked up «in tone», true all triumph you have to «coquettishly» raise the leg and show the guests the original part.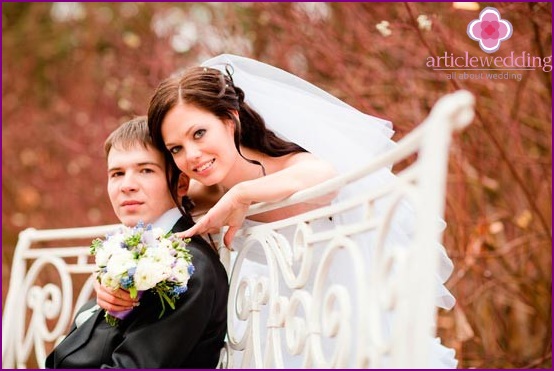 Come in, dear guests!
Come in, but don't forget that at this wedding «strict» dress code. This means you must have a balloon. Of course, this does not mean that you should fasten the basket on yourself as a loincloth! Today there is a wide range of diverse accessories, ranging from brooches, continuing to cufflinks, ending with badges.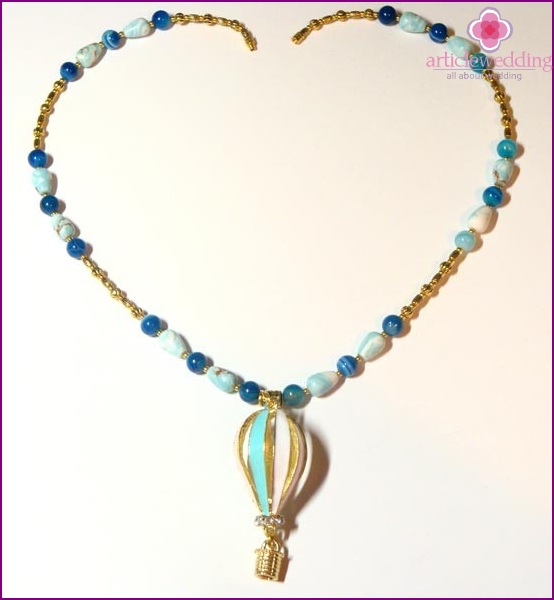 Ball flowers or flower balls?
By the way, young people can make it easier for guests «mini balloon search». The boutonniere, beautifully stylized as the main theme of the wedding, can easily become an identification mark. Note that this does not have to be a toy ball purchased at a children's store. Wonderful and very unique will look balloons made of small living flowers. Today it's easy enough to find an organization that creates various flower arrangements. Suspend to «figurine» a light wicker basket - and your boutonniere dress code is ready!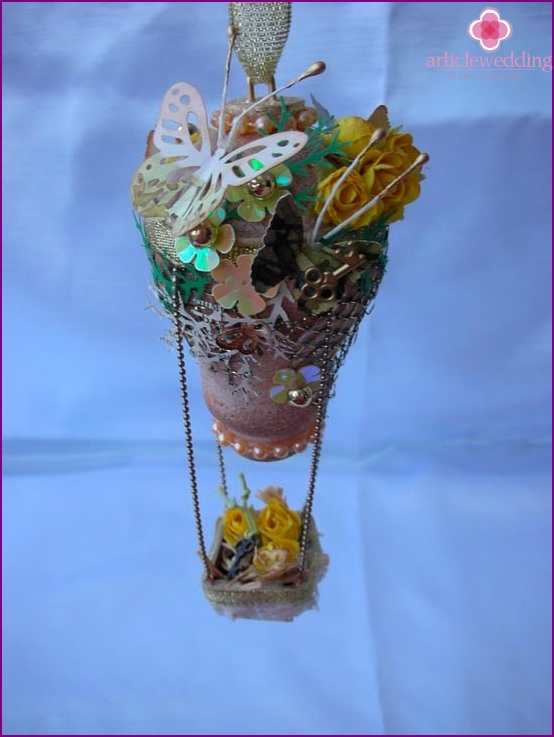 The beginning of time
The theater begins with a hanger, and the wedding begins with an invitation. And, if you are planning a themed wedding, invitations should be «tone-on-tone». Form, coloring, content, small details - everything should say that each guest will soon become a full-fledged participant in a private «aero club».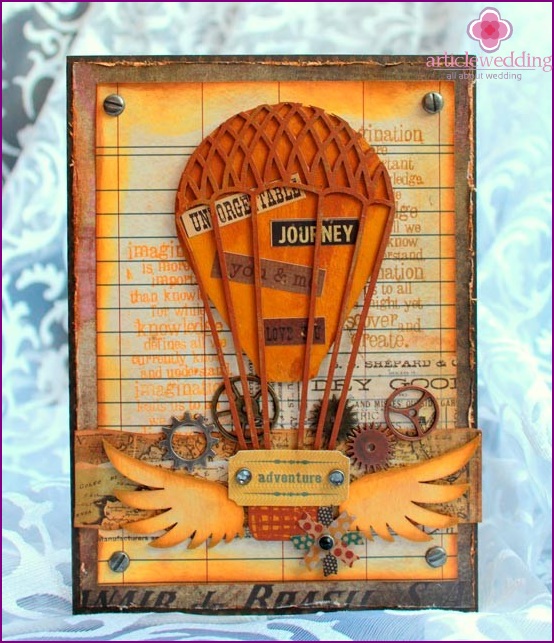 On a big balloon
It is logical that the banquet of the wedding celebration should be performed in «jointly» subject! Chairs can be decorated with domed balloons or, at least, imitation. The hall itself «will say» Thank you for the colorful garlands ... No, not from traditional balls, but from full-fledged, well, or not quite, all the same dimensional things, balloons. Floral arrangements can also be shaped like a balloon.
Sweet balls
The website www.articlewedding.com considers stylized bonbonnieres to be a wonderful decoration of the table, as well as a subsequent gift to guests. Miniature baskets with the same toy balloons will delight even the most adult and familiar guests. For greater effect, instead of the usual candies, you can «seat» to the basket of gingerbread or ginger men with bright buttons from the glaze.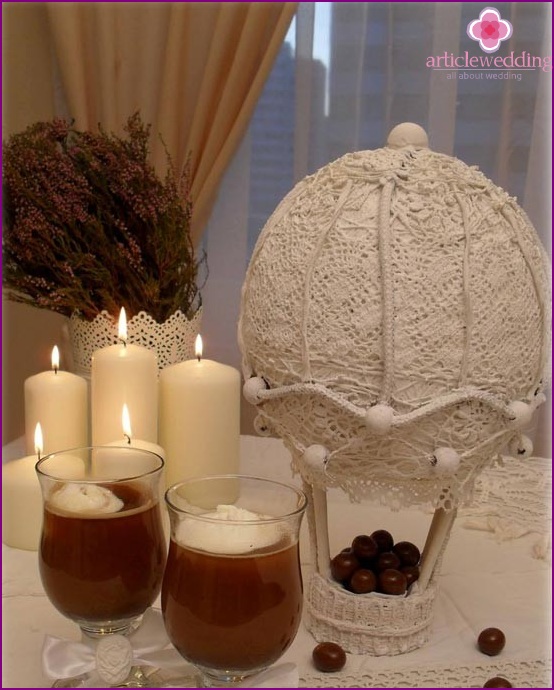 Places according to tickets purchased
Do not forget about the seating cards! More precisely, about seating balloons. But how will the guests take their seats in your makeshift air transport? And, most importantly, do not place them on tables, but attach them to the backs of chairs.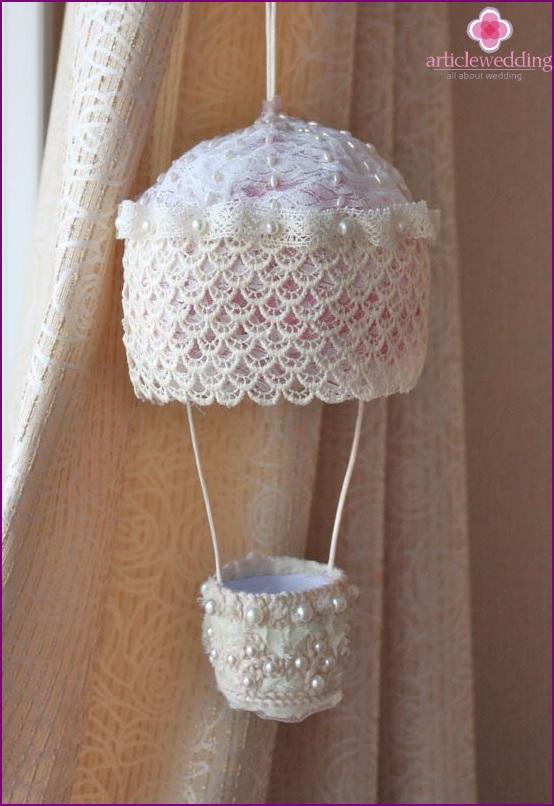 And most importantly - the cake!
What a themed wedding without a cake? You can refresh an ordinary wedding dessert with miniature cream balloons.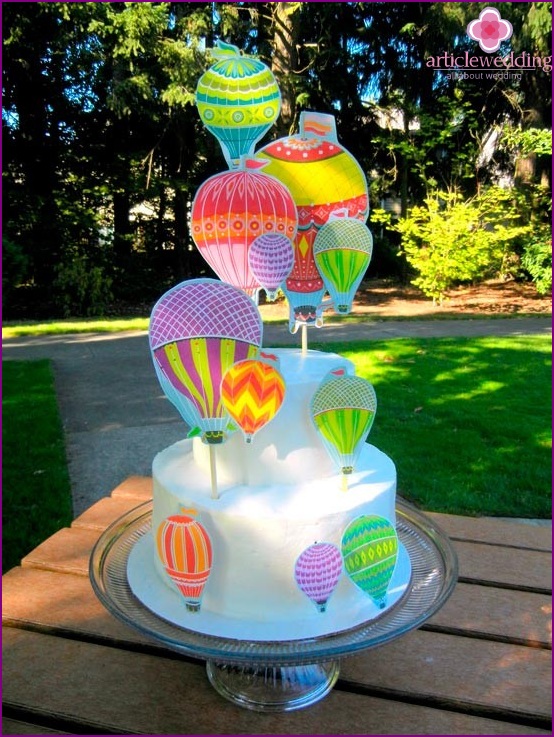 And you can make the whole cake for the wedding in the form of a large and tasty ball. And you can make a hodgepodge - a basket of delicious cream and delicate cakes, and make the balloon itself real or from flowers.