In order for the wedding to leave pleasant memories for all participants, you need to carefully consider every detail. Tasty dishes at a banquet, unusual outfits of newlyweds or witnesses, an interesting wedding theme can leave a favorable impression, but first you need to invite guests correctly. Some couples do not pay enough attention to invitation cards, but this part of the wedding ceremony is important. How to compose the text of wedding invitations? Let's find out!
Examples of writing text for wedding invitations
Wedding invitations, although small, are part of the celebration, so you need to take their design seriously. It is better if an individual text is written for each guest. It can be composed independently or found on the Internet. There are a wide variety of classic texts for invitation cards:
official;
thematic;
playful;
in verse;
in prose, etc..
Writing an invitation in a classic style
If the wedding is planned in a classic style without extravagant clothes or an extraordinary ceremony, then the invitations for guests must also be kept in the classic official style. Classic weddings are still the most popular, because they still respect the traditions of parents. Any decor on different themes easily fits into the format of a modern classic wedding, so the classic invitation includes a wide variety of texts: official, romantic, thematic and even with humor.
For a classic wedding, strict forms of cards with curly cuts are appropriate. Refinement and elegance will be emphasized by thick paper, and ribbons, beads, a monogram of a new family or even a family coat of arms will serve as decoration. But the most important part of the invitation card – this is the text. It must be special, consist of several components:
Introduction. The text begins with common words for a couple, personal history, love.
Invitation. Text – appeal to the guest.
Description of the event.
Program indicating the place, time.
We bring to your attention several options for classic texts:
From fate we received a great gift: our hearts were captured by great love, and souls found happiness in each other. March 1, 2016 we want to take an oath to each other in eternal love, fidelity and register a relationship. Expensive ___! We will be glad if you share our happiness, and also celebrate this momentous event with us at ____. The start will take place at 18.00 (Names of the bride and groom).
The inevitable happened – our breathtaking love reached the point where we wanted to make our own nest! The stars told us that the best day to get married – it's March 1, 2016! We will be happy to seek your support to share the emotions of this day together. Plunge with us into the atmosphere of immense love! Our dear ____! Be with us at this grand event in the registry office (time, address), and enjoy the holiday that will take place (time, address). (Names of the bride and groom).
We were together for 1582 days and finally happened! March 1, 2016 will be our wedding! Expensive ____! Share this joy with us and celebrate this event. Official registration will take place (place, time). The first family holiday will take place (place, time). We look forward to seeing you: the bride and groom.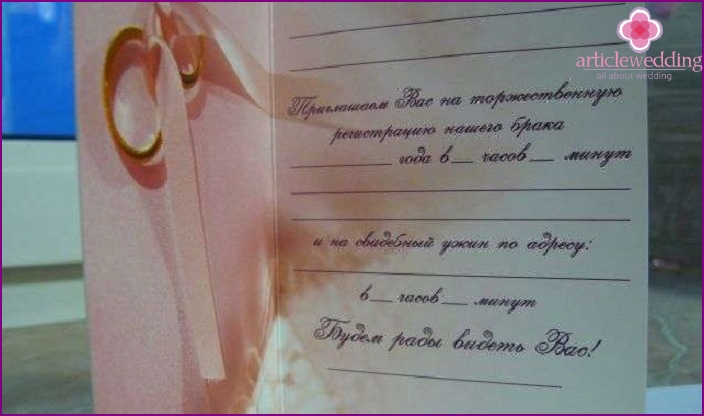 Fancy wedding invitation texts
Unusual wedding invitation – this is not just a desire to please loved ones with an elegant style of execution or thin paper, but the presence of a lively, warm text that differs from the official or classic in some way. And if you add an unusual text with an extravagant greeting card made by yourself, then your invitation card will be left in storage and they will periodically admire the creative approach.
An example of a classic but unusual text:
«Spring! The fragrance of greenery, the delightful trill of the nightingale and the fabulous dance of bunnies! A bright symbol of this spring joy will be the reunion of two loving hearts! Our beloved ______! We hasten to invite you to a grand event in which a sea of ​​positive is expected, a steady atmospheric front of love and precipitation in the form of laughter and joy, as well as an unforgettable riot of spring colors! The Union will be sealed at the following address: (registry office address, time, date). The extravaganza extravaganza will begin: (address, time, date). Loving hearts (names of the newlyweds)».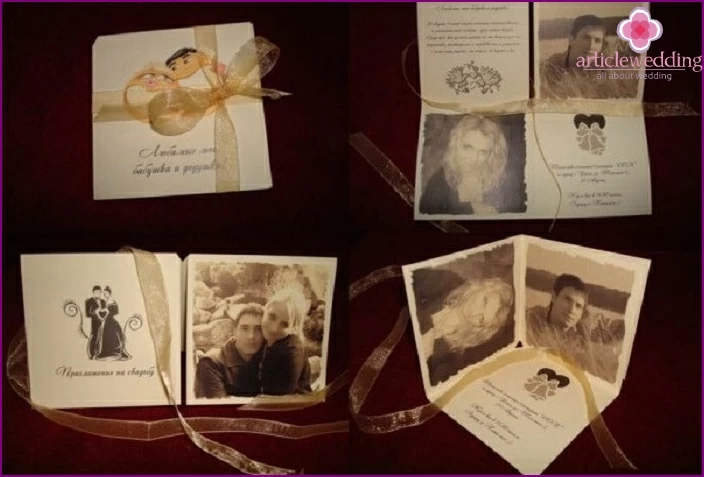 Thematic texts
Classical texts can be at a wedding, where the theme is clearly defined, for example, a styled wedding, Italian, Hawaiian or rock and roll party. Themed invitation will become a family heirloom or the best decoration of a wedding album. We bring to your attention several classic texts for theme weddings:
Senorites! Signora! Mafia structures are losing their best people! (Names of the newlyweds) spun amore, wanted a lot of small bambino! We invite you to scandal and beat a lot of dishes on March 1, 2016 in the restaurant at _____ at ____ hours. Presence required!
Lord! A couple of adventurers reports: after several years of wandering around the seas and oceans of love, we found a treasure! On the island of Passion in the ocean of Tenderness, we found Mutual Love, which we have enough for the rest of our lives! Share with us a grand revel about this momentous event (address, date, time). Please have parrots for competitions, wooden legs for dancing, chests with gold for gifts. Let's go boarding together! (Names of the newlyweds).
Dude (name)! Dude (name)! Throw your business and roll over to our wedding party, which will take place (address, date, time). Login password: colored ties, socks, glasses, bows, shirts, shoes and other attributes of the 50s style. Your cool friends (names of the bride and groom).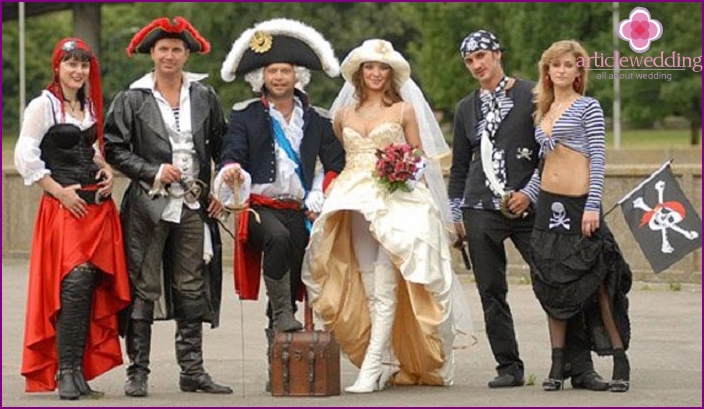 Funny and funny
The younger generation prefers original shows to classic weddings, which do not require large financial expenses, but are fun and creative. Therefore, when preparing wedding invitations, much attention is paid to humor and jokes. But most importantly – not to depart from a sense of proportion so as not to offend anyone. Cool invitation texts depend on the style of the wedding itself, on the degree of proximity to the bride or groom.
For example, parents are better off sending more classic texts, and witnesses or friends are allowed different comic texts. For the brother of the groom, such an invitation would be appropriate:
«Sorry, brother, could not stand it! I'm not like that – such a life! Waiting for you without a gun on the arrow (date, time, place). There will be all the lads. Wipe up a stingy male tear and come on no offense. Your brother (name of the groom) and sister (name of the bride)». The rest of the guests will be amused by the following text: «Attention! Says (city name). A spaceship starts under the name: «Take a chance, and then it will be seen!» Ultimate flight goal – star «Happened!». Pilot (names of the young). All interested to arrive at the start at (time, place of celebration)».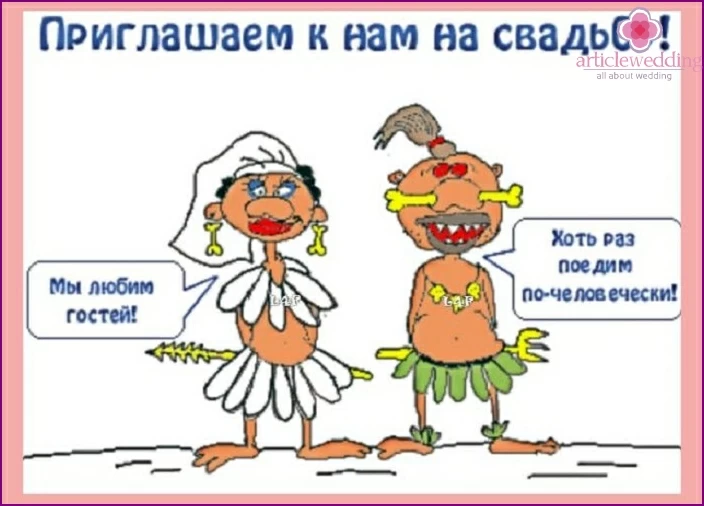 In verses and prose
Classical texts for wedding invitations are written both in verse and in prose. Some couples just buy ready-made cards with poems, and then write the names of the invitees in them. But creativity is always more valuable. We offer a selection of classic texts in verses and prose. We hope that our efforts will not be in vain and the texts will be useful to you.
We wish to declare seriously:
We decided to create a family!
And ask you before it's too late,
Change all your plans!
Leave worries and affairs
And hurry to our wedding!
Tuck your pockets to the top,
Take gifts with you!
***
On this day, happy, joyful for us
Light, warm, the most long-awaited,
With all our heart we invite you
Be a guest, sincerely desired!
Share the joy with us in half,
We will be glad to see you!
Let us have a wedding gift
Your joyful sincere glances!
***
I followed her,
Wandered at night,
Matching words
I did not find.
But she found,
Approached me,
For life love
Came to both of us.
Create your own
New family.
Come to the wedding,
My best friend!
Congratulations to us
You prepare yours!
Happiness in our life
Brought love!
Prose:
Dear __________!
In our life there are happy and joyful moments that I want to share with dear people. Therefore, we invite you to open with us a new page in the book of our life..
Our wedding celebration will take place (date, time) in the registry office at __________. After that, we are waiting for dear guests in the restaurant __________ at _________.
Sincerely yours, (names and signatures of the newlyweds)
***
Our beloved ____________!
Your support, understanding and friendship have always been important for our couple. That is why on the happiest day of our lives, we really want you to be with us.!
We are pleased to invite you to our wedding. Solemn registration will be held in the central office of the registry office (date, time) at ___________. The wedding will take place in ________ temple at ____.
The festive banquet will take place in the restaurant _____________, at ____ pm. Looking forward to see you.
With love (names of the bride and groom).
***
Dear ______ (name)
We invite you to become a guest of our exciting but at the same time happy event..
(Where, when, what time) our wedding ceremony will take place.
With thanks, (the signature of the bride and groom)