Contents
---
---
A prerequisite for the pre-wedding program is the writing of wedding invitations for guests. The task of the young is to choose the appropriate writing style, as well as to think over the text of the message. Many newlyweds, wanting to stand out, to make their holiday unique, use comic texts in prose and poetry to not only invite guests, but also to pleasantly surprise them with their ingenuity.
Features of writing invitations for witnesses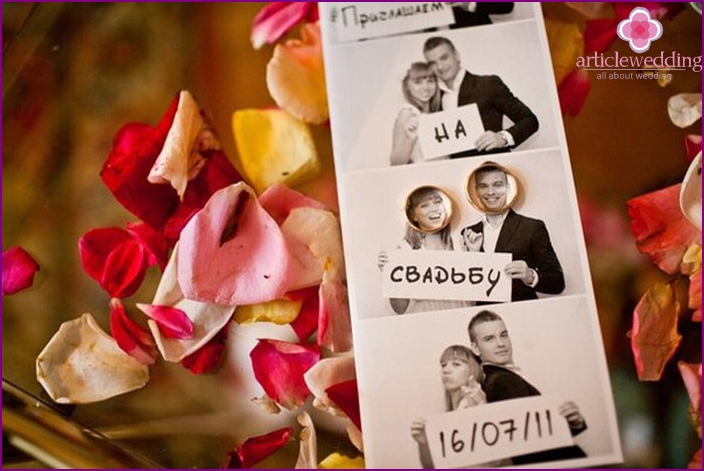 Pre-holiday chores include not only the choice of a restaurant and wedding dress, but also the compilation of a text for invitations, the preparation of the required number of holiday messages for guests. Witnesses play an important role in any wedding, so for them, individual invitation cards will be a sign of gratitude from the newlyweds. You can choose the official or comic form of such messages. The original cheerful text, in addition to fulfilling its direct purpose, will also demonstrate the young people's creative approach to organizing the holiday.
Official invitations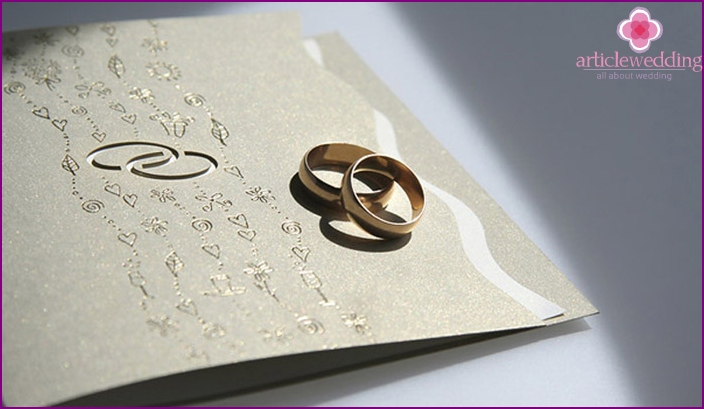 The invitation text in official form is a universal win-win option, which is perfect if young people, for example, do not have time to compose an original fun message. In the frenzied rhythm of modern life, many couples with difficulty find time to legitimize relationships and organize a celebration on this occasion. For this reason, the classic way of inviting witnesses to a wedding would be appropriate..
Official letters usually begin with the words «Dear ...» or «Dear ...». Classic text is also diluted with phrases, like «We are immensely glad that you will witness such an important event for us» or «It will be a great honor for us to see you as a witness to our wedding celebrations.». On the other hand, close friends of young people traditionally act as witnesses, so it is better to avoid such officialdom in the message. An original invitation will help, before a solemn event, to light a spark of fun in friends.
In comic form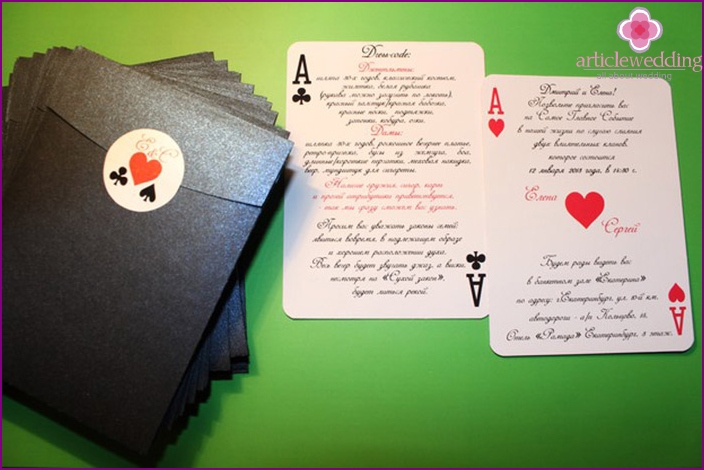 Ideally, the invitation text for the witness should be different from the content of the message sent to the witness. The role of these people at the wedding is not only important, but also difficult, so try to find the time to compose original funny invitations for your beloved friends. A comic message written with an excellent sense of humor will especially please. The letter of invitation may, for example, begin with the words «I'm with you in fire, water, and even get married ...». For a witness, a more sensual text is suitable.
Themed wedding is a great opportunity to come up with an original invitation text for witnesses. The content of the message should correspond to the chosen topic. For example, if you are organizing an Italian wedding, the letter should begin with the words «Signor! (Signora!) We are forced to sound the alarm, as our mafia is losing its members (names of young people). They spun amore and decided to make a lot of little bambino! We are going (date, time and place) to beat dishes, scandal and empty plates with excellent pasta!».
Examples of how to sign wedding invitations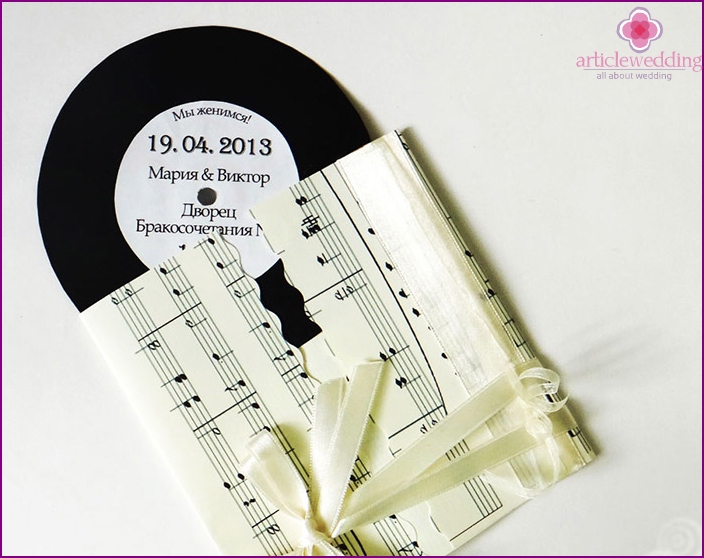 Witnesses are guests of honor at any wedding. For your beloved friends who agreed to play this role at the wedding, you should prepare interesting unusual invitations. You should show imagination and ingenuity to make a funny or, conversely, touching text that will show your dear friend and girlfriend how much you value their help and support. Having allocated a little time, as well as carefully considering the contents of the invitation letter, you are sure to come up with an interesting, and most importantly non-trivial text. For example, this:
«Our dear (witness names), your support and understanding has always been incredibly important to us. For this reason, we dared to ask you to be near and become witnesses of our wedding on the happiest of the days of our lives. Registration of marriage and the first step in family life will be done at (date, time, place). The celebration of the celebration will take place (time, place). We look forward to seeing you».
Samples for the witness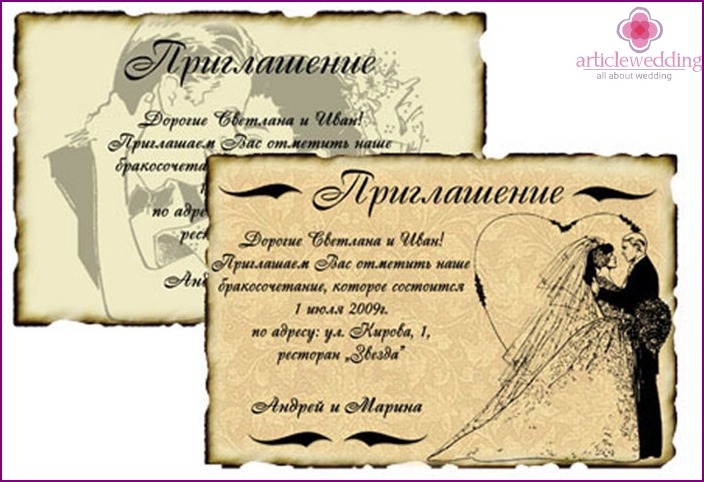 The witness role is usually played by the beloved bridesmaid. Consider in advance what to write in the invitation card for her. There are many interesting and fun options that can cause a smile or even make a friend laugh. A touching sentimental letter is another great way to invite a witness to a wedding. Do not forget to describe your feelings and gratitude to your beloved girlfriend. Here are some examples of the invitation text for the witness:
«My beloved girlfriend, finally, the long-awaited wedding day has come for me. For all the time that we have known, you have become a good adviser to me, a faithful assistant, a spirit sister, a true faithful friend. I am immensely grateful to you for all that we went side by side over the years of our strong friendship. I just can not do without your support on this exciting day, so I ask you to be near, to witness the beginning of my new family life with the best man on earth. I'll be waiting for you, beloved girlfriend, (date, place, time)».
Funny invitation for a witness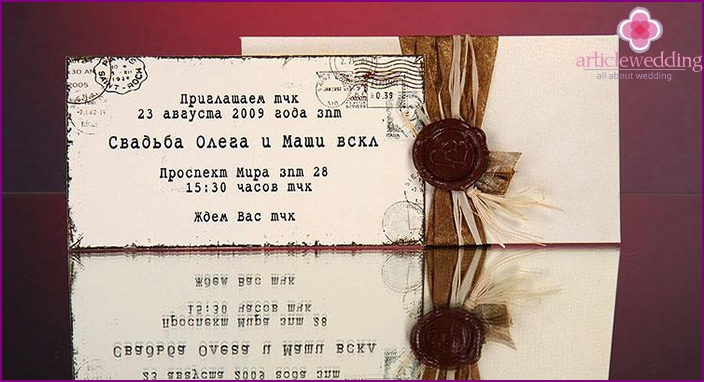 The witness is another extremely important guest at the wedding, who acts as a reliable assistant to the groom during the ransom of the bride, as well as other traditional rituals. To be a witness at a wedding is at least an honorable, but still responsible mission, which, as a rule, is assigned only to close friends. In gratitude to the groom, you should carefully approach the compilation of the text of the wedding invitation. The ideal option is a fun, humorous invitation letter. See examples below..
«My dear faithful friend, this woman nevertheless managed to carry out her cunning plan - to lure me into love networks. There is no way for me to find salvation and I humbly accept my fate. I ask you, do not leave your faithful servant and comrade, become a witness to the beginning of my new, as yet mysterious and unknown, family life. A wedding celebration will take place (date and place). With trepidation and hope in my heart I will wait for your appearance (place and time). Your (name), hopelessly in love and future happy family man».