Contents
---
---
In the upcoming season, natural beauty and naturalness will be especially popular in the wedding industry. The trend has already managed to touch on many aspects of this area, without disregarding the design of wedding invitations. Delicate translucent postcards decorated with abstract drawings and flowers will help to set up guests for a light romantic atmosphere that will prevail at the upcoming holiday. Watercolor invitation cards - a stylish original idea for a modern couple in love.
Design Ideas for Watercolor Wedding Invitations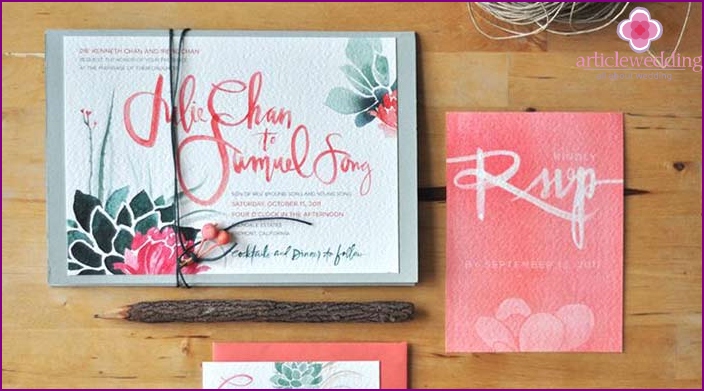 Many wedding decor studios offer the production of watercolor invitation cards with the development of an interesting individual design. By the way, you can make such messages for guests if you wish and have free time yourself. Exclusive handwork is much higher than the purchased copy. In addition, it gives a unique opportunity to come up with and draw for each guest a unique wedding invitation, thereby expressing his gratitude and respect to him.
With the help of watercolors and developed imagination, they create amazing colorful products, unique and inimitable. It takes a lot of free time to invest a piece of your soul by creating a unique composition for each guest. If you don't have one, use one more option: order a watercolor mockup from a professional designer, which you then print to a print shop. This approach to preparing invitations will save not only your time, but also money.
If you decide to start making watercolor messages for guests yourself, first you will need to familiarize yourself with the varieties of such invitations. Postcards can be single-sided or double-sided, decorated with flowers or abstract compositions made in bright or, conversely, muted pastel colors. It remains for young people to choose the appropriate style, sketch, colors that will be used in invitation.
One-sided invitations with flowers
Watercolors are a wonderful way to convey mood. They mix easily, creating unusual color combinations, spectacular gradients. To make beautiful wedding invitations with watercolors, you don't have to be a professional artist at all. With the help of paints they make interesting backgrounds for invitation text, many decorate cards with abstract flowers. Unilateral invitation cards with lush painted buds look especially impressive. The same sketch can be made by a professional designer..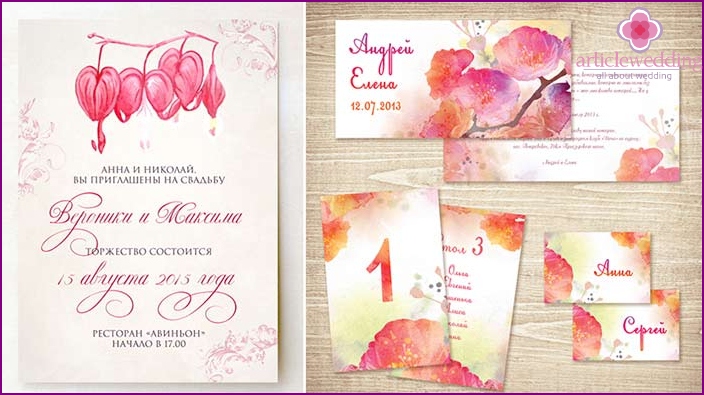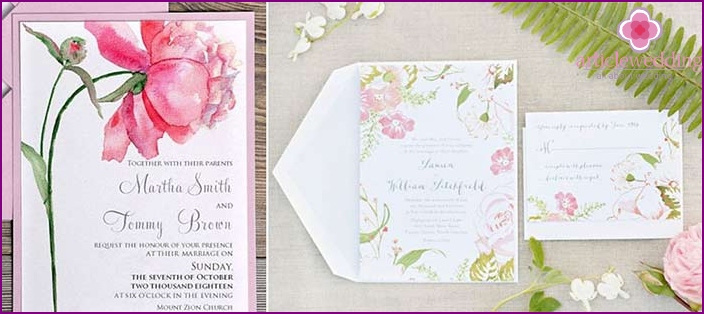 Two-sided with abstract patterns
Another fashion trend in the design of wedding invitations is double-sided cards with abstract watercolor drawings. This option is ideal if the heroes of the occasion really want to make messages for guests on their own, but, because of the inability to draw, are afraid not to cope with the task. To make a spectacular abstract pattern, artistic skill is not needed. First, practice using separate watercolor sheets to make strokes, choose a beautiful color combination, and then proceed to create your own works..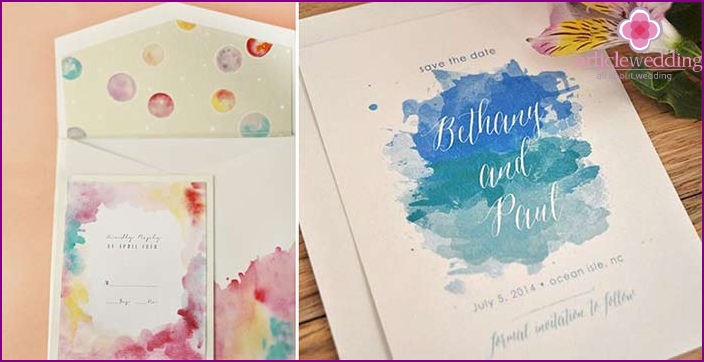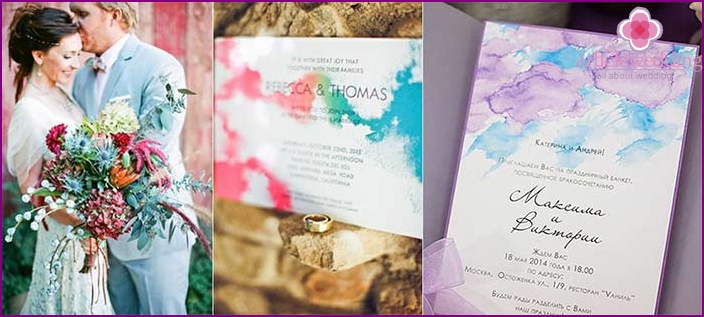 In pastel colors
An important role in the design of watercolor invitation cards is played by the choice of colors. If you plan to design all the components of the wedding celebration in delicate shades, for invitations, choose a palette of pastel colors that will help guests tune in a romantic mood. Perfectly pale pink, beige, menthol, blue. On such a card delicate flowers or a light abstraction will look appropriate. Do not overload invitation cards with an abundance of small complex parts.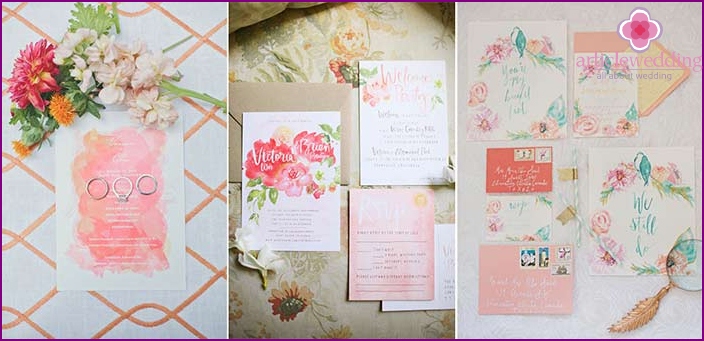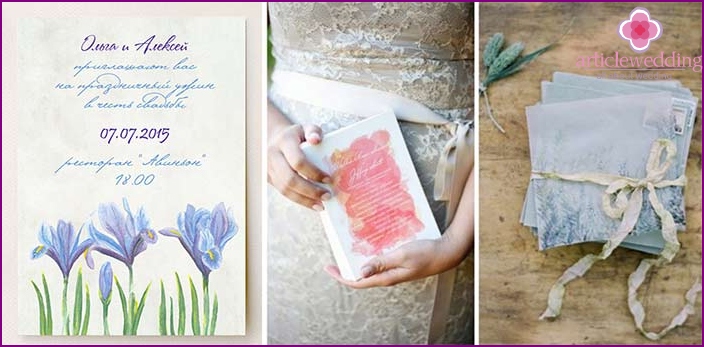 In bright colors
The colorful design of the planned wedding involves the preparation of the corresponding bright invitation cards. With the help of watercolor paints, not only pastel drawings are created, but also bright, cheerful compositions of saturated colors. A popular motif in the decor of invitations is floral. If you want to distinguish yourself by creating a unique and inimitable design for your cards, experiment with abstract patterns and bright backgrounds..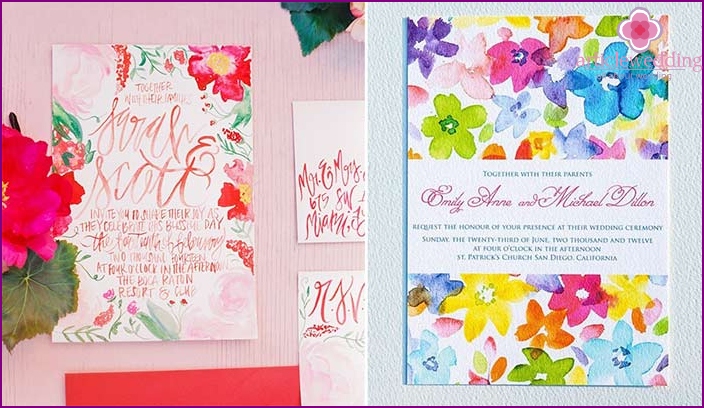 Watercolor invitation cards with envelope
After the wedding invitations are ready, it is worth considering how to send them to the guests. So that spectacular watercolor works of art do not lose their attractiveness, it is better to use envelopes decorated with all kinds of drawings, flowers, aged stamps and other decorative elements. Choose envelopes of arbitrary sizes - this will add playful negligence, bring «zest» in the design of invitations. In addition, when the message is printed by the addressee, he will not be able to inadvertently spoil the card.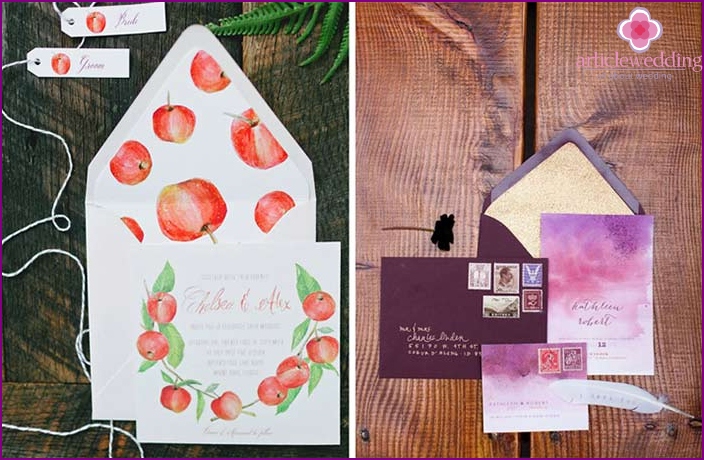 Handmade watercolor painting
As noted above, handmade products will always be valued significantly higher than standard purchased items. If you have free time, and also have a desire to contribute to the design of the upcoming holiday, stock up on the necessary materials in advance and feel free to embody your wildest ideas.
For example, interesting invitation cards are made using watercolor paints and white wax. The principle of creating compositions using such a technique is that the wax, which will be applied to the inscription or drawing, repels water. To make cards, you need to prepare watercolor paper, which is sold in specialized stores for artists. Ordinary thick paper runs the risk of warping under the influence of waterborne paints.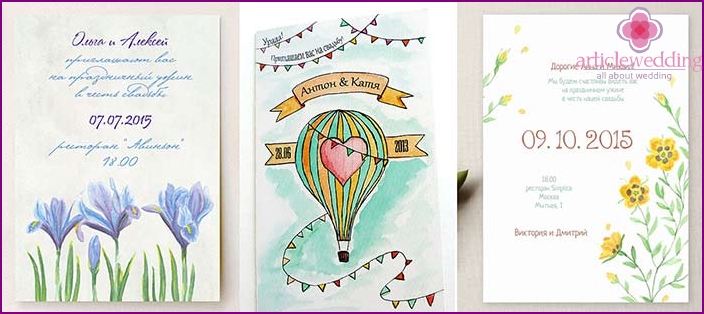 What fonts are suitable for watercolor invitations
An important stage in the design of wedding invitations is choosing the right font. Narrow-profile specialists work in modern specialized studios to help select and compose a beautiful readable font that is ideally suited to the general theme of products. If you decide to make invitations yourself, apply the text in capital letters with soft, devoid of sharp rough corners outlines. However, remember that the text on the invitation should be well read, so be careful with numerous «curls».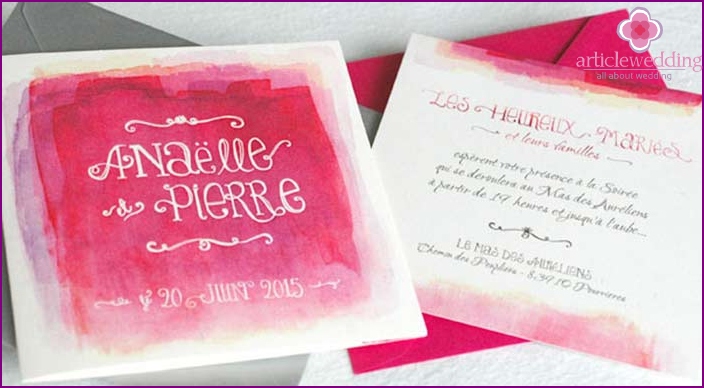 Photo of watercolor wedding invitations.
Wedding invitations - for guests, these are the first news that should not only inform about the upcoming event, but also reflect its atmosphere and mood. Looking at the received message, we can try to guess what style the celebration will be held in, what colors will prevail in its design. Watercolor invitations look incredibly touching and gentle, set up for a romantic mood, demonstrate the exquisite taste of the bride and groom.