Contents
---
---
Wedding organization – responsible occupation, because in order for the event to be held at the highest level, it is necessary to take into account many details. An important stage in organizing a wedding – invitation of guests. The choice of invitations is simply huge, but it will not be difficult to make a small card yourself by writing an invitation with those words that would maximally express the feelings of future spouses to the guest. Parents are honored wedding invitations, so the invitation text should be special, warm so that they feel how important they are for the newlyweds.
How to Sign Parent Wedding Invitations?
While preparing the wedding, the newlyweds have a lot of worries and things to do: you need to book a hall, prepare a banquet, choose outfits, take care of the music, make a list of invitees, write, send invitations. As a rule, friends and close relatives receive invitations first. For some reason, newlyweds inviting parents forget for some reason, believing that their presence is a given.
Parents – they are the closest, dearest people, because thanks to their care, love, the newlyweds have now become who they are and, having become conscious people, they are ready to create their own family. Mom and Dad will be extremely pleased to receive an invitation to the wedding, which after the event will be stored in the album, as a pleasant trifle dear to the heart. Parent Invitation Must Be Special – it is better to purchase a beautiful blank card or make it to order. Or you can make a video invitation.
Often newlyweds have a logical question – How to make an invitation text for the most dear ones, relatives? No matter how, with what words the invitation will be written, the main thing is that it be sincere, come from the heart, express all warmth, love, attitude to parents. Do not use official phrases, expressions, it is better to choose warmer words, for example, instead of a name, patronymic write «Dear Mom and Dad!».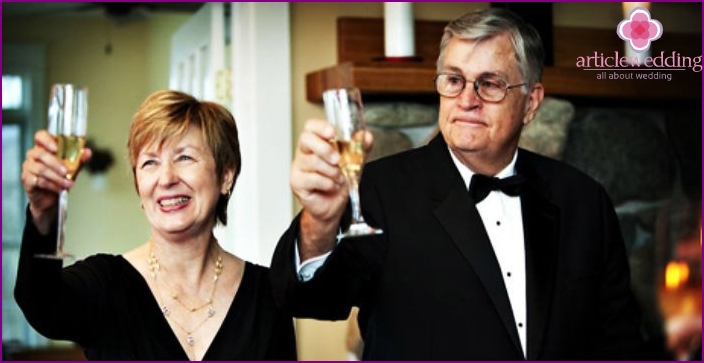 The fate of all people is different, it's good if both parents are alive, healthy, living together, then a more classic invitation text will be suitable, with an appeal to both parents at once. The text can be both in prose and in poetic form. If, by the will of fate, only one of the parents was left alive, then the invitation should be addressed specifically to the mother or father. When divorcing parents, their separation, it is necessary to prepare separate invitations for each
Original wedding invitations in prose and poetry
The text of an invitation to a wedding for parents is not always so easy to compose on their own, so newlyweds often use examples or samples of ready-made invitations. Below are the texts of invitations in verses and prose, which can be used in this form or paraphrased a bit, adding something from oneself so that it would be more personal.
Native mother and father!

Here we are gathered down the aisle!

Send you to invite together,

To share the joy with us!

We invite you this Saturday

A little later from dawn,

Come congratulate us on your wedding.

That we live, as you are - wonderful!

The solemn event will be held at the registry office at: (address of the registry office)

With love, children!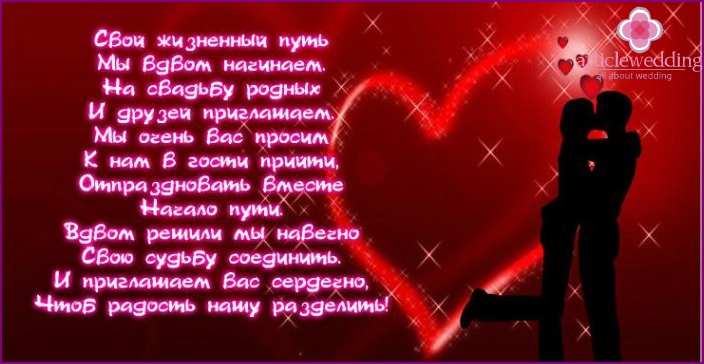 Dear Parents!

Everything went to this and finally happened – two madly in love, crazy people decided to make a cozy family nest! According to the lunar calendar, the best date for this would be (wedding date)!

But we will need help, support of the closest, dearest people, therefore, dear parents, we invite you to share the greatest joy, the sea of ​​positive emotions, fun with us. We will wait in the indicated place!

Bride and groom!
Sample invitation text for mom
Dear mother!

There isn't enough words in the world to describe in words a feeling of gratitude for the forces you have spent, for your love, tenderness, the warmth that you always gave.

On the day of our marriage, when Mendelssohn's march will be heard, and a lady in a strict suit will announce us «Husband and wife!» we would like only the most dear, beloved people to be with us. Therefore, we will be sincerely glad to see you next to us on the birthday of our family.

Your beloved, loving children!
Mother!

No matter how much you want, but the children are growing! That little rascal-son is already ready for serious changes in his life.

We invite you to a solemn union of our hearts, you will witness the birth of a new family and how a little boy becomes an adult. Solemn event will happen (wedding date), we will be sincerely glad to your presence.

With love Groom and Bride!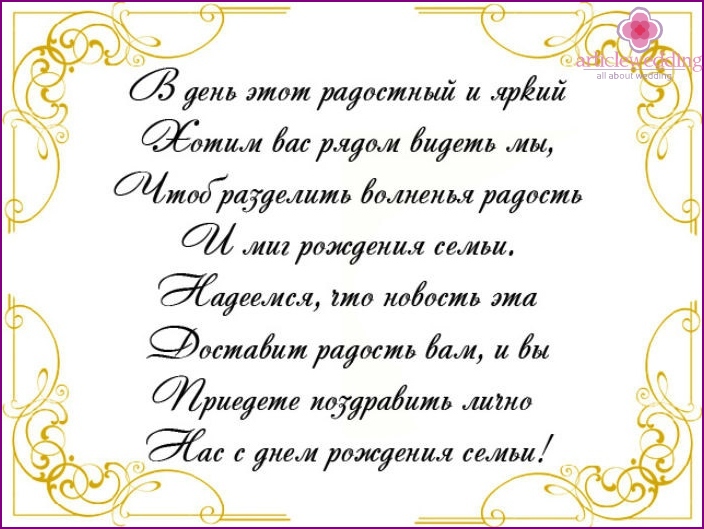 For Dad
Dear father!

All your life you taught wisdom, guiding the right path, helping to overcome obstacles, sharing with me the joy of victory. The time has come to share the greatest joy. We invite you to a solemn union of two loving hearts, we ask you to witness the birth of a young family! The official part of the wedding event will take place (wedding date) in the central registry office, and after that you can raise a glass for the happiness of the young in the restaurant (the name of the restaurant where the celebration will be held)!
Examples of invitation texts in different styles
When compiling an invitation to a wedding, it is important to take care of the correspondence between the theme of the wedding and the style of the written invitation. The invitation decorated and written in the Tiffany style for a sea wedding will be ridiculous. Therefore, when composing the text of an invitation for parents to a thematic wedding, it is worth sticking to the chosen topic.
In classic style
Beloved parents!

The important day of our life is approaching, when our destinies and hearts will unite forever. We are happy to share the joy and happiness of this event with you, we invite you to witness the birth of our family.

We are ready to thank you for the endless days for endless love, tenderness and care. You will be the most expensive, honored guests at our wedding, which will take place (wedding date) in the registry office at (address of the wedding palace).

Regards, Groom and Bride!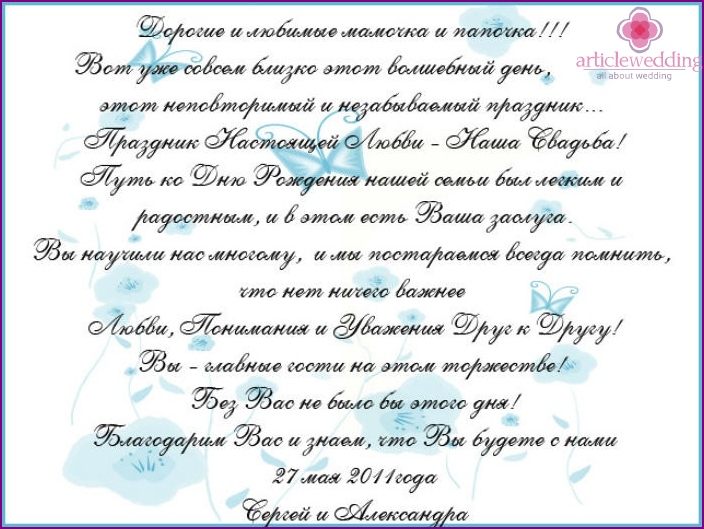 Dear Parents!

There is no limit to our gratitude for the life given to us, for sleepless nights, for anxiety and concern for us. You gave us all your love and care, raising worthy people, the ability to love. We will be immensely happy to see you on the day of our marriage, you will be the most welcome guests. The wedding celebration will take place: (wedding date and registry office address).

With love Bride and Groom.
Beloved mom and dad!

So your children grew up, soon the Mendelssohn march will sound for us, and we will enter a new life, creating our own family. We will study life differently, guided by your example, keeping love for life.

We will be happy to share love and joy with you on this day, so we invite you to the wedding, which will take place soon (wedding date).

Regards, your children!
In Russian style
Dear, Father and Mother!

On this happy day (wedding date), we have the honor to invite you to become honorary guests at the hospitable feast we have begun! There is no limit to our gratitude for your efforts, as you cherished your beloved children, as you nurtured.

Bless us for a comfortable, happy, family life on your wedding day.

Your son is obedient and his future wife is faithful.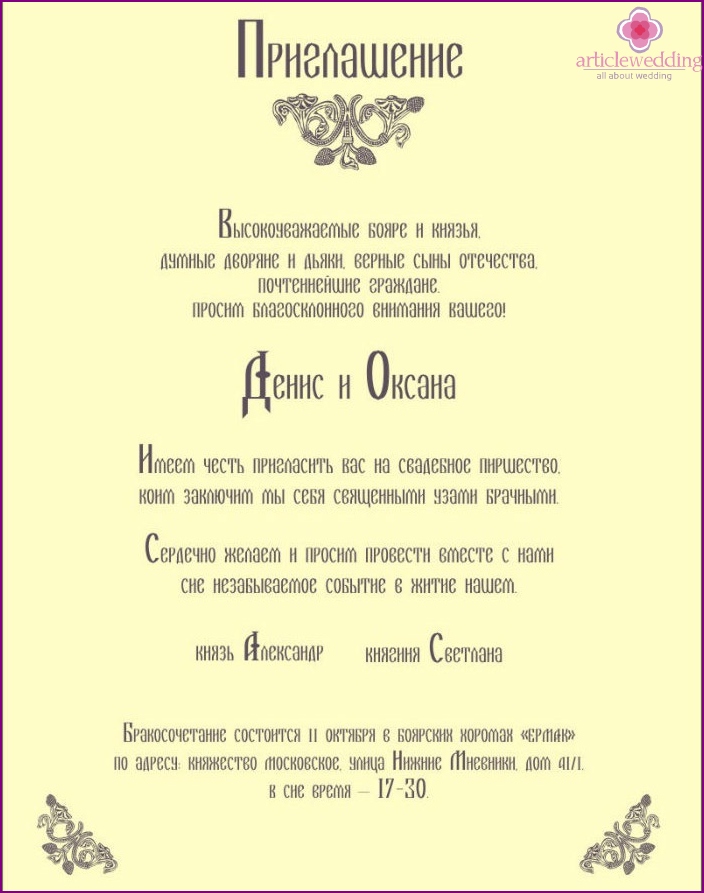 In the sea
Dear captain of the family ship and his dear wife!

We sincerely hope that this invitation to the wedding of a sailor (name) and youngster (name) will not be regarded by you as a violation of the ranking table.

Do not express in words all gratitude for teaching norms of behavior in the ocean of family life. From now on, we will be able to put into practice all our knowledge, with the hope of becoming a captain and his faithful companion on a strong family ship sailing on the ocean of life. In the meantime, we invite you to witness the first launch of our small ship into the water, we hope for your blessing, the wishes of a fair wind in our sails, fewer storms in our family voyage.

Sincerely, Sailor and Jung!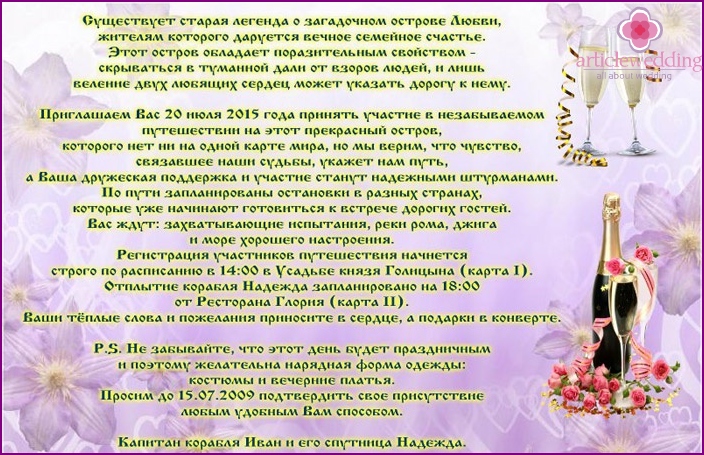 Parents – close, dear people who are ready for anything for the happiness of their children. Preparing for a wedding event, with a bunch of worries, a million important things, it's worth taking a couple of minutes to write a few lines of warm words in an invitation card for parents. Do not write chic verses or compose a poem, a couple of words are enough, but which come from the heart, from the heart and express all love and gratitude.