Contents
---
---
What could be prettier than the pre-wedding hassle, which detail to think out first? This is an invitation, the creation of which requires a careful approach. Let the blue color become the main gamut of your wedding, it symbolizes devotion and evokes associations with the sea. If you have a wedding in a marine style, imagine how the combination of white with blue will look unusual in the design of the invitation and will help to recreate the atmosphere of a marine mood for the celebration and fun of guests.
How to decorate marine style invitations
Wedding – This is an event that happens once for a lifetime, so I want everything to be in a special way, memorable, not like everyone else. In this case, all the beauties and decorations bring their own contribution: decorating a wedding invitation plays an important role. There are many options for its decor in marine style:
For example, paint a postcard with an envelope in marine tones using pictures of various fish, dolphins, waves, ship.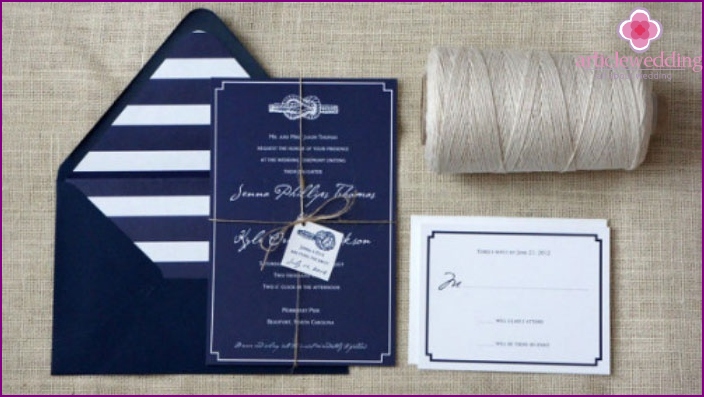 Instead of the decor, handmade work with elements of marine objects looks elegant: stars, drawings made of sand, shells, cords, anchors.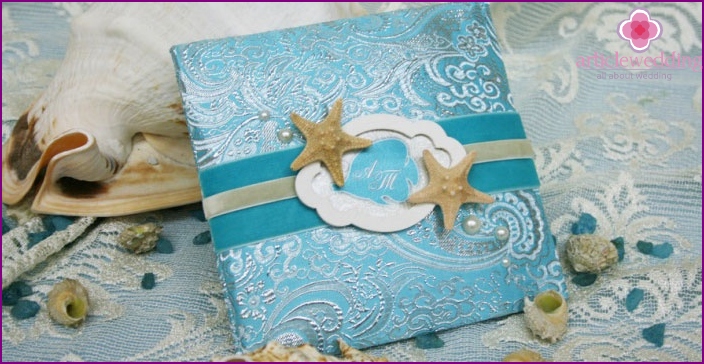 To depict on a card a mermaid and Triton at the festive table with the faces of the bride and groom. This idea is easy to implement with your own hands, it is able to interest and impress any recipient, because it is so romantic.
Another option – it's to take advantage of retro themes, using something like an urgent telegram with an urgent call to a solemn event. It's possible to beat the style of the invitation itself like an old envelope wrapped in a piece of burlap from which a postcard looks.
It is interesting to use as such an attribute a magnet with the names of the newlyweds and the dates of their wedding on a blue and white background. This is pleasant for the guest, as it looks like a souvenir, and also does not require any additional decorations. Such magnets are made to order..
Invitation text
It is not an easy task to come up with invitations in a marine style and pick up the necessary lines suitable for this wedding attribute. Newlyweds always approach this issue extremely carefully, hesitate, doubt and select several options, which takes a lot of time. The text you are going to use is very important:
He must observe marine themes, be hospitable, welcoming, a little humor is allowed, perhaps romance.
It is necessary to indicate the date, location, time of the solemn event, describe the plan of visiting the planned places.
The marine style of the text can be played out by the theme of the ships sailing on the sea and combining their fates in one beautiful sail that floats to the island of happiness. The island of happiness implies a long happy family life filled with love, or a registry office, where the festive ceremony of painting will take place.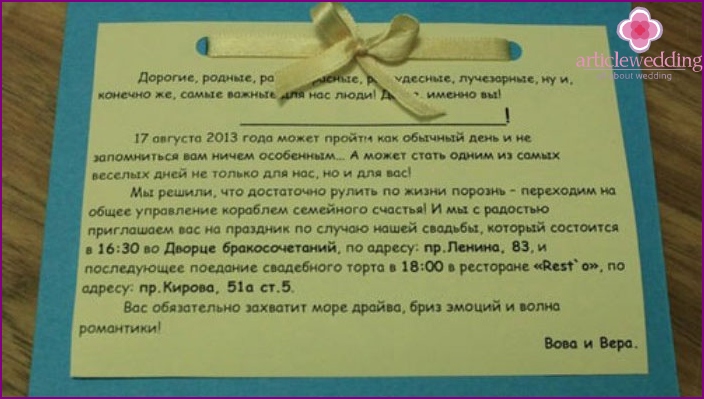 Create a small schedule of events taking place on the specified day, using theatrical style, for example:
Act 1. Redemption of the bride.
Act 2. Solemn painting.
Act 3. Feast to the whole world.
The invitation may contain information on the dress code, according to which guests will be dressed.
The method of writing the text can be handwritten, reminiscent of the good old days, or you can turn to the printing house so as not to waste time filling out postcards.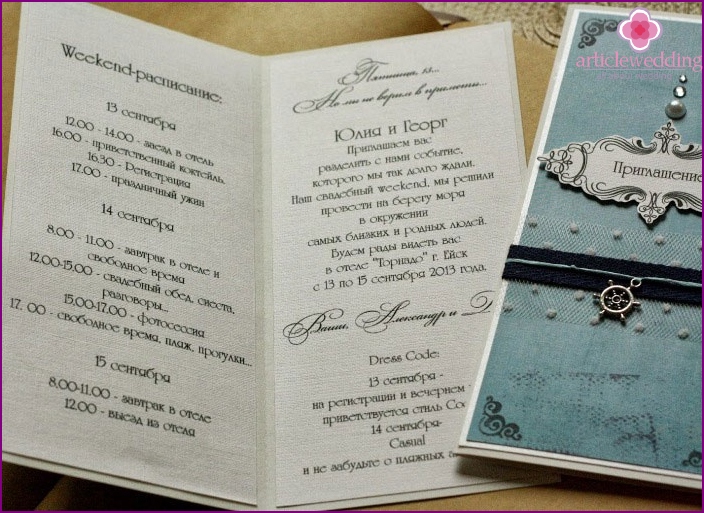 Marine Style Invitation Options
Thinking through every detail at the wedding, I want to choose the best, invent something unusual, the economic side also contributes. Some newlyweds prefer to immediately turn to specialists, without racking their brains over the creation and not inventing bicycles, because people who do this all the time can quickly find the right idea.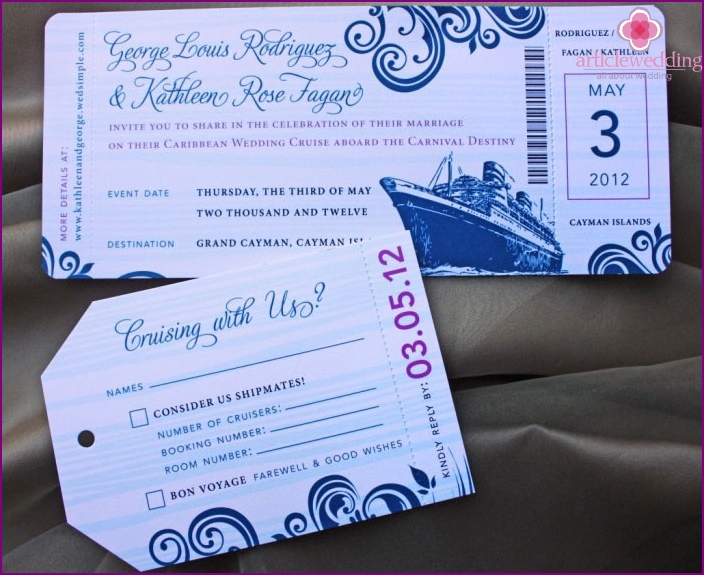 Marine Invitations – this is something that you can create with your own hands, spending a minimum of money, that will look beautiful, gentle, easy to perform. Having a little imagination, allow yourself to figure out how best to beat the invitation to marine style. For a variety of ideas, try making several options for invitations of the marine plan to make sure finally which one you like best: a stylized postcard, a message in a bottle or an invitation scroll.
Stylized greeting card
People like to receive letters, so the option with a stylized postcard, for example, handmade, is relevant. Using a marine style, imagination takes off at anyone, even the most inexperienced newlyweds. It is possible to decorate in a marine style with the help of a striped pattern of a blue and white palette, sea waves, images of marine attributes (pebbles, shells, fish, anchor):
Give the invitation a form, for example, a sea shell, inside which there is a postcard, or a colorful ship with sails.
Using sand and glue on a card or envelope, depict sea gulls, sunset on the sea, hearts of lovers.
On the envelope, attach stamps with anchors, ships, other marine items.
Message in a Bottle
The guest will be pleasantly surprised to receive an unusual wedding invitation as a bottle, where the letter is enclosed. Take a small bottle, roll up a postcard with text and put it inside with a cork. Or, instead of cork, use the product curled up by a scroll. The decor will be a rope entwined around the neck, and with the help of glued sand on the bottom and walls of the bottle you will imitate the impression that it was just found on the seashore.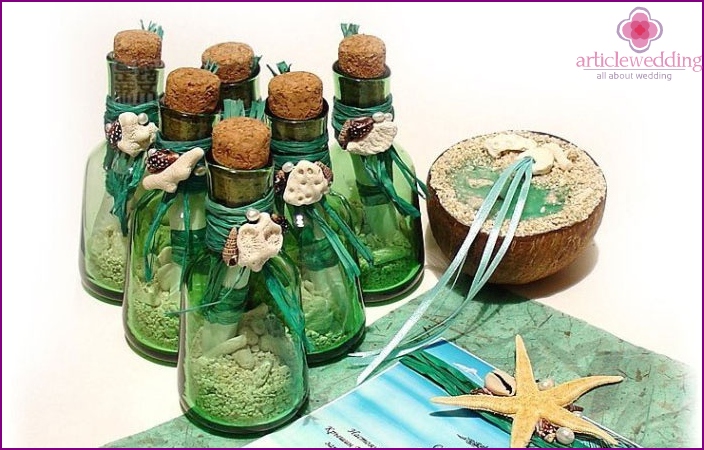 Invitation scroll
You might like the laconic version of the invitation in the form of a scroll. This case involves the use of only postcards with text that is wrapped, shaped like a scroll and tied with a ribbon. You can decorate the ribbon with marine-themed items (stars, shells, anchors), or replace it with a marine rope. A small Hawaiian flower (lily or water lily) attached to a scroll will look tender.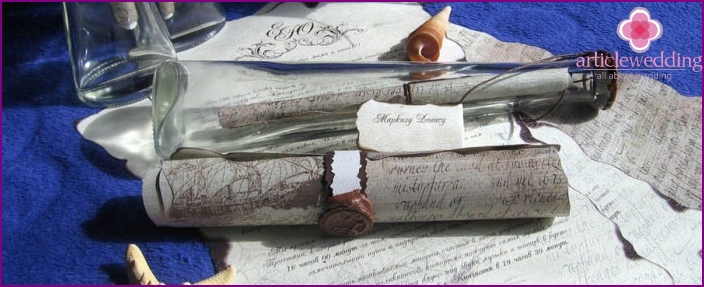 DIY marine style wedding invitations
Armed with the ideas mentioned above, it is not at all necessary to pay money for creating invitations to guests, especially since it is not always an outsider who will make exactly the option that can satisfy the demanding hero of the occasion. There are always minor flaws, details that were not taken into account.