Contents
---
---
Wedding – a luxurious event that requires thorough and thorough preparations. This applies to every little thing and nothing can be overlooked: wedding dresses, motorcade, decorations, floristry, accessories, photographers, videographers, entertainment, and most importantly – worthy invitation of honored guests. It is very important to choose the right and beautiful way of an official invitation, so you should consider all possible ideas for wedding invitations and choose one - the most ideal.
Themed Wedding Invitations
An original invitation to a wedding involves not just choosing an interesting text, acquiring a banal wedding card: the chosen invitation style, the way of registration, the color scheme that matches the general concept of the wedding, decorations, and accessories play an important role here. There are a lot of interesting ideas on how you can beautifully arrange a wedding card, so below you will find the most successful and most appropriate options for this matter.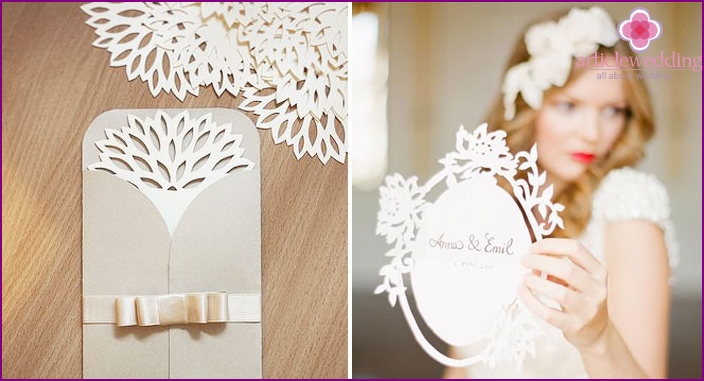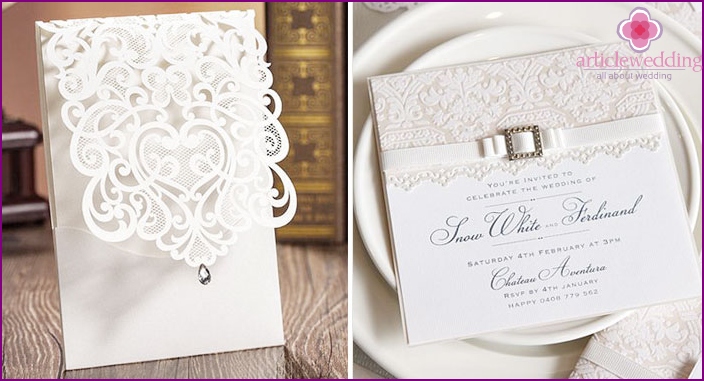 Love is wedding invitation
Plunge into the days of your childhood and remember how everyone loved a chewing gum with a banana or strawberry flavor called «Love is…». A very nostalgic and original idea that will cause only the most positive, sweet emotions when receiving such an invitation to your wedding. Here are some tips on how to arrange a wedding invitation in the style of love is:
For decoration, use famous heroes from your favorite chewing gum, placing them on the cover page of the card so that it is clear that they are newlyweds;
Enter your names and date under the cartoon bride and groom, using the text style love is;
Inside, write an invitation text in which you officially invite the actors of your wedding;
In the attachment, glue a couple of chewing gums of the selected brand to envelop your attention with the dear guests you invite;
As accessories, use the red ribbons, which will close both pages with a beautiful bow with a knot.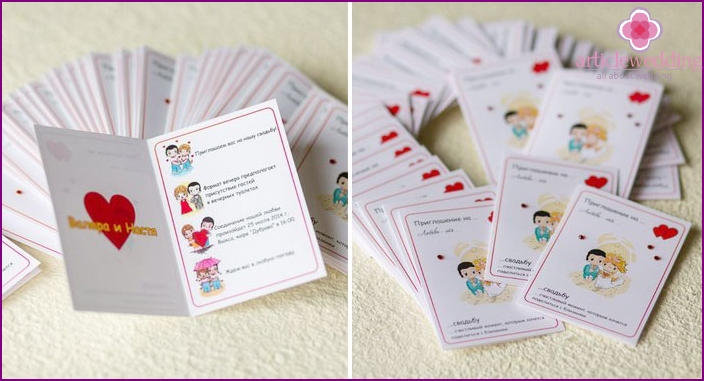 Tiffany style
Tiffany style – these are blue colors with bows, iridescent stones that maximize the mood for a romantic mood. This idea creates an aura of exquisite taste, aristocracy, jewelry. If you decide to use this style when making out wedding invitations, then the romantic mood of the celebration is absolutely ensured. Design Tips:
Making such a card, choose the colors blue, azure, white, black.
For decoration, use a ribbon, tie bows out of it, in the center of which a heart of iridescent stones is attached.
Use vintage patterns, lace in the specified color scheme.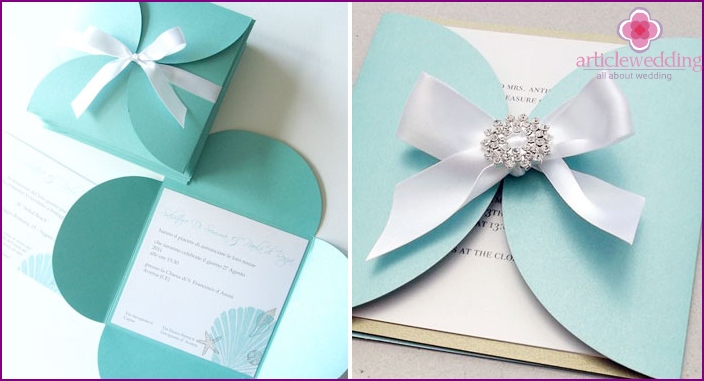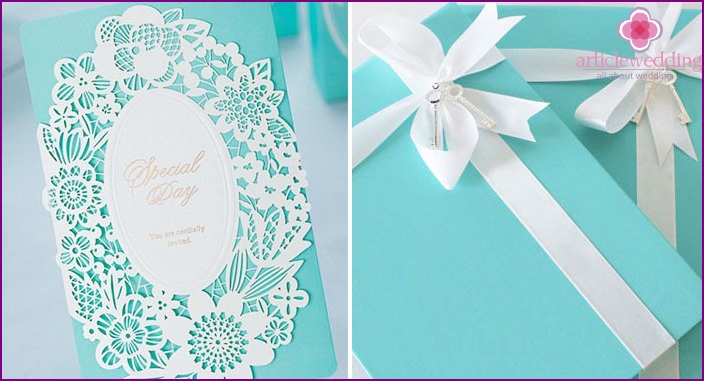 Marine style
If the theme of your wedding involves a marine style, then the choice of invitation ideas is also worth dwelling on this topic. The guest will immediately understand the magnitude of the event and where it will take place. Ideas for marine wedding invitations:
Do not stop your choice on the traditional type of invitation - postcard. Here you can use a bottle that will simulate a message buried in the sand and telling about the upcoming event;
Another good idea would be an invitation in the form of a treasure chest, which you can fill with a few tasty sweets, pretty boats, shells, stars, sea stones, among which a scroll with the invitation text will be buried;
For decor, use all the attributes of the marine theme: shells, sand, anchors, stars, ribbons in white and blue stripes, nautical ropes, boats, etc .;
Observe the colors of the sea: deep blue, azure, blue.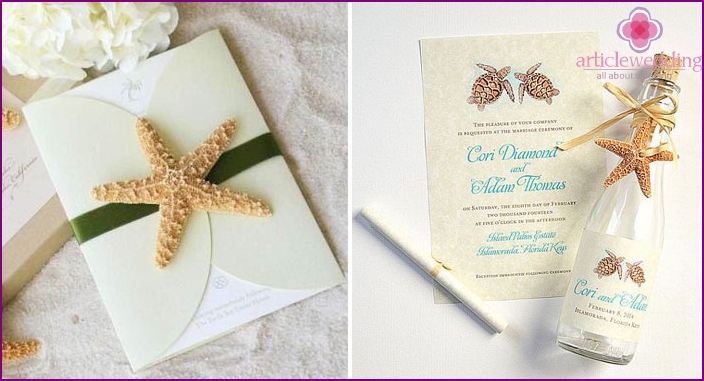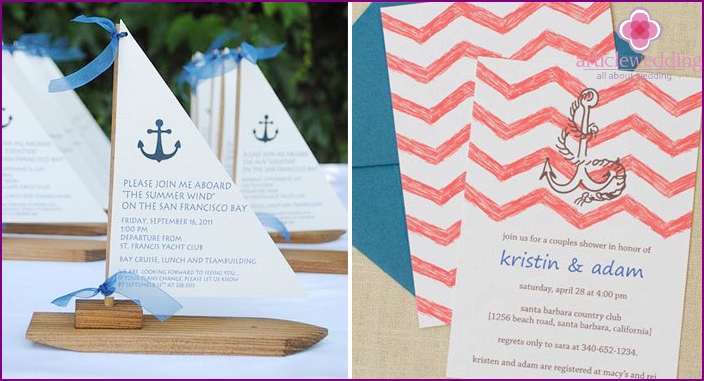 Chicago style
Chicago style – this is the use of a gangster theme that provides retro elements. Chicago is associated with gangsters of the beginning of the 19th century, firearms, maps, dollars, women's hairstyles called «cold wave». Ideas for invitations to such a wedding:
Create an invitation in the form of a sensational newspaper issue, in the headline of which will be full of faces of the newlyweds and the announcement of their union.
Another original idea – this is the design of wedding invitations in the form of cards embedded in an envelope and painted according to the style.
The color scheme is better to choose black and white, white and brown (sepia), with a hint of an old print or wrinkled paper.
For decor, use vintage lace, patterns, twine rope, medium-sized beads, possibly imitating pearls.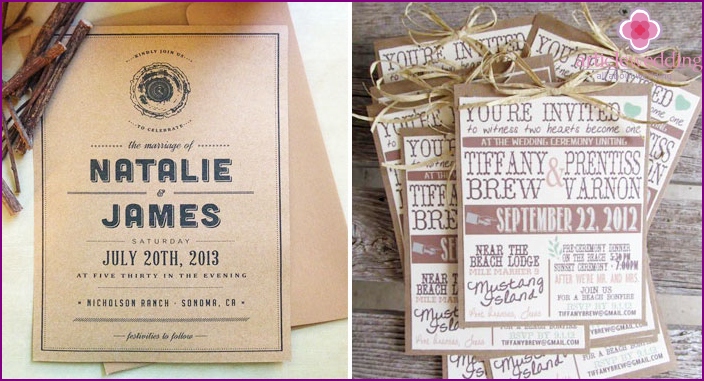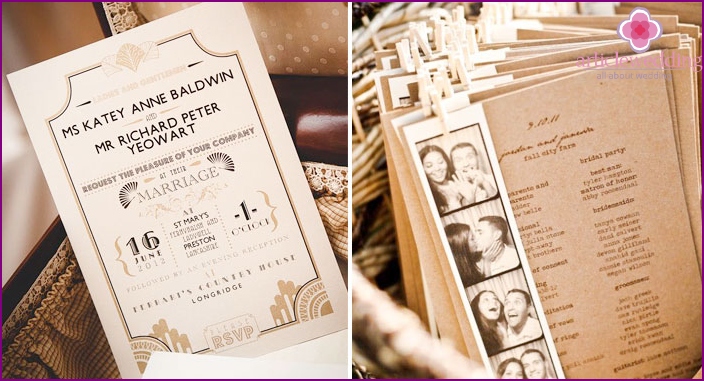 Fancy Invitation Cards
If you want to use more unusual ideas to invite guests to your wedding, then it is just right to take advantage of more extravagant options, for example, balls, scrolls, magnets, edible invitation cards. Such ideas will have no less enthusiastic interest in the recipient, and create the appropriate mood for a fun and cheerful wedding.
Electronic Invitation
In this age of modern technology, getting an invitation to a wedding in electronic form should have become a common story a long time ago. In addition, such an idea will be the best option for those who are going to make a low-budget wedding, the waste of which does not provide additional funds for the manufacture of invitations for guests. So you will take the great opportunity to officially and beautifully invite your dear guests without spending a dime on it. Here's how to do it:
If you have a certain idea and understand how to arrange it yourself, then using the standard features of your computer, it is quite possible to create a beautiful wedding invitation template.
Because this is an electronic version of the invitation, then use digital sources, where you can find a ready-made template of several ideas.
Having decided on the idea and having prepared the template for the invitation text, its design, make sure that you have all the email addresses of the invited guests, to which you can send the finished card, and the recipient will receive it completely.
Another idea of ​​a beautiful invitation in electronic form – this is the creation of a photo presentation in which you must use romantic music, beautiful words. Save it as a separate file and send it to everyone as an email with an attachment.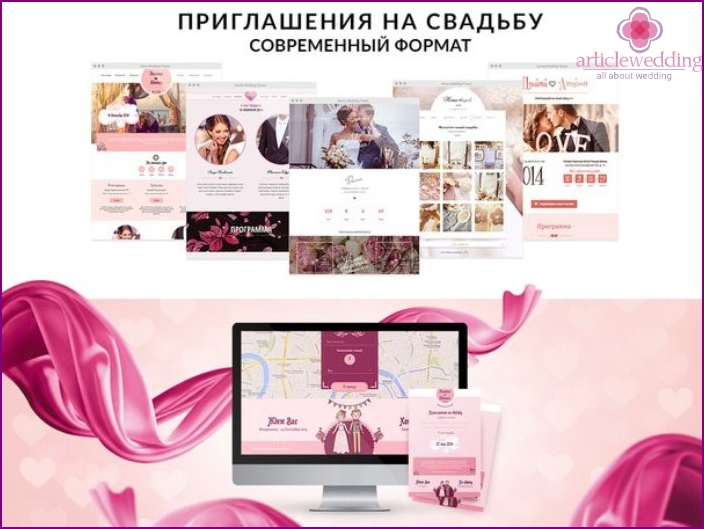 In the form of a scroll
Scroll – This is a romantic message of the Middle Ages. Such letters were used by Juliet, in whom she wrote about her ardent love for Romeo, in them hiding their secret love letters from kings and queens, dukes and duchesses. Therefore, using this invitation option will be a very original idea to invite all your friends and relatives to the wedding celebration. What ideas can be implemented in this case:
A beautiful, perhaps, designer paper is taken, which is given a different shape with cut out edges. The invitation text is printed on it and wrapped in a scroll. For fastening, you can use a wax seal with your initials, or multi-colored ribbons tied in bows.
In addition to designer paper, you can use a dense fabric such as leather, burlap or linen to create something like a pirate style with a painted map of the wedding venue.
Make out such an invitation with different decor ideas, for example: lace, artificial flowers, beads, rhinestones, beads, ostrich feathers, etc..
You can use the chivalrous style and create a scroll of two wooden sticks on which both ends of paper or fabric are attached and wrapped in the direction to each other. Tighten this scroll tightly with a ribbon over which a wax seal with the emblem of the heart will be attached.
You can imitate ancient times and arrange an invitation with patterns of Ancient Greece, Rome, artificially age paper in the desired color, applying some scuffs, cracks. Fold the papyrus at both ends to make a double scroll, which you can knit with a twine rope.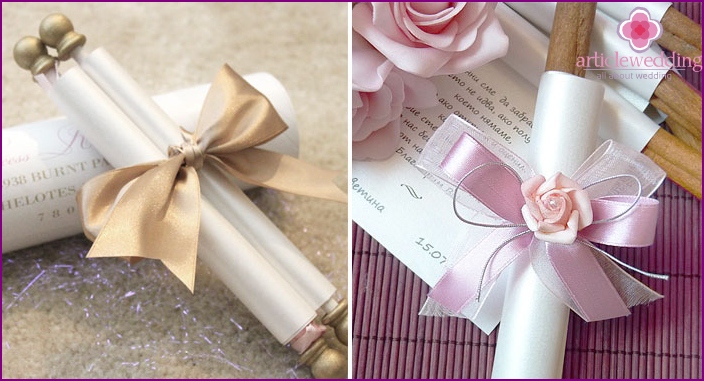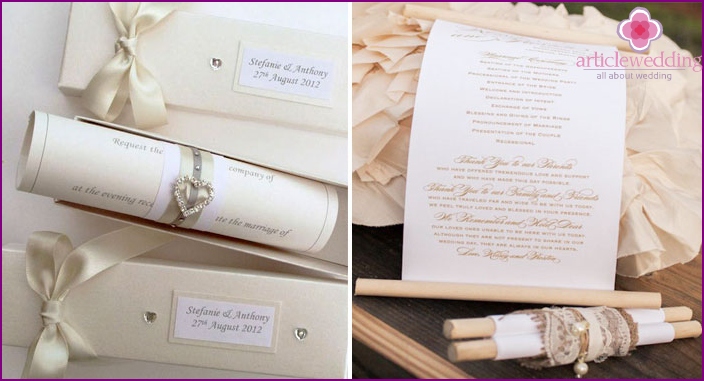 Magnet Invitations
An invitation in the form of a magnet will remain not just a piece of paper for which you will spend a lot of money to invite the desired people, it will be a memory for everyone about the bright event of your future happy family. A magnet with the date of the wedding and the names of the newlyweds will each day remind you of the upcoming wedding, and will also remain a souvenir for many years to those who have been there. You can apply the following ideas for decorating magnets as an invitation:
Print your happy joint photo and mount it in a finished magnet, or use a ready-made portrait to produce a magnetic coating on it.
Yes, the area of ​​the magnet will not allow you to use eloquent text, so in addition, use the classic greeting card with a wedding invitation, which you put together with the magnet in an envelope.
It is not necessary for a magnet to take his portraits. You can make it from flexible plastic, and on the surface depict a cartoon plot with a wedding theme, your names and date.
Decorate this invitation with different hearts, ribbons, ribbons, drawings with cupids, flowers, etc..
To create the shape of a magnet, do not limit your imagination and use comic images of muzzles, hearts, the Eiffel Tower, carrots, various irregular shapes with sculpting any patterns, etc..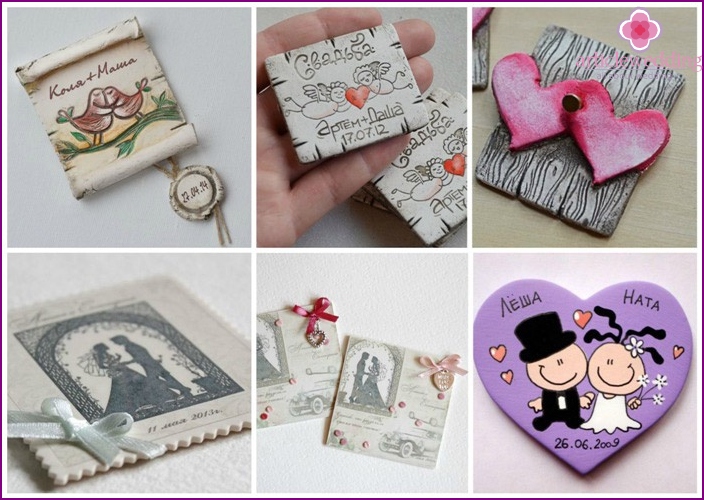 Invitation ball
Another original wedding invitation invitation idea – it's a ball. You can beat this option and its presentation very interestingly, the main thing – this is what the artist's imagination is capable of. It would seem that you can come up with something special with a balloon. However, there is also a lot of interesting ideas that will originally present an invitation to your wedding, for example:
Take an ordinary card, preferably with a humorous wedding theme, where an approximate text of an intriguing character will already be written, for example: «Dear Ivanov family! You are invited to a significant event on July 20, 2016». On the second page, attach a ball or ribbon that is not yet inflated with a ribbon, and below it is the text: «Fool me and you will find out what a reason for triumph». When a guest inflates a balloon, he will easily read the characters, the main event and its place of origin.
Another idea on this subject could be this: pre-make balls with the shape of hearts and an invitation text, inflate them with helium, tie them with beautiful ribbons to the handle of the entrance door of each guest's house. Inside the ball, you can put some kind of surprise, for example, candy, heart, etc..
Use the similar idea outlined above with helium inflated, just hide it in a box and leave it on the doorstep of the guest. Let him open this package, from which the invitation ball will fly out beautifully (first fix the ball to the box so that it does not fly away). This news is sure to impress any guest, leaving a lot of delight, giving smiles and a good mood.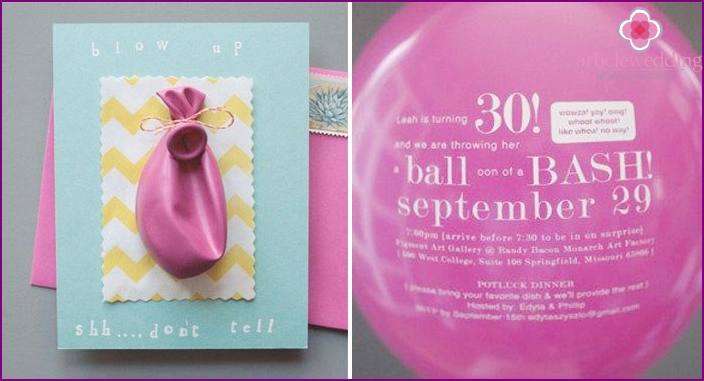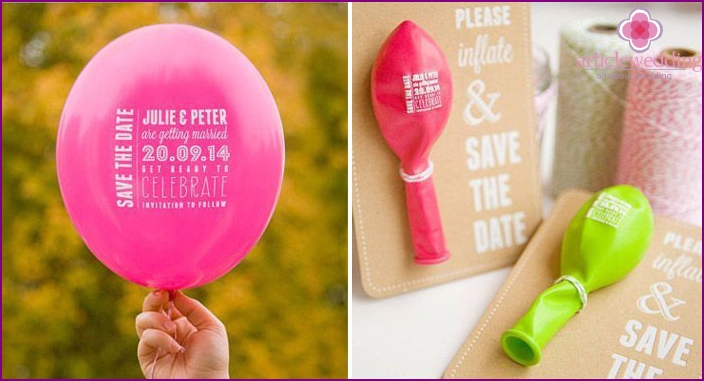 Edible invitation
It's a great idea to pamper all your beloved friends, relatives and friends with delicious sweets that will bring them good news about a significant event in your life. This will leave its special mark in the memory of these people, awaken to give something special for your wedding and charge you with a positive attitude for the upcoming solemn day. Several options for how you can use this idea as a wedding invitation:
A wonderful opportunity to show all your culinary skills and bake delicious cookies in the shape of hearts. Put them in beautiful boxes with the invitation text and send along with the messenger to each dear guest. And you will see how quickly a positive reply will be sent.
Instead of cookies, you can use the idea of ​​making chocolates yourself – which will impress your loved ones even more. This will show how sensitive you are to each person and look forward to sharing such an exciting event in life, like your wedding.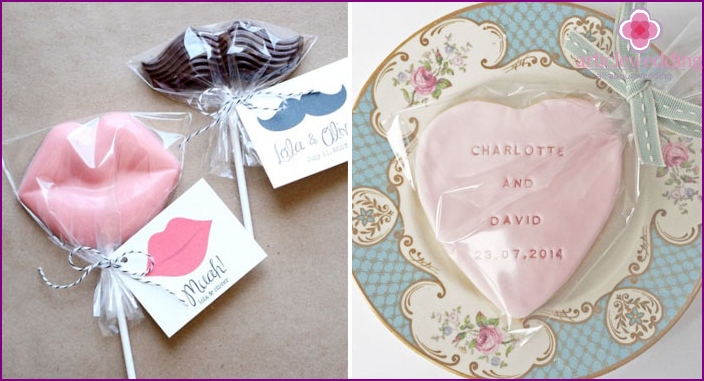 DIY wedding invitations
You can always create wedding invitations with your own hands and have great pleasure at the same time. These are so pleasant chores that you involuntarily put your soul into every detail and you want to do everything perfect, making maximum of your own efforts.
Photo beautiful invitation