Contents
---
---
Classical weddings fade into the background, giving way to fancy celebrations, themed events with unusual decor and original style. Most couples make the holidays more thoughtful and individual, trying to reflect in them their character, preferences, love story. From the fact that the newlyweds from all over the world planned for the next year regarding the wedding, 2016 wedding trends have formed. Let's look at new fresh decor ideas, popular themes of celebrations and original trends in the image of the bride.
The main trends in wedding design
The changes touched on some details of the wedding celebration: shades, style, decor, holiday floristry. Bright, lush events fade into the background, and the themes that are now at the peak of fashion are changing, acquiring more restrained features. Many couples refused to register at the registry office, trying to go to nature or out of town, and some prefer to celebrate their wedding abroad. Newlyweds often began to turn to wedding agencies: a professional organization often goes better and cheaper than self-training.
Trendy colors and shades
The bright shades were replaced by calm pastel tones that adorn the details of the wedding celebration: from invitation cards and ending with napkins on the banquet table. In 2016, newlyweds mainly choose muted pale pink, white, pale blue, lime, lilac colors and their combinations. Ombre effect is often used for these shades at a wedding event - a smooth transition from one color to another (cakes with such an interesting design look especially beautiful).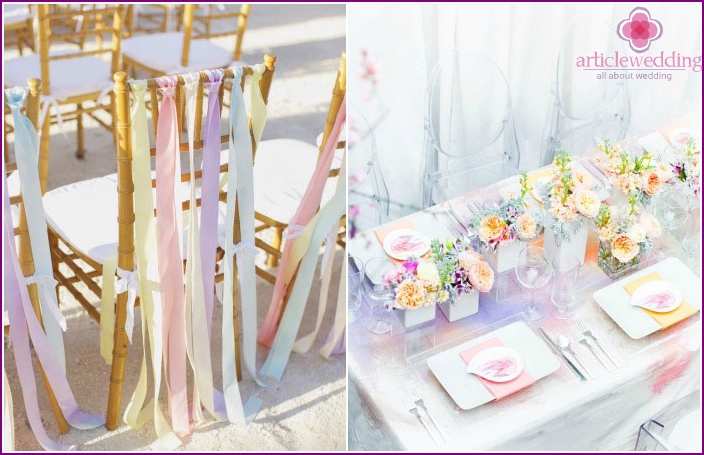 However, some couples are going to use bright accents on a pastel background - it looks cute and unusual. Weddings with floral motifs are becoming popular, so brown, sand, beige, burgundy and light shades of green will certainly be found in wedding photos 2016. Newlyweds who decide to add a little oriental exotic feel free to create bold combinations of several bright colors.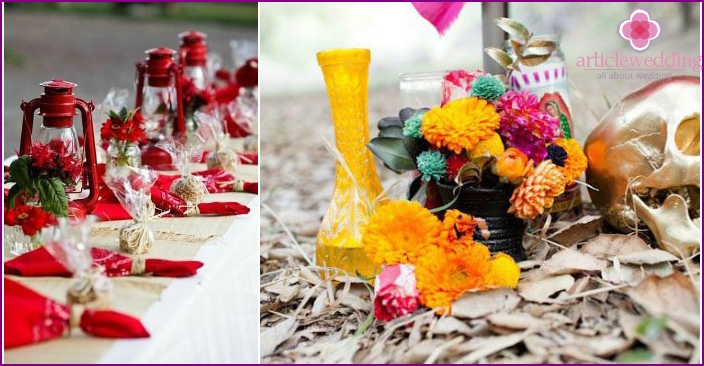 The trend is shades of coral, watercolor decoration of the celebration, gray, ashy color. However, future spouses do not need to limit themselves, choosing only the popular shades for their holiday, the main trend of the next season is the individualization of the wedding. Elements of the event should reflect, first of all, the story of the couple, tell something about their relationship, tastes, so the colors of the design of the wedding day can be anything.
Wedding style
Rustic and events popular last wedding season «Gatsby» noticeably change, becoming more elegant, but the French style «Provence», as a theme for a celebration, the newlyweds are choosing less and less. To think through their own holiday, the bride and groom can explore several new ideas in the style of the wedding, which appeared in 2016:
Boho. This is a gypsy style, which has already gained popularity in clothes, but recently began to arrange wedding celebrations in this area. Boho is a combination of the incongruous, a game with form and texture, creating harmony where it would seem impossible to achieve. Touching the design of wedding events, this style has become more calm, but continues to amaze the imagination with unusual materials, new images..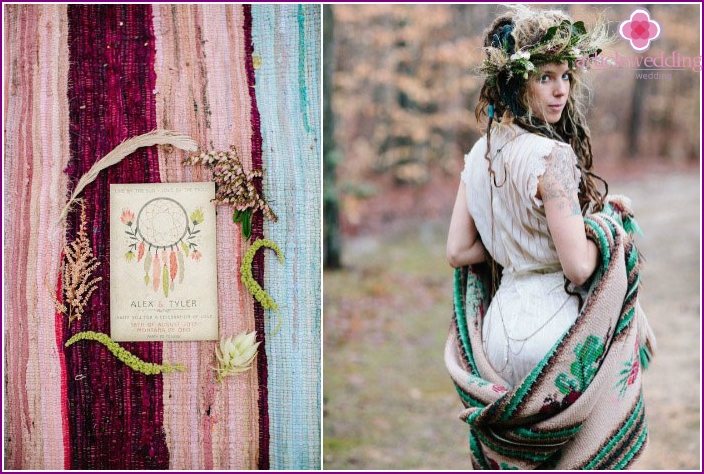 Boho wedding style is emphasized by dream catchers, creating a mystical, mysterious atmosphere, bird feathers, Native American motifs. The colors of the celebration will be complex - preferably a combination of four or more shades. Boho brides take off classic wedding dresses by choosing natural colored fabrics and a sophisticated fit.
New rustic. A wedding celebration with an exit ceremony in a rustic style is a trend that everyone loved in 2014, so it is difficult for newlyweds to refuse it so easily. However, the 2016 rustic wedding is completely different. The culprits of the celebration transfer the scene from the village hangar to the mysterious forest - natural fabrics, wood, and fresh flowers still appear there, «grandmothers» household items, but elven motifs, fabulous interiors, moss, unusual plants are added to them.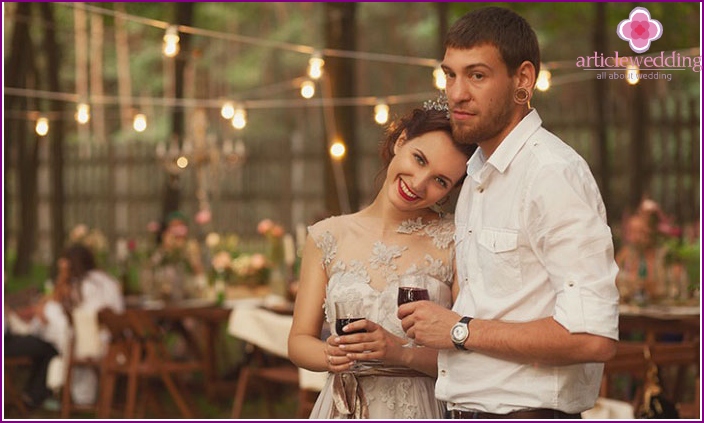 Eco wedding. If earlier eco-style was reflected only in a small number of details of the wedding decoration, now the heroes of the occasion use it in everything. The colors of the eco-wedding are green, brown, swamp, beige, sand. There are almost no bright accents, the newlyweds prefer shades that are as close to nature as possible. The groom and the bride also become natural: natural fabrics in dresses, new makeup by the bride.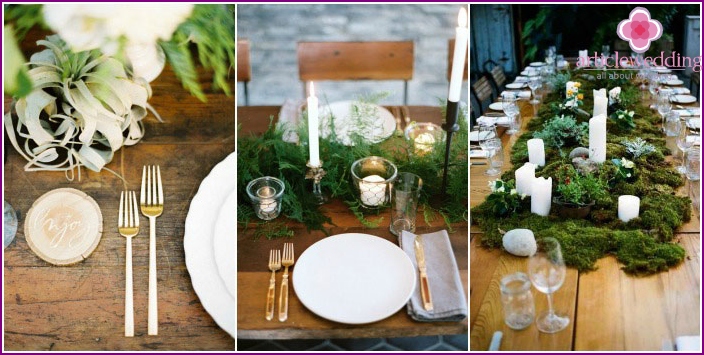 Russian wedding. This celebration is a combination of Russian customs and European elegance. The event will be decorated using traditional ornaments and the corresponding colors - red, white, gold. The style of the wedding will be complemented by decor details: nesting dolls, mountain ash bouquets, samovars. Not only Russian newlyweds decided to celebrate their 2016 wedding using this style. More and more citizens of other countries come to Russia to celebrate in our traditions - in a big way, dancing until the morning and the corresponding decor. Watch the wedding in the Russian style in the video:
Decor Trends
The newlyweds began to pay more attention to detail: each element of the wedding celebration perfectly matches the chosen style. Decorations with wooden letters, posters with inscriptions went out of fashion, giving way to more elegant and sophisticated design options for the banquet hall. The main current trends in the decor of a wedding celebration:
The trend is flowers. Plants can be found in everything - drawings on invitations, prints on tablecloths, napkins, curtains, fresh flowers for decoration of the hall. Floral theme makes the holiday romantic, beautiful and «alive».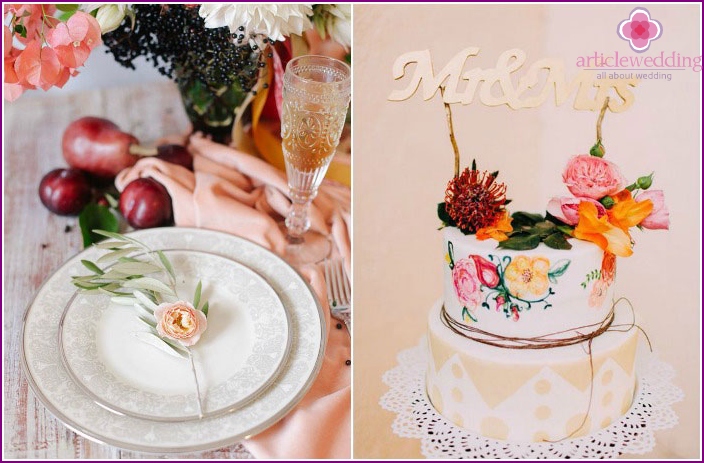 The trend is animal jewelry. Real or artificial deer horns on the wall, bird feathers in a bouquet, animal figurines as seating cards - all this decorates the wedding celebrations of 2016, and often the costumes of the newlyweds themselves. These decorative elements can be used in their original form or decorated in the colors of the holiday..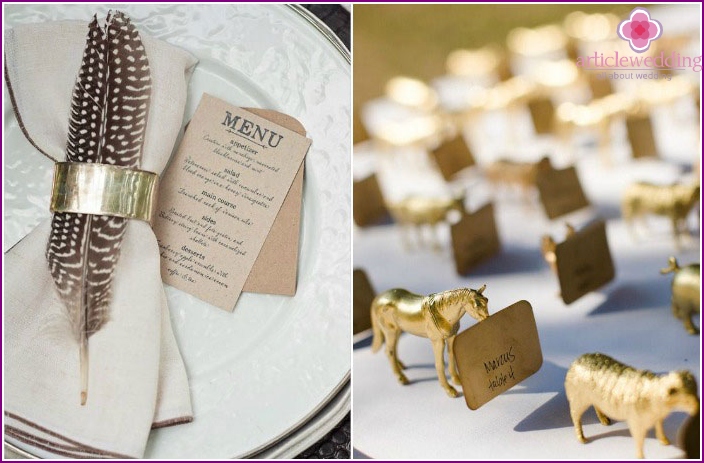 The trend is simplicity, lightness, airiness. The decor details of most weddings in 2016 will be simple. Instead of tablecloths - ordinary plain cloths, elegant dishes, restrained bouquets; instead of elaborate vases - ordinary glass jars or transparent jugs.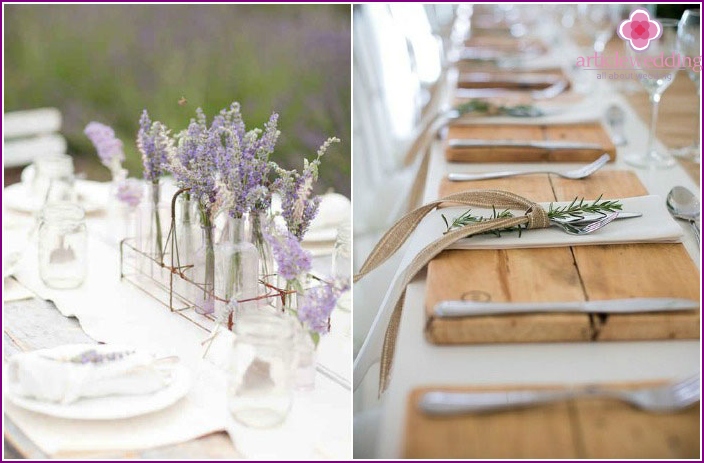 Trend is a buffet table. A classic banquet, where guests sit down at the table and only occasionally leave it during the holiday, is being replaced by a buffet table. Dishes to it are selected delicious and simple. Buffet tables with cheese will be a hit of wedding celebrations, where guests can try various types of this delicacy.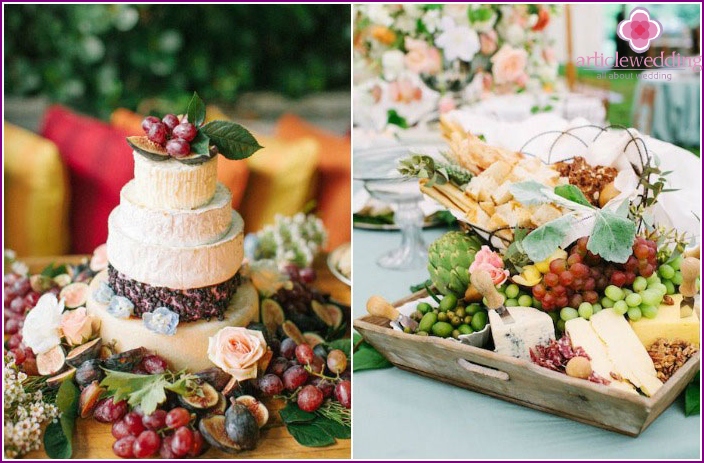 Trend - exotic elements of decor. Tropical, Moroccan weddings, Indian motifs, decor in the style of African safari do not go out of fashion. Variegated materials, unusual flowers, dense fabrics, a combination of several bright colors - all this helps to make an original wedding celebration.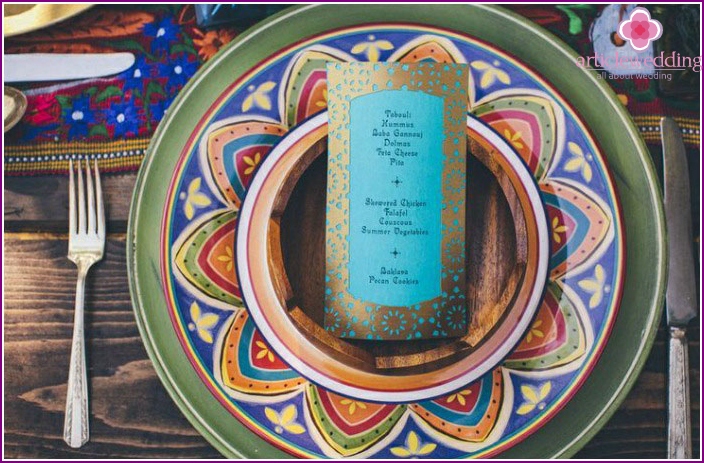 The trend is luxury. Despite the fact that weddings in 2016 are restrained, there are couples who prefer to celebrate the holiday on a grand scale. Garlands of fresh flowers, huge wedding arches, crystal glassware, lace tablecloths - these magnificent elements will become a wonderful setting for an expensive wedding.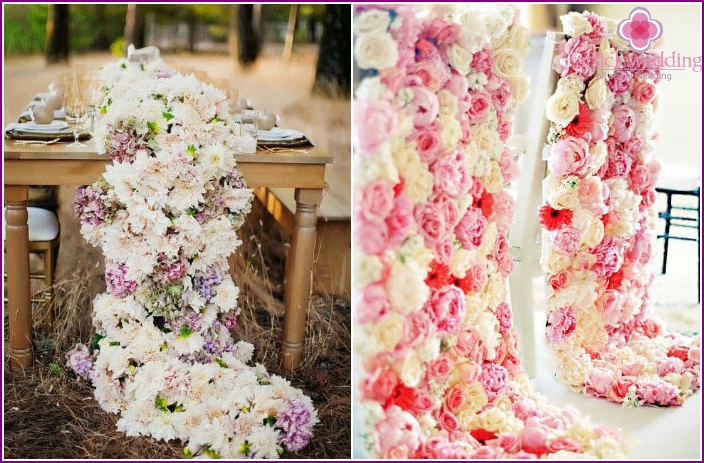 The trend is calligraphy. Beautiful calligraphy inscriptions have become the new trend of 2016 in the printing industry. They look elegant, do not require additional decor and are perfect for a wedding celebration.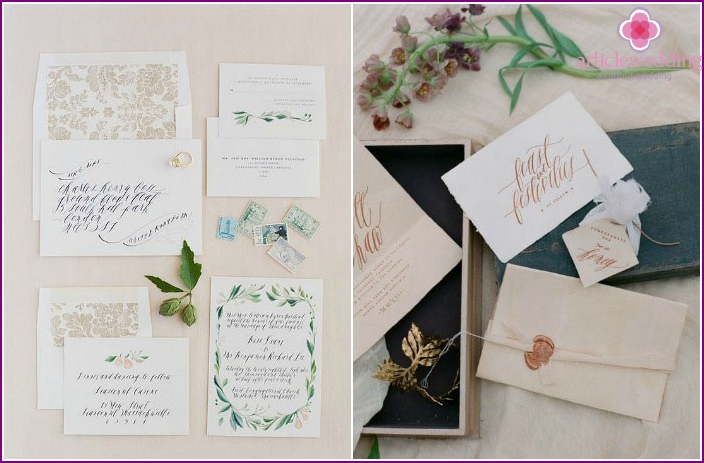 The trend is watercolor. Polygraphy with watercolor drawings looks cute and unusual. Newlyweds can order wedding invitations, seating cards in this style.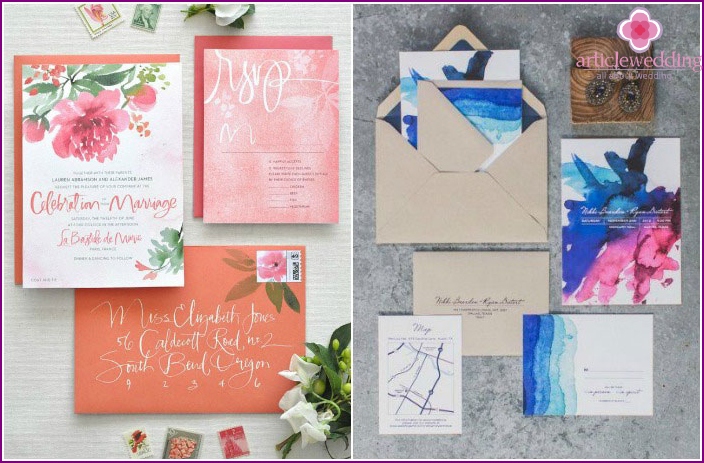 The trend is vintage furniture. Antique furniture decor elements are used not only for weddings with a certain theme. They give a special mood to any holiday, create a romantic mood.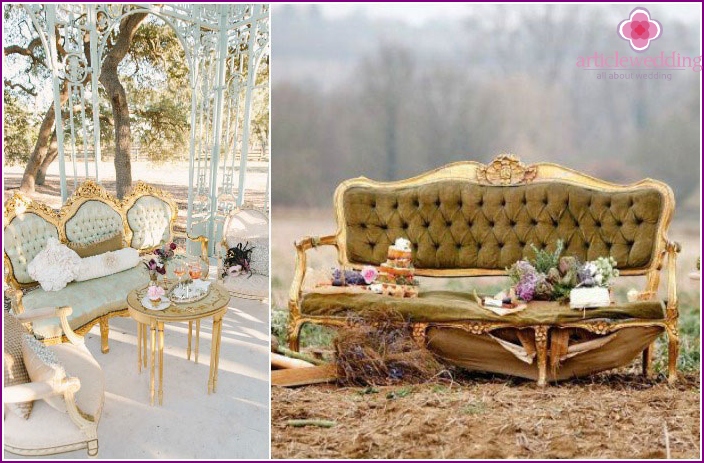 Trend - individual serving. At some weddings, newlyweds choose an unusual style of table setting - individual. In this case, each guest will have their own unique set of dishes. Preparation of such design takes a lot of time, but creates an incredible atmosphere of celebration and attention to each guest..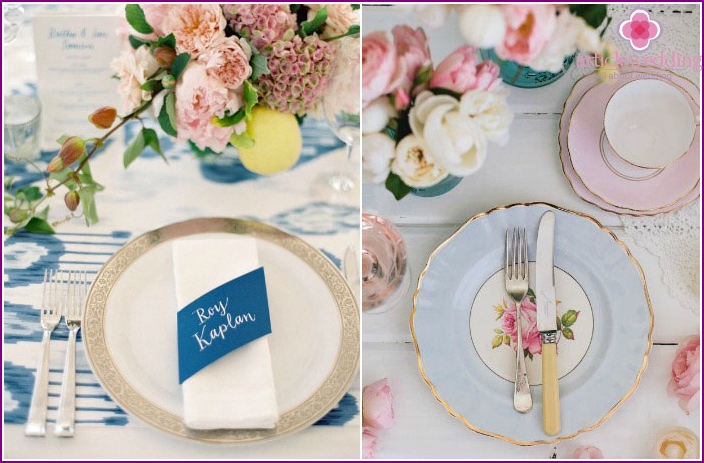 Floristry
Fresh flowers do not go out of fashion - they still adorn weddings of various subjects. This year, special emphasis is placed on plants: tablecloths, napkins with flower prints are created, they are drawn on invitation and seating cards. Elegant roses, peonies or hydrangeas can be the main motive for the wedding - in 2016, these plants are most popular. Brides give preference «disheveled», magnificent options of bouquets. This element of the image looks like flowers have just been gathered in an armful from a flower bed..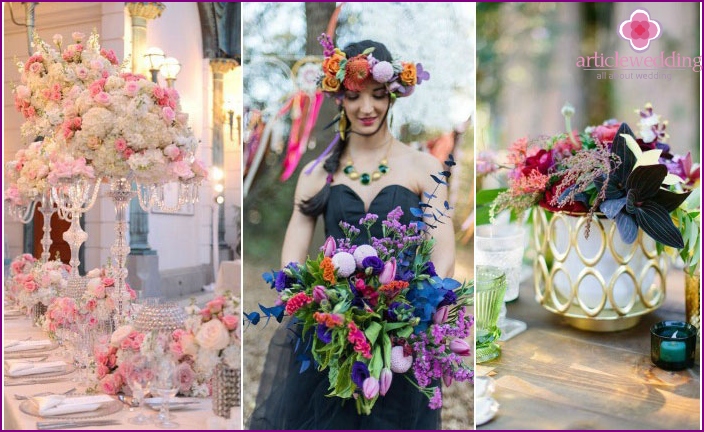 Wedding celebration in 2016 will be decorated not only with flowers - it is fashionable to use other unusual elements instead of living plants or in composition with them. For example, at weddings there are accessories with vegetables, lemons, oranges, and other edible elements. Bouquets with dry branches and mountain ash, cones look great. Sometimes the place of a flower arrangement is occupied by real small stumps decorated with moss, candles.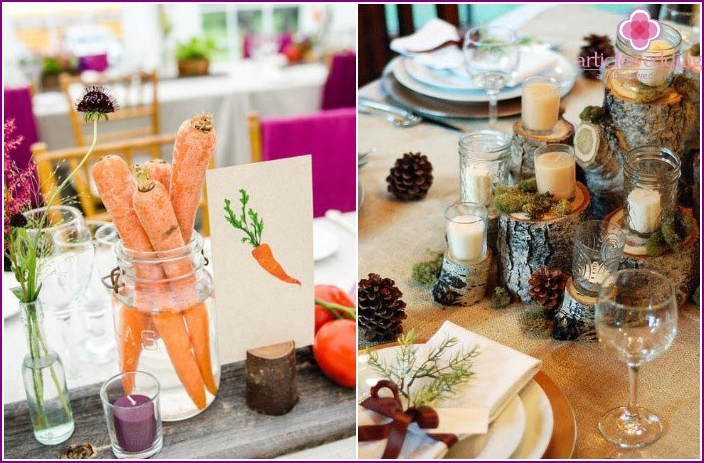 Interesting trends in the image of the bride of 2016
The image of the bride has long undergone large-scale changes. Girls heading down the aisle are less likely to appear in lush wedding dresses a la princess with a veil to the floor, and their head is almost no longer decorated with smooth high hairstyles or cunning plexuses generously treated with hair spray. In recent years, brides from around the world have taken a step towards naturalness, appearing at a wedding celebration in a romantic way with natural make-up and styling.
Wedding Dress
2016 has become a landmark for wedding fashion: lightness, airiness, tenderness reign on the catwalks. Flying, flowing dresses, making the future spouse look like a fairy-tale princess, are extremely popular. As a rule, these are models where the flare of the skirt goes from the waist or higher. Dresses are decorated with beads, pearls, airy sleeves from the finest fabrics. A special cut does not hamper the movements of the hero of the occasion, giving her the opportunity to feel free during the wedding. Often, models of dresses are decorated with lace or completely sewn from it..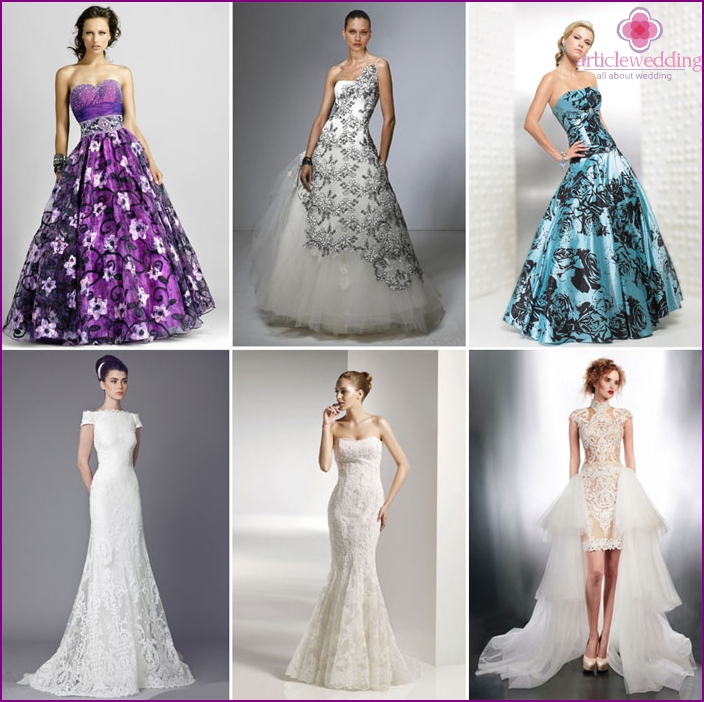 Choosing a dress for a wedding celebration, many future spouses in 2016 refuse the classic snow-white shade. More and more girls prefer cream, sand, beige, pink, blue, mint tones. And the floral trend, which is the main one of many wedding events, did not bypass the style of decoration: there are models with a floral print. Boho style is popular - girls can show imagination, coming up with an unusual solution for their outfit, trying to combine different flowers and textures.
Hairstyle and decoration
Wedding hairstyles 2016 are designed to emphasize the feminine image of the bride, her natural beauty. Loose curls with the effect of not combed hair are popular: the bride and groom look as if they just woke up. Also, the fashionable stylings of the previous season do not lose their positions - bunches, of which they often weave a braid that falls on the shoulder.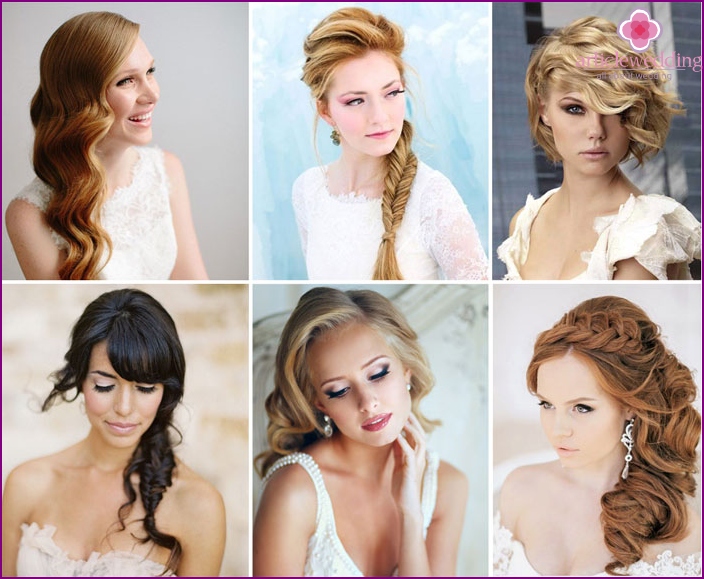 A variety of headbands, flower wreaths, and hairpins can adorn the bride's hair. Wedding trends in 2016 give future spouses room for the realization of the most daring and unusual fantasies.