Contents
---
---
Christmas Eve Wedding is a popular theme for honeymooners. This is a great opportunity to turn a celebration into a real fairy tale. Christmas wedding is a unique smell of a Christmas tree, oranges and cinnamon, a snow-white tablecloth, red color of dishes on the festive table and the warmth of the fireplace. Before Christmas, no one has a bad mood, so on this day it is easiest to enter a family adult life, saying goodbye to childhood.
Is it possible to play a wedding in a Christmas post?
The fact that a wedding cannot be played in fasting is myths and superstition. The church does not prohibit this ritual at Christmas. But if the newlyweds also decided to get married that day, then they still have to wait until the end of the post. As for food, guests need to offer fasting and non-fasting dishes, to choose from, because not everyone adheres to Christmas fasting. And if a fasting person wants to leave early, then this will always be treated with understanding..
Some people think that in the Christmas post any festivities are unacceptable, but this is not so. No one forbids to rejoice at Christmas, but if the newlyweds are deeply religious people, they can postpone the banquet for another time, and at the wedding to sign, take pictures, travel to remarkable places of the city, and then immediately leave for a honeymoon.

Winter Wedding Invitations
Christmas wedding invitations should be winter-themed. Any plot is widely used, whether it is a falling of snowflakes, snow-covered gates, branches without leaves or late winter crocuses. Avoid floral themes on winter wedding invitations. It's better to place a Christmas tree, a star, a painted lollipop or photos of the newlyweds where they make a snowman or play snowballs on Christmas invitation cards.
An invitation from winter paper, the surface of which is decorated with silver shines, will look spectacular. Their splendor will give the envelope of Christmas romanticism and anticipation of a fabulous celebration. The form of invitation envelopes is a huge space for imagination. Even the most ordinary cards can be easily made original by decorating with ribbons, snowflakes, cones and other interesting details..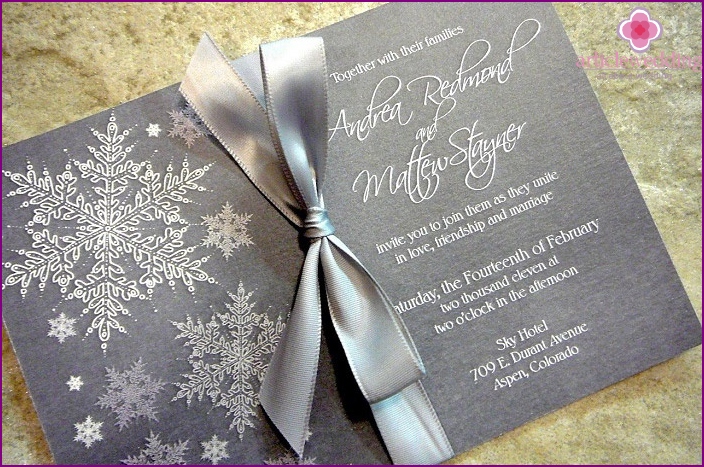 Christmas style wedding decoration
A Christmas wedding is a foretaste of a special atmosphere, which is why it is always a pleasure to design it. The theme involves saturated colors: deep, red, cold snow-white, warm dark green, delicate beige and fashionable caramel shades. Attributes: Christmas toys, candles, sweets, small Christmas trees, tangerines. Wedding glasses decorated with lace will successfully emphasize the winter theme, and bright color accents, such as felt hearts, will perfectly decorate the hall chosen for the celebration..
Banqueting hall
A cozy atmosphere at a winter wedding in Christmas will be created by decorative candles. The main thing is not to forget about fire safety techniques, so the use of candlesticks is a must. Glass jars decorated with multi-colored ribbons and lace will wonderfully fulfill their role. On the wedding Christmas table must be spruce wreaths, Christmas «socks» with sweets or cones. A real Christmas tree decorated with photographs of guests and newlyweds, sweets and souvenirs that guests will pick up at the end of the evening will look original and to the place.

An excellent solution would be to rent a banquet hall outside the city. After all, on Christmas everyone will want to go outside to enjoy nature, ride a sleigh, play snowballs or look at a beautiful firework. Another great option for Christmas is to rent a whole cottage outside the city with a fireplace and a huge hall, in which it is easy not only to accommodate all guests, but also to organize a dance floor.
Decoration and table setting
Christmas wedding gravitates to naturalness, so recently the wedding winter table is increasingly decorated with:
natural wood;
wicker elements;
decorative jars;
antique vases;
original candles;
sprigs of currants or grapes.

If before you paid more attention to the variety of dishes at the wedding, now more attention is paid to winter decor. To give the table a Christmas atmosphere, sometimes one correctly selected tablecloth is enough for the table. A colorful Christmas tablecloth will be an accent if the service is plain. And if the dishes are well decorated, then a plain tablecloth favorably emphasizes the other elements of the decor. Watch the video do-it-yourself workshop decoration of the wedding table:
Christmas wedding menu
After taking pictures in the freezing air, guests will need to warm themselves, so you should organize a minibar at the entrance to the banquet hall. Here guests can enjoy a cup of hot chocolate, coffee, mulled wine or grog. As for the menu, a Christmas wedding is a great occasion to show imagination. Instead of the mayonnaise filled with mayonnaise, serve baked turkey, potatoes and a wide range of various snacks to the table.
The usual dessert treats are also worth giving up, offering guests pudding, gingerbread, cookies in the form of nuts, cones, Christmas trees or snowflakes. Pears in caramel, baked apples with nuts and honey, as well as jelly bears will look great on the wedding table. Christmas wedding is a period of fasting, so on the table must be present dishes with cold lean snacks, a large number of vegetables and fruits.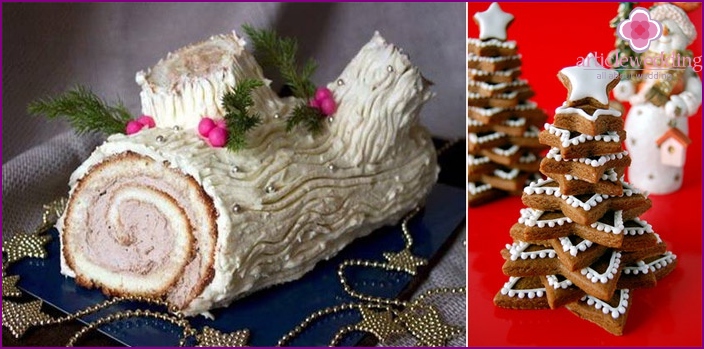 The drinks
If alcoholic drinks are planned at the wedding, then champagne will be the most popular. It will create a mood after the ceremony, at a banquet, bride redemption, during a walk and photo shoot. Chocolate, cheese, and caviar are considered traditional champagne snacks. There is a separate ritual for handing over to the newlyweds two festively decorated bottles of champagne, which they should drink a year after the wedding.
For Russian weddings, a common drink is vodka, which is served to the table only in pure form and chilled. Any appetizer is suitable for vodka, and some guests will need stewed fruit, juice or mineral water to drink vodka. Non-alcoholic drinks at the wedding are also in demand, so you need to take care in advance of fruit drinks, juices, mineral water with and without gas, as well as lemonades.
Cake
No wedding is complete without a cake. For Christmas, a wedding cake should be special, because it is an expression of two holidays at once. Experts advise to pay attention to the red or juicy blue color of the wedding cake, as well as to the traditional snow-white or silver. These shades will look both spectacular and romantic, and what else can create a more fabulous mood at a winter wedding?
It is desirable to decorate a winter wedding cake with original elements: sugar snowmen, chocolate pigeons, snowflakes or delicious Snow Maiden and Santa Claus. Often, newlyweds order a winter wedding cake in the form of a gift, decorating with edible cones, flowers, stars, sugar pearls or mountain ash. As for the taste, it is better to opt for classic chocolate or vanilla, adding oranges or tangerines to the cake, symbolizing winter fruits.
Wedding dress for the newlyweds and dress code for guests
A winter wedding involves a long stay of the groom, bride and invited guests in the Christmas frost, so it is advisable for all participants in the celebration to warm themselves properly. The fur that will make the bride more chic and will hide all the others from wind and frost will look winning in wedding photos. The fur is suitable for any costume and style, so everyone is allowed to wear it over holiday suits.
Wedding shoes and dress for the bride
Christmas wedding is a great opportunity for the bride to appear before the guests in several dresses: at the ceremony, photo shoot and in the banquet hall. Fur hats, clutches, gloves and boleros are the bride's must-have accessories for a winter wedding. But more attention should be paid to shoes, because the legs of the bride should not only be warm, but also look like a royal.
No need to go for a winter walk in the shoes that were worn at the wedding ceremony. It is better to choose a pair of cute winter boots to match the dress. It can be short ankle boots with rhinestones or silver stilettos, or white uggs, if the bride has a wedding outfit that is extravagant. The main thing is that after the celebration, the newlyweds and guests do not get sick, but are healthy and happy.

Christmas dictates its own rules for the bride's wedding dress. Many girls prefer to wear an original dress in the style of a snow maiden, snow queen or other winter character on such a day. A snow-white dress with fur or lace lace will look perfect. Also, such decor elements on the dress as a belt, sash or frills in golden, red or green color will not interfere. A cloak in the style of Santa Claus will give the image of coquetry.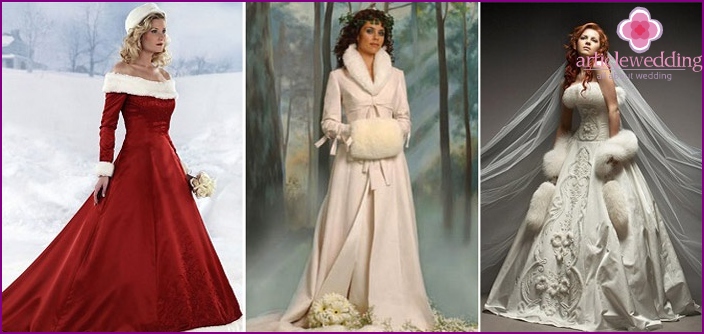 Suit groom
The groom at the winter wedding should correspond to the bride, so he should take the choice of costume very seriously. If the bride chose a classic wedding dress, then the groom is also allowed to be in a classic black or white suit. But if the image of the bride contains original elements, then in a men's suit may be present:
Bright details in the color of the dress of the bride.
Original tuxedo belt.
Green or blue vest.
Ivy Buttonhole.
Viburnum berries and other original decor.

The image of the wedding participants
A Christmas wedding is a great occasion to stand out not only for newlyweds, but also for guests, wearing original fancy dress or using Christmas paraphernalia in dresses. It is allowed to come to such a celebration in a knitted sweater with deers, and in a costume of Santa Claus. The outfits of witnesses or bridesmaids must be in harmony with her dress, and it is advisable for other guests to show imagination so that the celebration takes place in bright colors and in a good mood.