Contents
---
---
A small wedding is a celebration attended by no more than 20 guests. This has its own charm, because only the closest and dearest people will surround you. There is no need to try to please everyone, behave decorously and pose «to the public». Let's look at the most interesting ideas for a small wedding. In such an environment, young people can truly enjoy their wedding day..
Features of organizing a small wedding
If you decide that you do not want to arrange a magnificent celebration, then a small wedding will be a great solution. You can organize an unforgettable visiting ceremony with a small banquet for guests. Where is it better to arrange it? There are a lot of options: in the forest, on the roof, in a cozy restaurant, on the banks of the river. However, so that the wedding does not turn into an ordinary picnic, you need to take care of its organization and think over the script. Arrange a magical performance for your loved ones, let them remember this day. What are the benefits of a small wedding??
Saving. A small budget is the main plus of a modest ceremony. If you decide to have a small wedding, you will have the opportunity to save a large amount of money. So, about three thousand dollars are usually spent on a regular event, and a small holiday is easy to organize for just a thousand. Substantial savings. Moreover, you can spend money not spent on an expensive celebration for anything, for example, to go on a honeymoon.
Calm There is no need to puzzle over which restaurant to choose to accommodate 200 guests, how to get them there and where to plant them. The beauty of a small wedding is that the organizational part associated with the event is greatly simplified. You can easily arrange a small holiday yourself. Perhaps some girls do not want to give up pre-wedding efforts. But for those who don't like the hustle and bustle, this wedding option provides peace of mind on the eve of the most important day..
A small number of invitees. Almost all newlyweds dream about this. Who wants to watch a huge number of unfamiliar, and sometimes even complete strangers on their holiday? A small wedding suggests that only the closest people will surround you. And since there will be few guests, all of them will be able to participate in fun games and contests. No one will be bored.
The choice of cafe / restaurant. If the young people intend to have a small wedding with their parents and friends, then choosing a place for a small number of people will be much easier. You do not have to save on dishes, you can safely pamper yourself and guests with the most delicious and expensive treats.
Originality. Ideas for small weddings can be different. If young people love extreme sports and adventures, then it is worth flying with guests in a balloon or helicopter. Such a plan is feasible with only a small number of invitees, so why not take advantage of this? Such fun will require additional costs, but your loved ones are guaranteed to receive a lot of positive impressions and appreciate the efforts.
Everything's under control. A small wedding, unlike an ordinary one, is much calmer. Even if there are any problems, it will be much easier to settle them, since only the closest and most understanding people are among the guests. A modest celebration will not give young people cause for concern, but will allow you to safely enjoy this beautiful day.
Where and how best to have a small wedding?
A nice part of a mini-wedding is that you have the right to organize the day the way you want without thinking about the desires of many guests. A modest celebration will be held in a close circle of relatives and friends who will make any of your decisions. No one will condemn the bride if instead of the traditional white puffy dress she puts on a light summer sundress and decorates her head with a wreath of fresh flowers instead of a diadem.
A small wedding allows young people to come up with an original holiday and enjoy it without fuss and excitement. For example, newlyweds can rent a cabriolet and go to a neighboring city together, or go on a hike, have a picnic, take a parachute jump. The main rule that should be followed on the wedding day is to do what you want!
Outdoors
If the young decided to organize a small wedding in nature, it is necessary to conduct it so that it differs from the usual trip to a picnic. Hire a host, take care of decorative elements, use the services of a photographer. The advantages of such a wedding will be fresh air, unlimited time of celebration, spacious territory. There will be an opportunity to draw up your holiday schedule, so as not to wait in line at the registry office, but to register your marriage on the road. Arrange a photoshoot against the backdrop of beautiful nature - the pictures will definitely please you.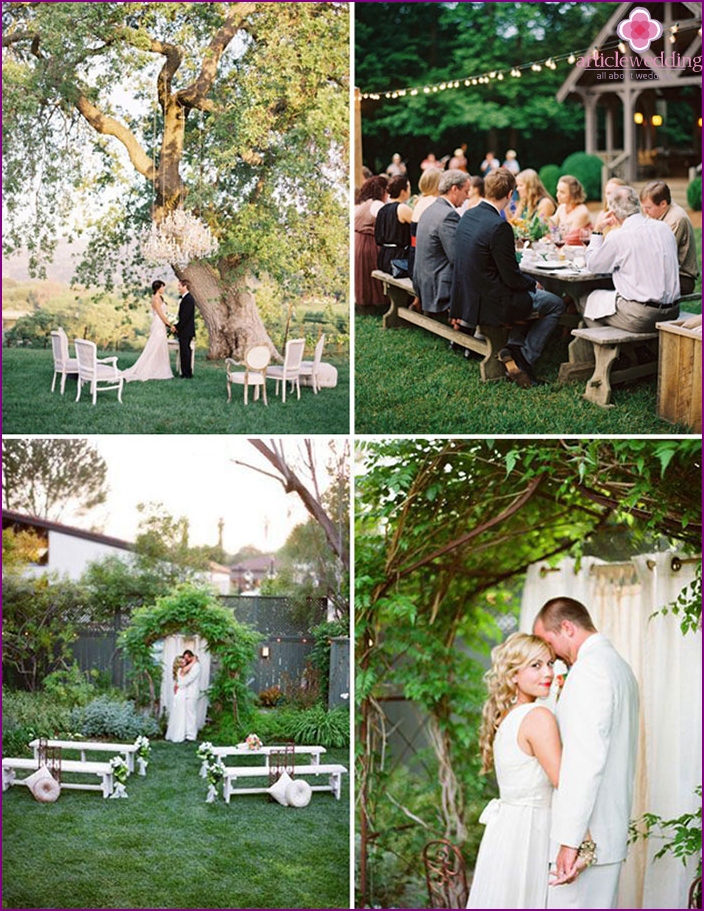 In a cafe or restaurant
If you prefer the option of celebrating only together or in the company of the closest people, you can afford to go to an expensive institution. Book everything that your heart desires that you could not afford at a banquet with a huge number of guests. You might want to focus on the original design of the room or the interesting concept of the restaurant. Choose what you like. The bride does not have to wear a wedding dress. For such a celebration, an evening outfit will be appropriate, especially since you can wear a practical thing in the future.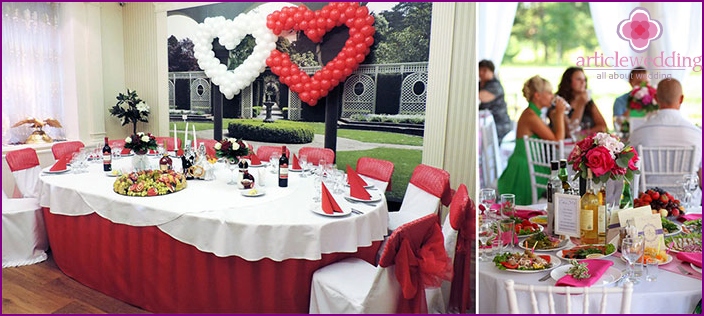 Modest wedding at home
Do you want to organize a holiday at home in order to reduce costs and enjoy the atmosphere of home comfort? Then an important point will be the preparation of the premises for the arrival of guests. Room equipment is task number 1. Do not forget that people invited to the wedding will not only eat, but also dance, participate in competitions, and relax. Create the appropriate conditions for this. So that guests do not get bored, the scenario of a small home wedding should be no less vivid than in a restaurant.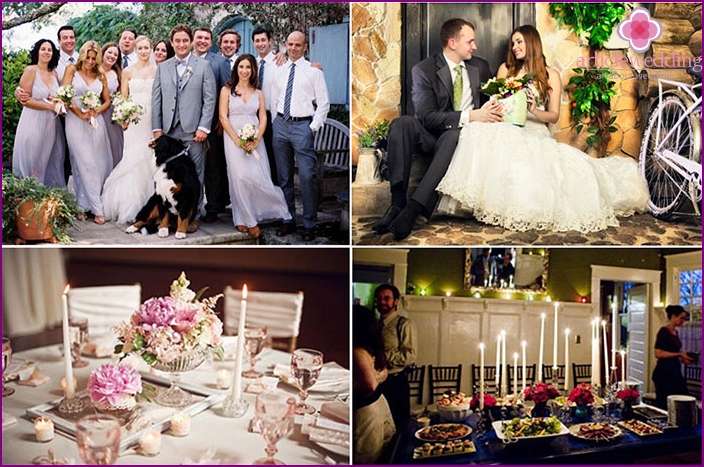 Options for the season
The ideas for holding a small wedding, one way or another, depend on the time of year for which the celebration is planned. Each season has its advantages and disadvantages. Let's look at what period of the year and why it is more successful for holding a wedding celebration, and what options for organizing the holiday should be considered taking into account the small company of invited guests.
Spring Summer
Spring weddings are rarely held, despite the fact that this season is considered the most romantic. The advantages of such a wedding are the low cost of wedding dresses, the absence of queues in the registry offices, lower prices for the services of organizers of celebrations and rental of premises. The disadvantages include the high cost of vegetables, fruits and the ban on weddings due to Lent.
Summer is considered the most popular time for weddings. Favorable weather is a great opportunity to organize a celebration, anywhere: from a restaurant to the sea coast. Having chosen a summer wedding, you can organize an exit ceremony in the country (for example, invite guests to a country house or to nature). The abundance of inexpensive fruits and vegetables is an important plus for summer celebrations. And at this time of the year young people can spend their honeymoon wherever they wish. The disadvantages of summer weddings will be high prices for paraphernalia, including costumes, and unimaginable lines at the registry office.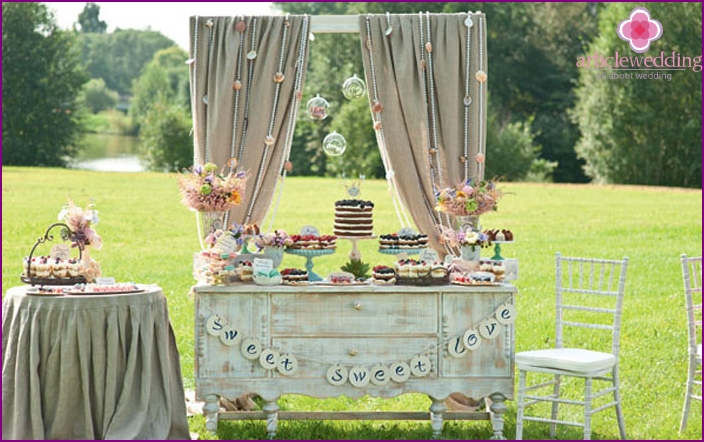 In spring and summer there is the opportunity to organize a small tourist wedding or a picnic. Young people can come to painting in t-shirts and jeans, and the buffet table should be arranged outdoors. Details of a traditional wedding are inappropriate here, so they will not need to spend money. A modest ceremony means saving on wedding dresses, floristry, leading.
An ideal, and most importantly, an original solution would be a small wedding on a motor ship. It is worth letting your imagination run wild. Arrange everything in a pirate style (young people can take a movie as a basis «Pirates of the Caribbean») or organize a simple romantic holiday with marine motives. Put wine, seafood and vegetables on the table. Fresh sea breeze, waves breaking on board, the sound of the sea - this will make a lasting impression on the guests. When evening comes, the guests should offer cozy cabins for relaxation.
Autumn winter
The advantages of a wedding in the fall will be low prices for the necessary attributes, products and fresh flowers. Discount promotions on dresses after the past season should also be attributed to bonuses of the autumn celebration. However, there are significant disadvantages of holding a wedding in this period of the year: unstable weather and the need to purchase additional accessories for the bride's outfit (warm wraps).
You can organize a small winter wedding at the lowest prices. Many restaurants offer good discounts for young people on holidays. In winter, very beautiful photographs are obtained against the backdrop of the beautiful landscapes of this season, which should not be forgotten either. The disadvantage of a winter wedding will be only the lack of an assortment of fresh fruits, vegetables and the limited choice of venue.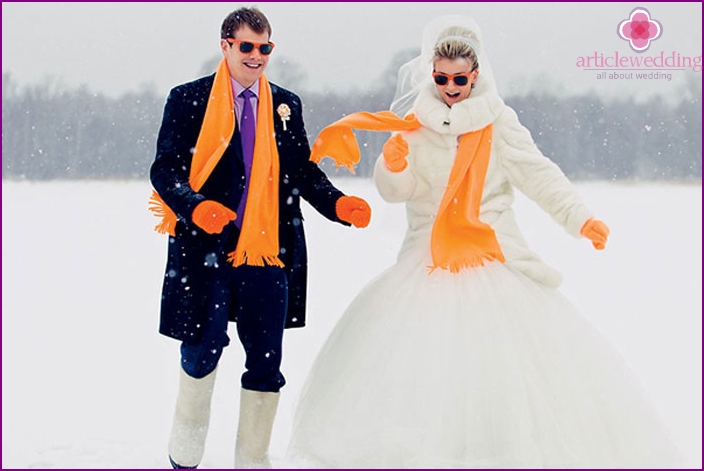 Despite the fact that wedding houses are rarely celebrated now, no one has canceled this option. If you, your family have a spacious house or apartment, feel free to celebrate the holiday there. This decision would not be suitable when it is necessary to accommodate a hundred guests, but since the young people have chosen a modest small wedding, this option will be successful. The holiday will be cozy and sincere, which is not offered in a restaurant or cafe.
Video: a small wedding example
The script for a small wedding can be unusual and interesting. A big plus for a modest celebration is the lack of need to worry about a large number of guests. As a result, many frameworks and limitations will be lifted. So, not only guests but also you will be pleased with the celebration. Easy wedding format will bring positive emotions to all those gathered, including young.
Ideas for a beautiful photo shoot for a small wedding
On horseback. Thanks to the wedding photo shoot with horses, young people will have wonderful pictures. In the future they will bring a lot of joy to the spouses, when they will remember a happy day and a romantic walk with noble animals. Horses will help create a magical atmosphere on a holiday, will cause a lot of positive emotions. It is necessary to determine the plot and location of the photo shoot.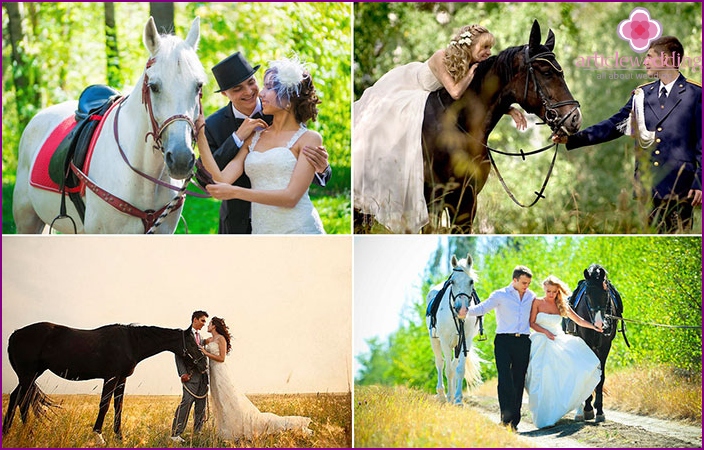 Picnic. Since most weddings are held in the summer, the idea of ​​a picnic-style photo shoot will be a good solution. There are no minuses in the shootings of a romantic picnic, but solid pluses. Young people will not even have to go outdoors for this, as each city has beautiful park areas with lots of greenery, which will be a great backdrop for photos.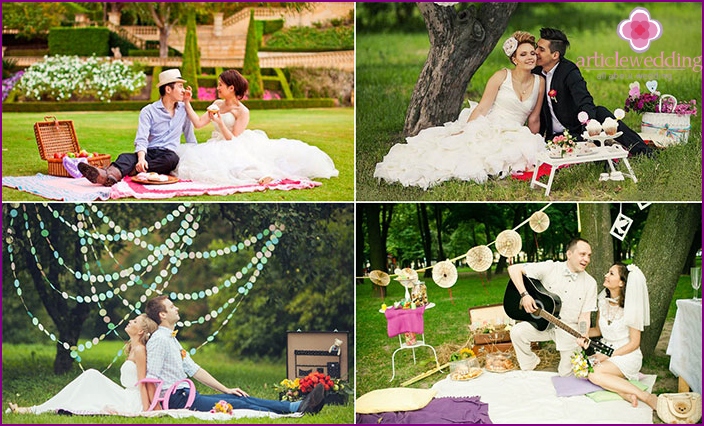 Amusement park. Why not organize a photo shoot in a place that is saturated with magic and recalls a happy childhood? The main thing is to approach the process with humor, stock up on bright props and have fun from the heart! These photos will be a farewell gift to a carefree youth, before starting a family life. On the other hand, you can wait until evening, when on the rides lights will be lit, and romantic shooting in the style of Paris.