Contents
---
---
Marriage is a serious step, which implies a new status and responsibility. A symbolic wedding has no legal force. This is, above all, the opportunity to clearly celebrate the beginning of a life together or the anniversary of the marriage. Arranging a wedding at the same time as the official procedure is not always possible due to employment or an insufficient budget. So why refuse a holiday for two, if you can just move it to the right place and time?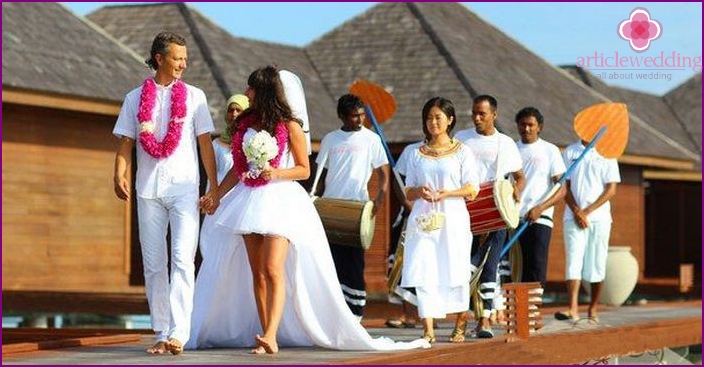 What is the difference between a symbolic wedding and the official?
A formal wedding ceremony is the legal registration of marriage in the presence of an authorized person (civil registry office employee in Russia or a representative of government authorities abroad), conducted according to the laws of the country where the event takes place. For marriage, certain documents must be presented (passport, birth certificate, etc.), and for foreign registration, the package of documents can be impressive.
After the official wedding, the newlyweds receive a marriage certificate. If the ceremony took place abroad, this document must be legalized at home. Marriage in another country is an additional expense for young people. The wedding also requires preparation, including the collection of documents, the coordination of dates and the conduct of preliminary rites.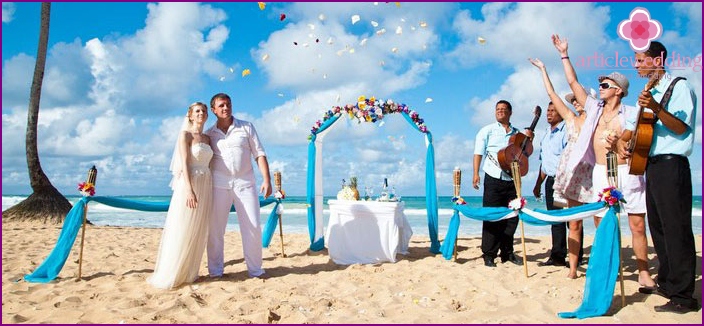 All these boring but necessary formalities should not be worried when it comes to a symbolic wedding. It does not have to be carried out simultaneously with the official one. The newlyweds themselves choose the time. Moreover, lately it has become fashionable to hold a second symbolic marriage a few years after the main one. The place, the order, the leading wedding ceremony - it all depends on the wishes of the young and the budget of the wedding.
How to celebrate a symbolic wedding
Popular scenarios for holding a symbolic ceremony are beach (under the arch) or sea (on the yacht), extreme (in the sky or under water), as well as themed theatrical weddings. Much depends on the traditions of the country where the celebration is held. Wedding and travel companies offer a wide selection of holiday scenarios for the bride and groom, but the newlyweds can organize a symbolic wedding and independently to their liking.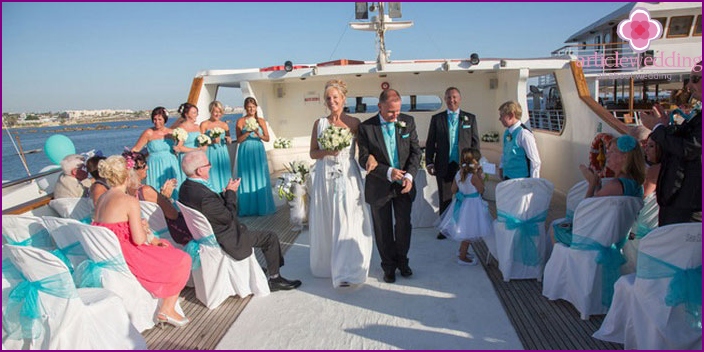 Venues for a symbolic wedding abroad
Maldives. Romantic seclusion on the ocean under palm trees near a luxurious bungalow - this is not the only wedding option in the Maldives. Marriage under water, on a yacht, in the jungle or a thematic ceremony at the hotel - there are no restrictions. The country's tourism industry provides the bride and groom with many opportunities for this romantic event..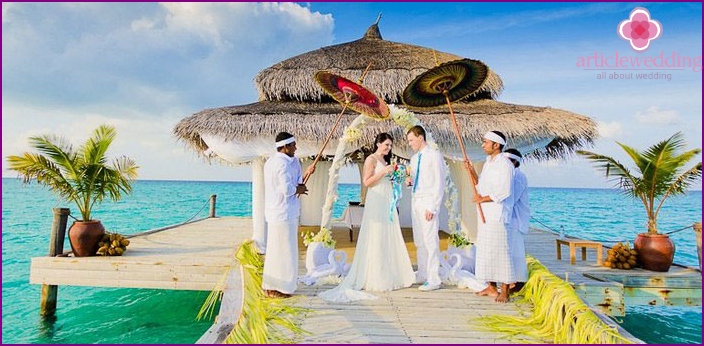 Caribbean islands. Wild scenic beaches of the Dominican Republic, Cuba or Jamaica with tropical landscapes, white sand and beautiful turquoise water - the perfect setting for a symbolic ceremony under the flower arch for two or in a small circle of friends. Due to the amazingly beautiful Caribbean Sea, maritime weddings on a yacht are popular here. An additional advantage of the Caribbean is a visa-free regime for 30 days.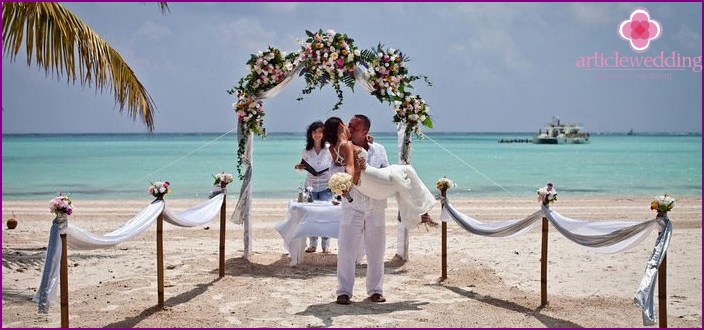 India. The symbolic wedding ritual in India is a striking unusual sight in the best traditions of Bollywood: with national costumes, a lot of flowers, dancing and colorful rituals in ancient temples. Weddings in Goa are especially fond of couples. It is believed that the symbolic ceremony in this small Indian state will make marriage strong, preserving it for many years..
Thailand. Buddhist marriage, elephant riding, colorful wedding suits of the bride and groom, jasmine garlands, an abundance of exotic fruits - a traditional Thai wedding is rarely dispensed with. In addition to luxurious beaches, magnificent waterfalls, which are a large number in Thailand, are suitable as decorations for a symbolic wedding ceremony..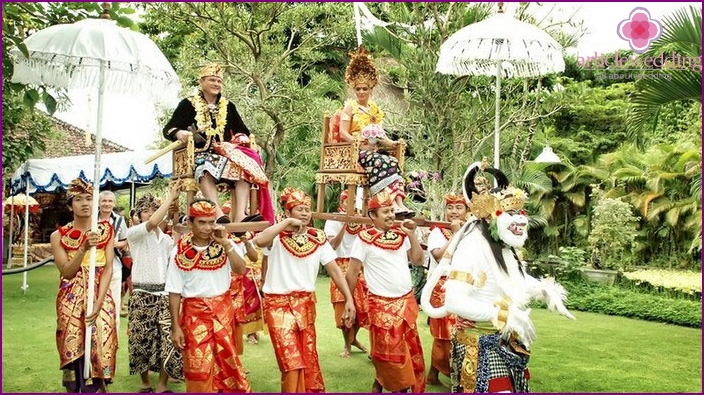 Czech Republic. Prague is a city of kisses and lovers, where everything works for the wedding business. In many Czech cities, architectural attractions are rented for various celebrations. Medieval palaces, town halls, ancient cathedrals, palaces with lush gardens and authentic organ music will make the wedding romantic and a bit vintage. Some castles offer to host theatrical weddings with tournaments and performances..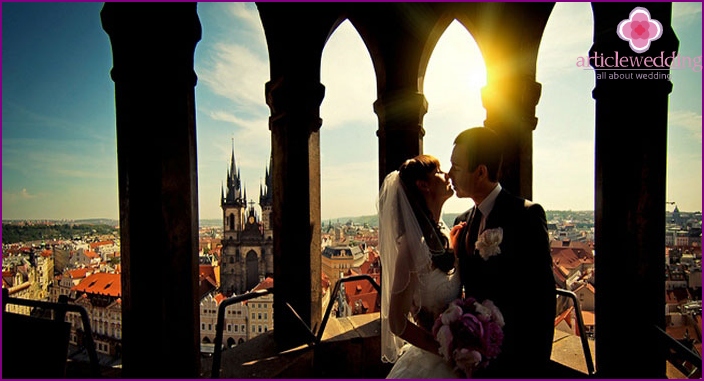 Greece. Santorini Island attracts newlyweds with amazing views of the volcano and Mediterranean sunsets, fine wines, olive and orange trees. Corfu or Mykonos are famous for their luxurious villas and palazzo with shady gardens that turn a symbolic wedding ceremony into a fairy tale. This place is for sophisticated and demanding couples who are attracted by an aristocratic wedding..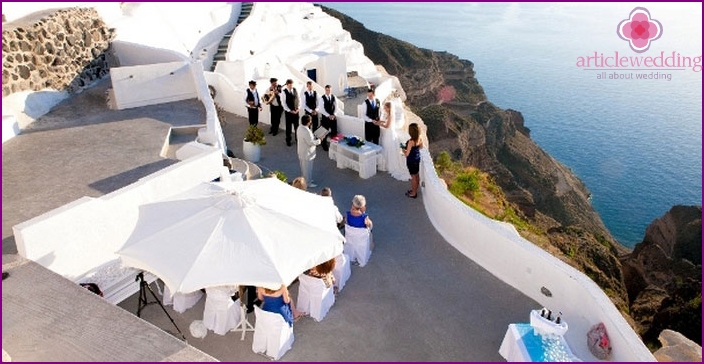 In Russia
The organization of a symbolic ceremony at home is good because it allows you to gather guests without any problems (not everyone can afford to go abroad for a couple of days, if only because of the need to apply for a passport or visa). You do not have to experience inconvenience due to ignorance of a foreign language. There are many royal and princely mansions or estates in Russia that are rented out for weddings. And beautiful landscapes and historical monuments are in all corners of the country.
Moscow. The capital has a huge number of architectural attractions, ideal for holding an unforgettable wedding photo shoot. And to add sophistication to the surroundings, it is worth renting not a wedding limousine, but a horse-drawn carriage. In the Moscow Region, there are many hotel complexes open for honeymooners (from budget to luxury), where it's convenient not only to continue the celebration with a banquet, but also to spend a honeymoon.
St. Petersburg. Tsarskoye Selo, Peterhof, white nights, walks along the Neva, banquets in tents, pyrotechnic shows - this is only a small part of what the northern capital offers for holding a wedding. In the region there are many restored and stylized mansions, castles, cottages for every taste («Haunted castle», «Bat», Belvedere, Tosno). The organization of a wedding is usually cheaper than in Moscow.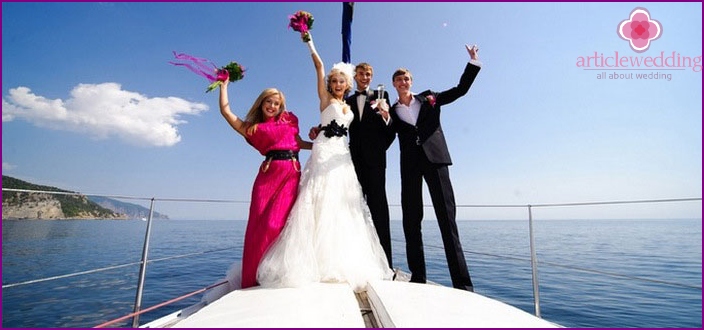 Crimea. The Crimean coast is famous for its natural beauty, mild climate and architectural pearls. Livadia Palace or «bird home» become a worthy venue for a symbolic wedding ceremony. Field ceremonies on the coast or on a yacht are popular. It is possible to hold a symbolic open-air wedding in the Crimea from April to October.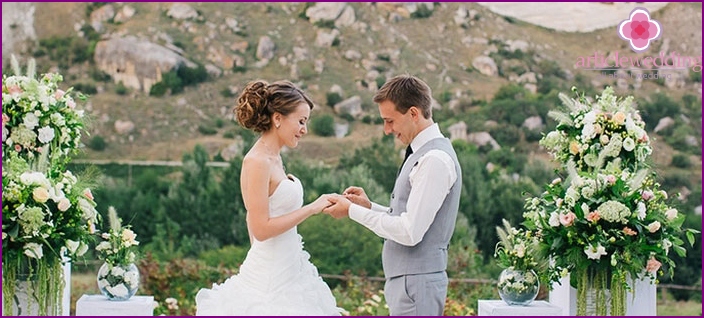 Baikal and Karelia. Stunning natural beauty of the Karelian landscapes or the deepest lake in the world are ideal for holding an extreme wedding celebration. It is possible to celebrate a wedding here almost at any time of the year: in the summer on a balloon, horses or boats, and in the winter on skis, snowmobiles or even dog sledding. On winter Baikal it is worth visiting the Ice Palace - made entirely of ice «temple», symbolic wedding ceremonies.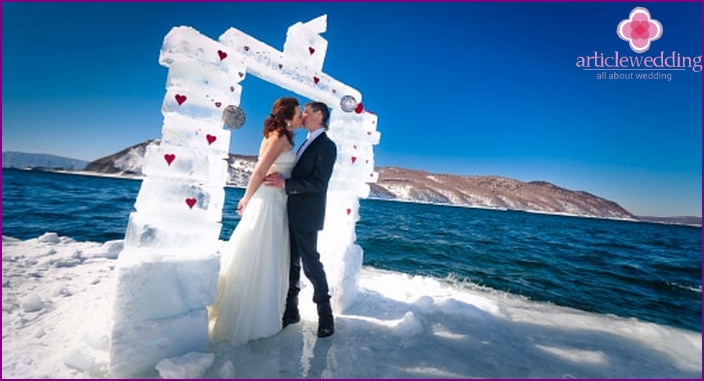 Sochi The ski complex is perfect for active sports couples for a winter wedding. And the Caucasus Mountains, not inferior in beauty to European resorts, will become magnificent scenery for your celebration. The Black Sea coast is a great place for a symbolic summer wedding ceremony or a romantic marriage anniversary celebration.
Golden ring. If you want to have a real Russian wedding according to old customs, then the best place for this is the Russian outback. The organization of such costume weddings in the best Russian traditions is offered by many agencies. Newlyweds are waiting for Old Russian fun and practical jokes, three-wheeled skiing, a bathhouse and a rich banquet table with mead. And the cities and villages of the Golden Ring will give the wedding a flavor that you will not find anywhere else.
Photo of the original symbolic wedding ceremonies
What style to choose for a symbolic wedding ceremony? This is largely due to the place and time when it will take place. Since a symbolic marriage is arranged exclusively for entertainment and aesthetic pleasure, the most popular choice for newlyweds is tropical countries or the warm season, if we are talking about Russia or Europe. In this case, there are no restrictions on the celebration scenario. See the most original ideas for holding a symbolic wedding in the photo gallery.