Contents
---
---
When a feeling of love overflows the heart, and you want to envelop the whole world with infinite happiness, two lovers decide to strengthen their romantic relationship with an official status. And for this it is not necessary to organize a banquet, invite a huge number of guests, buy expensive outfits. A worthy alternative to all this is a wedding for two. What could be more romantic than a special evening for two? Here opens up the broadest perspective of ideas, opportunities and unique options for celebrating a happy two lovers day.
How to organize a wedding for two?
If you are not going to arrange a traditional wedding for one hundred people, but want to limit yourself to a modest beautiful holiday for only two, this does not mean at all that this day will not be different from everyone else in your life. You can always come up with a lot of interesting wedding ideas that are perfect for hanging out on the day of marriage, when there are only two of you.
Consider a place where you will commemorate such a wonderful event as a wedding, select the appropriate holiday format (solemn or symbolic), determine the budget that you are willing to spend. And then enjoy each other's pleasant company without losing a single minute of your first family day. Below you will find some good ideas on how it is possible to organize a wedding only for the bride and groom.
Abroad
It is impossible to imagine a newlyweds who would not want to celebrate a wedding in some beautiful romantic corner of our planet. Organize your trip or a tour around interesting cities: look into the city of love Verona, where Juliet listened to her Romeo's love confessions on the balcony, go to the unique Paris, where every street is saturated with an atmosphere of love, romance and solitude. And to make the organization of a wedding abroad unique, without unpleasant surprises and memories, below you will find some useful tips: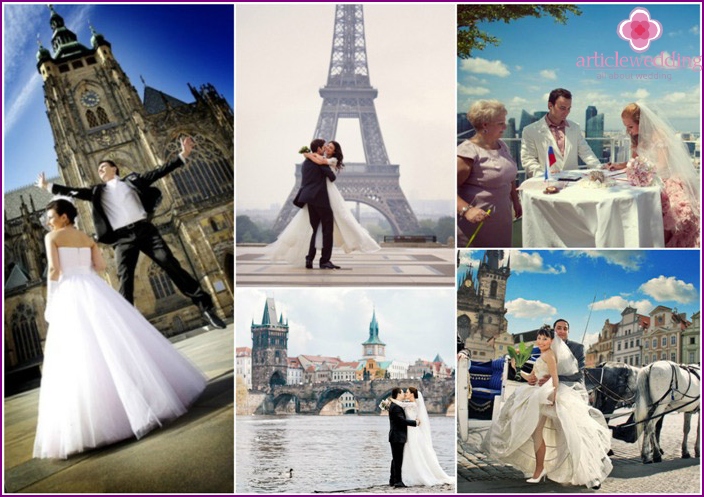 It is not necessary to choose an expensive trip abroad for a wedding. Today, there are a lot of budget options that almost any newlywed couple can afford and get a huge amount of pleasant experiences.
If you contact a travel agency, then you can be calm for organizing all the details of the trip after the wedding, choosing a place - professionals will take care of this.
When going on a honeymoon abroad, choose places where it is warm and sunny all year round so that you don't experience any discomfort.
Decide on the travel format in advance: a wedding on a resort beach or enjoying aesthetic beauty, nature and historical places during unforgettable excursions.
Use every opportunity that will leave a vivid impression of the wedding, and do not forget to capture special moments on the camera.
By the sea
A wedding for two implies the intimacy of every moment of the day. An ideal choice could be a wedding ceremony on the beach. Just imagine how vividly you will remember your own wedding if you arrange an impromptu registry office on the sandy shore, during sunset, slowly drowning in the sea waves. Invite a photographer to capture some beautiful wedding moments for a long memory. And here are a few options for a beautiful wedding on the beach: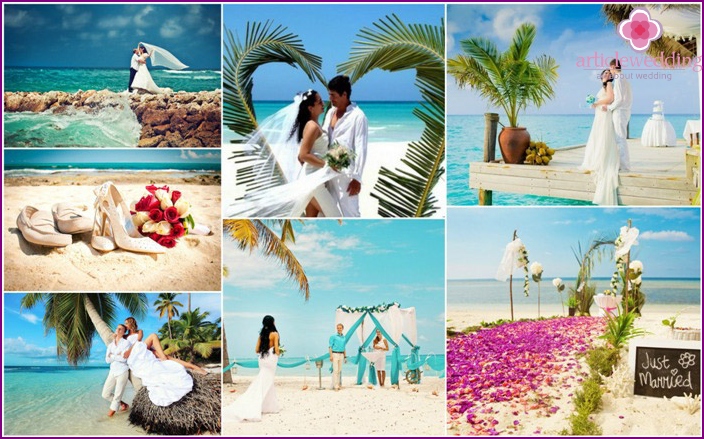 You can have a wedding on a desert island in the middle of a vast ocean. Wear appropriate outfits for the newlyweds: a classic men's suit and a beautiful wedding dress, shoes are optional. Only you, the photographer and the representative of the marriage registration authorities - romance.
To give the moment of creating a new family solemnity, order a special exotic ceremony of marriage ceremony on the beach, which is available in almost every corner of the world, for example, in the Maldives. To do this, a small area in the sand is arranged, which is elegantly decorated with flowers and flying fabrics against the background of the sea, and a church representative or presenter solemnly announces you husband and wife.
Romantic dinner in a restaurant
After receiving the official marriage documents, book a table for two in your favorite restaurant to celebrate this significant event. May this evening romantic music be played only for you, during which you will confess your love to each other and look forward to the coming days of family happiness. A decent choice for a modest wedding with taste.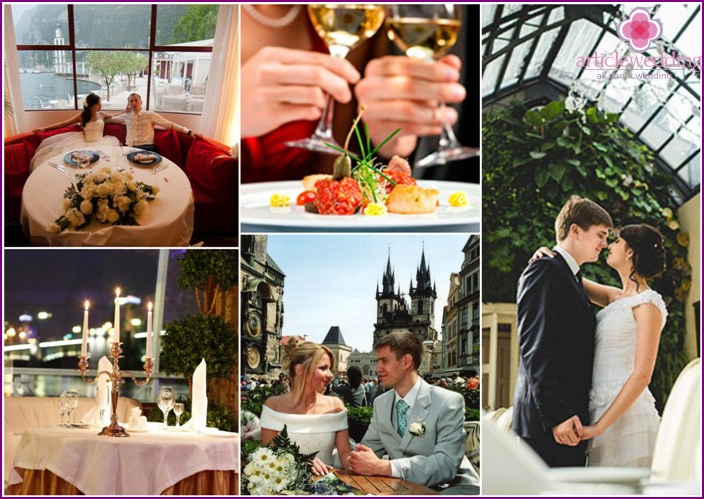 Modest wedding at home
Not always there is a financial opportunity to celebrate your own wedding, even together in a restaurant. An alternative to this option is a gala dinner at home. Let the bride prepare a couple of delicious dishes, light candles, deliver beautiful music, and the groom with flowers and symbolic gifts congratulate his beloved on acquiring the status of a lawful wife. You can also come up with an interesting program, for example:
Invite parents and several close friends to share such a wonderful holiday together, to hear pleasant congratulations from the most dear people.
Do not cook an unlimited number of dishes: if you two, then to create the necessary atmosphere of love, open a bottle of champagne with chocolates, strew the floor and bed with delicate rose petals and give yourself a wonderful moment to enjoy each other. If guests come, prepare several types of snacks and a small wedding cake, champagne as alcohol.
It is not necessary to go home immediately after painting: hire a photographer and take a walk through the beautiful places of your city, leaving for a long memory beautiful shots in the first family album.?
Celebration script
So that the wedding does not turn into another everyday day, you can think through each hour of pastime in advance and make up a peculiar scenario of the celebration. Work out all possible wedding ideas for two, which, in your opinion, will be the most suitable, and decide on one of them. Below you will find an example wedding scenario, thanks to which you will happily live together this special holiday.
The morning of the wedding day is the traditional time for the mural ceremony. The bride, regardless of whether this holiday is for two or not, perfects her appearance, puts on a beautiful dress. The groom with a bouquet of flowers meets his beloved on the doorstep and takes her to the registry office.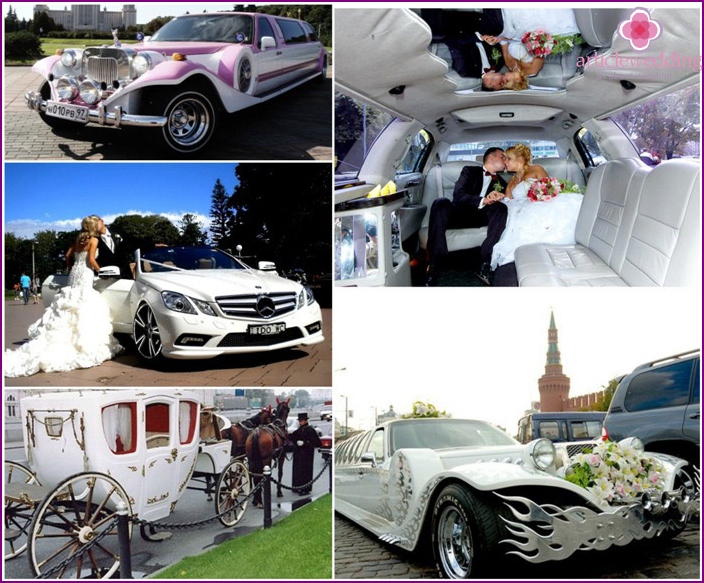 For this purpose you can order a beautiful car that will take you to the palace of festive events with chic.
Be sure to invite the photographer to capture the wonderful moment of dressing rings and murals in the marriage book.
Daytime: after painting, go on a romantic walk through interesting places in your city to arrange a wedding photo shoot. It could be a dating place or a first date.
In the evening, organize a romantic dinner for two in an expensive restaurant, where you celebrate celebrating the acquisition of an official family status - your wedding. Contact your tour operator in advance to help you choose a romantic trip where you will go the next morning after a pleasant dinner and your first wedding night.

Video: a beautiful wedding for two
If you decide to arrange a wedding together, then this will be your personal holiday, all attention will be focused only on each other. You do not have to lose your head in the pre-wedding bustle, thinking about everything and immediately, takes care of each invited guest and so on. On this day you will be preoccupied only with yourself. And in order to turn this event into a real and unusual wedding celebration, watch the video how to celebrate this holiday together beautifully: