Contents
---
---
An application has been submitted to the registry office, it is time to start planning the celebration. A budget wedding for many couples remains preferable, and this is not always due to a lack of funds. For example, some newlyweds for the saved money go to travel to exotic countries. Budget wedding is easy to organize so that weddings bring a lot of pleasure to young people and guests.
Tips for organizing a budget wedding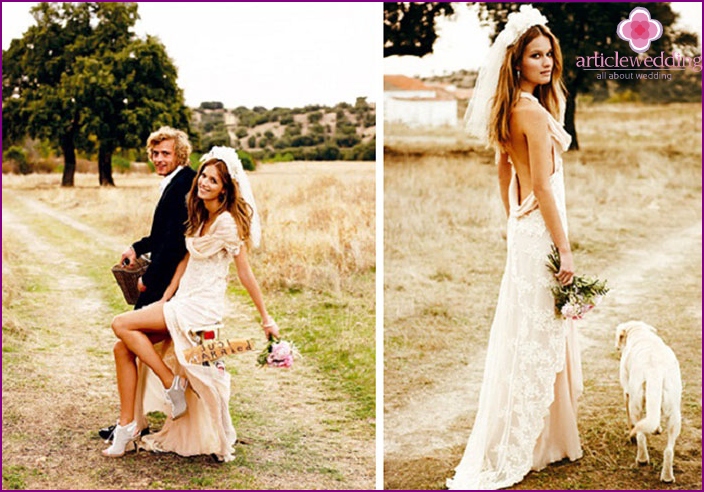 How to save money on a wedding? The whole secret is to spend less money on those things that will not spoil the mood of the bride and groom, and will also be invisible to guests. For example, a wedding dress and costume are rented. Is such an option unacceptable to you? Some salons offer new dresses for half the price, if after a budget wedding you pass it back. The following tips can save you money on organizing your wedding:
It's not necessary to hire an expensive limousine, a luxury car is cheaper and looks no less beautiful.
Think over the number of guests. If people do not know you very well, they hardly remember your names, is it worth it to invite them?
Live music for the wedding is easily replaced by a DJ who takes much less for his services.
Almost every second is fond of photography, so among friends you can easily find an amateur with a good camera. It will save your expenses..
When decorating the banquet hall, use balls instead of fresh flowers, which will be cheaper.
It is not advisable to save on a professional host, because it sets the mood for the whole holiday.
To reduce wedding expenses, arrange a budget event not on the most popular days. Usually a wedding ceremony is held on the weekend. On weekdays, it's easier to negotiate discounts with contractors..
Floristry costs are reduced if seasonal flowers are used in summer.
To decorate the venue of the celebration, it is not forbidden to make any elements, accessories with your own hands. Arrange a hand made evening with your friends, because this lesson will bring only positive emotions. If the budget wedding day is planned in vintage style, things lying around in the mezzanine or attic of the grandmother can be useful for entourage.
Where is better to play an economy class wedding?
The most expensive part of wedding expenses can be the venue. Think about celebrating a low-budget wedding in local gardens, parks, and in the courtyard of the restaurant. An open-air ceremony is cheaper than renting a wedding hall. Spending a wedding day in the daytime significantly reduces the amount of money spent on food. Let's take a closer look at the possible options for such a wedding.
At home or in nature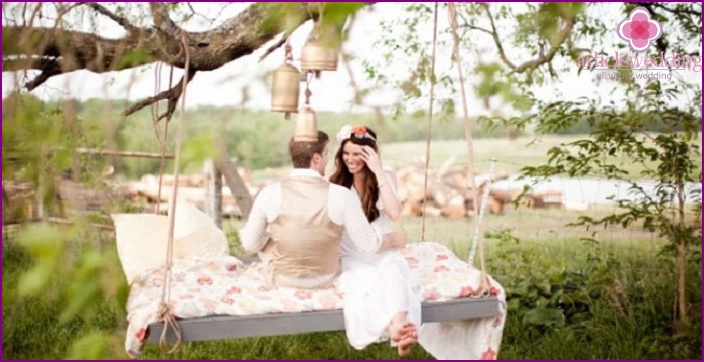 If only close relatives and friends are invited to the wedding, you can play it at home. This is the most budget option, but also very troublesome. Here you can save on dresses, hall design, rent. In advance with your friends or mom, decorate the room where the walk will take place. If you live in your house with a beautiful plot, arrange a wedding in the fresh air: there will be more space for entertainment.
A budget holiday is easy to spend in the lap of nature. Think of an original wedding style that is easily created with your own hands. In the summer, decorate wedding gazebos with seasonal flowers: gladioli, peonies, daisies. It is also necessary to order a bus, where guests will reach their destination. Arrange in advance with the cleaning lady and the waiter who will serve the guests during the wedding.
Think over the menu for a budget celebration in advance, especially its alcohol component. In the summer, it is unlikely that anyone will want to drink hard liquor during a wedding. If most of the guests are your friends, they may prefer beer. For bad weather, you should buy a large tent, two are better: in one there will be tables with snacks, and in the second there will be dances and other entertainments. Do not forget about older guests. For them, at the time of the wedding, provide places of rest: a couple of shops with decorations will please the elderly.
In a cafe or restaurant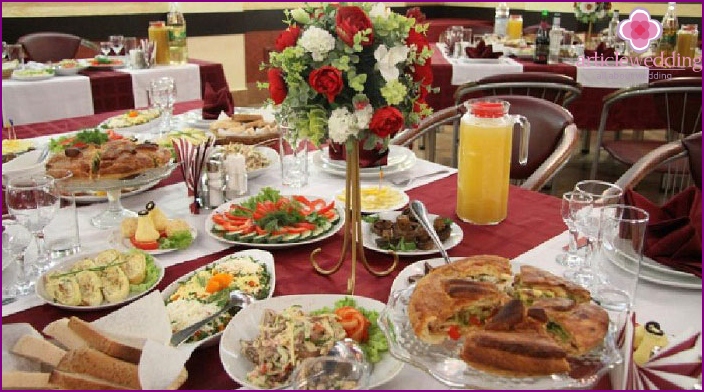 The most expensive part of the cost is a banquet in a restaurant. But it is not necessary to order it, wedding breakfasts or budget receptions are in fashion. After morning painting, young people immediately go to a restaurant, which is cheaper than in the evening. Buffet is another way to save personal funds. In this case, the guests themselves come up and take food from the tables, which is represented by snacks. Designed such a wedding with a small budget for 2-3 hours, no more.
Another saving method is a budget holiday in a fast food restaurant. For a couple of weeks, discuss with the administrator the terms of renting a large table for a wedding, or a separate room, menu, decor. In such an institution it is not forbidden to arrange non-alcoholic celebrations. Dress code for a budget feast for the bride, groom and guests can be more free, unlike the celebration in a real restaurant.
Abroad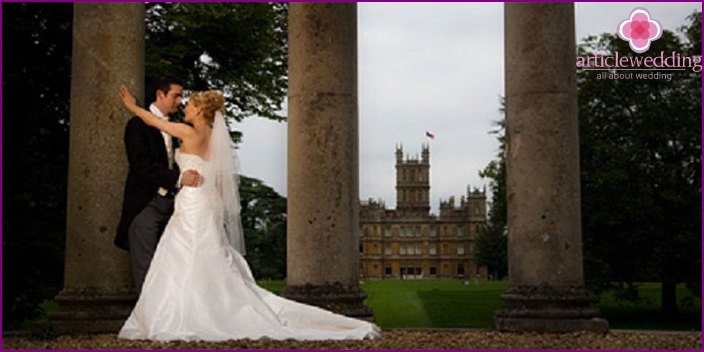 Budget wedding celebration abroad lacks a number of disadvantages of a traditional wedding. You no longer need to invite a bunch of guests. You can go together, or invite only the people closest to you. The hassle of choosing dishes, decorating the hall, other organizational nuances will not affect you, since this is done by the company where the newlyweds are contacting.
Entrusting a budget holiday is better for a tour operator who works directly with suppliers and partners. So you can get more favorable rates for the wedding, because such firms quickly receive information about discounts on hotel accommodation, flights, ceremonies themselves. Keep in mind that during the hot season, prices are usually higher, so it's best to choose off-season.
The cheapest cost is a wedding in the Czech Republic, where there are many castles. There are budgetary wedding days. In this country, citizens of the CIS countries and Russia can officially enter into a family union. A marriage certificate is valid with a transfer at home without additional legalization. Weddings are more expensive in Portugal, Italy, Spain. Budget marriages concluded there are recognized in Russia.
Celebration options according to season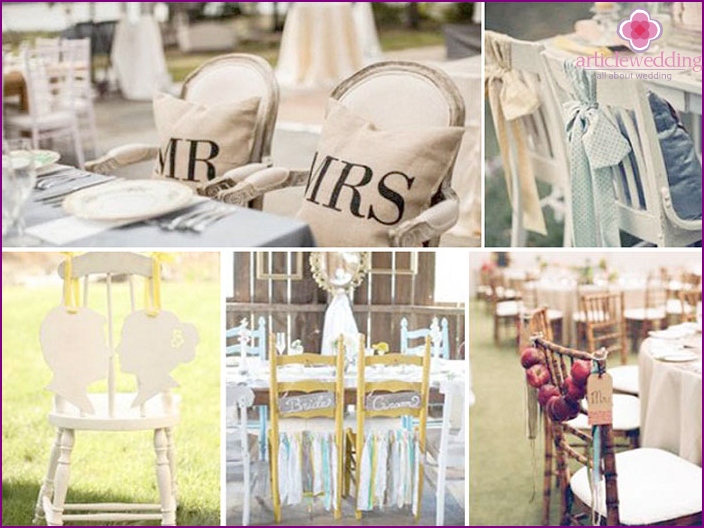 In winter, autumn, the newlyweds have no choice but to celebrate the wedding indoors: at home, in a cafe, restaurant. A very interesting idea for a wedding day is a movie wedding. Newlyweds celebrate such a budget holiday in a dark room under the light of the screen. To do this, select a cinema, a suitable session, buy tickets for a week and a half, study the menu of snacks. As a wedding invitation, each guest is given a movie ticket, on the back of which is written the time of registration and the address of the registry office.
In summer and spring it is better to have a wedding in nature, in the country. This greatly saves money. Themed weddings that are easy to arrange with your own hands are relevant. For example, a budget wedding a la rustic: wooden benches, chairs, tables, jewelry made of birch bark and wildflowers, linen napkins, tablecloths. This style in the dress of the bride can personify frills on a wedding dress, a natural hairstyle.
How much does it cost to organize a wedding with your own hands??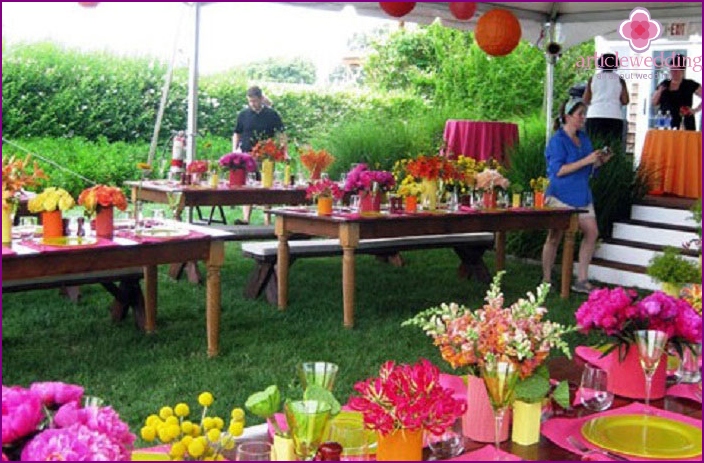 Usually, an independent organization of a budget celebration costs from 30 to 50 thousand rubles. In doing so, you save on the following points:
The original budget wedding idea reduces expenses as much as possible, since a cute modest dress, a buffet table are perfectly woven into the plot of the celebration.
At the registry office sign quietly, without ceremonies, and officially wear rings at the banquet.
To arrange a wedding in nature, look in advance for awnings, tents on the Internet, sites for sale of used things. Decorate, set tables will help you relatives, friends.
Instead of traditional invitations, come up with an original method of notifying all guests about the wedding.
Buy a dress for the bride on the Internet, on sale, rent, order from a seamstress.
Learn from video lessons to do your own hair and makeup for your wedding. Start training a month before the budget celebration.
Find a good wedding host with reasonable rates.
Book a representative car for the newlyweds, and a comfortable minibus for the guests.
Budget Planning Tips
The theme of the video below is the cost of a do-it-yourself wedding. If you want to find out the price of all efforts, draw new ideas for yourself, take valuable recommendations into your arsenal, be sure to watch this video. It provides a detailed report on holiday spending.
Photo ideas for an original budget wedding