Contents
---
---
What associations do you have with the word «wedding»? A chic banquet with a huge number of guests, a magnificent (read, expensive) dress of the bride, an equally respectable suit of the groom, a fabulous crew and other pleasant but expensive joys? Some newlyweds go into debt to organize everything «top notch»; others ask parents «to sponsor» event, forcing them to borrow money from someone. But the question can be resolved easily and simply by making cheaper individual cost items for a wedding.
How to play a wedding inexpensively but beautifully?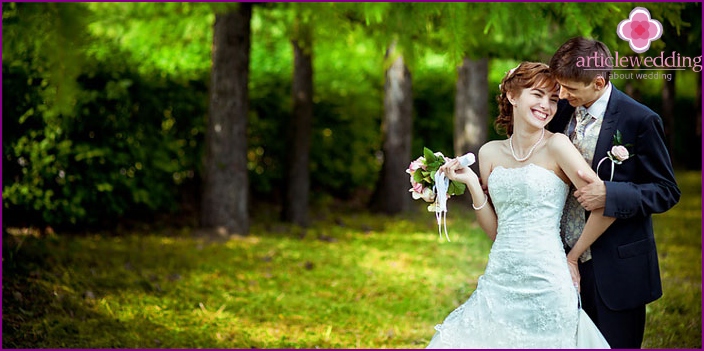 Has this situation ever happened to you: a solemn event to which you are invited is organized in an expensive restaurant; the budget is clearly unlimited, and boredom does not leave most of the guests, counting the minutes until the moment when it decently will take off and leave the holiday? In the understanding of many, a cheap wedding is a dining room on the outskirts of the city, simple dresses «a la local market», minimum invited, not the best banquet menu. Let's try to dispel such misconceptions.
The soul invested in organizing a wedding, the imagination of newly-married organizers, the desire of relatives and friends to provide all possible assistance in preparation are the main conditions for a memorable ceremony. Analyze the estimated costs of the wedding. Make a business plan for a cheaper and more expensive option. Organizing a celebration by contacting the specialists of the event agency will be much more expensive than preparing a wedding yourself.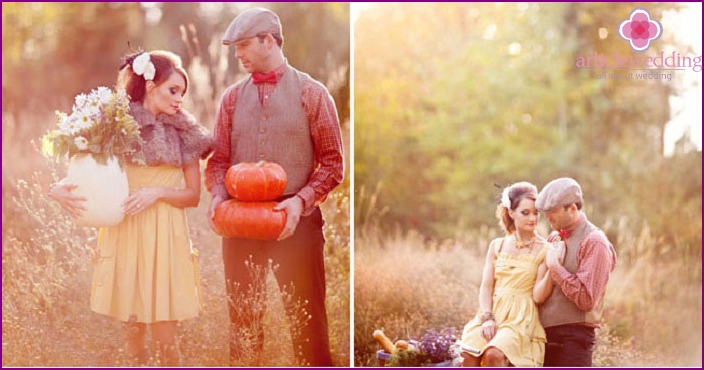 Another savings item will be choosing the right wedding theme: rustic style «rustic» - on top of popularity. Cheap celebration organization will force «to work», but the effort is worth it. A buffet reception outdoors - a fascinating event; choose outfits for the bride and groom in the theme of the wedding; DIY wedding bouquets and decorations; think over the scenario of the holiday.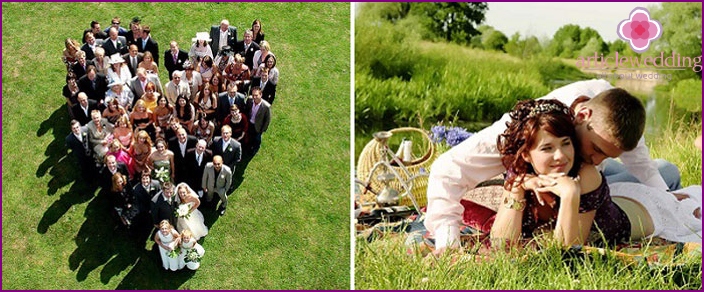 For active newlyweds, going outdoors instead of a traditional banquet will help at the same time «keep up appearances» in the registry office and give freedom, the opportunity to fool around and spend time the way you want after that. The cost of renting a minibus for those invited will be less than booking a restaurant or contacting a kiting company. With dishes for the wedding, offer to help mothers, sisters, friends. Men will adequately manage meat. Capture photos, video equipment to capture the unforgettable moments of a romantic holiday.
Choosing a venue for the celebration
To make a cheap wedding, determine the location of the ceremony:
Restaurant or cafe. Pay attention to such moments:
Location. As a rule, popular establishments are located in the city center. Prices for banquets, weddings, and the cost of dishes in them are not small. The remoteness of the cafe from the central part of the city plays into the hands of newlyweds who prefer to make an inexpensive but high-quality banquet.?
«Name» restaurant for a wedding. Promoted, famous cafes do not mind part «popularity» include in the cost of service. To save money, do not be lazy to find a new, recently opened institution. To attract customers, they can often make discounts..
Pre order. Having decided on the venue for a cheap wedding, order a banquet in advance. Make a contract indicating the prices of the wedding menu.
Wedding conditions. Most modern cafes, restaurants offer live music, animators. If desired, discuss the amount of the cost of musicians' services with the administrator by including an item in the contract. Such a service will cost less than hiring third-party artists for a wedding.
The period of the holiday. The end of autumn, winter and the beginning of spring are traditionally «low season» for the restaurant business. If you are planning a wedding during this period, bonuses, promotions and discounts await you.

Country house, cottage. Ask friends, acquaintances, whether they would agree to provide suburban housing for newlyweds to make a cheap wedding. If there is such an opportunity, feel free to grab onto the offer: fresh air, inexpensive products, alcohol, saving on decor, renting and other joys outweighs any concerns.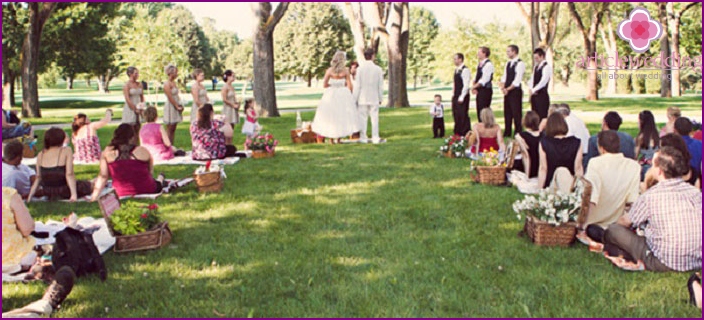 Banquet hall of the registry office. Did you decide to go on a honeymoon after the festive painting? Order a mini-buffet at the registry office of the registry office - make a treat for family and friends by organizing an inexpensive wedding.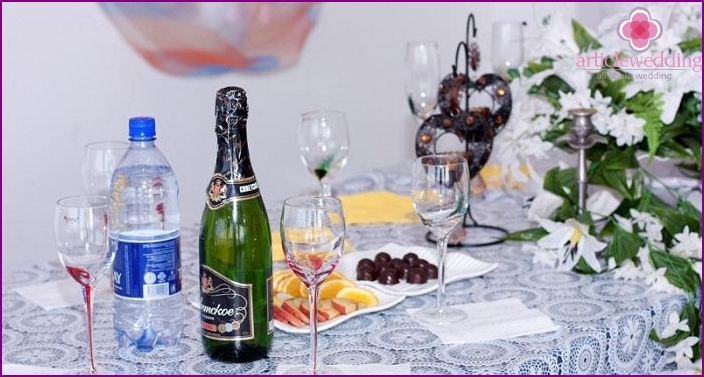 Invite a small number of guests
A large number of invitees to the wedding entail additional costs. But often some people are invited «because it's so customary»: superiors, distant relatives, «necessary» acquaintances. If you want to make the wedding cheaper, discuss with a future spouse a narrow circle of guests, inviting the closest, dearest people, whom you are always welcome.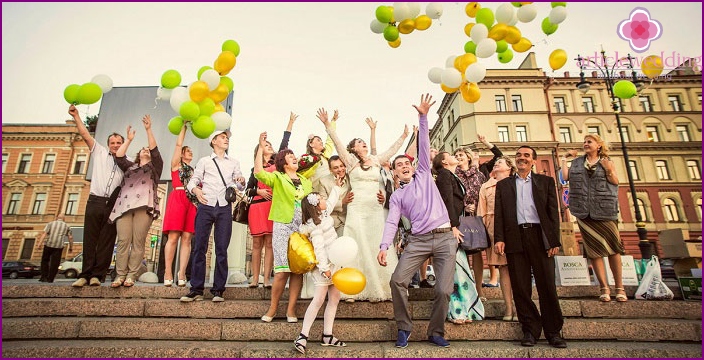 Reduce costs on newlywed outfits
Choose a dress for the bride for rent - this will make it possible to make this part of the wedding business plan cheaper. Another economical, but risky option is to order a newlywed outfit through online stores: both foreign and domestic. In this case, opt for the model that you previously tried on in the wedding salon.

The savings will be so significant that some waiting time for the order will fly by. When choosing a suit for the groom, choose one in which your beloved spouse will continue to appear on holidays or go to work. The wealth of offers of high-quality, but cheaper shoes provides the opportunity to choose shoes that will be useful to you in the future.
Decorate the car and the ballroom yourself
When ordering a wedding car, be prepared to invest in renting it: decorations, rental and downtime are not cheap. Would you like to organize a cheaper version of the bridal tuple? Ask family, friends, or acquaintances for a request «provide» cars at your disposal on your wedding day. Pre-think the decor, make or purchase jewelry.

Call your girlfriends, relatives to decorate the banquet hall. To match the decor of the room for the ceremony with the theme of the wedding, think in advance of the general style, what accessories, materials you will need. Use inexpensive tinsel, balloons, garlands of flowers to decorate the hall. This will make an ordinary wedding venue delightful..
How to cut costs on wedding services

What other wedding expenses can you cut? A cheaper option will be: a good camera in the hands of one of the relatives, a hairstyle, make-up and manicure done by oneself, a wedding bouquet of seasonal flowers; host of a holiday from among friends or relatives. If you prefer to turn to specialists, let's find out how to save on these costs.
Savings on a Wedding Photographer

Well-known popular photographers are expensive. Try contacting a young, untwisted photographer. The cost of his work will be much lower. Alternatively, consider the hourly payment of the photo shoot during the solemn registration of marriage and honeymoon. Ask relatives, friends to make interesting photos during the banquet.
Hairstyle and makeup bride
To look like a fairytale princess, the bride does not have to turn to the popular makeup stylist. Talk to your friends, maybe some of them use the services of masters at home, which will make them cheap for you. Have you decided to try your strength yourself? Pre-select the wedding hairstyle that you want to do on a festive day.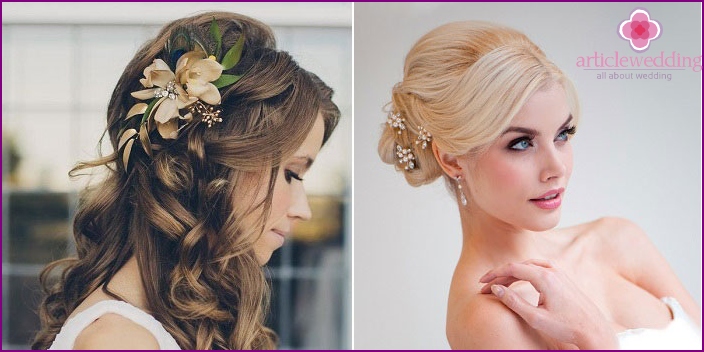 Simple hairstyles for the wedding are now at the peak of popularity. Additional information with step-by-step photos will help you make a festive styling. A gentle French manicure will decorate the bride's hands, emphasizing her graceful taste and style. Neat, refined makeup using your own cosmetics will make this cost item cheaper.
Bridal bouquet and wedding floristry

Order an elegant, refined bouquet of the bride from seasonal flowers, cheaper in relation to exotic plants worth fabulous money. For a rustic wedding, making a disheveled bouquet of wildflowers is not a big deal. Perhaps there is a garden where your family grows flowers. They will be a magnificent decor for decorating a banquet, wedding premises.
Entertainment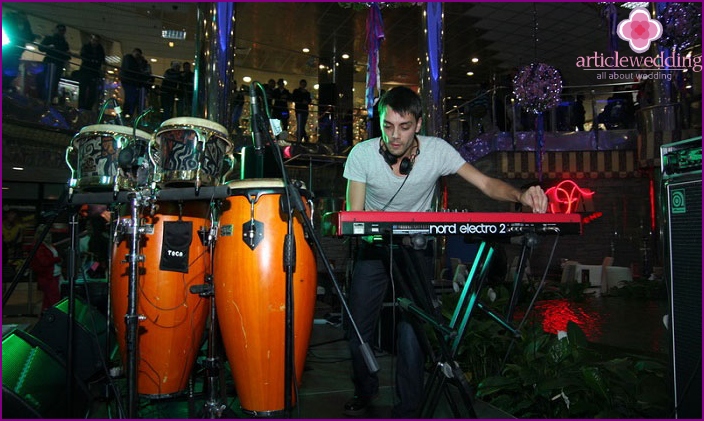 The high cost of toastmaster services is often the reason for the newlyweds to refuse the host. Do not worry, contact the administrator of the cafe in which you organize the celebration: young, novice animators will gladly fulfill this role. To make the wedding cheaper, but no less interesting will be the performances of children, fun competitions organized independently.
Things that are not recommended for saving
Any saving has its limits. If the financial resources for organizing a wedding are not enough, it is better to choose a solemn registration in the registry office, inviting parents from both sides, and go on an inexpensive honeymoon. Are you firmly convinced of the need for a holiday? Please note what is not recommended for saving:
Wedding menu. If you have invited guests, make sure they are not hungry. Track product quality. Cheap spirits, poor-quality food - the causes of poisoning and poor health.
Outfits of the bride and groom. Dress, suit for the wedding, as well as shoes, pick up so that you feel comfort and convenience throughout the day. Very cheap fabrics and an uncomfortable pad will spoil your mood.
Have you volunteered to decorate a banquet hall? Take care of the quality of the decor elements, their compatibility with the style of the ceremony. There is no way to decorate tables and rooms with fresh flowers? It is better to refuse this type of jewelry than to prefer cheap artificial flowers..
Photographer for a wedding. Check out the work of a young, unknown specialist. If you want to make a wedding photo session in high quality, invite the master for a couple of hours of a wedding walk and a solemn painting.
Video: how to have a wedding cheap and beautiful
Making a cheap wedding doesn't mean saving on quality. Some young people think that saving on such an important event is not worth it. Often these are young people who do not have a stable income, counting on the help of their parents. A different approach for newlyweds earning money on their own: the desire to save is inherent in millionaires, and office clerks, and workers.
Wedding accessories, groom's outfits with the bride, floristry and party supplies are conditional things. A cheap wedding will become an unforgettable event in your life if the feelings that connect your hearts do not fade over time, warming your souls. What is it worth saving when preparing for the wedding, and what costs are not recommended for cutting, you will find out by watching the video below.