Contents
---
---
Each woman wants to celebrate her own wedding ceremony somewhere on the romantic edge of the earth, among the blue waves of the warm ocean. Many have already fed up with the traditional painting of the local registry office, so I want more original and exciting impressions, for example, a wedding ceremony in Thailand. This is a truly interesting option that will be remembered by its original style for the whole life of the newlyweds. However, the main question will intrigue everyone: how to organize such a holiday in this exotic country.
How to organize a wedding in Thailand
Thailand is one of the most extraordinary places on Earth where it is possible to hold an unforgettable nautical-style wedding ceremony. Therefore, you should be prepared for the fact that the organization of this event will also not be simple. It is necessary to consider every detail and be aware of local features that are important to consider when preparing for the wedding. A few informative tips to help you successfully prepare for the perfect Thai painting: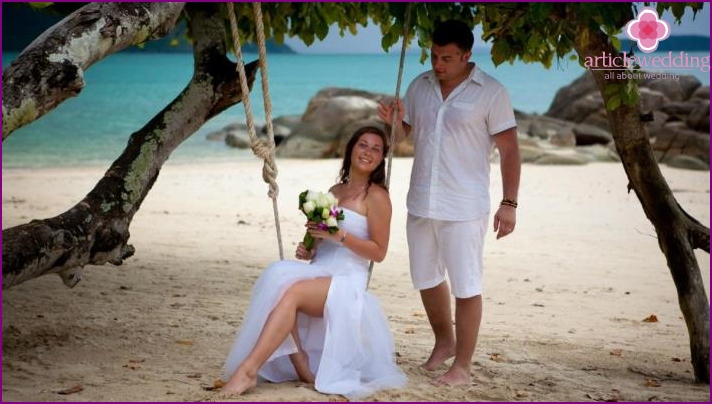 The first thing the bride needs to take care of when preparing for the wedding photo shoot is makeup that suits the local climatic conditions. As you know, the heat in Thailand leaves no chance for ordinary everyday make-up that looks win-win at home. It is better to use special Thai cosmetics, which is made for use in hot countries. It is advisable to contact local professionals, thanks to whom you will look irresistibly.
The first days, and especially, before the photo shoot, protect your skin from sunlight. In Thailand, it is very easy to burn invisibly even to those people whose skin is resistant to bright sunlight..
The hairstyle is best done with ordinary loose hair, it is possible to wind curls. It will be easier to take care of them..
It is better to bring a wedding dress with you, because local rental is unlikely to provide a suitable size (Thai is smaller than European women).
In order for the wedding ceremony to take the appropriate festive mood, the place you choose to acquire the status of husband and wife will be beautifully decorated at your service. For this, an oriental-style tent or a very beautiful arch-heart is used. Various natural exotic flowers, such as orchids, are used as decoration.
Make sure to book your wedding ceremony in advance through a travel agency. So, you can confidently expect that everything will be ready for your arrival.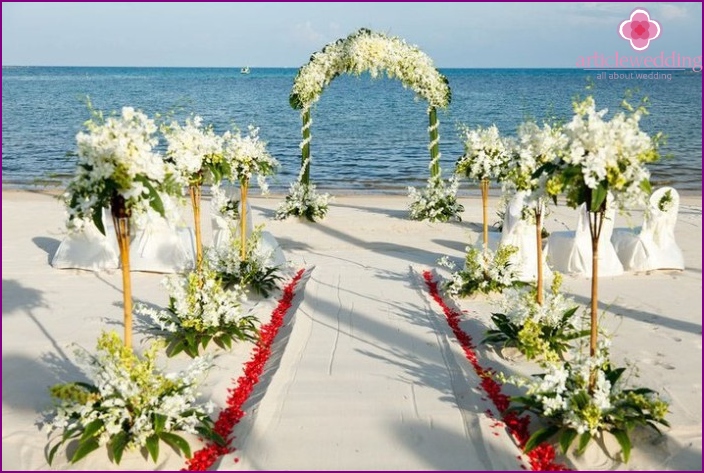 Where to hold a wedding ceremony in Thailand
A dream wedding in Thailand will be one of the most unforgettable events in life. This amazing country is rich in beautiful and exotic places where it is possible to have an original wedding ceremony. The choice, in fact, is great: the picturesque island of Koh Samui, the impressive resort of Pattaya, coral Phuket, the beautiful Kood archipelago and many others It all depends on the preferences and individual vision of the perfect wedding ceremony..
On Koh Samui
Your wedding ceremony will be the most memorable if you choose Samui as the venue for it. This exotic island is rich in beautiful sandy beaches, palm trees and always warm sea, but this is not its main advantage. This place is saturated with the centuries-old history of Thailand, the spirit of those times still lurks in the walls of ancient temples, through the gates of which many generations of newlyweds in love passed. This will turn out to be a truly original wedding, saturated with a special mood, positive energy and light..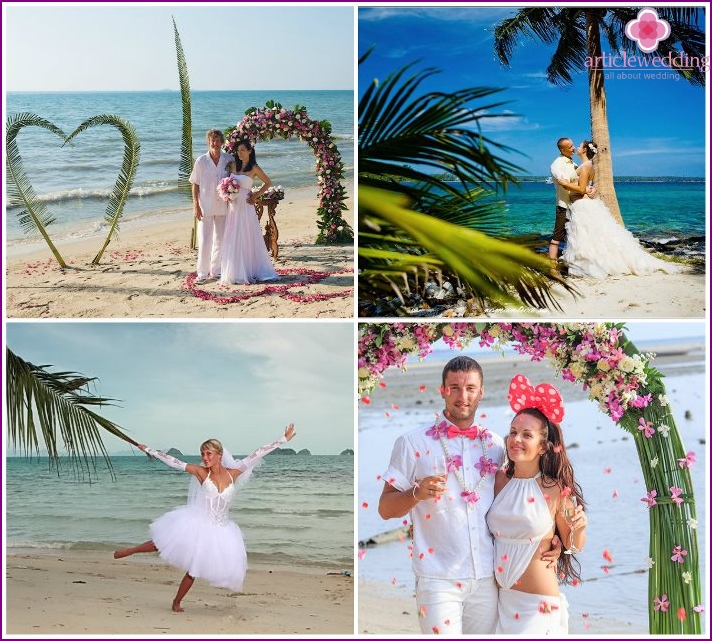 In the resort of Pattaya
If you are adherents of a more modern wedding, filled with cheerful spirit and carefree, choose the place for holding your own celebration in Thailand - Pattaya resort. You will see how this exotic country can be energetic, inspiring, and sometimes even slightly shocking. However, Thailand is famous for the fact that there are unlimited possibilities of entertainment. Therefore, do not miss your great chance to celebrate the most fun of your wedding day at one of the most popular Thai resorts.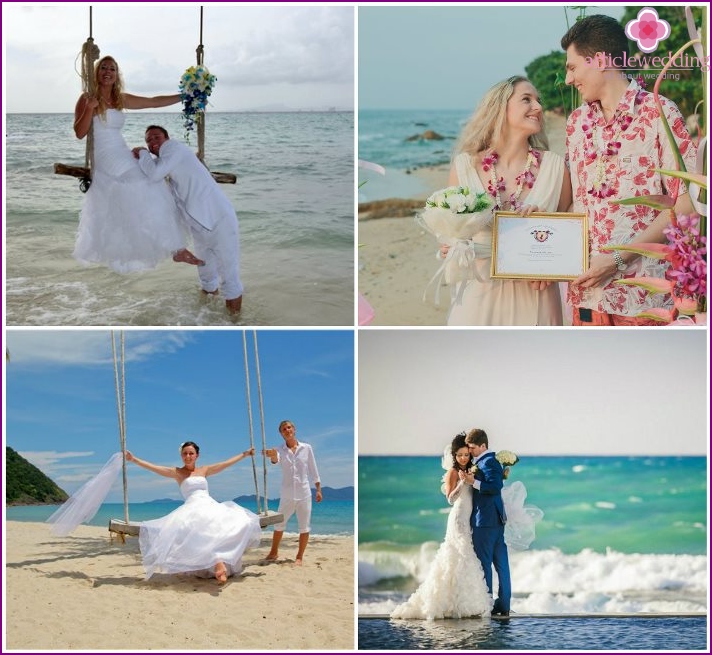 On the coral island of Phuket
The beauty of the coral island of Phuket will surprise you not only with its picturesque nature, warm sea and the number of white sand beaches, but also with the originality of the place itself: there is an opportunity to hold a wedding celebration in a real Buddhist temple. You will receive a lot of exciting emotions and positive energy that will be transmitted to you during such a ceremony with the blessing of the Buddha, not to mention pleasant memories for the rest of your life.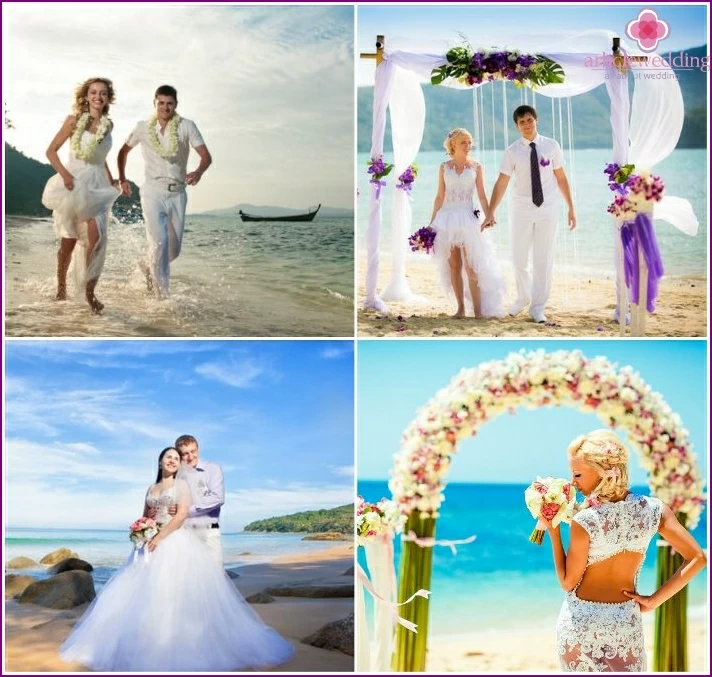 On the island of Kood
For those who love paradise solitude and relaxation, the island of Kood seems ideal. Here your wedding ceremony will find a special spirituality and unity with a beautiful exotic nature. Such a wedding will indeed seem immortalized, thanks to the laid-back flow of time, a calm atmosphere and a measured rhythm of life. Book an exit ceremony with a beautifully decorated oriental tent right by the ocean with a light breeze at sunset, where you can easily organize a gala dinner with your beloved friends.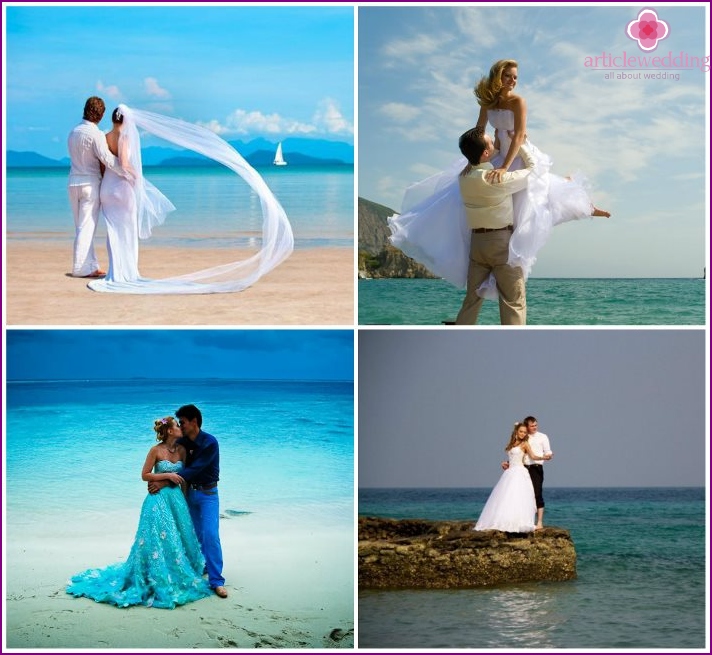 Documents required to register a marriage in Thailand
Making a marriage in Thailand will not be difficult for you, since here this procedure is very easy. All you need at first is a permit from the embassy of your country for marriage, which will give you the right to receive an official certificate of personal information. Further, this document will need to be translated into the official language of Thailand and legally approved with the help of the Ministry of Thai Foreign Affairs. And here is a detailed list of required documents:
The certificate of the embassy of your country, which must be translated into Thai and officially approved by the ministry. It takes about three days, so take care in advance.
Data on the place of work, position and monthly income.
Assure a notary of a copy of the divorce document (for those who have already married earlier) and translate into Thai.
Data on persons (at least two) who live next to the applicants (their addresses, names).
Passport.
If the applicant is not yet twenty years old, the written permission of his parents or their personal presence is required when the documents are submitted.
For a marriage certificate obtained in Thailand to be legal in Russia, you must translate it into Russian at the Thai embassy and approve it in the Ministry of Foreign Affairs of the same country.
Symbolic ceremony prices
A symbolic wedding is an opportunity to get married in an exotic country, to feel the atmosphere of local color and national traditions. Depending on which ceremony you prefer, the cost of such a ceremony in Thailand will vary. All your wishes regarding what details you would like to add / remove are also taken into account, plus you will be obliged to be offered the most acceptable budget option so that the wedding of your dreams does not turn out to be fiction for you. Sample prices for what you can count on at a Thai wedding: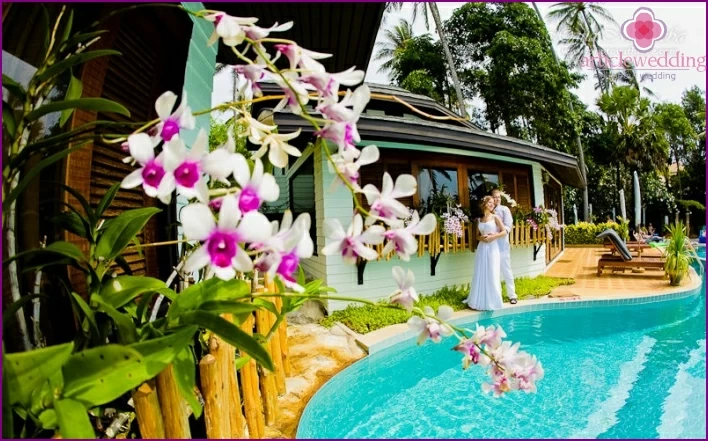 1. A European-style beach wedding ceremony on one of the country's islands will cost you around $ 850 per couple. The following items will be included here:
Comfortable transfer of the bride and groom from the hotel to the venue of the wedding ceremony.
Wedding bouquet for the bride.
Beautiful garlands with fresh exotic flowers.
Directly beach ceremony to beautiful music.
Wedding photo session with a professional photographer.
Russian-Thai coordinator.
Ceremonies.
Arch with flowers, petal salute, a bottle of chilled champagne, fruits.
Symbolic certificate confirming the holding of such a wedding ceremony.
Carrier with pre-made wedding photo frames.
2. A budget version of the ceremony on the island of Pattaya in a Buddhist temple, the approximate cost of which will be about $ 400 per couple. This includes:
Comfortable transfer of the bride and groom to the venue of the wedding ceremony.
Wedding bouquet for the bride.
Beautiful garlands with fresh exotic flowers.
Wedding ceremony with the best Thai traditions (in the temple).
Gifts to local monks.
Wedding photo session inside the temple.
Russian-Thai coordinator.
Symbolic certificate confirming the wedding ceremony.
Carrier with pre-made wedding photo frames.
3. Mixed Thai wedding ceremony on the beach and with a ceremony in the temple. Cost - $ 1150. What is included:
Comfortable transfer of the bride and groom to the venue of the wedding ceremony.
Wedding bouquet for the bride.
Beautiful garlands with fresh exotic flowers.
Buddhist blessing on marriage with ceremony.
European Beach Wedding Ceremony.
Arch with flowers, petal fireworks, a bottle of cool champagne, fruits.
Russian-Thai coordinator.
Ceremonies.
Symbolic certificate confirming the symbolic wedding ceremony.
Carrier with pre-made wedding photo frames.
4. Thai wedding ceremony «All inclusive» on one of the islands of the kingdom. The approximate cost per pair is $ 1700. This includes:
This includes items that are included in the mixed Thai wedding ceremony on the beach and in the temple..
Comfortable full day transfer.
Arch of fresh flowers with a choice of colors for decoration.
Stylist for creating a wedding image: makeup, hairstyle.
All-day wedding photo shoot.
Shooting a professional video clip that will last from 4 to 6 minutes.
Symbolic certificate confirming the wedding ceremony.
Media with ready-made wedding photo frames and clip.
Formal ceremony cost
It is possible to officially sign in Thailand, but it takes a lot of time and money, unlike other countries that are members of the Hague Convention. You will have to visit many instances to officially register marriage in the kingdom. And this must be done through consular legalization so that the union is valid both in Thai territory and in Russia.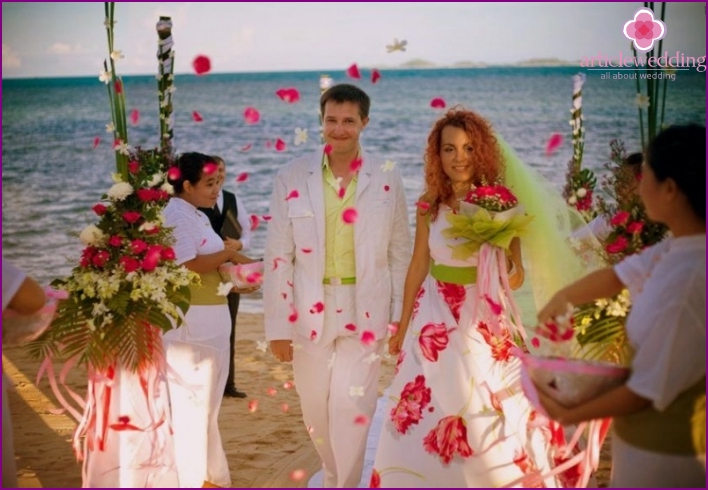 This means that the documents will need to be legalized with the help of the official bodies of both countries: first you legalize them in the Department of Consular Affairs of the Thai Foreign Ministry, and only then the procedure is duplicated, referring to the Consular Section of the Embassy of the Russian Federation in the territory of the Thai kingdom. All this will cost you about $ 200-300, if you make out yourself. You can also ask for help from tour operators who will provide their prices for additional services..
Video: wedding ceremony for two in Thailand
Thailand is a country of exotic romance, worthy to hold a wedding ceremony and a honeymoon there. There are many ideas and options for how it is possible to have an unforgettable wedding celebration in this amazing country. Focus on your own budget and preferences. And to see in practice how your ideal Thai wedding can be organized, watch the video below. Here you can learn a lot of interesting things for yourself and get a lot of positive emotions..
Photos of weddings held in Thailand
To understand in what style and place you want to have your own wedding, you need to be inspired by the proposed options, dream a little and dream up. Therefore, the photos below will help you determine your own wedding idea, desires and aspirations about this. See the color of local landscapes in the water, under water, the beauty of the environment to tune in the necessary mood of the wedding ceremony in Thailand.