Contents
---
---
If music is your hobby or work, why not organize a music-style wedding? This theme gives great scope for the manifestation of fantasy. Decorate the ceremony in accordance with the chosen genre, and it can be classics, rock, pop music, country and others. A musical wedding can be performed in various colors, and the main decorative elements here will be all kinds of musical instruments, notes, discs and vinyl records..
Creative Music Wedding Scenario
Often, newlyweds are entrusted to wedding agencies to prepare and hold a wedding celebration, since it is much more difficult to arrange a thematic holiday than a traditional standard wedding. However, if the difficulties do not scare you, you are ready to spend a lot of effort and time on creating your own celebration, then you should try to organize it yourself. Newlyweds need to consider that the financial costs of preparing a stylized wedding far exceed the costs of a standard ceremony.
If you decide to organize a bright and fun style wedding «rock-and-roll», then you will need such attributes: a chic ballroom, disco ball, stage and pink Cadillac (as in the days of Presley). However, the main emphasis should be on the music itself, and not on its attributes, which means that it is worth making a large high-quality selection that will be played during the celebration.
Warn guests with the help of invitation cards that there is not a simple wedding, but a musical wedding, which means that they should come in dresses of the appropriate style. Since the holiday has a theme «rock'n'roll», then short skirts, bright shirts, pipe trousers, massive shiny jewelry will be suitable suits for guests. Makeup for the female half of the guests should be rich and catchy, men should make hairstyles in the style of the king of rock and roll - with bangs combed back.
An ideal candidate for the role of a toastmaster will be the host who knows how to transform, who can spend the holiday in the role of Elvis Presley himself. For a show program, order a dance team that has rooms in the chosen style. To be inspired by new ideas, future husband and wife can together review the motion picture «Dudes», which displays the atmosphere of those times. Perhaps the film will prompt you to new ideas and tell you how to realize them at your own celebration.
Images of the newlyweds at a wedding in a musical style
Musical wedding ceremony involves the dressing of the bride and groom in original outfits. Even if the traditional white color is chosen for the young dress, it should be supplemented with a bright accessory or, if classical music serves as the basis for the celebration, leave the image tender. For this, the bride can choose a lace white dress with a train, and make a bouquet of daisies and red roses. An original solution will be flowers made from music paper, which organically fit into the concept of a wedding.
The groom should refrain from black and put on a suit of cold shades: white, blue, gray-blue. It is possible to support the theme of the wedding with stylish accessories, for example, a butterfly or tie with the image of a treble clef, cufflinks in the shape of a guitar, an original boutonniere in the form of a paper flower to match «musical» a bouquet of the bride. By the way, accessories and shoes of the bride can also be designed in a musical style..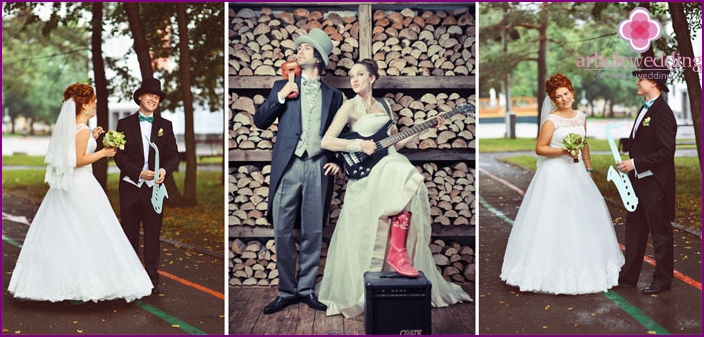 Ideas for decorating a musical wedding - photo
Making a holiday in a musical style is an ideal option for music-loving and creative couples. You can be inspired by any manifestations of this topic: review famous musicals, clips of your favorite artists, select tunes that will be recorded on gift disks for guests. «Musical» the decorations will be a garland of hearts cut out of musical notation, a menu in a box from CD-ROMs, invitations with the image of your favorite artists, instruments or their layouts as elements of the decor of the hall. Moreover, all these jewelry is not difficult to do with your own hands..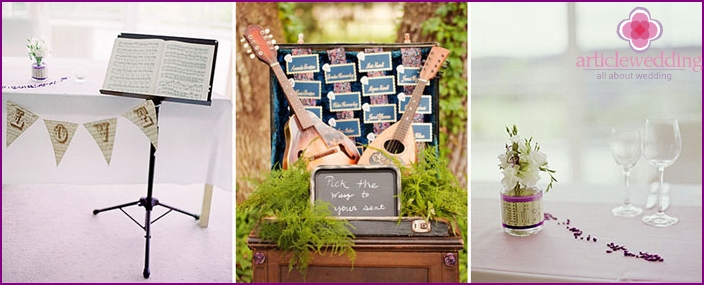 Banquet room decor
On the tables, place bouquets of fresh flowers, musical consoles with cute type inscriptions «Happy together», decorated bonbonnieres for guests «musical» pictures. Print a menu on sheet music, and printed numbers of instrumental groups will serve as numbers for tables. Cardboard mockups of music discs perfectly replace standard cup holders at a themed wedding.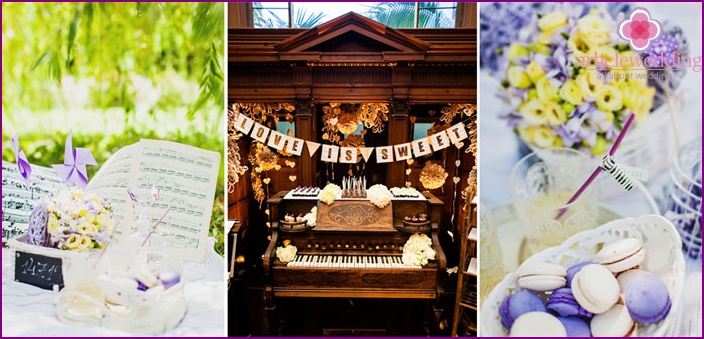 Decoration of holiday tables
In the design of the festive table, the newlyweds should use «musical» decor items: plates with the names of guests, seating cards printed on sheet music. Instead of a plain tablecloth, you can choose a celebration suitable for the theme - decorated with a stave, or with your own hand embroidered around the edges notes from your favorite melody (or the famous Mendelssohn march). Do not forget to place flowerpots on the tables, which can also be glued with music paper..
Musical Themed Wedding Accessories
To pack the so-called compliments and make bonbonnieres for guests, you can use a fabric with a musical print. The theme of the holiday allows you to give each guest a CD with a selection of your favorite music. They should be packed in original handmade envelopes. The maximum attention of the invitees will be attracted to the wedding cake, so approach his choice with responsibility and creativity. Dessert must match the style of the celebration, for example, can be decorated with a treble clef, saxophone or grand piano.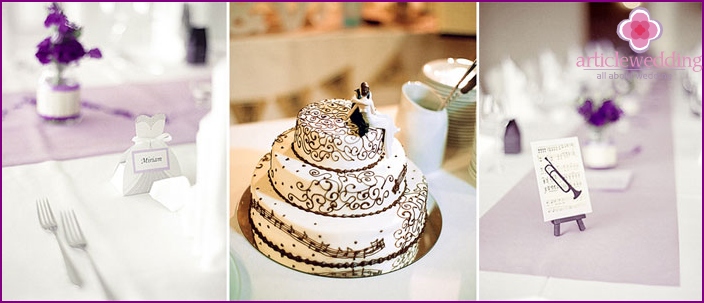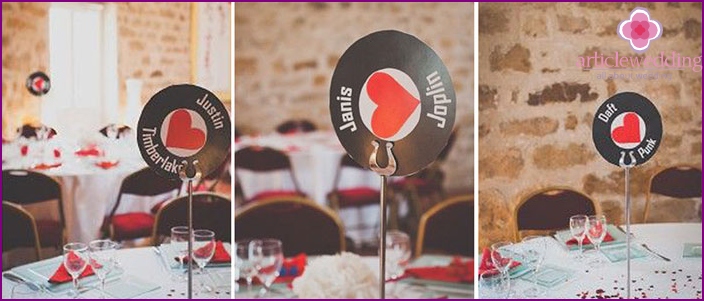 Invitations and guest cards
A musical wedding, like any other, begins with invitation cards. For the chosen subject matter, invitations will be records, discs or standard cards based on music paper. Moreover, the text can be applied directly to the record, in the central circle, which contains information about the songs recorded on it. An alternative would be to put information about the upcoming wedding on the cover of a disc / record.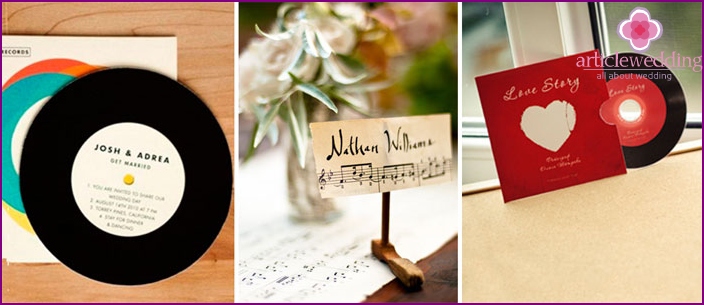 A wish book in the form of a guitar or record
A wish book, decorated with notes, made in the form of a gramophone or guitar, will look unusual. Guests will definitely be surprised if you ask to write sincere wishes on old records. Moreover, it is possible to make both one book for wishes, setting it on a separate table, and a lot, putting the plates under the plate of each guest.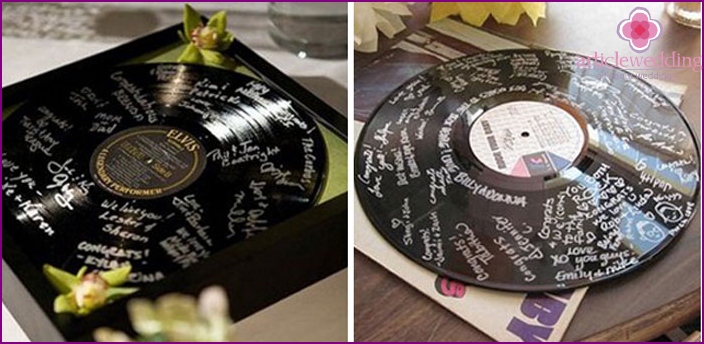 Video: beautiful music wedding
A musical wedding is guaranteed to surprise and impress every guest who came to your holiday, becoming a bright and memorable event in the life of the newlyweds. Even if it was not possible to realize all your ideas, the main thing is that you will invest your soul in the organization of the celebration and arrange the celebration as you personally want. Think over the wedding in detail, and let the music of your love sound for ages. And to strengthen the opinion that such a wedding would be a great holiday option, watch the video.