Contents
---
---
The wedding ceremony is behind, so the main question becomes - where to go for the honeymoon. Often, young people ask this question even before marriage, planning a wedding adventure in advance. This is an exciting, wonderful period when lovers can relax together, surrender completely to each other, forgetting about all domestic worries, indulging in love. To make your honeymoon wonderful, you need to consider several important points: the budget and preferences of the young.
Determine the budget
Wedding celebration is a very expensive and expensive event. Outfits for young people, paying for a banquet, accessories and other little things that would seem to be quite inexpensive, can cause a significant blow to the family budget of the newlyweds. Such cases make you save on a honeymoon, finding a cheaper price. But no matter how much money you are willing to allocate for the trip - you cannot save or cancel your honeymoon - you need to go to relax.
To save a little, as an option, it is possible to go on a vacation «hot package», - it is now common, practiced in all travel agencies. The cost of such tours is usually lower, but you will have to sacrifice some comfort conditions (for example, you need to get together for such a trip as quickly as possible, because you will have to go where there are permits), but you need to choose a hotel with at least 4 stars.
It is also possible to go on a honeymoon to a country where vacation is more budgetary, economical. For example, choose the Philippines or Tunisia instead of Cyprus or Greece. Such a trip will be more economical, but also you will get a lot of pleasure from spending time and a lot of unforgettable feelings.
If your family budget is special «Suffered» after a wedding banquet, it would be nice to go on a tour or visit one of the cities of immense Russia. Some in vain believe that a decent and interesting vacation is possible only outside the country. Sometimes, a trip to another city in your homeland can give positive impressions and emotions. Contact your local travel agency, there you will find the best tour, you will understand that not only a foreign resort can be fun.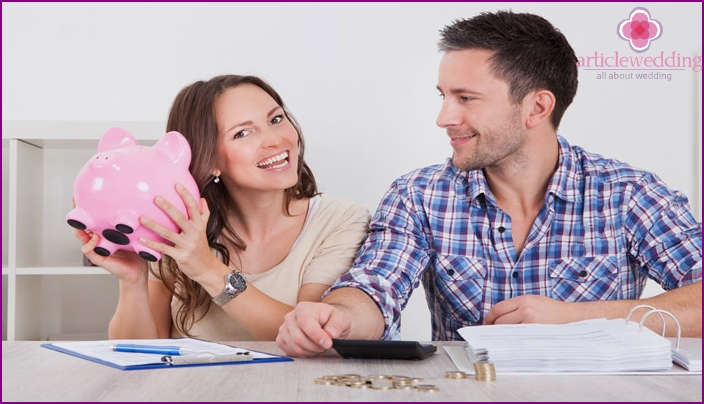 Where to go on a honeymoon in July
Having played a wedding in the summer, planning a honeymoon trip for July, it is important to choose the right country, where to go, where the period is now a favorable climate conducive to quality rest. When choosing a trip in the summer, it is worth considering the time so as not to fall on the rainy season, or vice versa for the period when the thermometer can rise above 40 degrees. And also the choice of where to go depends on the preferences of the young ones - rest on the ocean, sea or travel to the mountains. For the July honeymoon, European countries with access to the sea are perfect. For example, Montenegro, Bulgaria, Croatia, Italy, France, Greece. Of the more exotic options, consider the Maldives, Canaries, Dominican Republic, Mexico..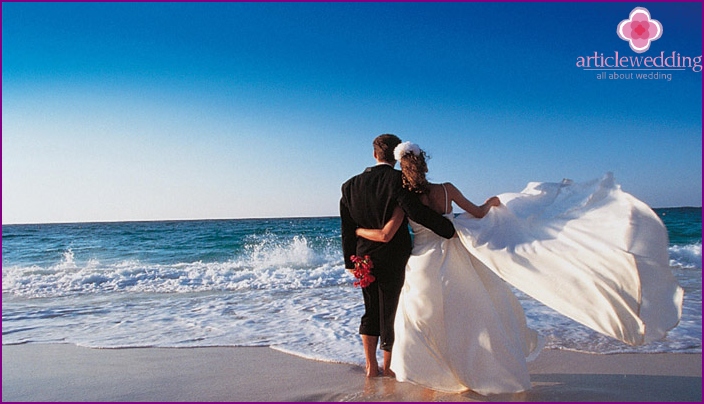 As you can see, the choice is simply gorgeous, it all depends on your preferences, the desire to visit a particular place, on the allocated budget.
Visa-free countries
An important factor for a honeymoon abroad is paperwork, which takes a lot of time, and sometimes nerves. It is possible to entrust the preparation of documents to a travel agency, but you should be careful and carefully consider the choice of agency in order not to fall into the hands of scammers. To ease the worries with documents, it is worth choosing a trip to a country where a visa is not required. It will be faster, much easier. Such states, for example, include: Brazil, Vietnam, Turkey, Philippines, Georgia, Thailand. Or choose a country where a visa is placed at the border (Egypt, Cyprus, Sri Lanka). For more information on visas, you can look at the photo.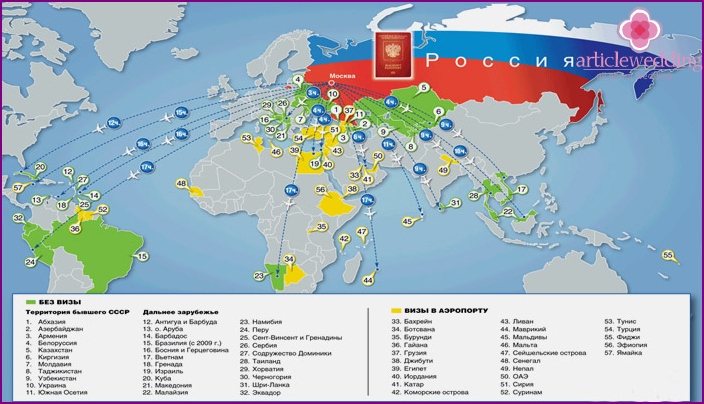 Seasonality
Choosing a wedding date, young people rarely think about where they will go on their honeymoon, and everyone dreams of a honeymoon spent in comfort. Therefore, a number of questions often arise, where to go, which country to prefer, so that the rest is as comfortable as possible. If the solemn event was not a summer period, then there will be no problems choosing a place to travel. Everybody is here «the door» open, the question remains with the preferences of the young. As an option, it is possible to choose a tour of Europe or a vacation on the coast of European countries. Great for this time of year is a trip to Thailand, Malaysia, the United States or perhaps soak up the beaches of the Atlantic. For a honeymoon in the fall, Italy, France, Greece are perfect. Regarding November, it is possible to visit Egypt, Japan. Where to go in the winter? In winter, an excellent vacation will turn out in the Maldives, Seychelles. For lovers of ski resorts, Ukraine (Carpathians), Switzerland, Andorra are perfect.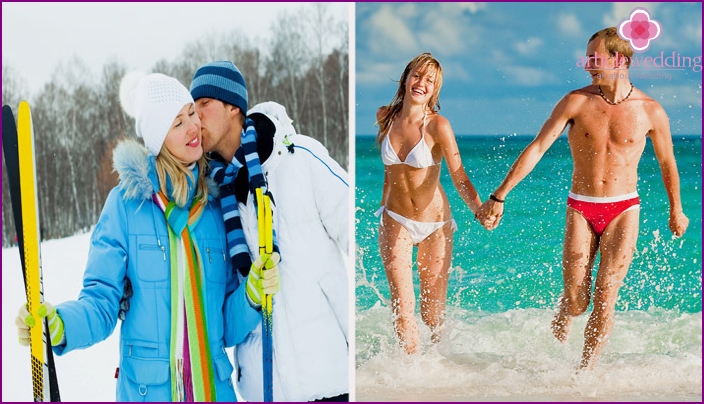 Europe
A wonderful honeymoon trip will be a tour of European countries. Excellent architecture - castles, palaces, various museums, colorful nature - will give you true moments of pleasure and enjoyment.
Where it is possible to go on a honeymoon in Europe:
France. Paris is the city of lovers. Here, the air is saturated with romance, because walks through romantic streets and contemplation of historical sights of indescribable beauty will surely not leave anyone indifferent, it will give you the opportunity to plunge into love.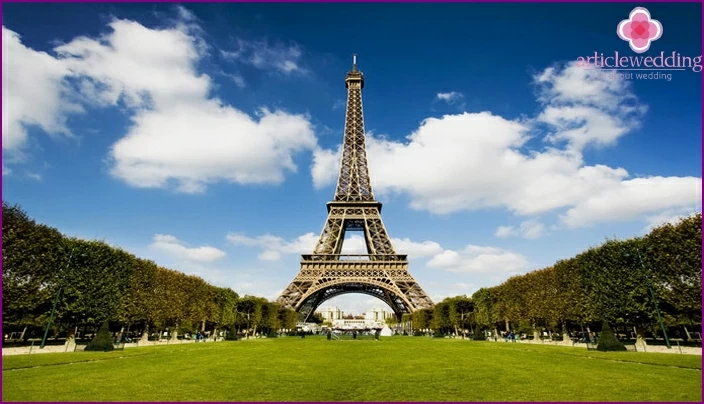 Italy is a classic that never goes out of style. Small streets, gondola walks in fabulous Venice, historical Rome with its charms - what could be more romantic and fabulous? • Switzerland is a great resort where lovers of skiing adventures are good to go. But besides skis, you will be pleasantly surprised by chic parks, fountains and cozy cafes, where a romantic atmosphere hovers.
Greece is a country for those who want to soak up the white sand under the scorching rays of the sun and plunge into the warm sea or swim on the boat. The picturesque nature will not leave anyone indifferent.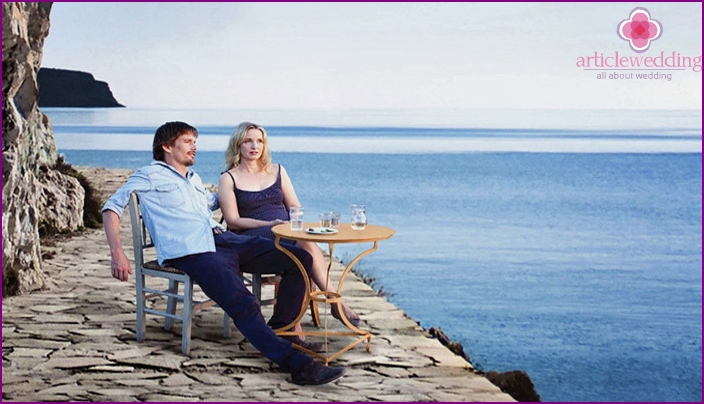 In Europe, many countries, cities that are filled with romance. They will make your honeymoon unique and unforgettable. It is also possible as a trip to choose a tour of European cities. And having hired a guide who will conduct excursions, you will not only get an exciting adventure, but also learn a lot. The travel agency will provide you with a route that you will follow. Such a trip, as a rule, does not require a flight, but takes place in a comfortable bus, but still tiring.
Asia
Asian countries are also diverse with many chic holiday destinations that will give you a wonderful vacation..
India. Where to go in India? For example, Kerala will give you the opportunity to enjoy the chic beaches, lakes and bays. Unusual landscape, houseboats - a small fraction of what you have to see. But you certainly won't be disappointed with such a vacation..
Japan. Newlyweds who prefer a stormy rhythm of megacities to a calm, measured vacation on the beach, we recommend visiting Tokyo and Osaka. Excellent architecture, new equipment and electronics - if you like it, then relaxing here is a great option for you.
Japan. Tibet is a great place for a honeymoon, if you want to remember the story, enjoy the contemplation of Buddhist temples, the unusual beauties of nature.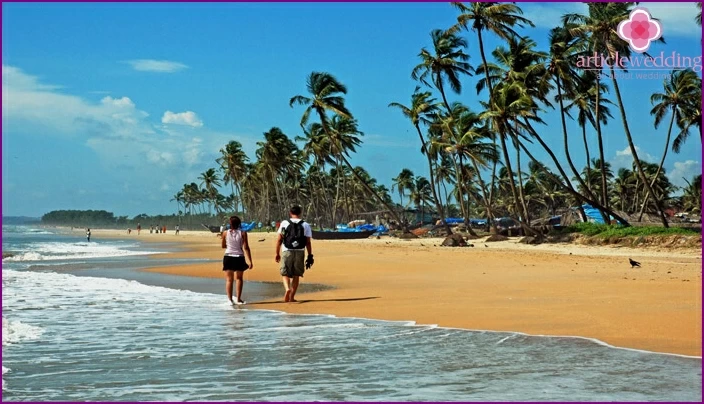 USA
A honeymoon in America will also bring a lot of emotions and impressions. What is only a visit to Las Vegas, New York or San Francisco. If you want to spend a vacation on the beach - Miami - that's it. Huge beaches where it is quite possible to meet one of the celebrities. A good option - the Hawaiian Islands - an ideal place for true romantics.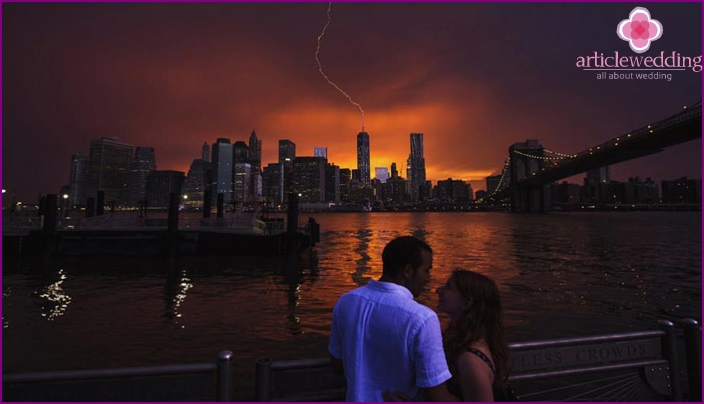 The most popular destinations in TOP 10
Popular countries that are in demand for the honeymoon are the following:
Mahe Island
Hong Kong
Mauritius
Bahamas
Paris
Hawaii
Rome
Tahiti
Palm beach
Fiji
In order to understand why these directions were in the top, we recommend watching the video below:
Choosing where to go on a honeymoon, it is important to make a decision together and remember - the main thing is that you are happy together. If you have already been in the honeymoon and want to share your impressions - leave comments.