Contents
---
---
After a busy period of preparation for the wedding, at the end of the celebration, the newlyweds want to regain their strength, relax and enjoy each other's company. This period is like a romantic holiday for two, designed to be forgotten from all domestic problems. The issue of holding a honeymoon baffles many. Different tastes, preferences, time and money limits set some limits, but under any circumstances there is the opportunity to retire with your loved one for true pleasure and many pleasant experiences.
How to plan and spend a honeymoon?
The period immediately after the wedding, which the newlyweds devote to themselves, indulging in sweet feelings, is usually called the honeymoon. There is a belief that such a name came from an old custom in Russia. During the wedding, the newlyweds were given a 10 kilogram barrel of honey, emptying which, in the first month after the wedding, the couple gained health and strength to conceive a child.
The meaning of the honeymoon is the solitude of lovers, which is so lacking in the modern dynamic world. It can be a trip to the countryside, travel, vacation at sea, a tour or something else. The right choice of vacation spot directly affects the mood of the newlyweds. It is necessary to treat him responsibly so that the chosen type of rest brings both pleasure.
The organization of the honeymoon should begin with the preparations for the wedding, as often this takes a long time. Traveling abroad requires a passport; good hotels require advance reservations. When approaching the wedding date, the newlyweds may not have enough time to choose a vacation spot. To avoid unpleasant situations when organizing a honeymoon, you need to follow simple rules:
Plan your budget in advance. Calculate the amount that can be allocated for a honeymoon. If there are not enough funds, think over a plan on how to save them for the remaining period. With a critical lack of funds, consider a small loan option. It may seem to some that a honeymoon is a waste of money, but with the advent of children, there will not be enough time for traveling and solitude with your husband or wife in the hustle and bustle of everyday life. Enjoy each other while you have the opportunity.
Decide how to organize your honeymoon. Based on the available amount of money and preferences, decide how your vacation will proceed. Fans of travel need to choose the city or country to visit, fans of extreme sports - find the right route. To ensure a comfortable passive rest, reserve a place by the sea. Find an idea that suits both couples to enjoy each other's company.
Consider the possibility of using the services of agencies, find out about hot tours, consult about a place for a honeymoon, based on the time of year.
Put in order the necessary documents.
Learn more about the place where you are going to go: climate, language, customs. This will save you from a lot of misunderstandings..
Solitude Honeymoon
Having a honeymoon with a soul mate alone is a tempting idea for all newlyweds. On many islands of the Maldives, Seychelles, guests are offered to live in separate bungalows with their own access to the beach. Once, Angelina Jolie and Brad Pete paid 200 thousand dollars to retire on one of the Maltese islands on a honeymoon. The star couple asked residents to leave their homes for a while to avoid anxiety during their holidays.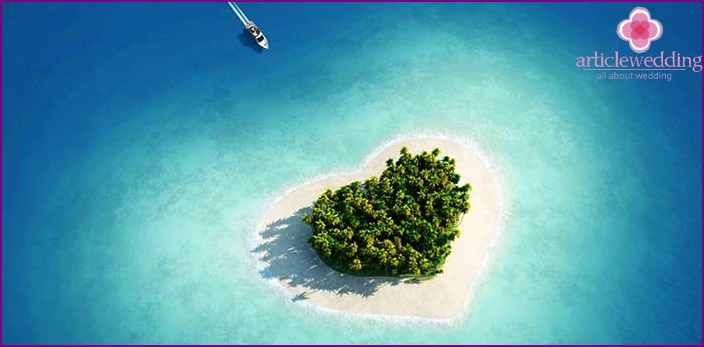 This option is not allowed for everyone, but you can leave for a while in a neighboring city so that none of your acquaintances, friends, relatives will distract you from each other. You can spend your honeymoon by renting a cottage in the forest, where there is not a soul. There, your young family will be able to fully enjoy the harmony of their own love, returning with a baggage of pleasant impressions from the rest. Rent a house in one of the small cities of France and Italy. The tour operator will tell you a quiet area where you can retire.
Extreme Test
There are people who do not like passive rest. Fans of extreme sensations prefer to receive a dose of adrenaline in the blood. By this they break all the stereotypes that the honeymoon should be calm. Entertainment can be diving, skiing and snowboarding in the mountains, horseback riding, most importantly, for both newlyweds it was to their liking. Any of these extreme situations will allow the bride and groom to be closer to each other, to get a positive impression of an active pastime..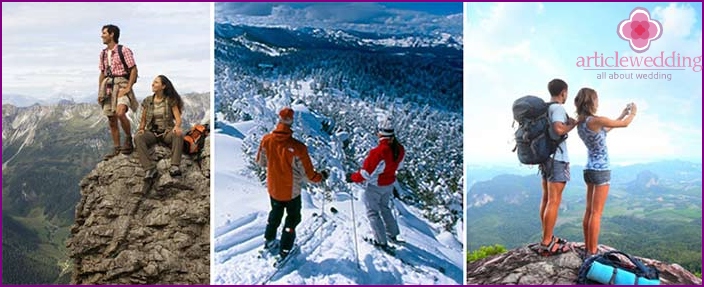 On a honeymoon, traveling to the mountains is very popular. The newlyweds will have to go a long way along the paths, they will bathe in clean mountain rivers, spend the night in open air tents, cook food at the stake. For amateurs, this is difficult, so such tours are often group and accompanied by an instructor. Such an unusual vacation becomes a bright event that the newlyweds will remember for a lifetime.
You can spend your honeymoon with extreme sports and on a regular trip. If your couple decided to spend time on one of the beautiful islands by the sea, try to dive under water, go diving. The beauty of the underwater world, its inhabitants will make an unforgettable experience. Many newlyweds are not limited to swimming underwater with scuba diving, but repeat their wedding vows at the bottom of the sea. Coral reefs, exotic fish become witnesses and guests of the ceremony, and you can celebrate the event with a glass of champagne on board the yacht.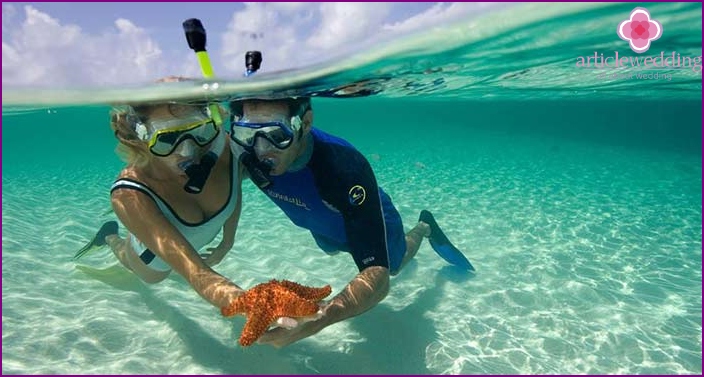 For a honeymoon, there are many other, not without extreme, events. The resorts offer parasailing services. Newlyweds, for whom the adrenaline from such events is not enough, can jump with a parachute. Contemplating the earth in free fall from a bird's eye view is an unusual way of introducing diversity on a honeymoon, which will leave an unforgettable experience.
Go on a honeymoon
The choice of place, country, where you would like to celebrate marriage, based on your feelings. The honeymoon on the islands is full of heavenly bliss and enjoyment. Beautiful landscapes, the sea, nature, exotic fruits, ethnic food will immerse you in the world of another civilization. Here life flows quietly and measuredly. Resorts Fiji, Bahamas, Maldives are popular among newlyweds. Sun-drenched beaches and a loved one nearby - a popular choice of romantics.
A good option for a honeymoon trip is a vacation in Asian countries, which attract many tourists with their originality. You will get an extraordinary experience from Vietnam, attracting a culture that is based on four world religions. Fine exotic cuisine, traditional silk painting, a high level of service in Thailand will immerse you in another world. India will captivate with its traditions and rites. Buddhist temples, rickshaw rides or sleepless nights at discos in Goa will win your heart forever, making your honeymoon unique.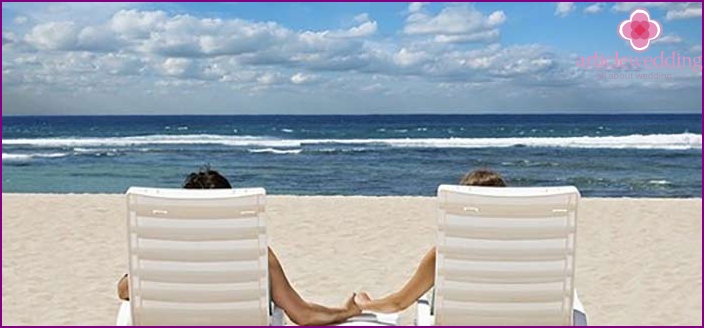 European countries are famous for their cities. Such a trip is suitable for measured relaxation away from home. Honeymoon in Paris - the city of lovers, inspiring crazy actions and declarations of love, what could be more romantic? Venice is a city on the water, with cozy streets, which everyone should visit. Greece, a country with high-level hotels, attracts newlyweds with art monuments and historical places. The most romantic city in Russia - St. Petersburg is famous for its sliding bridges, beautiful facades of houses and delightful white nights.
Honeymoon at home
This is an option for those who want, first of all, to be with their loved one or who, due to the circumstances, have not been able to take a vacation and go on a trip. Having decided to stay at home on their honeymoon, the newlyweds should pamper each other with romantic actions: make small surprises, have breakfast in bed, arrange dates, spend the evening watching their favorite movie. The main thing is to retire from the outside world, to plunge into a complete euphoria of feelings. Pay maximum time to your soulmate. Turn off your phones so you don't be bothered.

How to spend a cheap honeymoon?
A honeymoon is a vacation you should not save on. So many newlyweds think so, since it should be unforgettable. Even in the most democratic pastime, the newlyweds try to get the maximum of impressions and pleasure, but there are ways thanks to which you can also relax for a little less money:
Book in advance. Knowing the exact date of the start of the honeymoon, it is better to choose a suitable number, location, buy tickets in advance to save significantly.
Take an interest in having «honeymoon package». Within its framework, hotels offer more comfortable and romantic leisure - discounts in SPA, room decoration with flowers, free small photo session.
During your honeymoon, always emphasize that you are newlyweds. In many restaurants, on excursions for newlyweds discounts or gifts are provided..
Consider the option of travel not in the midst of the tourist season, but in the off-season. So you get a good rest, but for less money.
Honeymoon Photoshoot
Getting romantic photos reminiscent of a journey and a month full of love is an opportunity to keep your impressions forever. Lovers newlyweds on the background of sea sunset, without makeup and guests - this is true beauty and romance. Think through the themes and outfits before the start of the honeymoon. Looks casual clothing for relaxation, which will emphasize the figure. Girls can decorate their hair with a tropical flower. Capture your feelings during your honeymoon in the pictures to preserve memories of an unforgettable vacation.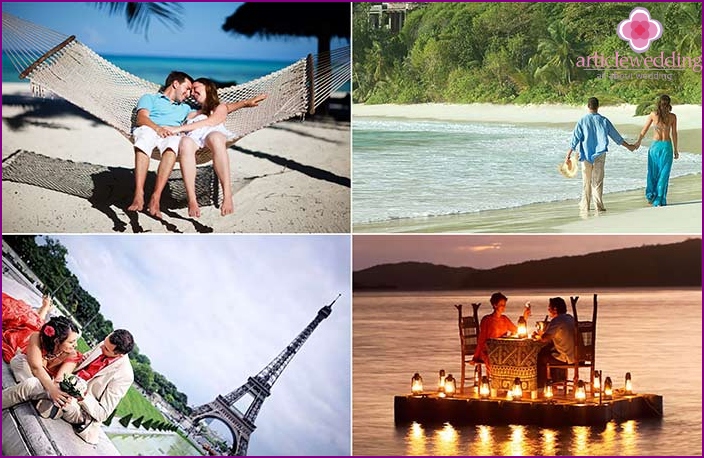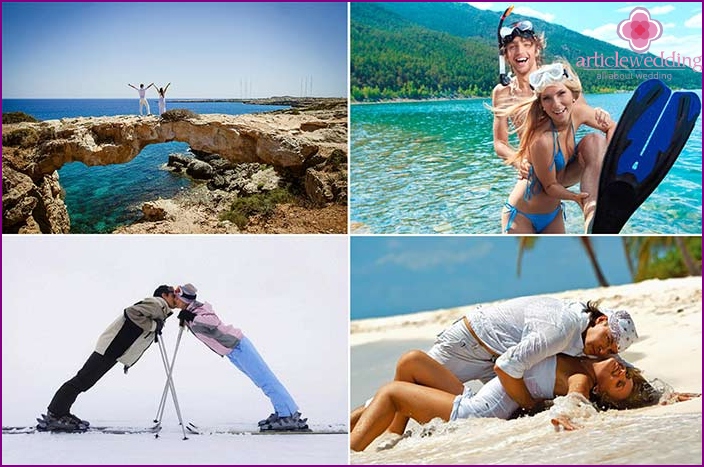 When choosing a venue for a honeymoon, your eyes widen on the number of tours offered in many countries. After watching the video below, you can make a decision without much thought. It presents the most beautiful and romantic places on the planet, which are ideal for an unforgettable vacation called «Honeymoon».