Contents
---
---
After the wedding, the most romantic time comes - the honeymoon. The best time for honeymooners to travel abroad is at the end of spring. If you decide to spend your honeymoon at this time, then you are right. In May, many resorts already had good weather, the gentle sun warmed up the water, it is still not hot for visiting excursions, and the prices are kept at the level «low season».
May Vacation Features
The honeymoon is designed to restore strength after exhausting preparations for the wedding and is a romantic tradition that allows newlyweds to be alone. Honeymoon trips in May are full of vivid impressions. But it is worth considering that in many places the rainy season is already beginning, and in some places the snow has not yet fallen. When choosing a place to travel, get acquainted with the peculiarity of its climate.
When packing, keep in mind that the spring weather in Europe is changeable. There is a chance to get under heavy rains or large temperature differences: it is cold in the morning and hot in the afternoon. This factor should be the key when creating a wardrobe for travel in May. Going to hot countries, wanting to enjoy the sun and get a chocolate tan, remember that the skin is not prepared for the scorching sun. Stock up on protective equipment to help prevent burns..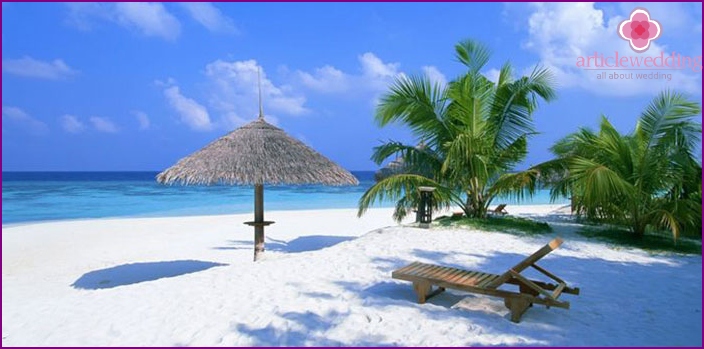 Where to go on a honeymoon
Choosing a place for a wedding vacation in the last spring month of May, you may face a dilemma. On the one hand, the whole world will be open before you, and the time of year will make it possible to visit most places on the planet. On the other hand, because of the great variety, it will be difficult to choose the appropriate option. The best solution would be to visit a country where both newlyweds dreamed of.
An important factor when planning a honeymoon for the month of May is determining the type of vacation. If one of the newlyweds prefers outdoor activities or excursions, and the second likes to bask on the beach by the sea, it is worthwhile to find a compromise solution and choose something in between. For example, a tour where you can combine active and passive rest. In this case, rest during the honeymoon will bring joy to both.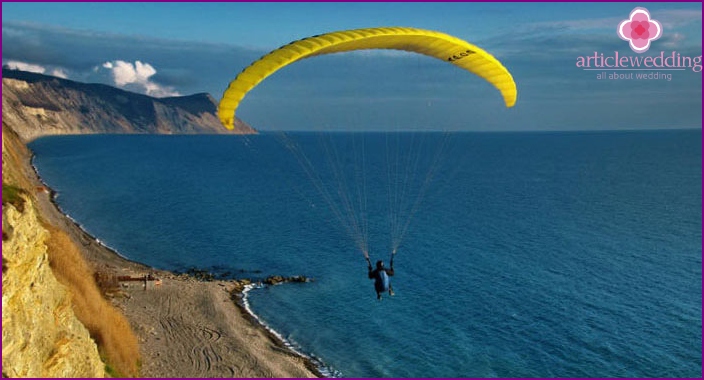 If you are a fan of exotic holidays on the islands, then you can spend a honeymoon in May in Hawaii, Fiji, Jamaica, Crete, Cyprus, Sardinia. They are created for a fabulous vacation: comfortable air temperature in May, well-groomed beaches, delicious fruits, reasonable cost of a trip to these islands. Fans of historical sights, cultural monuments should choose a honeymoon to Europe and organize a tour in May so that during the honeymoon they can visit several countries at once.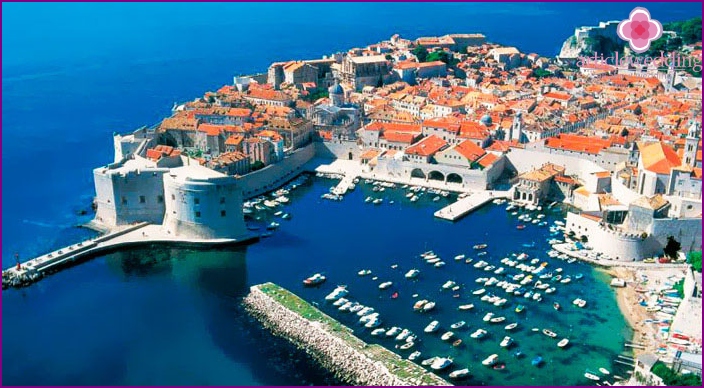 France
If you want to spend your honeymoon in France, it is best to do it in May. Warm days and a small number of tourists will make it extraordinary. Such a vacation is ideal for romantics. The territory of France is strewn with ancient castles, where there is the opportunity to take stunning photographs. You can taste French wines, see the most picturesque region of the country - Provence, visit Cannes, Nice, St. Tropez. It will make your post-wedding month unforgettable..
Paris is the city of lovers. When visiting France, the newlyweds just need to get to the capital. Photos on the background of the Eiffel Tower, a walk and a picnic on the Champs Elysees, a trip on the ship along the Seine, a visit to the Arc de Triomphe, the Louvre and Notre Dame Cathedral - all this will remain in your memory for a long time and will leave an indelible impression. Every corner of Paris has its own unique charm, you can see for yourself.

Italy
You will spend an unforgettable honeymoon if you travel to Italy in May. This is a holiday for honeymooners who love archeology, history and ancient architecture. In May, there are few tourists, so you will not need to stand in lines to visit an exhibition or a museum. An interesting program for the newlyweds will be a romantic voyage together on a gondola along the canals of Venice, wine tasting, a visit to the ancient Coliseum, St. Peter's Basilica, and the quaint villages of Sardinia. Wherever you go, you will have only positive emotions about this country.

Turkey
The Black Sea of ​​Turkey is still cold in spring, so take tours to the country's Mediterranean coast. In May, the air temperature here reaches 25 ° C. This country has a centuries-old culture. A visit to the Hagia Sophia, the Temple of Artemis, the ancient city of Phaselis and other attractions will fill you with positive emotions, you will feel involved in history. Hundreds of beaches, a quiet blue sea, hotels with fantastic food and drinks will help you spend an unforgettable vacation in May. Hospitable Turkey will please you with low prices and excellent service.

Morocco
The African country of Morocco is located on the border of the green mountains of the continent and the desert. The weather in May is not as hot as in summer. Golden beaches stretching along the Atlantic coast, a comfortable temperature not exceeding 28 ° C - this is what made this country popular among Europeans. The water in May is warmed up to 19 ° C, but even without bathing there is something to do. Camel trips to the dunes will be unforgettable for the newlyweds. Fans of history and architecture will enjoy tours to the lost desert cities located at the foot of the mountains..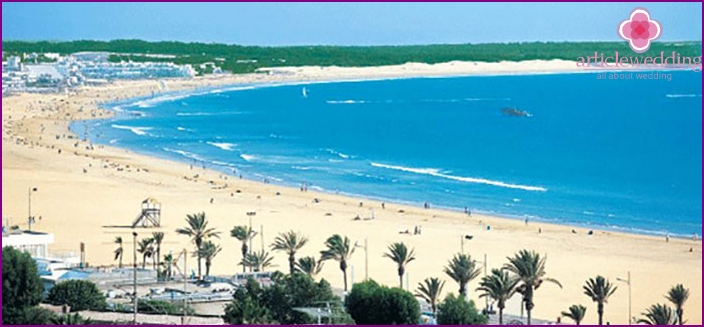 Cyprus island
A honeymoon on the Mediterranean island of Cyprus will give the newlyweds a bewitching nature, beautiful weather throughout May and warm water, a comfortable stay will be provided. Tourists are offered excursions on yachts, wine tasting tours, bike rides in the romantic corners of the island. Popular resorts for honeymoon trips in May are Ay-Napa, Limassol, Larnaca, Paphos. When planning a trip, consider the different nature of the entertainment in these cities. Some are famous for discos and parties, others are designed for families.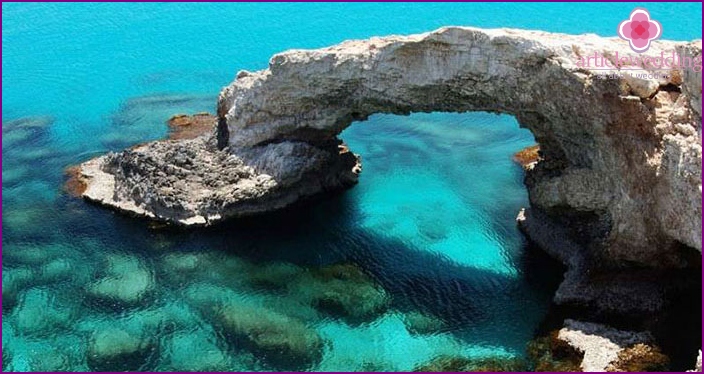 Thailand
If you are a fan of windsurfing, the May waves of Thailand will appeal to you. Ocean riots and tropical showers in May fall on the island of Phuket. Extreme is not your style? Then spend your honeymoon on the east coast of Malacca, in the Pattaya area. In May, the flow of tourists in Thailand is small, so you will be pleased with the prices for excursions and hotel accommodations, the opportunity to enjoy solitude surrounded by gorgeous natural landscapes. Use the month for a beach holiday, photo shoots, shopping and local culture.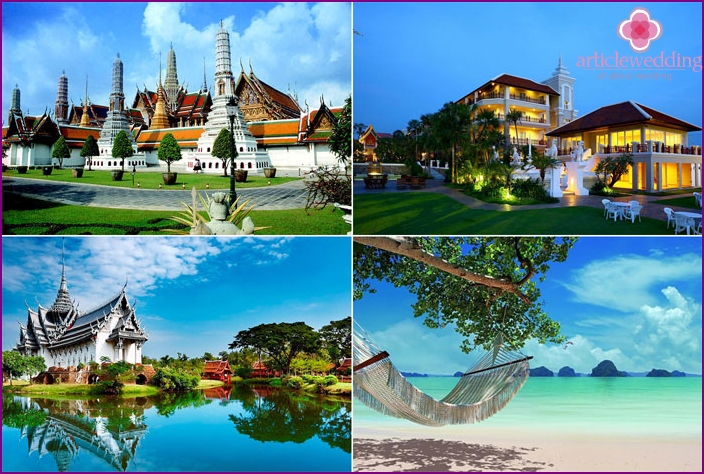 Where to spend a cheap honeymoon
With a limited budget for a honeymoon, the newlyweds face the question of where to spend a honeymoon for relatively little money. You should not consider exotic islands; instead, give preference to Turkey or Egypt. Hotels in these countries offer excellent food, well-groomed beaches, interesting excursions, entertainment for every taste and a complete lack of worries.
Going on a European trip in the month of May, you can also save. For example, living in Paris costs 150 euros per room, which few can afford. Going to the French town of Bordeaux, which is rightly called «little Paris», You will find accommodation much cheaper. In Italy, it's easy to save money by spending a honeymoon in Naples, on the islands of Capri and Ischia, where the cost of living is low.
Plan your route yourself - this is another way to save. The moment is debatable, since you will have to spend more time and effort on organizing such a vacation than when ordering a tour through a travel agency. But there is another plus - in addition to the low cost of the trip, you will have the opportunity to go on a non-standard route, visiting amazing places that travel agencies do not offer.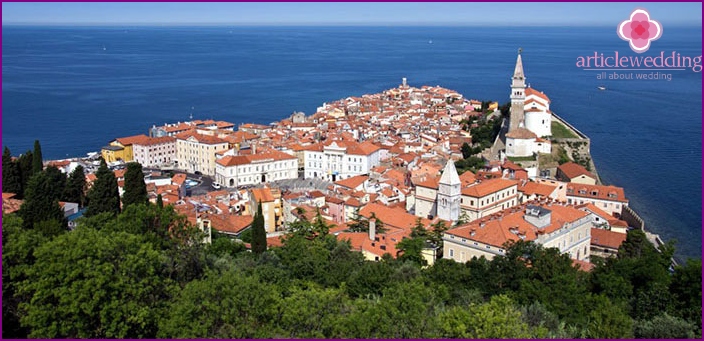 Booking airline tickets and hotels in advance will also help you reduce the cost of travel. This is not always convenient, because you need to plan your honeymoon in advance. But if, in addition, you start monitoring the May discounts on the tours you are interested in, this will help reduce costs. For example, at a reduced price in May, they often sell trips to Greece.
What to do on a honeymoon for newlyweds
In addition to visiting attractions, newlyweds need to remember that the main purpose of a honeymoon is solitude and enjoyment of love. To do this, pamper your sweetheart with cute romantic deeds, even if insignificant. For example, bring her breakfast to bed, take a bath together, or arrange a surprise date: intrigue and spontaneity will add spice to the relationship.
What a honeymoon is in May
Spring renewal of nature inspires many couples to hold weddings. Some newlyweds prefer to go on a trip immediately after the wedding ceremony in May, while others specifically plan a honeymoon for this time. When planning a honeymoon for the month of May, a young couple gets a number of advantages compared to other periods:
The flowering of most plants and trees will give aesthetic pleasure and beautiful photos..
The soft sun will allow you to freely visit excursions.
The provision of a large number of discounts due to off-season.