Contents
---
---
Honeymoon for newlyweds is the most significant holiday. After troublesome and tiring preparations for the wedding, I want to enjoy a paradise vacation with my half, relax, gain strength, new experiences. The newlyweds immediately face a dilemma, where to go in April? This time presents plenty of travel opportunities..
Features of rest in April
April is a great season for honeymooners. If you are interested in sea holidays, then pay your attention to Tunisia. There at this time of year it is not so hot, the sea is warmed up, you can enjoy the warm waves and the beach. China also offers a wonderful sea vacation. And the centers of Chinese medicine help to improve health, relax after pre-wedding stress. It is very hot in April in Morocco, where the service pleasantly surprises with its proximity to European standards. Comfortable air temperature, water, reasonable prices for hotels in the spring of Tenerife.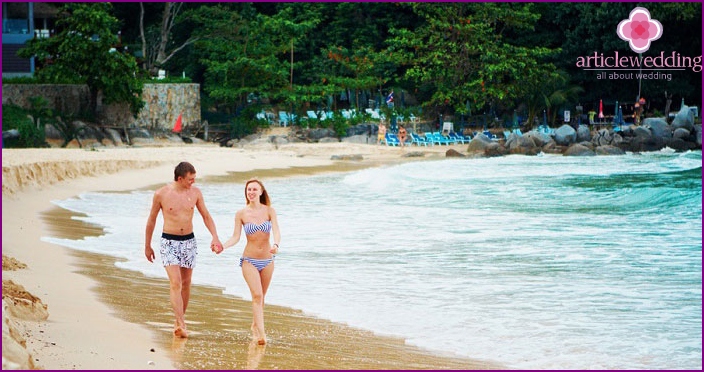 European countries are especially beautiful in April. Pay your attention to Italy, where the landscapes of Tuscany fascinate with its beauty in the spring. April Spain is no less remarkable - blooming nature, almost summer heat, funny parrots. And in France in the spring there is a kite festival that will fill your trip with unforgettable impressions..
April offers a lot of non-standard honeymoon routes. For example, this is the perfect time to travel around Jordan. Beach holidays on the Red Sea will complement trips around Petra, the Wadi Rum desert. The mild spring climate of this amazing country will allow the newlyweds to calmly walk without suffering from the sweltering heat. An unforgettable sight opens in front of a couple in the spring of Japan - in April sakura blossoms.
Where to go on a honeymoon
The most romantic time, honeymoon together, I want to spend in an ideal place. After all, the second double was not given, so there is no right to make a mistake. It is up to you to decide what to choose for your honeymoon. However, remember that the most important condition for a happy holiday is the hand of your beloved man, who tightly grips yours. Together, it's nice to discover wonderful corners of the world. So where to go on a honeymoon?
Paris
France is a stunning Provence, fragrant fields of lavender, the charm of Paris, the Alps mountain ranges, lovely towns in the South, crystal clear mountain lakes, the famous Cote d'Azur. All newlyweds are seduced by the hero-lover Paris! The honeymoon spent in the French capital in April will be remembered for its sophistication, morning air croissants, notes of chanson, the legendary Eiffel Tower, exquisite display cases, expensive convertibles, the romance of Montmartre and the stunning Louvre Museum.



Czech Republic
April gives newlyweds visiting the Czech Republic favorable weather: swirling clouds resembling bunnies and horses, amazing turquoise sky, the warmth of the sun, and rare refreshing rain. In cloudy weather, visit the magnificent museums, and on a sunny day go to the fabulous Czech castles, national parks. On the last day of April, Czechs celebrate Walpurgis Night - a pagan holiday that marks the arrival of spring. In addition, the Czech Republic provides a huge selection of restaurants with excellent cuisine. And Karlovy Vary holds many interesting events.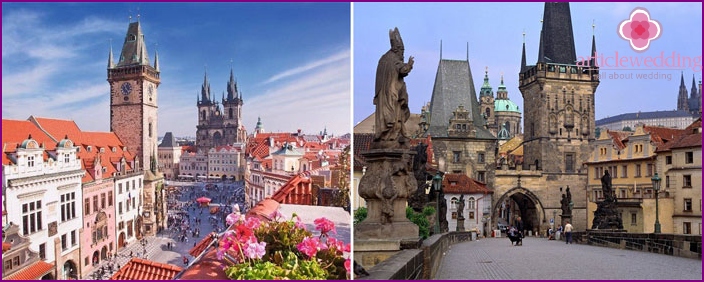 Austria
Austria is famous for its ski resorts. The honeymoon spent here will be a great choice for those who like an interesting, active vacation. You can go high in the mountains, go skiing. Among other interesting places it is worth noting the University of Vienna, opera, St. Stephen's Cathedral. For the sake of enjoying nature during your honeymoon, you should visit the Vienna Forest, where you can lie on the lawns and enjoy the magnificent scenery. The masterpiece on the edge of the forest, Liechtenstein Castle, will fascinate the newlyweds with its uniqueness, grandeur.



Egypt
A great option for a honeymoon - Egypt. April gives the wonderful beauty of the Red Sea, charming nature. Egyptian hotels offer to immerse themselves in the atmosphere of oriental tales. The mysterious world of archaeological treasures, historical monuments will open this country to a young couple. First of all, visit the Cheops Pyramid, which delights in its appearance, size. A large cluster of attractions offers Cairo: medieval Fostat, the amazing Gate of the East, the Egyptian Museum, the famous Citadel of Saladin.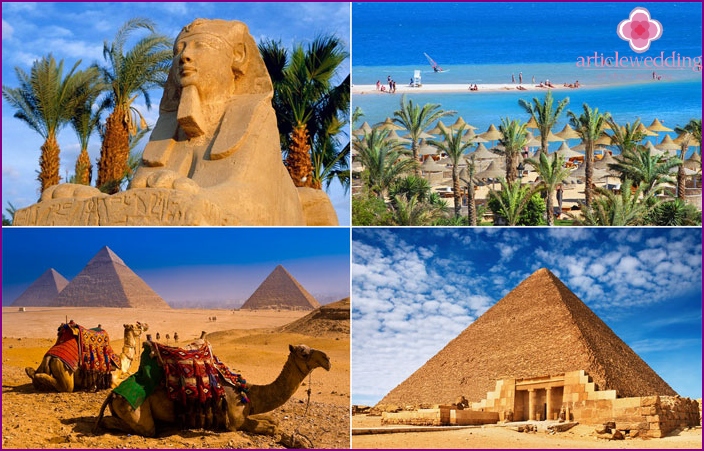 Thailand
Thailand occupies a leading place among exotic countries for Russian travelers due to its excellent service, reasonable prices, wonderful nature, and diverse opportunities. Pagodas, palaces, many ancient temples, the beaches of Pattaya, Samui, Phuket - this attracts many newlyweds during their honeymoon. People of this country are cheerful, friendly, always happy to help travelers.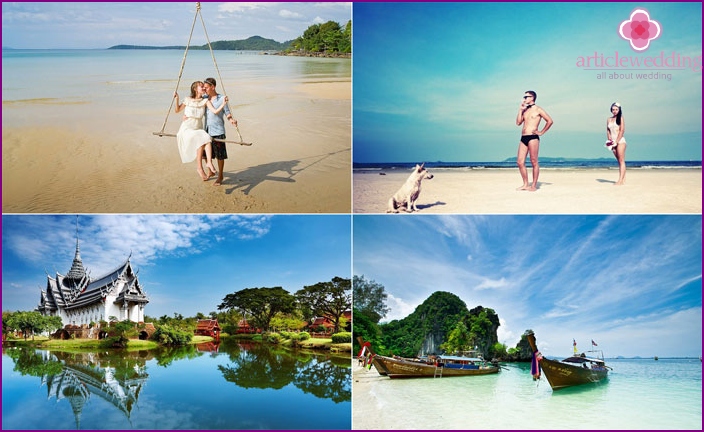 Bali Island
Bali is an excellent honeymoon destination. It is famous for its traditions, culture, hospitality. High quality conditions for a comfortable stay are created here. In Bali you will find beautiful fine sand beaches. Swimming is allowed in any season, but April may be overshadowed by the rainy season. A popular form of recreation on the island is surfing, diving, fishing. Newlyweds will be able to go explore ancient cities, numerous temples, bewitching architecture, take part in safaris, and get healthy in thermal springs.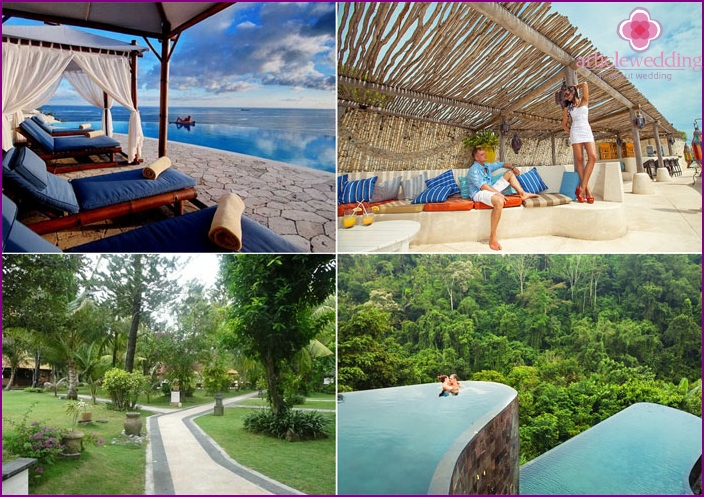 Where to spend a honeymoon is not expensive
The material possibilities of each couple are individual: some couples want to spend a luxurious honeymoon, while someone is content with less. However, newlyweds can spend their holidays in April with a modest budget. It is worth going to another state when it does not experience an influx of tourists. So you will have the opportunity to slowly familiarize yourself with the sights, truly enjoy communicating with each other, away from noisy companies.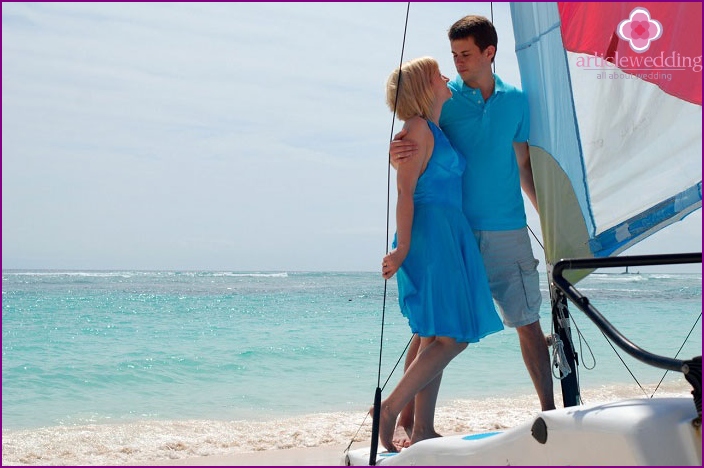 You can spend your honeymoon budget in Turkey - entertainment, beaches, excursions, delicious cuisine will give an unforgettable experience. Another place is Cyprus, where there is always excellent weather, the Cote d'Azur, clean sand, a sea of ​​entertainment. It's not expensive to enjoy the beauty of the mountains; a couple can be quiet in Montenegro, where you will spend a romantic vacation. Honeymoon budget locations include Egypt, Tunisia, Thailand.
What to do on a honeymoon for newlyweds
When the honeymoon is planned, tickets are bought, it's time to think about how to spend time together to get a lot of pleasure and experience. In another country, you will visit interesting places, but besides this, you can fill in your free time with such interesting activities:
Riding a tandem bike - a honeymoon is perfect to try out this thing. Combine business with pleasure: explore the surroundings and learn how to drive vehicles together.

Massage for couples is a romantic, fabulously pleasant procedure. Such a rest is suitable after a tiring walk.

The hinged crossing is a passage in the saddle along the cable car. Such entertainment is arranged over forests, gorges, beautiful plains. You will get a lot of impressions, new emotions.

Hiking is a very romantic pastime for a honeymoon. You will have a great time with each other, which will complete a delicious sunset picnic..

Private room service - relaxing bathtub, warm slippers, fluffy bathrobe, romantic movies, sumptuous in-room dinner.
It is recommended that you do something that you would not do in ordinary life. Turn on the fantasy, come up with something extravagant and crazy for the honeymoon.
What a honeymoon is good in April
Spring is considered the best time of the year for weddings and honeymoons. The risk of heavy rains in April is small, there is no suffocating heat. In addition, April is a great time to travel to many countries, so the couple can go wherever they want. This beautiful season offers low prices for hotels, airline tickets, and in tourist places there will not be such an excitement as in the most popular months. Also a honeymoon in April will be much cheaper.