Contents
---
---
A honeymoon is a time for lovers when they can forget about daily problems and enjoy their vacation. Most newlyweds prefer to go abroad, but not everyone has such a chance. Do not be sad, because there is a great alternative - a honeymoon in the Crimea. The fabulously beautiful surroundings of Sevastopol, the South Coast can give an unforgettable vacation, replace the Cote d'Azur, and the beautiful nature and unique landscape will provide a lot of positive impressions.
The best time for a honeymoon in Crimea
A honeymoon is best spent from August to September. Here you will find delicious watermelons, peaches, as well as beautiful sunsets that lovers can enjoy. When planning a trip to the Crimea, you need to take care of your place of residence, food, and plan interesting excursions in advance. A honeymoon is not the time to save, book a room in the best hotel and enjoy your holiday alone with your loved one.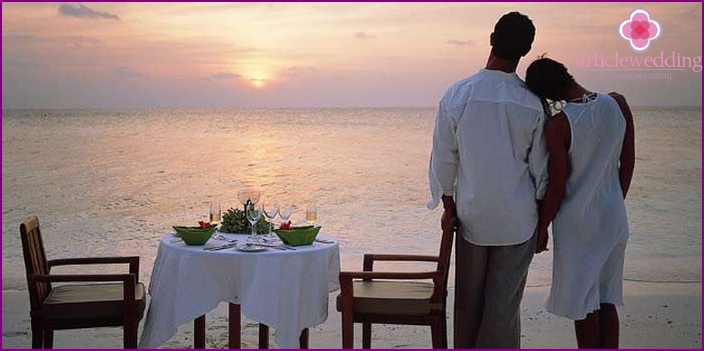 Cities and towns for a romantic getaway in Crimea
The amazing beauty of nature, clean air, a picturesque landscape, mountain ranges, the unique aroma of pine needles, a beach with delicate sand - all this awaits lovers who decide to spend their honeymoon in Crimea. There are a large number of beaches for every taste - sandy, pebble, with large boulders, rocky, mixed. It is not at all surprising that a large number of newlyweds come here every year, because rest is practically in no way inferior to expensive overseas resorts. Even foreigners prefer to spend their honeymoon in Crimea.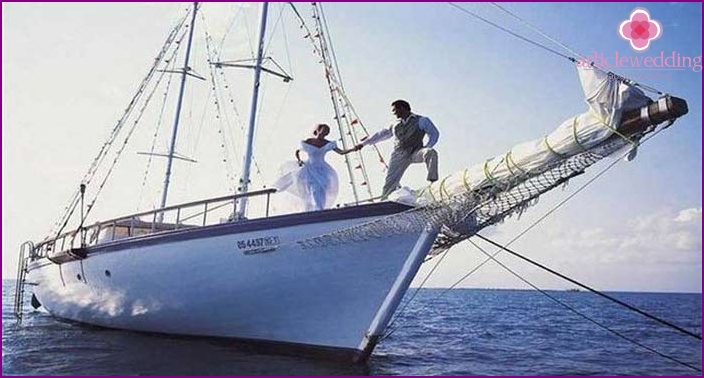 Foros
Resort complex «Foros» located at a distance of 50 km from Yalta, located in the territory of the old Crimean park. This is one of the most elite and very beautiful villages, it is an ideal place for lovers to relax. The territory of the complex amazes with the beauty of nature and attracts with the fact that it belongs to the number of ecologically clean areas of the Crimea, it is considered the most beautiful place on the South Coast. For many years, representatives of the creative intelligentsia and the elite have been resting here. Foros surprises with unique buildings, beautiful architecture pleasantly amazes.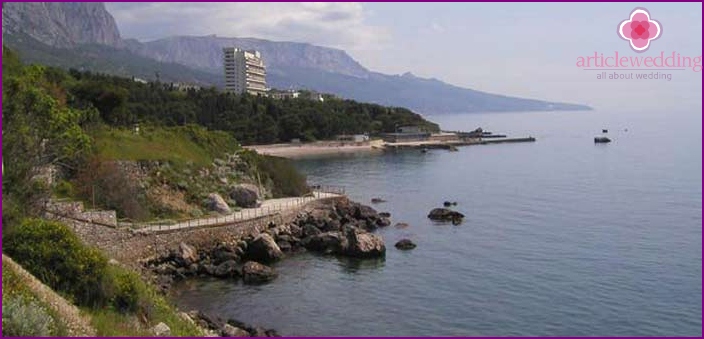 New World
Going to Crimea during a romantic honeymoon, you should definitely visit the New World. This is a small, colorful resort town located near Sudak. The nature of this corner of Crimea is unique - on three sides it is surrounded by high mountains, there is a unique grove of relict Sudak pine. You must visit the juniper park, on the territory of which unique plants grow. This is a paradise where you can spend an unforgettable honeymoon.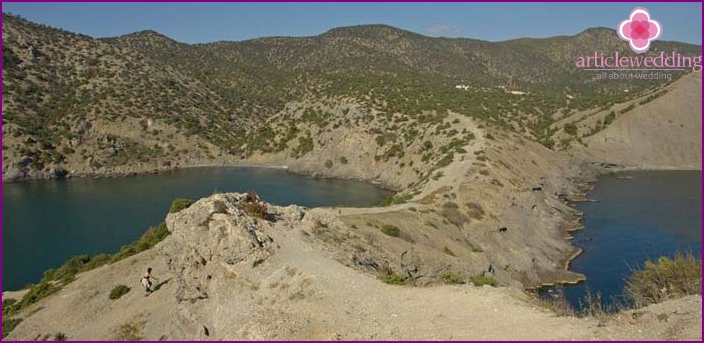 Big Yalta
Big Yalta is a beautiful climatic resort in Crimea, which is ideal for a honeymoon. It is believed that this is one of the best vacation spots in the world. There are unique climatic factors that have a positive effect on health. The surroundings of Big Yalta are incredibly beautiful, they can fill the evenings of lovers with romance. When planning a honeymoon, lovers consider not only a clean beach, but also beautiful parks - Livadia, Massandra, Alupkinskiy, Miskhorskiy.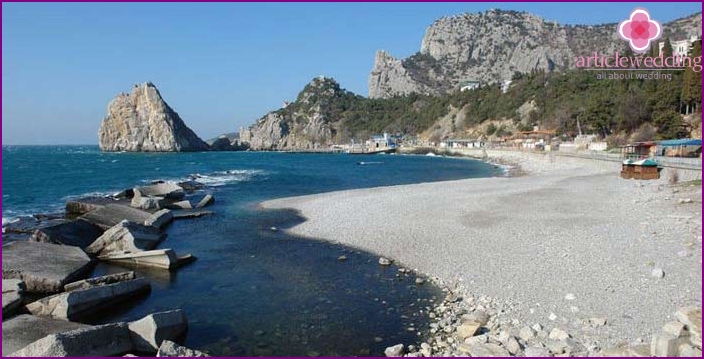 Balaclava
This is an incredibly beautiful bay, nestled among the rocky mountains. If you want to spend your honeymoon in Crimea, be sure to visit Balaclava. There are old rocky streets, the remains of the great Genoese fortress Chembalo, which is located on the very edge of the mountain. A hiking trail in the mountains will make an unforgettable trip for lovers of extreme sports. The combination of noble marble of historical monuments and strict granite makes the Crimean Balaklava a tempting place to relax. Be sure to visit the beautiful Grigoryevsky Grotto.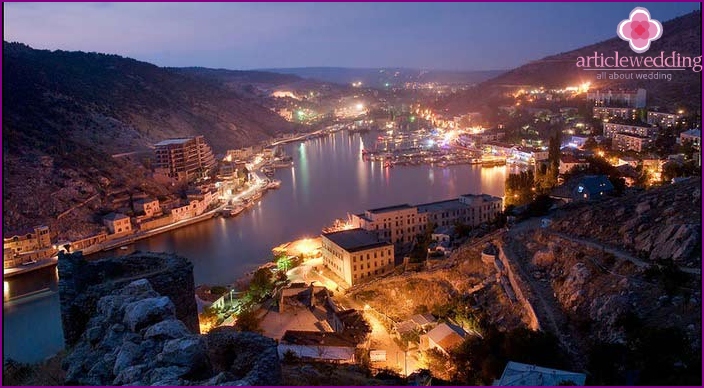 Entertainment for newlyweds on the peninsula
Rest in Crimea for newlyweds will present a lot of options for entertainment. You can not only stroll through the narrow streets or relax on the beach, enjoying the warm sun and the gentle sea, but also go on a romantic trip on a yacht, book a tour of ancient castles. In the evening, you should visit a small fish restaurant where you can enjoy seafood, local culinary masterpieces..
Rest on a yacht
If you prefer active recreation, then you should rent a yacht and go on an exciting sea cruise. Left alone with your loved one, you can learn all the charms of swimming in the open sea, admire the beauty of majestic cliffs, a beautiful sunset or go fishing at night. An exciting trip on a yacht can last all week, and when approaching the next port, you can stroll through the small picturesque villages, cities of Crimea.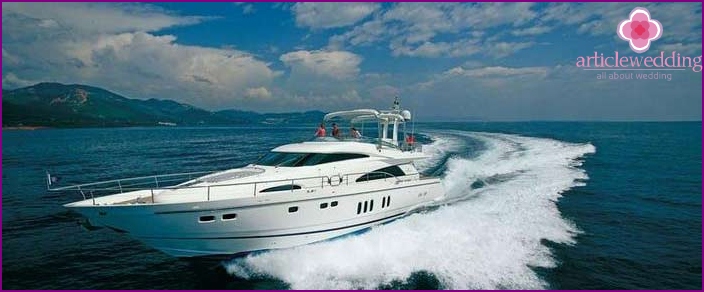 Excursions in the palaces of Crimea
Having visited the Crimea, you should pay at least a day to explore the numerous castles. Be sure to book a tour of the Livadia, Vorontsov palaces, visit the Khan's Palace, located in Bakhchisarai. A very beautiful, but little-known Suuk-Su castle is located in Artek; in architecture, it is practically in no way inferior to the more famous historical palaces. Take your time and spend this excursion with your loved one, plunging into the majestic era of kings and noble ladies.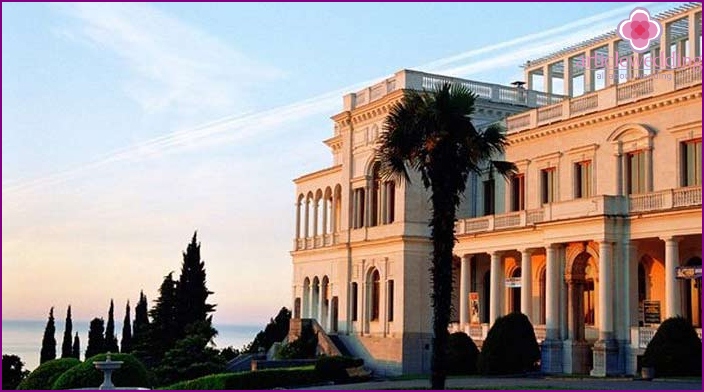 Fish restaurants on the beach
Resting in Crimea, be sure to visit the fish restaurant. Having chosen a cozy place located on the seashore, spend a romantic evening with your loved one and enjoy amazing dishes of local cuisine made from seafood. An unforgettable experience awaits you - live music, delicious wines, royal ears, fish dishes on the grill and original European cuisine. If you want to spend an unforgettable romantic evening, then give preference to small cozy restaurants located on the beach.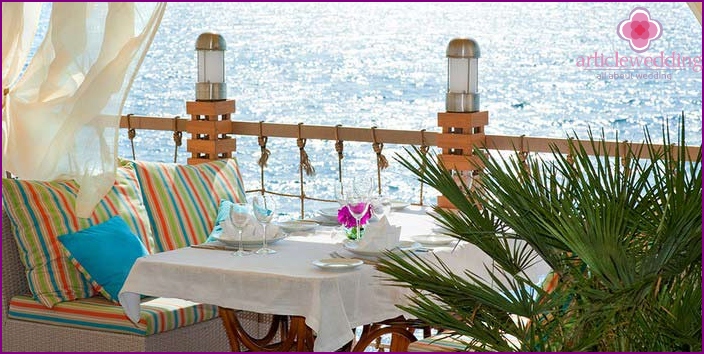 Beach holidays and SPA
If you prefer a quiet relaxing holiday, then you will like the beautiful Crimean beaches. Book a room in a villa located on the seashore and enjoy the warm water, the gentle sun, the beauty of sunsets and sunrises. A quiet romantic evening in the company of a loved one has never been so beautiful. To relax not only with your body, but also with your soul, most hotels will offer you relaxing, restoring spa treatments.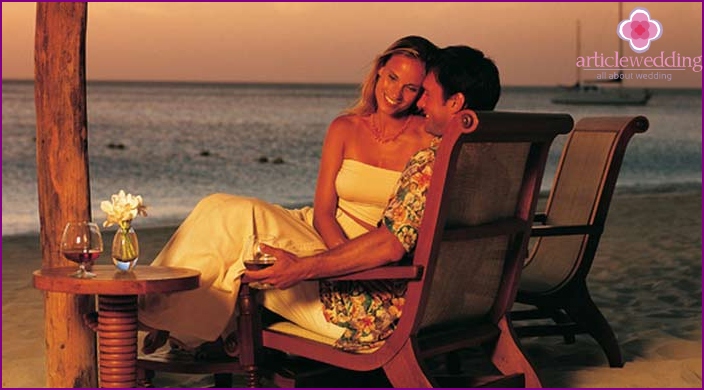 Honeymoon in Crimea - beautiful photos of the newlyweds 2016
Going to rest with your loved one in the Crimea, do not forget to bring a good mood and a camera. An unforgettable vacation awaits you ahead, which will give you a lot of positive impressions - visit the picturesque reserve, find the oldest tree and take a picture as a keepsake. Go relax in the mountains «savages» and enjoy the beauty of starry nights or take a walk around Sevastopol, because the beauty of the architecture of this city is truly amazing.