Contents
---
---
Finally, all the wedding preparations behind. It remains to win back the wedding and go far, far away, where your bodies will be caressed by a sea wave and filled with love. But in order for the honeymoon to go as comfortably as possible, you need to pack your bags properly. You should avoid an excessive amount of things, especially those that, in principle, will not be useful to you on vacation, but «light» nor should one go to the distant seashore. What is it worth taking with you first? The wedding portal articlewedding.com offers the newlyweds their help in this matter..
To begin with, suitcases should be collected in advance. Going in a hurry, you will obviously forget almost half of what you wanted to take with you. It's better to check the availability of all necessary things just before departure rather than trying to collect them five hours before the plane / train.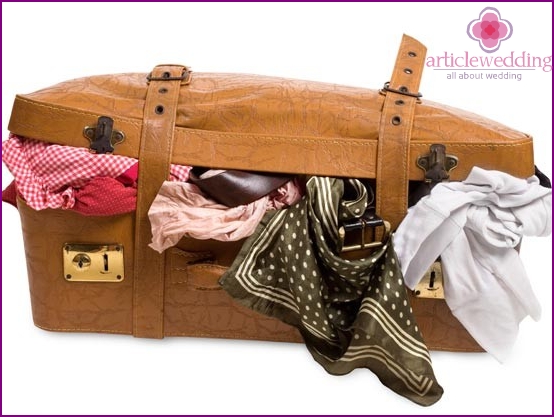 This is especially true for those couples who depart on their honeymoon immediately after the wedding. I doubt that after the wedding, you will have time and desire to pack your bags. Better they stand «ready» month.
In addition, it is worth preparing in advance the clothes in which you go on a trip. If the groom is much easier in this matter (he took off his jacket, unfastened the button and freedom), then it will be quite difficult for the bride in a magnificent wedding dress to board a plane or train. Therefore, prepare in advance a lightweight comfortable dress. This does not apply to those brides who initially chose their outfit with the condition of the flight. As a rule, these are dresses without rings, having a length just below the knee.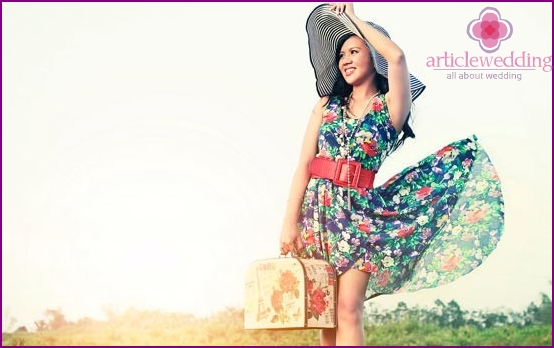 When choosing clothes, do not forget to take into account air temperature and weather. If you break out of harsh winters in hot summers, it is better to get dressed «according to the weather» host country.
So, now we will go directly to what you should definitely take with you on a trip.
Documents
Perhaps the most important thing – these are documents. «Without paper – you are a bug», Unfortunately, this folk wisdom is valid everywhere, so be sure to check the availability of all documents. These include: passports, driver's licenses (if available, in case you plan to rent a car), tickets, trips. Also do not forget about the money. Moreover, all these things should not be placed on the surface of luggage.
Personal hygiene products
These include toothbrushes and toothpaste, shampoo, shaving foam and razors, wet wipes, handkerchiefs, pads, soap and a washcloth. Of course, all this can be purchased upon arrival, but, will you have the desire to spend precious honeymoon time on such trifles? We will also include underwear as personal hygiene products. For the young wife, it will also be necessary to collect cosmetics.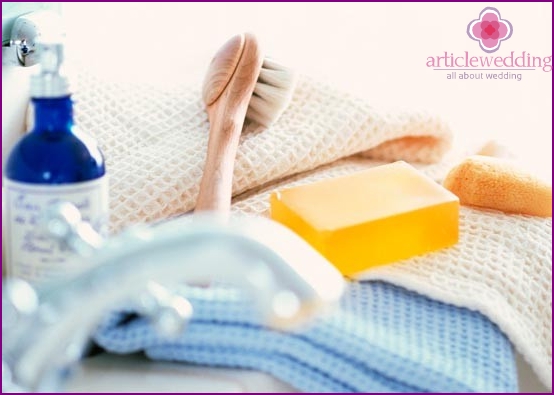 First aid kit
You cannot go on any trip without a first-aid kit! Essential drugs are always better to have at hand than to then run to neighboring hotel rooms in search of the right medicine or ointment. In case of getting a cut and wounds, it is worth having a bandage, iodine or brilliant green, adhesive plaster. Do not forget that you are going to a foreign country where the food is different from the usual. Therefore, you should hedge and buy funds against indigestion, against diarrhea and constipation. articlewedding.com sincerely wishes that such problems do not overshadow your honeymoon. For allergy sufferers – Allergy medications are required. It is also worth having in the medicine cabinet remedies for colds and insects.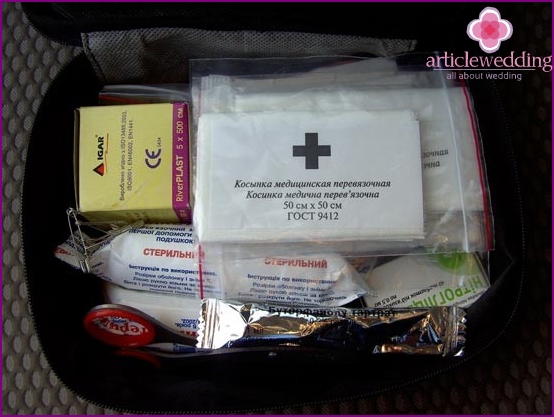 Clothes and shoes
The next step is to collect clothes and shoes. As mentioned above, you should not take a lot of things. In addition, you probably want to go over to local markets and shops where you are sure to buy something for yourself and your beloved husband. Where then to put all this? ! If you go to the sea, then of course it is necessary to bring bathing suits. Also put light clothing for walks and excursions in hot weather. Protect yourself against rains and cold snaps. Throw a pair of jeans to yourself and your husband, as well as several blouses. By the way, when collecting things, consider the mores of the country where you are going to rest. For example, if the honeymoon will take place in the United Arab Emirates, then you should not take provocative clothes with you..
Shoes are also worth taking for the beach and for walking. If you plan to visit cafes or restaurants, then it is worth taking appropriate shoes and clothes with you..
And finally, do not forget the camera and the charger for it, if you do not know the language – phrasebook, a boiler and a travel iron, as well as sunglasses.
Have a nice rest and a happy family life, the beginning of which will be your unforgettable and romantic honeymoon!