Contents
---
---
Choosing a gift for such an important event depends on the budget available to the parents of the newlyweds. Having assessed your capabilities, you will find the most acceptable option. The main thing here is this: when thinking about what to give children for a wedding, consider their need for this thing. Sometimes the parents of the bride and groom unite to give the newlyweds a more significant and expensive gift - a car, a trip, an apartment, finally!
Parents wedding gift options for children
If the newlyweds begin their life together from scratch, any household appliances, kitchen utensils, home decoration will come in handy. For children who will live in a private house or cottage, you can present things that they can use in the garden, for example, swings or hammocks. Parents can give newlyweds a ticket to the sanatorium for several days or pay for a luxury hotel room where they will spend a romantic weekend. It will be more difficult to choose a gift for the newlyweds, who have everything, especially if the marriage is made by a mature independent couple.
Traditional Gift - Money
Money is one of the most often given gifts for children at a wedding; there is nothing wrong with this option for congratulating the newlyweds. With it, young people will be able to choose and acquire what they need. If parents cannot decide whether to donate money or make another present, then it is worth considering the possibility of buying a gift certificate for the children. He will give them the right to come to the store (appliances, furniture or jewelry salon) and choose the goods they like for a certain amount.
If you decide to give money to the children, then it's worth it to beat beautifully. For example, make a small cardboard house and glue it over with notes (grabbing at the tips), and you can present it with the words: «This is for you to buy a summer residence». Parents can do the same with a car and furniture. A fun and unexpected wedding gift for children will be foam brick, glued with banknotes, as a symbol of the foundation of the family life of the bride and groom. Keep in mind that the unspoken rule says: parents should give more money for a wedding than anyone else.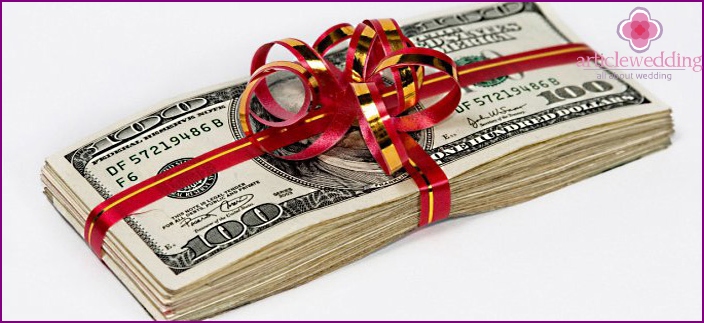 Honeymoon
An alternative to other wedding presentations for children is travel. The happy, romantic time spent by the newlyweds alone with each other will be remembered by them for life. In European countries, the bride and groom traditionally go on a honeymoon immediately after painting, and only invited guests remain until the end of the banquet. In Russia, this custom is only gaining momentum, but many families already practice it. If you decide to give such a gift, the choice of place should be left to the bride and groom.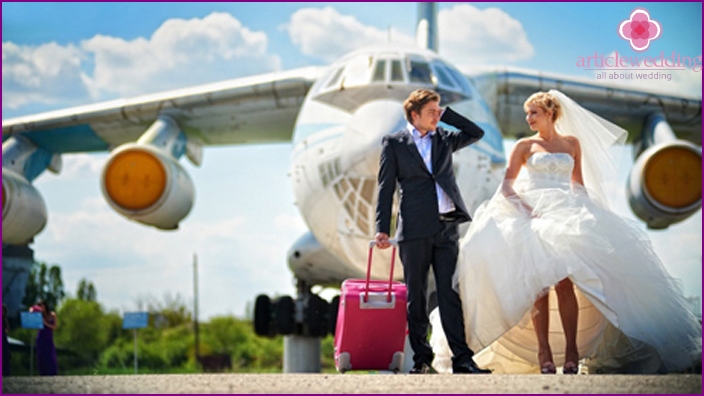 Appliances
A diverse technique that facilitates life takes one of the top lines in the charts of wedding gifts from parents. Increasingly, children are presented with all kinds of electrical appliances: crock-pots, vacuum cleaners, food processors, coffee makers and other things useful in the household. Take an interest in the needs of children, perhaps they need a microwave oven, refrigerator or dishwasher?
Or maybe you will like the idea of ​​giving the newlyweds two laptops or tablets? Computer equipment has long passed from the category of rarity to daily used items, because here you will not lose. It is good to choose stylish models, delighting the female half of a pair with a color or original device. Moreover, when parents congratulate the newlyweds, they can joke that the family in which everyone has their own computer is considered to be happy.
Furniture
Sets of furniture for the kitchen or bedroom, soft sets are problematic to bring to the wedding and give to children, especially since their taste may not match yours. Therefore, it is worth using a gift certificate, which will be obtained in almost any furniture salon. So you will make a good gift for the newlyweds, who will be happy to independently select the necessary interior items. The second option - talk to the children in advance so that they look after the furniture within the budget, and you will pay for this purchase.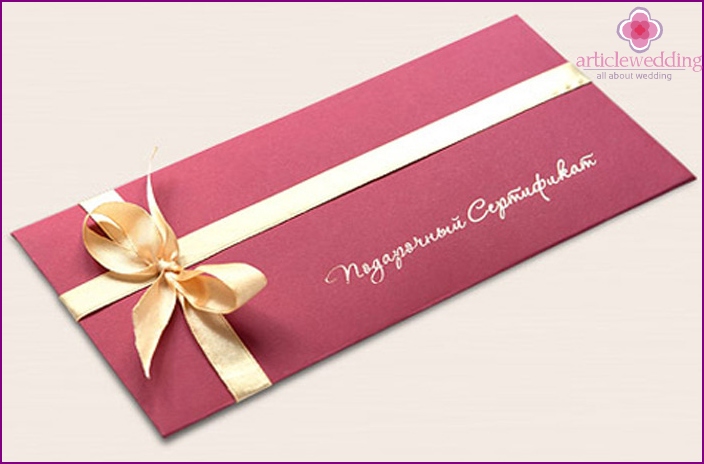 Car
If you wish and the opportunity, you can give the bride and groom a car - their wedding present will certainly delight and surprise them. However, only those parents who are confident in the preferences of the newlyweds can decide to purchase such an expensive thing. Having presented car keys at the wedding, you will see the happy eyes of the newlyweds and surprise the guests gathered.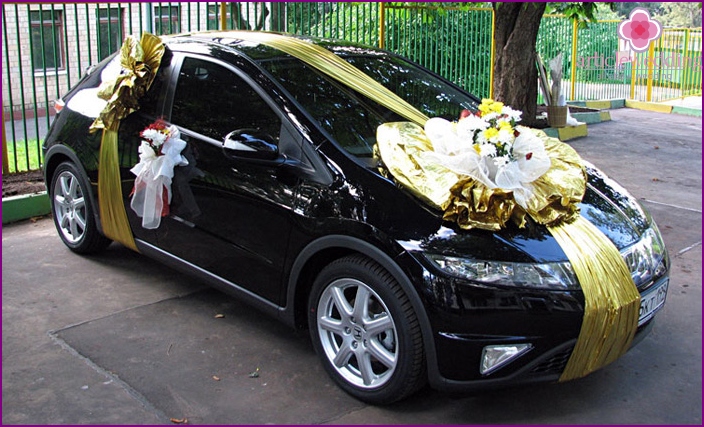 Keys to own apartment
For most young couples, the most desirable wedding gift will be an apartment or a house. The vast majority of newlyweds dream of getting the keys to their own living space, but not all parents can afford such a gift. The high price of real estate makes the acquisition of such a wedding presentation difficult and problematic. However, if the parents can present the keys to the apartment to the young, the newlyweds will appreciate your efforts and will be happy to receive their accommodation..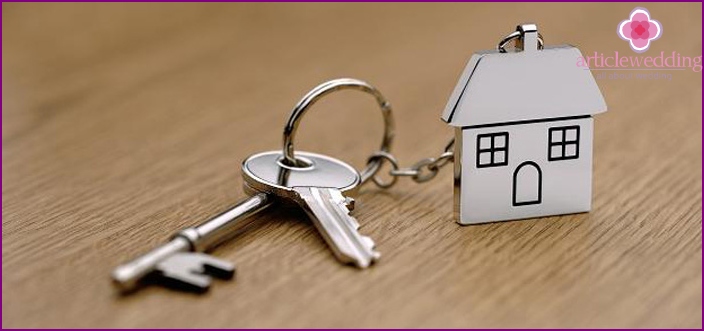 Other gift options
From time immemorial, young people have been given dishes, pans, pans, cutlery and other kitchen utensils. These things are indispensable in everyday life, so parents do not lose out if they decide to present them to their children for a wedding. Bed linen is considered another popular present for newlyweds: it can be a set of calico, satin or silk. This category should include modern pillows with high-quality fillers, rugs, blankets and even orthopedic mattresses.
If the young people already have a summer house or a country house, then you can give them a small barrel bath, which is assembled according to the designer's principle, or a fireplace for the garden, which functions as a barbecue, grill and stove for their wedding. The city couple will like the wedding present in the form of a small apartment fountain, which moisturizes the air and brings a twist to the interior. For lovers of fireplaces for the wedding, you can give a mini-device that runs on biofuels. The range of original gifts is large, so you can easily find a suitable present for children.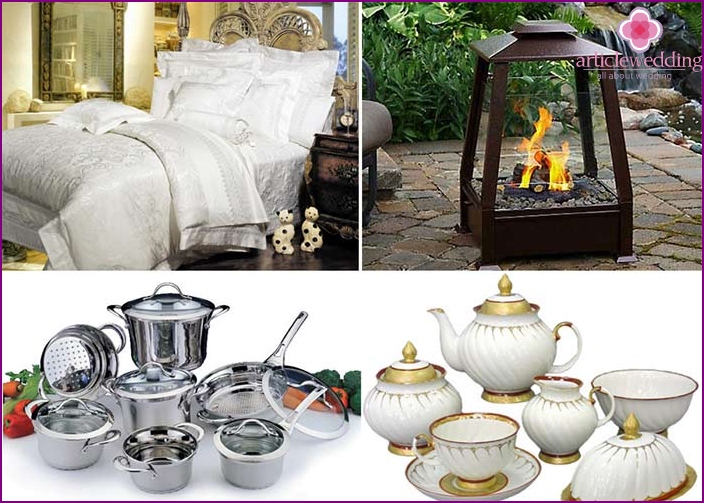 What you should not give to children for a wedding?
Superstitious people believe that it is impossible to give sets of cutting and piercing objects, because they symbolize possible quarrels and disagreements in the family. It's bad form to present mirrors and watches (no matter how luxurious and expensive they are) to the newlyweds. Many believe that donated watches reduce the time that a couple lives together - their mechanism can stop at any time, and then there is a risk that the newlyweds will disperse. Is it worth believing these signs - you decide, the main thing - choosing what to give for the wedding to children, do it with all my heart.