Contents
---
---
Often, all kinds of magnets become part of wedding accessories. They can be a gift for guests, a prize for a winning competition, part of the invitation sheet. For each wedding celebration, there may be an individual magnet that will please the eye for more than one day or a month. There are many types of such accessories and each with its own advantages.
When to use magnets at a wedding
If the newlyweds create invitations with their own hands or order them at special agencies, this is done to surprise the guests and notify them of the upcoming event. Invitees should not forget about the appointed date. And what is always in front of every person? Yes, it's a refrigerator. Therefore, a magnet with an interesting invitation will be a very good reminder. With it, the newlyweds can immediately declare that the wedding will be special if the product is decorated in a certain style, taking into account the theme of the celebration.
The bonbonniere is a small gift for all guests, which will go to everyone and will remind you of a wonderful celebration. Magnets are sometimes used as such presents, they are able to maintain a pleasant impression of the wedding for many years. It will be good if, in addition to these accessories, you put a sweet present in the bonbonniere - sweets, cookies or cones. You can combine magnets with anything.
An ideal gift for participating in wedding competitions is a picture with a magnet. It can symbolize a wedding celebration, often on it they place photos of the newlyweds or cartoons on them. The design of the magnets encourages creativity. You can even stick on them photos of the guests themselves and give gifts such as prizes.
Recently, the idea of ​​creating a landing plan using magnets is considered very original. The names of all guests with or without photographs are printed on them and placed on a special metal board. The advantage of such a landing plan is that the newlyweds or the organizers can correct it at any moment simply by moving the magnet to another place.
Types of Wedding Magnets
There are several types of accessories that are used at weddings. They differ in the method of production, price, durability. Some types of magnets can easily turn into their own masterpiece, since any photograph is inserted there. But most of the accessories are made to fit the sketch, you can't modify them, unless you add a small bow or floral decoration. Wedding magnets are sunset, acrylic, flexible vinyl.
Sunset
Such magnets are not very large - up to 7 cm, more often - 5-6 cm, their thickness can be around 4 - 6 mm. The manufacturing technology of such products is similar to seaming covers, so they have the corresponding name. Sketch-printed film is put on the base of the accessory and «rolls up», a round magnet with a diameter of about 2 - 4 cm is glued to the place of adhesion. Such a gift item is often round, is very well washed, does not scratch, does not break, does not break.

Acrylic
Such a magnet is made using transparent plastic (acrylic), into which the necessary image is set. On the one hand, such a box is perfectly smooth, on the other, a magnetic tape is attached. Often this type of gift accessory is made in the form of a square, a little less often - a rectangle. There are also round acrylic magnets, but these products are rare.
A big plus of such accessories is that some of their types are changeable - they insert any photo or image. If the newlyweds want to save a little, a good solution would be to purchase empty acrylic magnets. Beautiful invitations or pictures will be inserted into them, such an accessory will be an ideal bonbonniere, invitation or prize.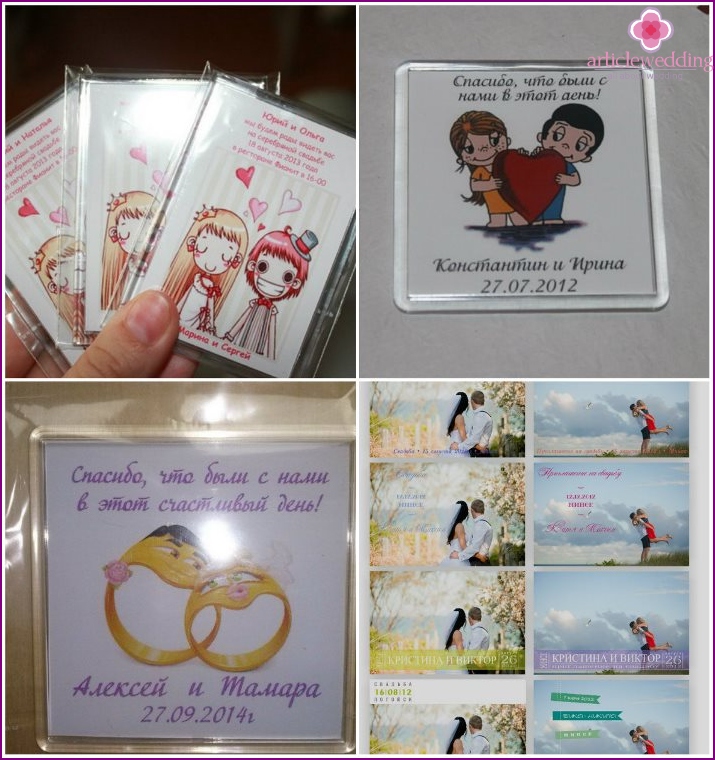 Flexible vinyl magnets
This type of product is well suited for couples who want to make a large image, a poster. A vinyl magnet with a thickness of about 1-2 mm bends very well, twists and lends itself to any deformation. It is produced using an attractive sheet and special spraying. The size of the product can be very different - from a few centimeters to meters. The image when printed on such an accessory does not lose its qualities.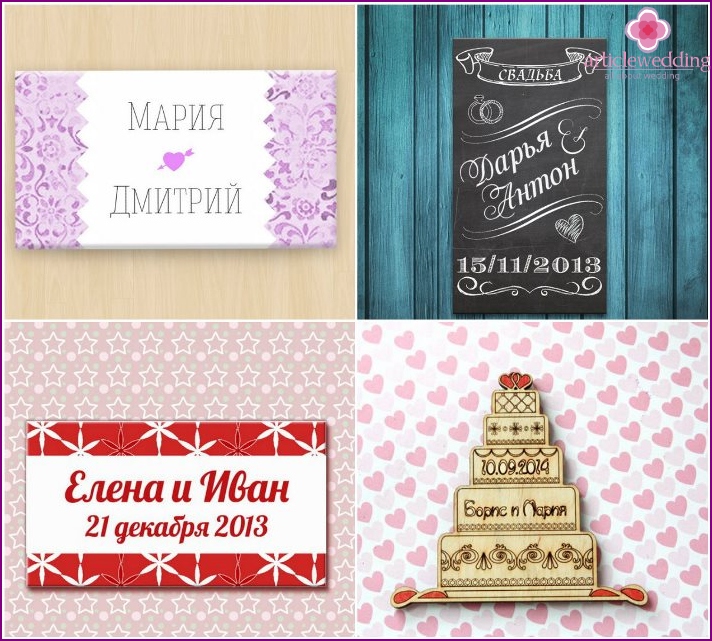 Design options for magnets for a wedding
There are many suitable wedding magnet styles that manufacturers offer. Each couple of newlyweds should determine their wishes for such a souvenir and create the desired layout. It is worth considering all the little things, combining the theme of the celebration with the style of accessories. For example, if the wedding is performed in the jazz style, then a magnet in the background with notes and a treble clef will be the perfect complement.
With a photo of the bride and groom
If you want to choose the original form of invitations, post your photos on a magnet, you can add them with the dates of the celebration and your names. Often, newlyweds order products with their own image and desire. Guests who receive such a gift will remember the wedding and the main culprits of a bright, original and stylish celebration for a long time..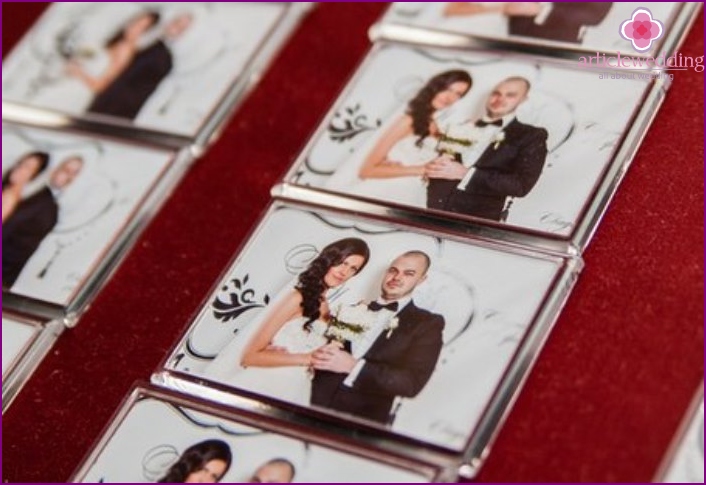 With the image of angels or pigeons
Such a classic version of magnets can be useful for any wedding contest. Giving small accessories at a wedding is very advisable, as they will not burden guests. The most popular color for such magnets is white, it blends perfectly with the traditional look of weddings. When choosing such souvenirs, it is important to pay attention to quality so that angels and pigeons «not scattered» in different directions.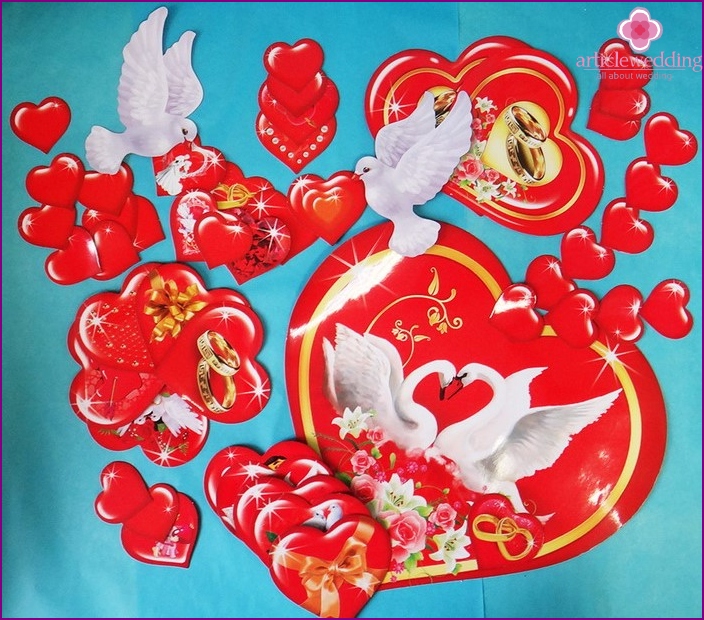 In the shape of a heart
A wedding is a celebration at which hearts connect. Hearts are an excellent form for magnets. They themselves symbolize the creation of a new family and bear love, so it is advisable to place photographs, beautiful pictures and wishes on such souvenirs. If a heart-shaped product is a bonbonniere at a wedding, it will become a symbol of love and respect for the newlyweds to the guests.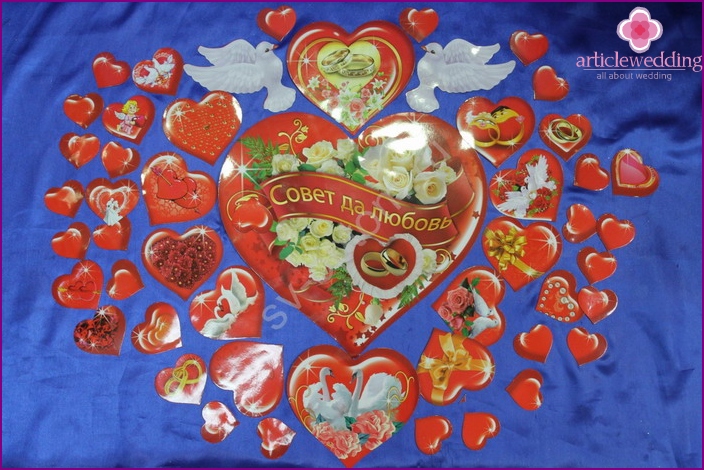 With comic pictures
There must be fun at the wedding and the more it is, the better. That is why some young couples choose magnets with comic pictures, cartoons, and jokes. You can make fun of the guests and create unusual souvenirs for them, the mark for such a step will be very high. In the subject of jokes, you can affect not only the wedding, but also its participants - mother-in-law, mother-in-law, father-in-law, uncle, grandmothers.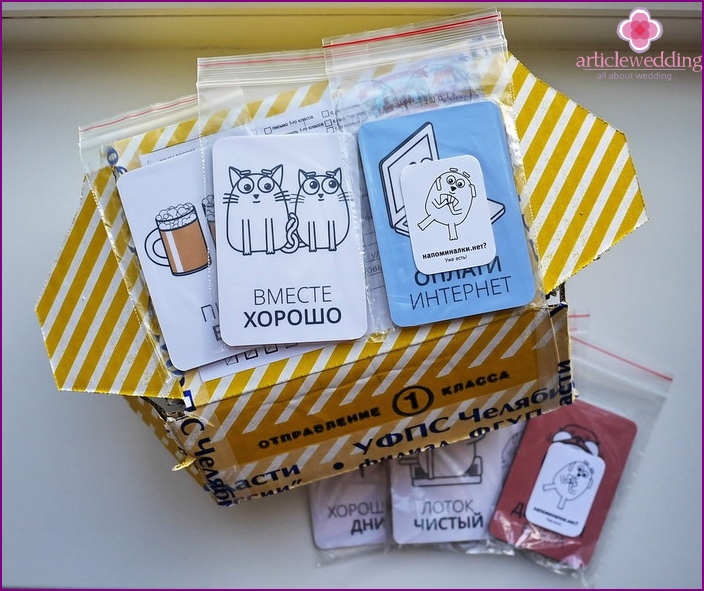 With inscriptions, wedding date or initials of the newlyweds
When you choose the layout design for magnets, pay attention to the inscriptions that are placed on it. It can be invitations, wishes or instructions to whom the souvenir is intended. It is advisable to write the date of the event so that each guest remembers the wedding for many years. You can print your surnames and names as inscriptions, this is especially popular if the bride changes her surname when she is married.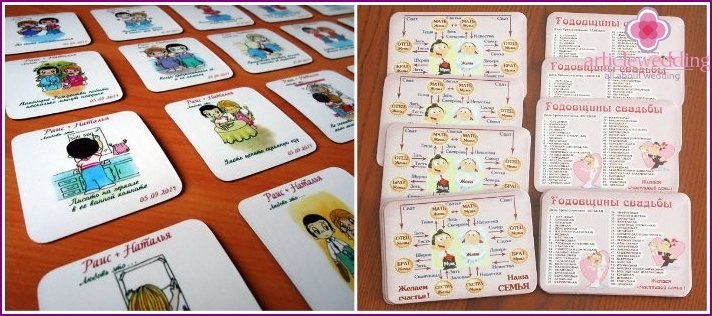 Photo of wedding magnets for guests
When choosing gift accessories and souvenirs, be sure to pay attention to different photos of finished products. They will surely prompt you to the idea of ​​what is needed for your wedding celebration. There are very interesting ideas that should be implemented in your own style and theme of the wedding:
Various photos in interesting angles. If each guest receives an individual magnet with a photo, he will be pleased to feel respect for his person.
Thanks to those invited for having the best day of your life with you alone. This is also a sign of respect and honor from the newlyweds..
Magnet with family print. If you have already developed such a sketch for invitations, you can also use it for souvenirs. Let such a family seal not be fully visible, and in part as a sign of an event certificate.
DIY handmade magnetic products. Such presentations not only look good, but carry the warmth of a new family. Let a piece of the newlyweds be presented to the guests for a long and good memory of the event. Handwork can be a great tradition of doing characters on your own..
Souvenirs made by yourself from fabric or textile can look very interesting. To produce them, you need a small magnetic strip, any fabric (felt - the perfect look), glue and various decorations (beads, buttons, threads). Such an accessory will complement the celebration well and will not spoil the theme..
If the wedding celebration is made in a certain style using specific colors - this range should be transferred to magnets. Choose the same palette and symbols that are supported in the design of the whole holiday.