Contents
---
---
Not a single wedding ceremony is complete without following the traditions. Wedding celebrations are regularly replenished with new entertaining rites. One of them is a touching European tradition of cooking bonbonnieres for guests (small presents from newlyweds). This is an original method that helps to thank guests for their participation and support at the celebration..
What are bonbonnieres
A bonbonniere is a small bag, bag, box, bag with sweets or small gifts that are presented to each person invited to the wedding. The tradition of making such gifts originated in France: there, five candy or almonds in chocolate were put in boxes, wishing guests fertility, health, wealth, longevity, happiness. Bonbonnieres create a special wedding mood, with their help you can successfully complement a single wedding style.
What is customary to give in a bonbonniere
The design and content of wedding presentations can be different, it all depends on the imagination and financial capabilities of the newlyweds. In order not to offend one of the invited guests, try to prepare everyone the same bonbonnieres, it is better for children to make other gifts. If you have not yet figured out what to present to guests at your wedding, use the ideas below, which you can beat at your discretion.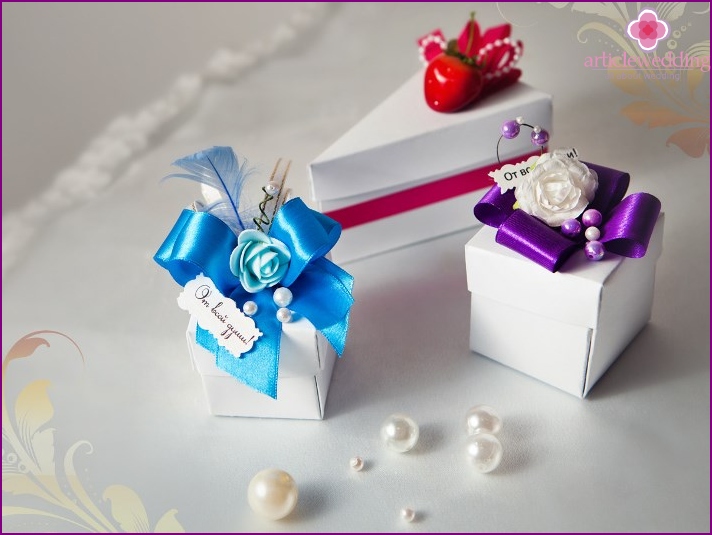 In the spring it is customary to give guests:
Flowers Small pots of indoor violets or any other flowers will be pleasant to every guest.
Seeds For example, bulbs of gladioli, tulips or daffodils will be a good spring gift.
In autumn, you can offer guests as gifts:
Jam, jam, honey. On cold evenings, guests can warm themselves with hot tea filled with sweet vitamins, jam or honey..
Fruits. Pears or apples - not only tasty, but also a useful surprise.
In winter, it will be appropriate:
Tea. For young people, choose flower and fruit types of drink, for the older generation - the highest grade, and for the elderly - fees on herbs.
New Year and Christmas theme. DIY Christmas balls engraved with wedding dates or do-it-yourself Christmas tree decorations. For example, cotton angels.
Citrus. Fragrant tangerines decorated with beautiful ribbons will provide guests with a great mood.
For a summer wedding, fit:
Strawberries, cherries, peaches. These vitamin treats are packed in corrugated paper or small baskets.
Sunglasses. Guests will not have to squint at wedding photos from the bright sun.
Variants of bonbonnieres, regardless of the time of year, a huge amount:
Small notebooks and notebooks of unusual shape, design - a useful and creative gift.
Cups with funny inscriptions or photos about your wedding. Such presentations are always useful to guests..
Wedding date embroidered towels.
Slates for dancing. Such a bonbonniere will delight the girls who walked in high heels all day.
Photo frame - simple and cute.
Bonbonnieres for thematic wedding ceremonies. For example, at a French-style wedding, give guests a copy of the Eiffel Tower. For the celebration in the Russian style, small nesting dolls are suitable. If the theme of the wedding is traveling, pick up luggage tags for each guest.
Sweets. To be original, attach notes with wishes to each candy.
Cakes, donuts. Your guests with such a surprise will not have to think about breakfast.
Cookies. Bonbonnieres with pastries that are accompanied by good or comic predictions look unusual and interesting..
Tea strainer. Each guest will remember your wedding for a long time, making tea.
The drinks. Small bottles of strong drinks and cool wraps depicting the bride and groom are a good bonbonniere option for men.
Water bottles. Guests will be able to take such a surprise with them on a camping trip, jogging, cycling.
Coffee beans. Fans of this drink will like this gift..
Decorative soap. Such handicrafts with «tasty» smells will be a great gift. For each guest choose a special aroma.
Refrigerator magnets. Such souvenirs are collected by many. Magnets will take their place on the door of the refrigerator of each guest, and for a long time will remind you of a merry wedding celebration.
The keychain in the form of a wedding date will be a good souvenir and a reminder for the guest about the fun at your wedding celebration.
Small desk calendar. A beautifully designed calendar will remind guests of your unique wedding for a whole year, and will not let you forget significant dates.
Candles Small wax figures of the bride and groom or aromatic hearts, which can be nicer and more romantic?
Porcelain or crystal figurines. This is a good idea for a bonbonniere in the form of lovers or a couple of pigeons.
Custom-made engraved wedding opener will always remind guests of the wedding.
Bath salt. Relaxing sea salt in the evening will help relieve stress and fatigue after numerous competitions and dances at the banquet..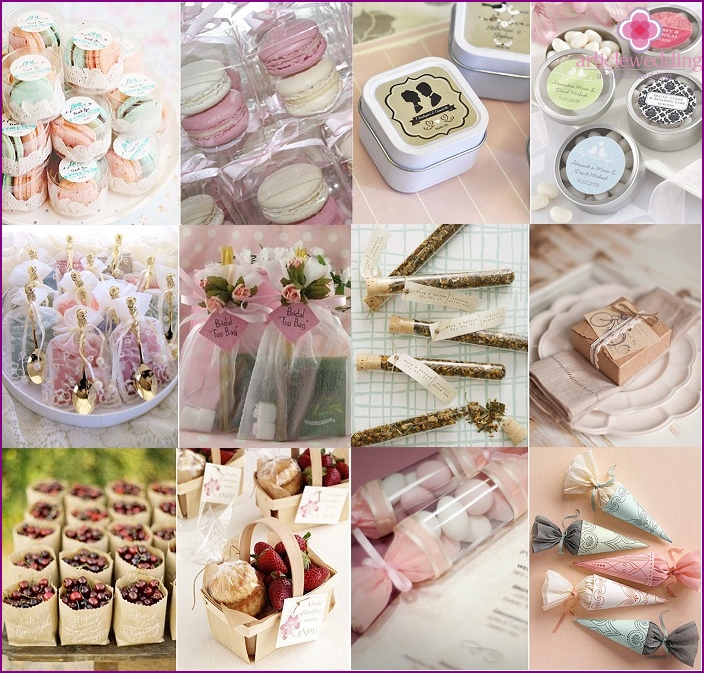 How to sign wedding bonbonnieres
For gifts for guests, it is customary to use inscriptions with the date of the wedding, good jokes, words of gratitude that the guests shared the joy of the wedding day with the newlyweds. Here are some memorable phrases for bonbonnieres:
Thank you for being with us on this day..
For luck.
Dear guest.
From the family ...
With love from …
We are pleased to share with you this important event in our lives..
Take me with you, I am your gift.
Be our guest.
Charged with love.
thank.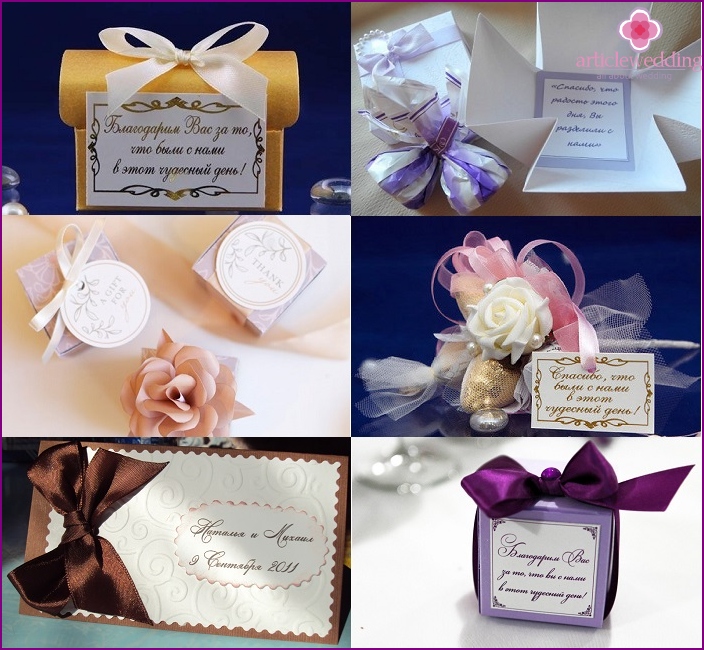 When to present bonbonnieres to guests at a wedding
There are no specific rules for giving gifts. If there are many guests, then one bonbonniere is presented to each married couple. For children, prepare a separate souvenir. The time and form of giving gifts may be different:
At the beginning of the wedding, placing them near or on a plate of each guest at the festive table.
In the middle of the holiday. Put them on a large tray or in a basket, and each guest can take a bonbonniere during the celebration.
Give each guest a present at the end of the festive evening when they are already starting to disperse.
How to make a do-it-yourself bonbonniere
There are many options and types of trendy wedding bonbonnieres. They are bought in specialized studios that are engaged in decorating weddings, salons with products for marriage, or ordered in online stores. But more often the newlyweds prefer to make them with their own hands (if there are few invited). And the guests will be more pleased to receive the bonbonniere created by the joint efforts of the newlyweds. Try to make them yourself!
Necessary materials
For manufacturing you will need:
colored cardboard or thick scrapbooking paper;
A4 sheet;
bonbonniere scheme;
stationery scissors;
screen knife;
ruler or screen;
glue;
ribbons, flowers or other decorative elements;
inscription label.
Scheme and stages of creation
We enlarge the scheme to the desired size and print it on ordinary thin paper or with a pencil and a ruler we independently draw a pattern.
We put the resulting printout on a sheet of cardboard, trace the edges of the pattern with a simple pencil. We cut the workpiece with scissors, and create slots for fasteners with an office knife.
On the dashed lines we make bends, denoting a square shape, and add the resulting "petals".
With a curly hole punch or scissors from thick paper, we cut out a tag with the inscription.
Using glue, fix the finished leaflet with text on one of the "petals" of the box.
We decorate a bonbonniere with ribbons, hearts, flowers.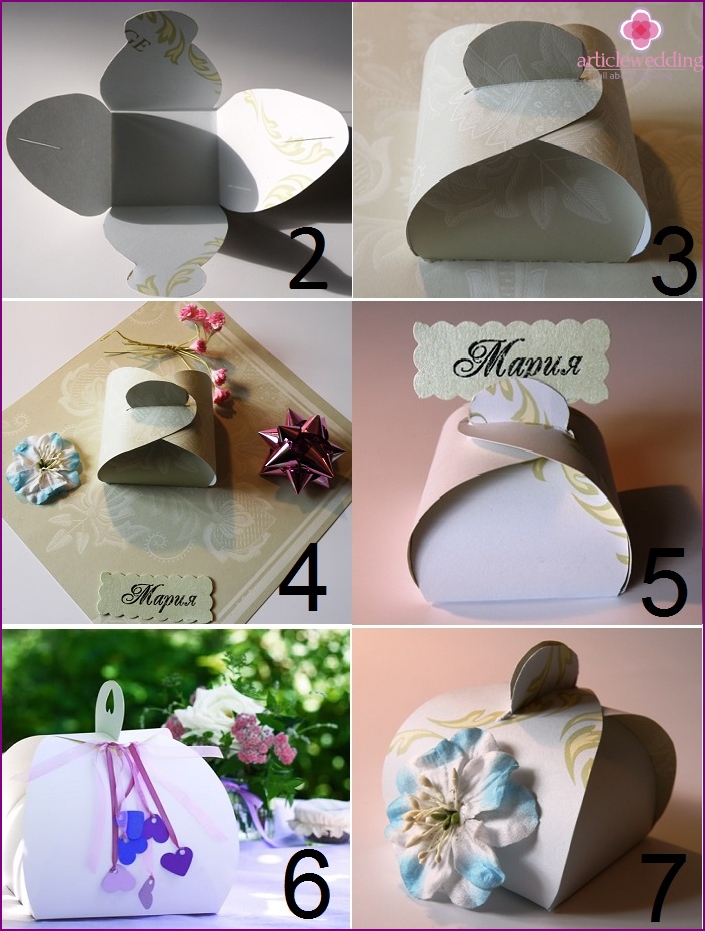 Photo bonbonniere for guests at a wedding
Taking surprises is especially nice when you are not waiting. The wedding bonbonniere, regardless of the filling, design and presentation method, allows invited guests to take away from the holiday not only a good cheerful mood and vivid impressions, but also a material part of the celebration, which will remind them of the wonderful day of two loving hearts.