The wedding, thought out to the smallest detail, leaves pleasant memories not only among the newlyweds, but also among the guests. It doesn't matter what type of celebration you have chosen - a small buffet or banquet, you still need to decorate the hall for the ceremony. In this case, ideas for bonbonnieres will be very useful to you. This tradition of congratulating guests after the holiday as a token of gratitude for shared happy moments came to us from Western countries. You can prepare these mini-presents yourself by investing in them a piece of your soul. What can they be?
Interesting ideas for decorating bonbonnieres for a wedding
The name of the present comes from the French word «Bon-bon» - which in translation means «candy». The first options were of two types: cardboard boxes with chocolate goodies, metal jars with loose type sweets. Every year, professional decorators come up with new solutions for bonbonnieres, taking into account the display of wedding themes. But it happens that the newlyweds themselves act as organizers of the decor ideas for original souvenirs.
The time for delivery of the bonbonnieres is chosen by the bride and groom together with the wedding organizer. You can give miracle boxes at the end of the celebration with other goodies or give them away when loved ones give you their presents. Get a great barter exchange. If a wedding has a large number of guests, then bonbonnieres are given one for each family.
Such gifts are the face of your future family. Decorate them not only with bright materials, but also add a note with the words of gratitude, a card with the names of the newlyweds, the date of the wedding. Get away from the standard «sweet» options, create something creative, for example, bonbonnieres with custard tea in tin cans, dense boxes with coffee grains, fabric packaging with colorful spoons. What other bonbonnieres are used when making a wedding?
Potted flowers or ornamental plants
If you are fond of gardening or just know how to behave with flowers, then the idea does not need to go far! Do you have indoor plants at home that bring you joy? Preparation for the wedding takes several months, so the option of bonbonnieres with plants in pots is quite possible to carry out, planting on a leaf. If this is difficult for you, pre-order in the flower shop mini-plants for a specific wedding date. Such a gift will stay with guests for a long time, recalling a grand event.
If you are not indifferent to fresh flowers, want to share this feeling with everyone, prepare bonbonnieres with a small oasis inside. These beautiful, graceful little things will become a wonderful element of decoration at a wedding. Bonbonnieres with flowers can be combined with a bright arch, a bridal bouquet, a decor of a banquet hall. Consider another option - a closed surprise box with an artificial flower arrangement made using polymer clay. You can do it yourself if time permits you, or order from professionals.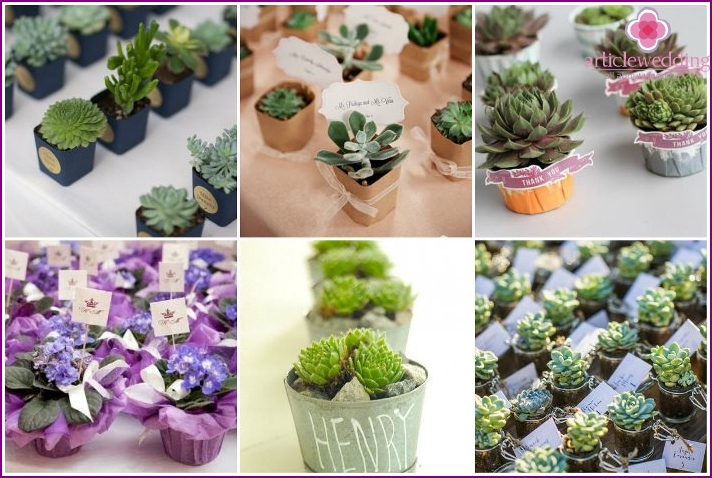 Jelly beans in glass bottles
To please the true sweet tooth, give guests bonbonnieres with confectionery dragees. Polished, smooth rounded candies have a body, layers of powdered sugar. Choose a variety of fillings - liquor, jelly, chocolate, marzipan, pralines, with alcoholic berries, nuts, peanuts, candied fruits or complex fillers. If you don't feel like looking for everything separately, buy candy packages "M&M's", sprinkling them in glass bottles.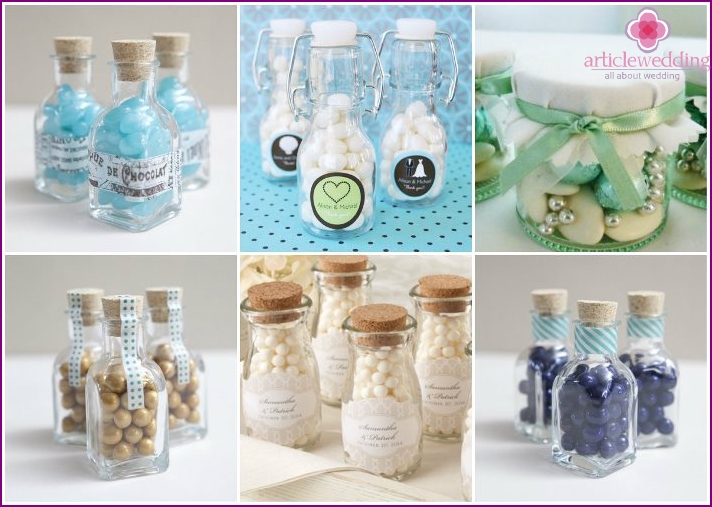 Candies or cookies in metal boxes
If you want bonbonnieres to have a decent, presentable look, you need to pack them beautifully using metal, stylish, bright boxes. Prepare them in advance by contacting the decorators of the selected studio. Metal boxes should fully reflect the theme of the wedding, be practical so that they can be used after the celebration for individual needs (for example, to store jewelry). Having found out the forecast for the date of the ceremony, make the right choice - place cookies or sweets in the bonbonnieres, which can easily melt in summer.
Boxes or bags with berries or nuts
Are you planning a summer, bright, juicy wedding? Then the berry theme must be present in all accessories, decor and bonbonnieres. Having decided on the ripening season for juicy fruits, put in the boxes delicious berries, for example, strawberries, cherries, raspberries. If you have a rustic wedding, fill the bonbonnieres in the form of bags with healthy nuts. Guests will certainly appreciate it..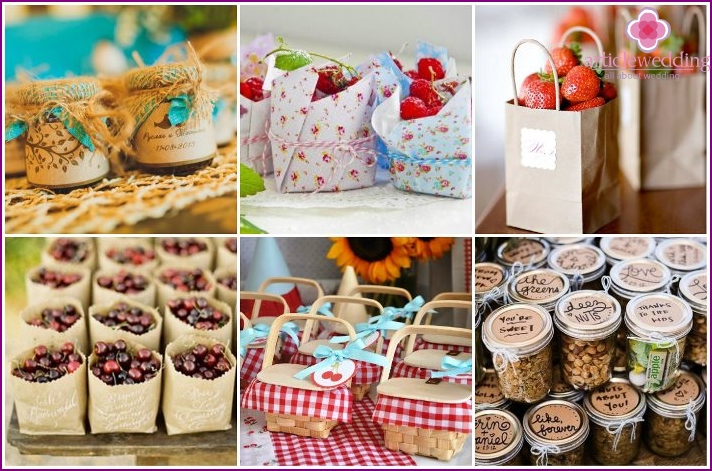 Magnets with the names of the newlyweds or the date of the wedding
If you want to leave an unforgettable trace in the memory of loved ones about your wedding, then designing bonbonnieres in the form of magnets is a great idea. They can be created using decorative clay, ceramic glass, wood, have the shape of a circle, square, ship, heart. On the bonbonniere magnets place the names of the newlyweds, the wedding date, a small photo of the spouses, wishes and thanks to the guests.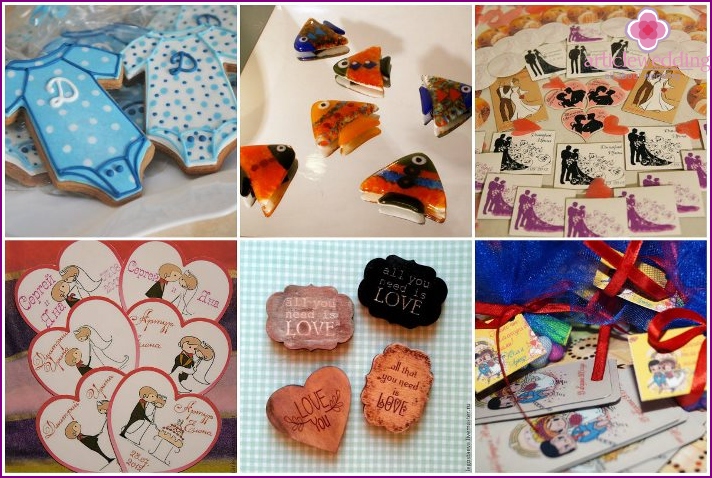 Gingerbread cookies in the form of hearts
If you are crazy about culinary affairs, you can spend hours in the kitchen, creating another delicious masterpiece, then the gingerbread muffins will be a simple, fun task for you. Prepare the dough, lay it in the shape of a heart, decorate with icing, chocolate, powdered sugar, edible beads or protein cream on top. Using a culinary syringe, draw patterns on the gingerbread cookies, imitate the groom's suit, the bride's dress, white doves, write the wedding date, the names of the newlyweds. Guests will be delighted with such a delicious surprise made with soul.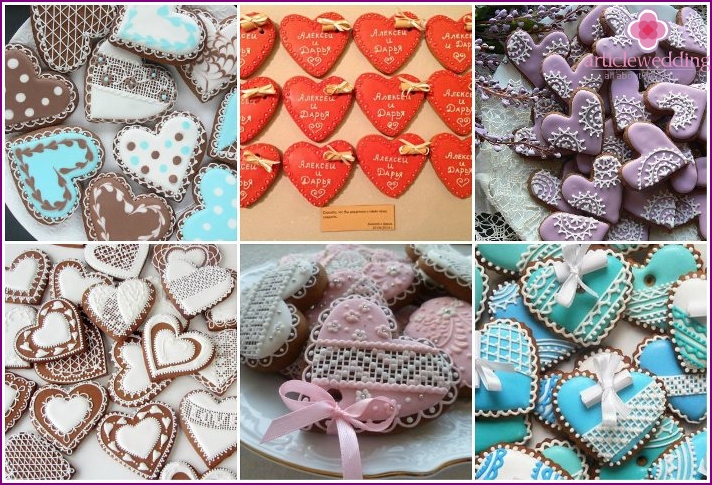 Small pails filled with sweets
Another non-standard variant of bonbonnieres is small, decorative buckets filled with sweets. Order them in the decor studio, but you can fill them with whatever your heart desires. Dragees or sweets act as sweets, the color of which is combined with themed shades of the celebration. For example, if you have a gentle, airy, white ceremony, then sweets «Raffaello» in bonbonnieres will be a great end to the evening.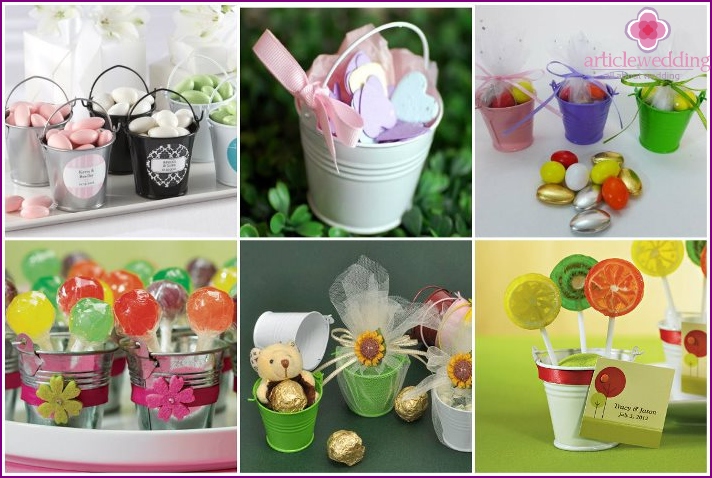 Bonbonnieres in the form of jars with honey or jam
Useful, tasty gifts to guests - bonbonnieres in the form of jars with honey or jam. If your wedding takes place in the winter, then prepare a treat in the summer using your favorite berries. It is not necessary to collect honey on bee farms, but it is quite possible to stock up on them in advance for the winter. After serving delicious bonbonnieres, guests will be able to drink tea with jam or honey in the winter. And on a cold evening, loved ones will bask, remembering your past holiday!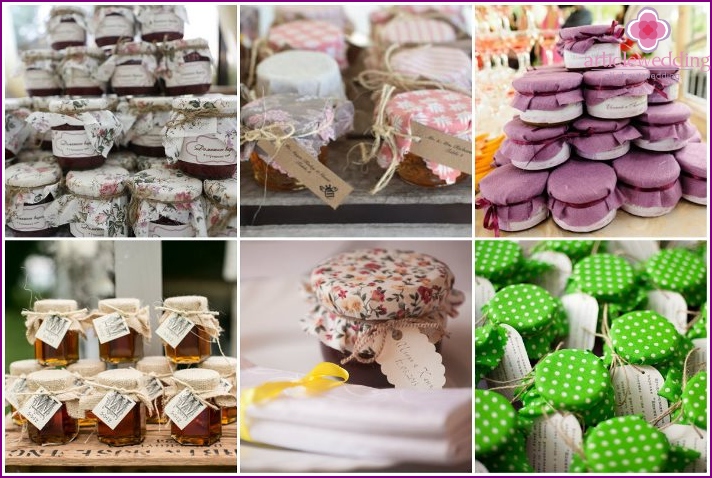 Do-it-yourself bonbonniere options
Whatever filling for gifts the guests choose, and you have the right to make packaging yourself. Given the theme of the wedding, pick up thick paper or cardboard for scrapbooking. Floral motifs are suitable for a celebration in vintage, rustic, retro style. If you have a light, airy, tender wedding, take paper for making bonbonnieres in the main shade. Decorate the boxes with ribbons, bows used to decorate the table, chairs, hall, arch.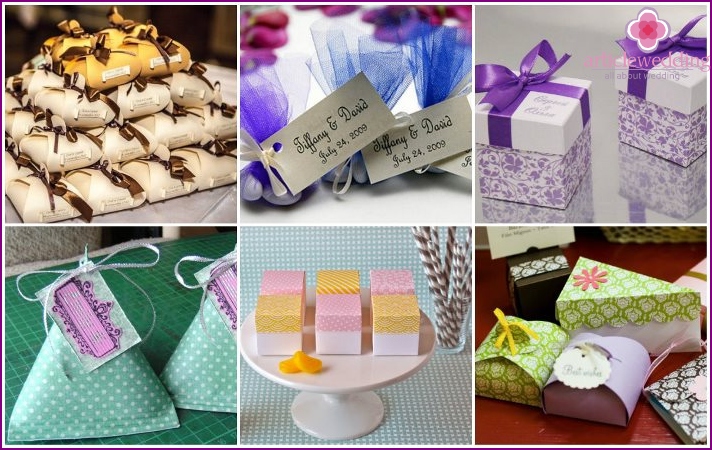 Salt for bath
Is originality your forte? Then the bonbonnieres with bath salt will not only conquer all those present, but will also give you compliments from the guests. For registration, take glass jars or bottles coated with matte paint of the main shade of the wedding celebration. Warn guests that bonbonnieres only open at home, then a real surprise will await them.
Candles or handmade soap
Bonbonnieres in the form of candles or handmade soap will be a pleasant surprise for guests. In the box you need to put ready-made things of a standard form (oval, circle) or make them yourself by choosing blanks in the form of a heart with inscriptions of the names of the newlyweds, the date of the wedding. If you want to take part in the manufacture, you will need to cut the matching bonbonnieres from cardboard. You can use ready-made wooden, plastic, iron boxes.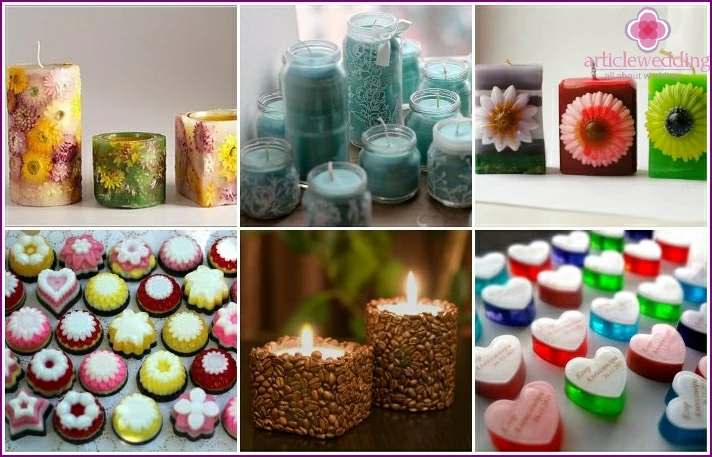 Dough bonbonnieres
If none of the ideas suits you, ask for help from the owners of the most stormy, bright, extraordinary imagination - children. They like to make crafts using salt dough, let it be a unique recipe for a bonbonniere! Combine children's imagination and your skills, create beautiful souvenirs. You can use regular, yeast dough if you like to create curly pastries. Bonbonnieres with small buns with raisins or poppy seeds - tasty, unusual thanks to close people.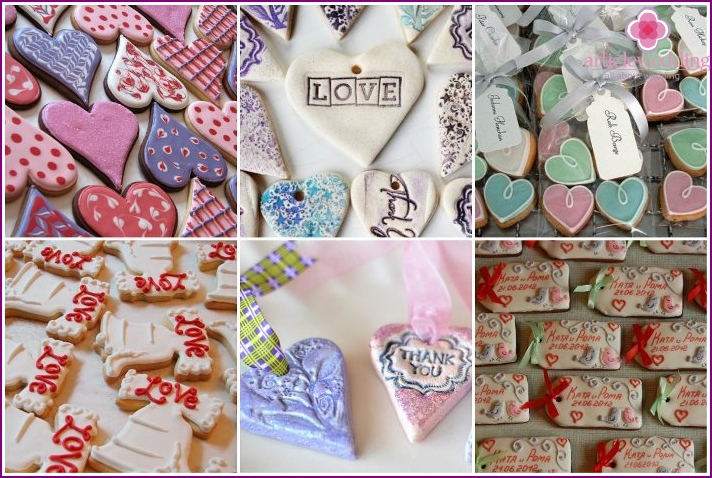 Lollipops
Is there a little time left for preparing bonbonnieres? Use ready-made lollipops, wrapping them in cling film. They can be in the form of a heart, a twisted spiral, a bow, a ball. Do not forget about popular lollipops «Chupa Chups». Arrange them in a special box with holes, calculating the exact number of guests, or use a bucket as a bonbonniere for each candy.