Contents
---
---
For a young couple who decided to combine their life paths, the wedding day is considered a very significant date. The closest friends and relatives are invited to the celebration. In gratitude and gratitude that the guests spent this day with the newlyweds, the bride and groom often give small souvenirs as a keepsake. Recently, it has become popular to present bonbonnieres in the form of cardboard boxes or fabric bags with different fillings. On sale there are a large number of types and forms of bonbonnieres, but it is better to make them with your own hands, investing your soul and emotions.
How to make a bonbonniere heart from fabric: step by step instructions
Bonbonnieres hearts – these are small, but significant gifts to guests from the newlyweds. There are a large number of ways to make small tissue hearts. For men, according to tradition, it is better to choose a more restrained color scheme of the fabric, without jewelry with beads, lace or sequins. Women will find a bright palette of material, possibly with a floral print.
Necessary materials
First of all, you need to decide which fabric the hearts will be made of. Suitable material with which it will be easy to work: felt, linen, calico. They are not very expensive financially, but pleasant to the touch. The colors should be bright, saturated, but not flashy. Choose a fabric, if desired, plain or with a pattern in the form of flowers or geometric shapes.

Prepare the supporting materials:
scissors,
needle thread,
heart-shaped stencil, on which the pattern will be made,
filler (cotton wool, synthetic winterizer).
Pattern and stages of creation
The easiest way to make a tissue heart, which is possible for a person who does not even own the skills of the art of working with a needle:
1. Evenly lay out the fabric in two layers, on a stencil cut out of cardboard, circle the contours with chalk or a wash-out marker,
2. Sew along the contour with frequent stitches, leaving a small hole for the filler, put a synthetic winterizer or any other filler inside, giving the heart a shape,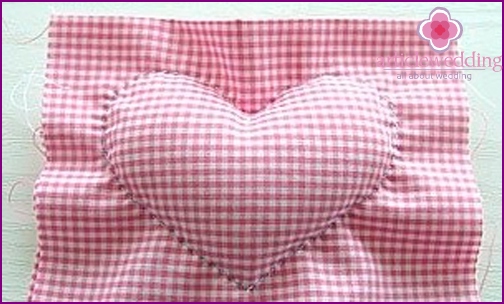 3. Sew completely along the contour, to give the heart a more attractive look, you need to trim the excess fabric with curly scissors, 0.5 cm back from the edge.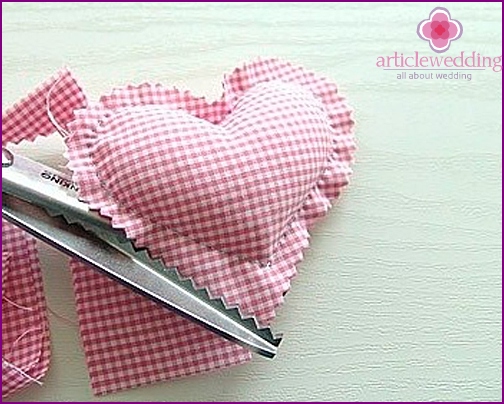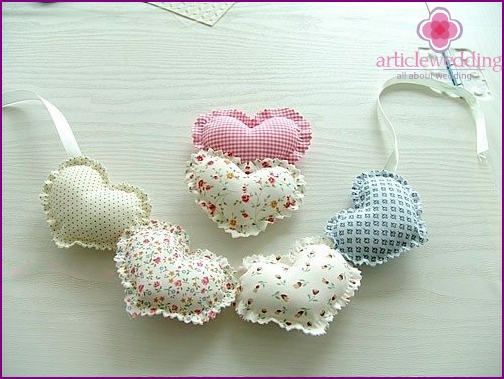 Cardboard Bonbonniere
A cardboard box of a bonbonniere in the shape of a heart will become not only a packaging for a small gift, but it will also be a nice souvenir. Putting a few candies, a small handmade soap or a scented candle inside, you will give many pleasant memories of this significant wedding day. The bonbonniere shape says how much warmth and love is invested in this small attribute.
Necessary materials
To make a cardboard heart box, we need a little perseverance, a huge desire to bring joy to loved ones and some materials:
white cardboard with a density of 120 g / m2,
white thicker cardboard from 160 g / m2 and above,
fabric cotton, calico, linen with a small bright pattern,
scissors,
pencil or chalk,
universal glue,
ribbon with ornament.
Template and creation steps
On a thicker sheet of cardboard, cut out according to the scheme two details in the shape of a heart, which will subsequently be the bottom and bonbonniere cover.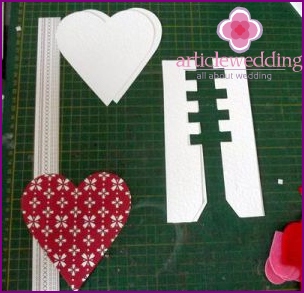 The sides of the template are drawn with a pencil on a less dense cardboard, adding about 2.5 cm to the edge and an additional 2 cm for folds. Such parts will need 4 pieces. Slots will add volume to the product..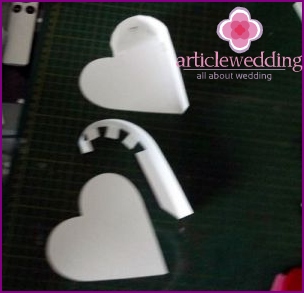 We glue prepared side parts to the box lid.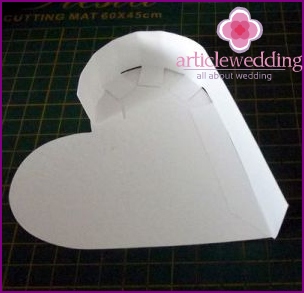 The operation of gluing the sides is repeated with the base of the box.
We attach a tape with a beautiful pattern to the side.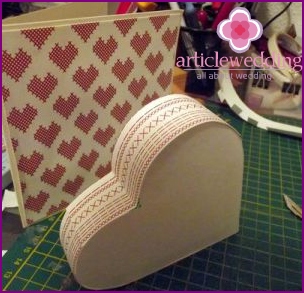 From the fabric we cut 2 parts of the heart 1-2 mm large around the entire perimeter.
Glue one part to the bonbonniere cover, and the second to the bottom.

Bonbonnieres hearts with lavender
In the manufacture of heart-shaped bonbonnieres, it is very important to invest your love and warmth. Such a souvenir, filled with dried lavender flowers, will not only delight the eye, but also benefit health. Since ancient times, lavender has been famous for its medicinal properties to calm the human body and drive away insomnia. Having placed a pillow with fragrant mountain grass in the bedroom, you can be sure that a healthy sleep is ensured. Having presented guests with souvenirs with lavender, the newlyweds mean taking care of the peace of mind of their loved ones.
Necessary materials
We choose cotton fabric of calm tones, preferably blue, blue, purple shades, reminiscent of lavender in color.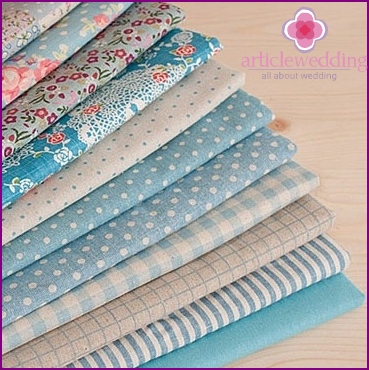 Thick paper or cardboard is useful for stencils in the form of a heart, which can be more round or elongated.
It will take a certain amount of well-dried lavender to fill..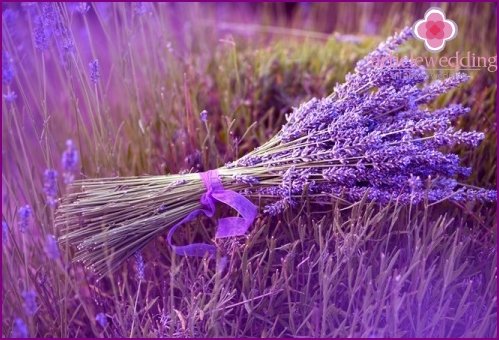 Needle, thread and scissors necessary to complete the work process.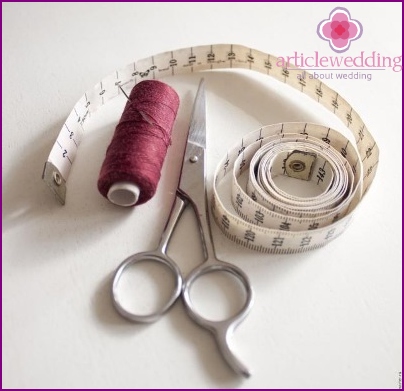 Template and creation steps
We make a template. To do this, fold a sheet of paper, draw a half heart of the desired size and shape. Cut a smooth and beautiful heart.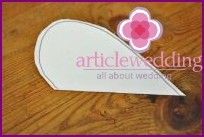 Having laid out the template on a double folded fabric, we draw a contour with the required margin on the seams of 1-1.5 cm.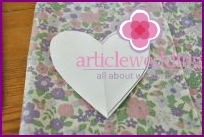 Having folded the two halves of the heart with the wrong side up, carefully stitch along the contour with small stitches, leaving a small hole.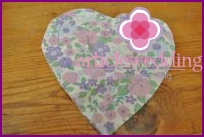 So that the fabric does not tighten and the heart takes a beautiful shape, we make small cuts along the contour without affecting the seam.
We turn the product around and through the hole left fall asleep lavender.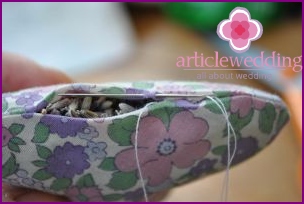 Having completely sewn up all the edges, start decorating the heart by sewing a small ribbon or decorating it with a beautiful button.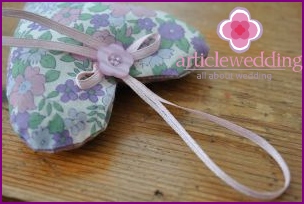 Making a bonbonniere in the shape of a heart
DIY gifts are a pleasure not only to receive, but also to make. If you decide to surprise and please your guests at the wedding with such small souvenirs as bonbonnieres in the shape of a heart, you will hear from them not only words of gratitude, but also admiration. In the original box, you can put various sweets or small gifts to commemorate the wedding day..
After watching a small master class, you can make gifts yourself. Such heart-shaped souvenirs presented on the wedding day symbolize the tender relationship and the ardent love of young spouses. You can design a bonbonniere to your liking or in a wedding style, if it is thematic.
Photo of a bonbonniere in the form of a heart for a wedding
Bonbonnieres appeared in France at the end of the 16th century, and from India they brought rare, very expensive and extremely tasty sweets. The high price affected the amount of treats – it was small, so the sweets were packed in small boxes of bonbonnieres (derived from the French word bonbon – candy). Many centuries have passed, now the bonbonnieres have changed and can look not only like a box for chocolates, but have different shapes, fillers, or just be a decorative ornament.