Contents
---
---
A traditional addition to a wedding day greeting is a bouquet. Fresh flowers, composed in an interesting composition - this is not only a way to express your wishes to the young, but also a symbol that brings luck to a married couple. The choice of a bouquet that is beautiful in appearance and has benefited the newlyweds is a true art. It is better to refrain from choosing some types of flowers as a gift.
What kind of flowers is better to give for a wedding
There are no strict rules of etiquette indicating that guests should give flowers. Few people come to a wedding without a bouquet. Many invitees rely on a random composition proposed by the seller, and, unaware of this, choose flowers with unfavorable symbols. Check the values ​​of the chosen colors to take them into account when choosing a bouquet. Traditionally, it is believed that it should be white or pale pink, associated with innocence and purity. But you can use other colors. The meaning of the fundamental tones:
Red - a symbol of passion, love.
Green is hope, harmony.
Blue - constancy, fidelity.
Violet - Elegance.
Orange - a wish for health, family comfort.
Golden - joy, sunshine.
Purple is Greatness.
A great solution for a wedding is to buy a composition in a basket. With this design, the bouquet looks more rich. Thanks to a special floristic sponge, it does not require water, therefore it is more resistant, retains its beauty longer. Any celebration will be decorated with a bouquet decorated in the form of figures of animals, toys. This is a new direction of floristry that will amaze the newlyweds. For example, if you give the newlyweds a snow-white swan from chrysanthemums. Unusual bouquets evoke unforgettable emotions, and memories of them will remain for life.
Roses
The first most popular flowers when creating wedding bouquets are roses that blend perfectly with gypsophila. They mean luxury, abundance of well-being, love bonds. White - purity, prudence, tenderness, and red and burgundy - passion. Guests should not give plants in red-burgundy colors to newlyweds, such flowers are presented by lovers to each other. Some have doubts about yellow roses. Some consider them a symbol of separation and betrayal, others - a wish of joy, prosperity.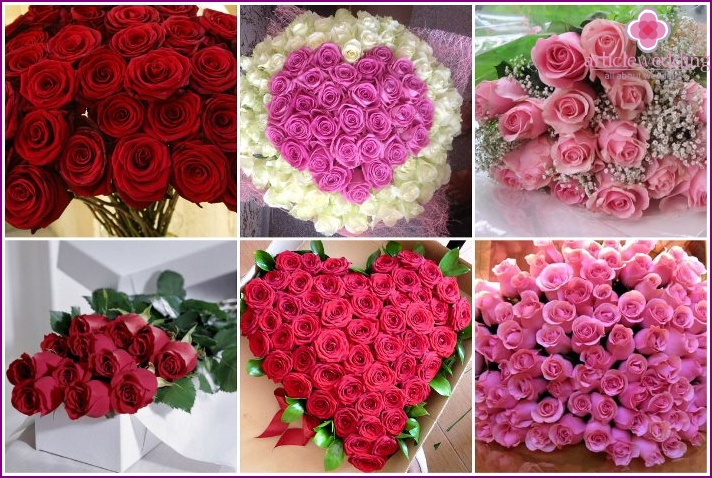 The newlyweds will conquer a bouquet of roses with inscriptions or photographs of a young married couple. This service is gaining popularity in recent years. You can decorate not everything, but one or more buds. They depict the words, drawings or photos. Roses decorated with photos with bright moments of life of a young married couple will be the most unusual bouquet at a wedding.
Wildflowers
Poppies, chamomiles, cornflowers, forget-me-nots or pansies are a must for English weddings. We again come into fashion violets, gerberas, spikelets. They emphasize ethnic motifs, meaning simplicity, purity, romance. Such bouquets remind of the sun, give a feeling of home, homeland, emphasize the freshness, youth, attractiveness of the bride.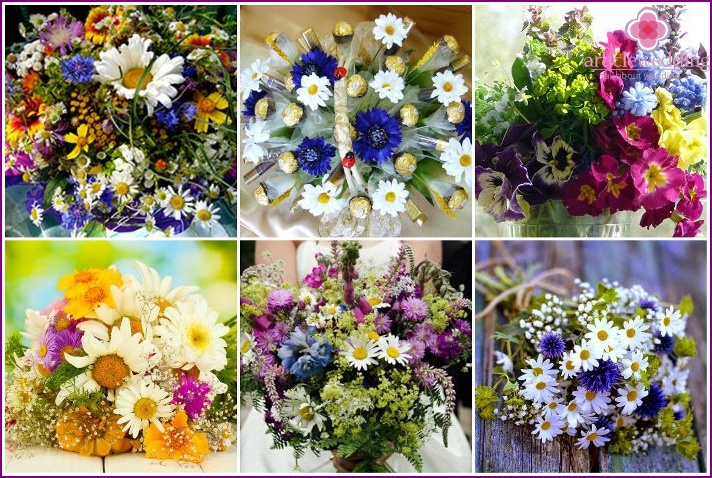 Tulips, Hyacinths and Daffodils
Spring flowers mean something new, reborn or purity of feelings. If there is a sprig of sensual white lilac in the bouquet, then it symbolizes innocence, and purple - first love. Tulip - brings happiness, means strong and pure feelings. Narcissus is a sign of nobility, respect and timid love, white hyacinth is a charm and constancy.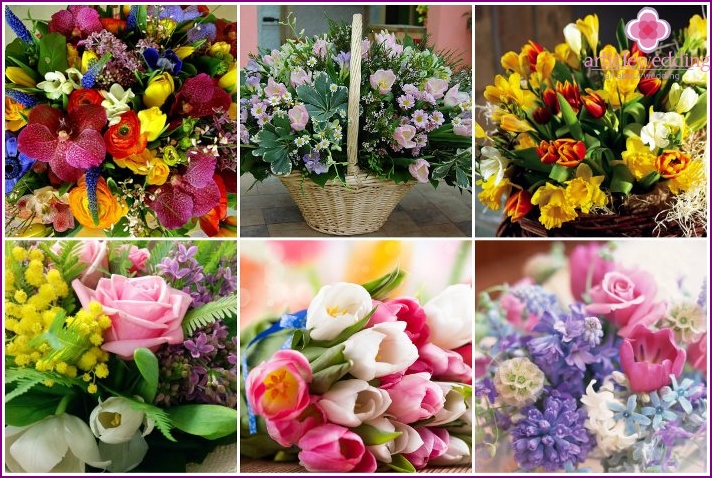 Exotic flowers Anthuriums
This is a tropical flower belonging to the genus of evergreens. It is a thick stalk decorated with a petal. The anthurium bud has a heart shape, and the core resembles an arrow (cupid), which is why it is often called that. The plant is considered truly masculine, symbolizes love, prosperity, passion. Anthuriums fit «women vamps», who are admirable.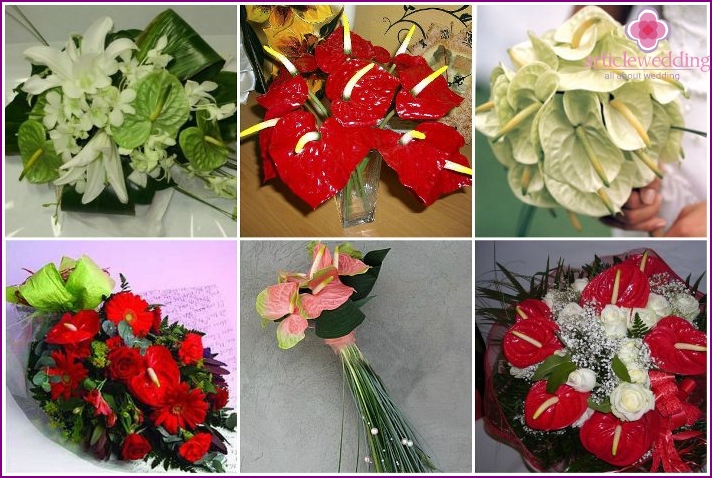 Peonies in combination with hydrangea
Peonies in symbolism - an ambiguous flower. In ancient Greece, it brought longevity, in Japan it represents wealth, fertility and joy. In China, at the expense of peonies, there are two versions, according to one of which the plant symbolizes nobility and is presented at the wish of well-being, and on the other, it is a symbol of love and beauty. Hydrangea - discreet, fragile inflorescences associated with modesty. In a bouquet with peony, they are a symbol of long and tender love..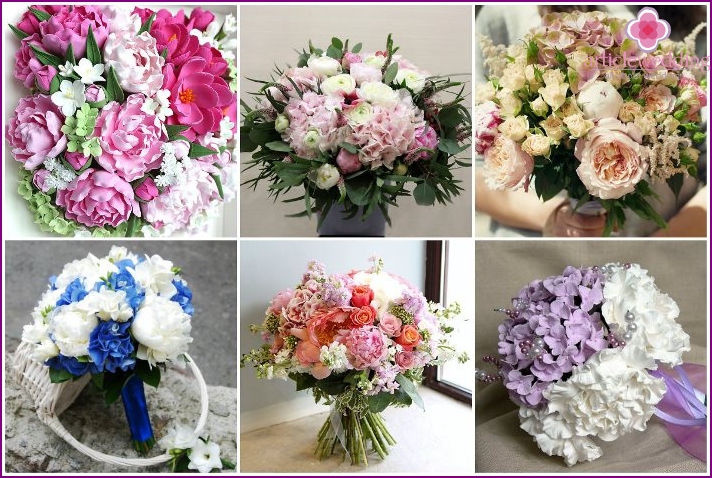 Gerberas and Chrysanthemums
Chrysanthemum is a beautiful flower, meaning joy, friendly feelings. White chrysanthemum - a symbol of sincerity, yellow and red - a declaration of love. Bright, resembling a daisy, a gerbera personify freshness and admiration. These flowers are very persistent, with proper care they can stand up to a month, so that in some countries they are a symbol of longevity. By sending a bouquet of these flowers, the sender confesses a secret love and wishes a light flirt.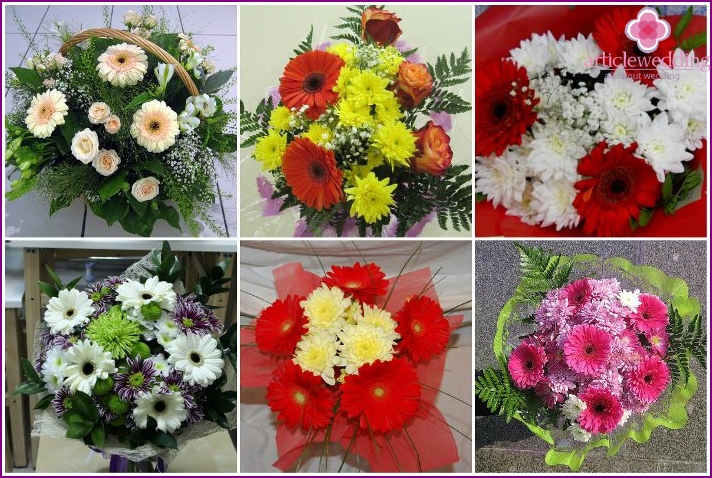 What flowers to choose depending on the season?
Wedding celebrations are held year round. There is no bad season for them. Regardless of the weather, a wedding is one of the happiest days for newlyweds, which should not be overshadowed by an improperly selected bouquet. When choosing it, you must be guided by the laws of etiquette, cultural traditions that have been formed over many centuries, and trends in the field of floral fashion. The seasonality of all species is different, and therefore the choice can radically change:
In winter, the smallest variety of colors. When choosing them, preference is given to snow-white shades. According to the advice of florists, the ideal option would be white lilies or roses interspersed with greenery, large leaves, or orchids.
Spring is the richest time of the year in terms of flower selection. Associations with her - fresh grass, blue sky. Based on this, you need to choose gentle, pastel shades of flowers, and rich colors can ruin the impression. The choice of hyacinths or chrysanthemums is appropriate. Lilies of the valley, daisies look inexpressive, it is better to avoid them.
In the summer, when nature is full of colors, the choice should be made in the direction of large, bright bouquets using exotic plants.
Autumn captivates with its colors. Orange, brown, burgundy, golden tones will harmoniously look in a bouquet. A win-win option will be the roses of these colors, chrysanthemums, calla lilies.
What flowers can not be given for a wedding?
Marriage is an event crowded with various traditions and superstitions. This could not affect the colors. The choice of some of their species may be negatively perceived by the newlyweds. To avoid awkward moments, choose a bouquet, following the following rules:
Do not give flowers with harsh aromas.
It is believed that red and burgundy roses, studded with thorns, will bring discord and quarrel, therefore, they should also be abandoned.
You cannot give flowers if any of the bride and groom have an allergy to them.
A wedding gift is considered a bad form - a flower in a pot.
Care should be taken with cloves and callas, as in some cultures they symbolize sadness and sorrow.
Bad tone is to give fading flowers. Do not choose delicate, sensitive flowers for a hot day..
Knowing the basic rules, you can easily pick up a stunning bouquet for the newlyweds, with its help, without words, wish love, prosperity, prosperity or say about true friendship. Such knowledge in the symbolism of flowers can be useful in the future when choosing bouquets or at the time of receiving them from acquaintances and friends. You will immediately understand the true meaning of each flower..