Contents
---
---
From the wedding, guests always expect something special, bright and unusual. That is why the newlyweds put a lot of effort and imagination to surprise and please their long-awaited guests. A lot of time is spent on creating a romantic and cozy atmosphere in the banquet hall. It is also necessary to consider wedding invitations and wedding evening programs. But the most important thing is to choose suitable bonbonnieres, small gifts for guests.
The site www.articlewedding.com will help you not only with the choice of ideas for bonbonnieres, but also tell you how to make wonderful bonbonnieres with your own hands. What could be more logical than beautiful hearts as bonbonnieres? With the help of our master class and step-by-step instructions, you can make cute hearts with lavender. Such an accessory can simply be put on a shelf as a decoration or put next to the pillow before bedtime. The smell of lavender will help the body relax, and you will quickly fall asleep. Also, such a heart can be used as a pillow for pins. Well, let's begin our creative process.?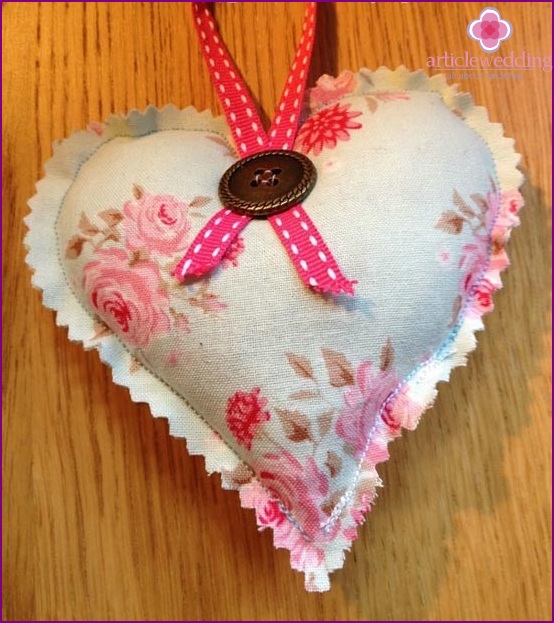 Materials and tools:
beautiful fabric (10 hearts need half a meter of fabric);
tape (20 cm.);
thread and needle;
button;
heart shaped stencil;
dried lavender;
soft stuffing for toys;
A4 paper;
pins
scissors;
scissors with serrated blades;
sewing machine.
Time
: 35-45 minutes.
Detailed instructions:
Wonderful hearts will make guests smile. However, you will need patience to make such beauty! Just be careful and everything will work out!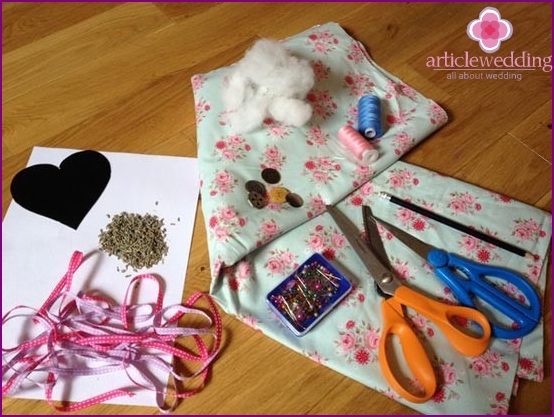 Take your piece of fabric and fold it in half with the front side. Take the stencil and circle it on the fabric. Carefully cut out the heart and connect the two edges with pins. Connect the two halves with the wrong side.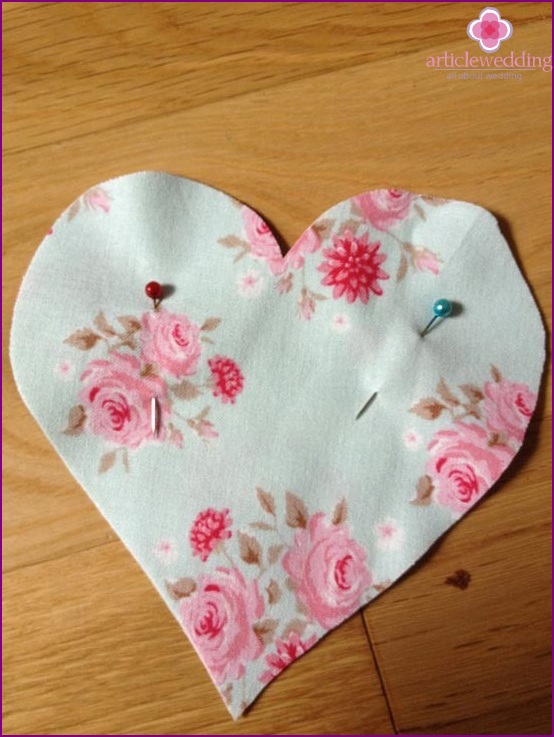 Use a sewing machine to sew two halves together. Step back from the edge about half a centimeter, which we will decorate later with the help of decorative scissors. The line does not need to be kept to the end - leave 4 centimeters so that you have a hole for stuffing.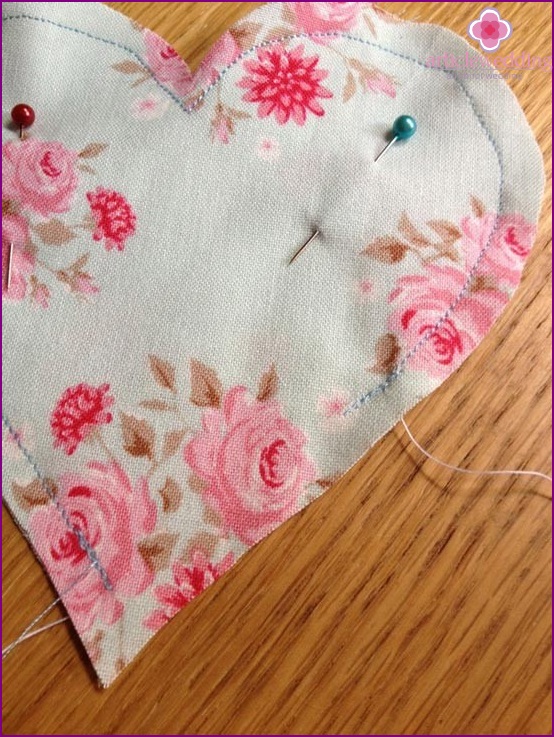 Now you need to make the heart voluminous with the help of packing. Just distribute it evenly inside the heart. To do this, you can use A4 paper, which must be folded into a cone shape. Place the narrow edge in the heart, and through the wide - pour dried lavender.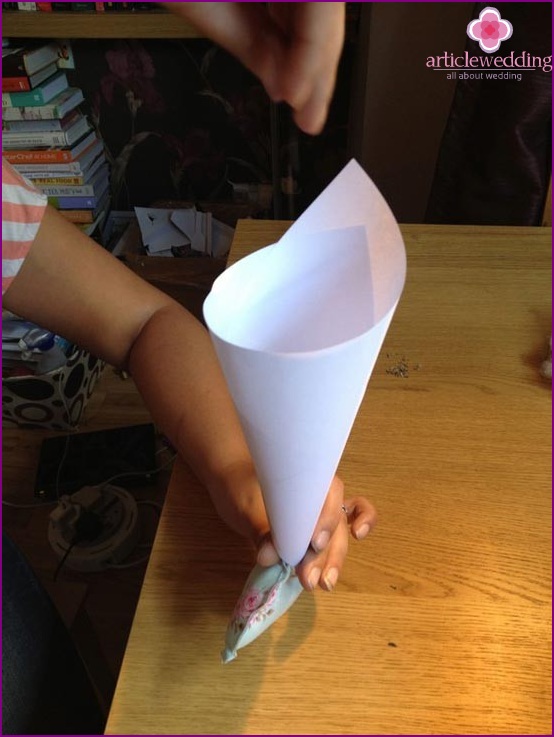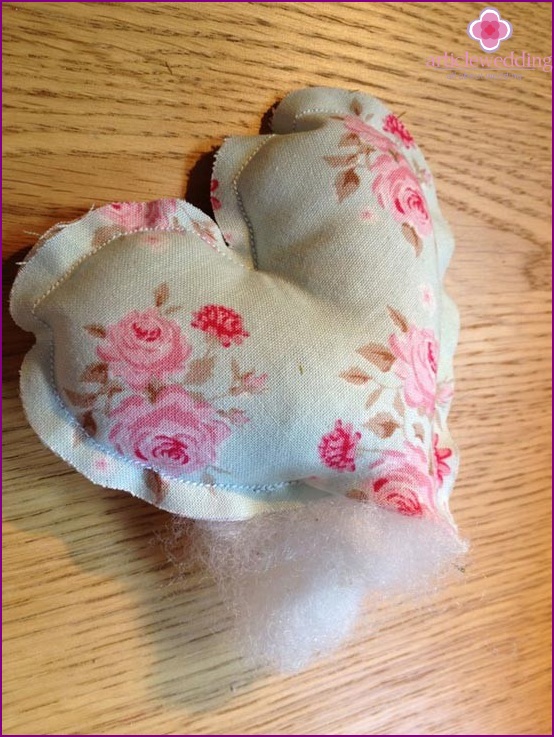 Now you can safely stitch the edges of hearts! After that, take decorative scissors and cut the edges of the hearts. You just have to sew a beautiful ribbon to the fabric and decorate it with a button! And our wonderful bonbonnieres are ready!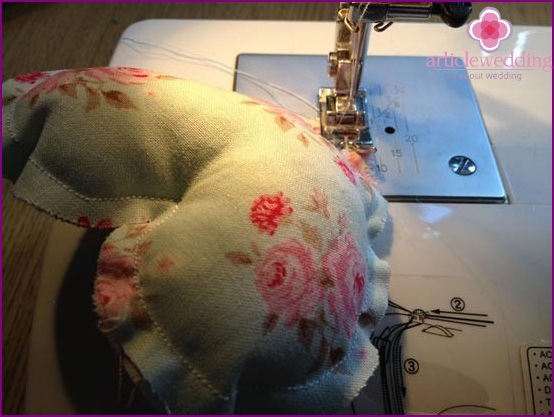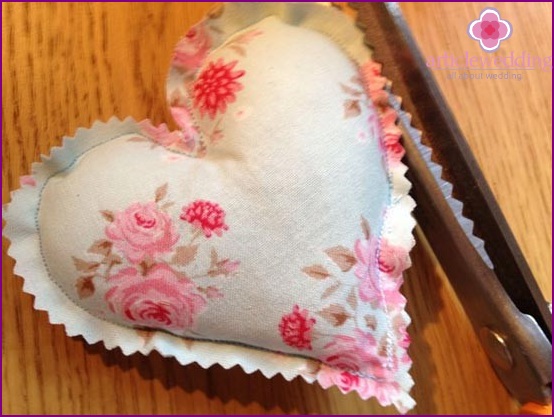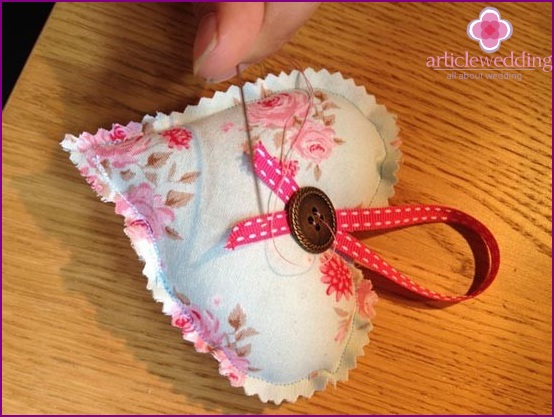 Application options
Thus, you get creative bonbonnieres in half an hour! But if you go into the pace and take yourself an assistant, then in a few hours you can make gifts for all guests. Such hearts can be decorated with rhinestones or bright beads. You can also use different fillers, not just lavender. Any medicinal herbs are also suitable - chamomile, St. John's wort, thyme. A ribbon will allow you to hang hearts in a room or in a car. Use stylish buttons to help hide the seams on the ribbon. In general, one way or another, you can please the guests, which means that they will be delighted with your hospitality and your wedding!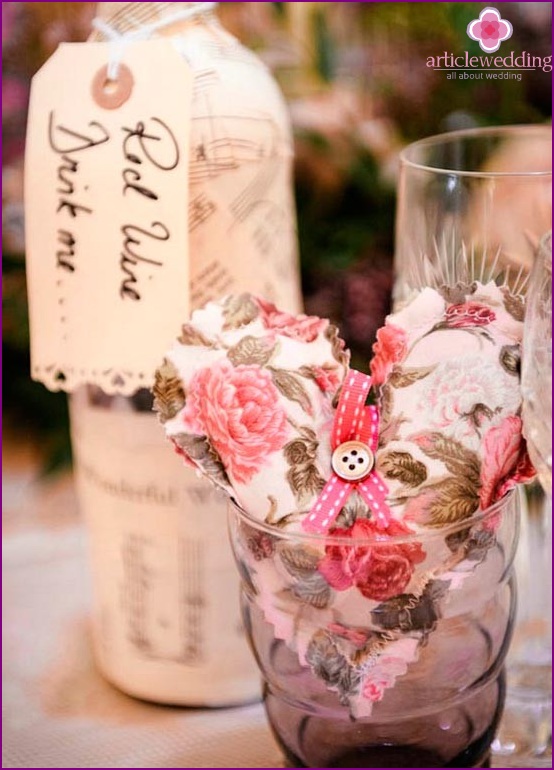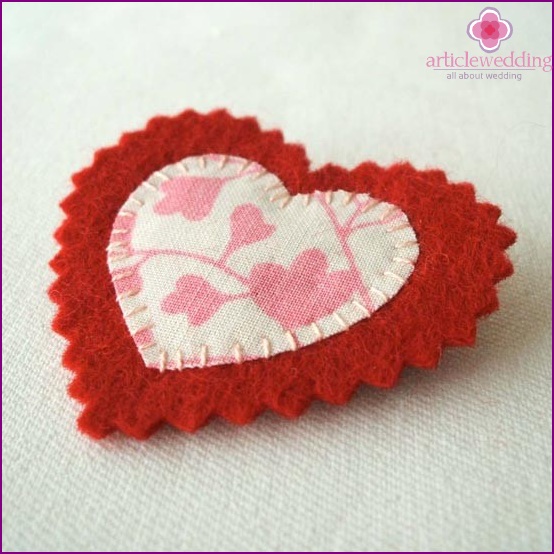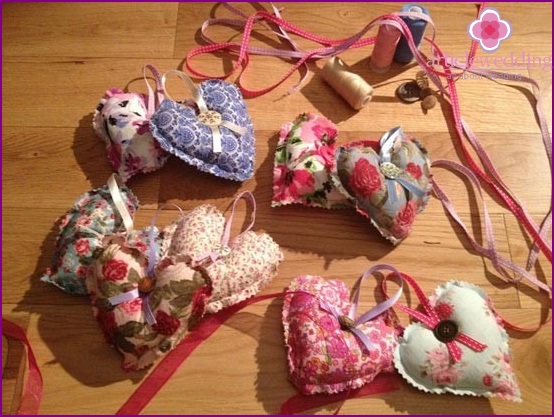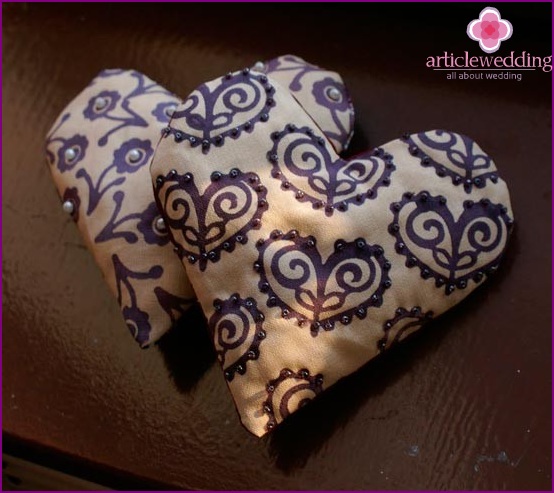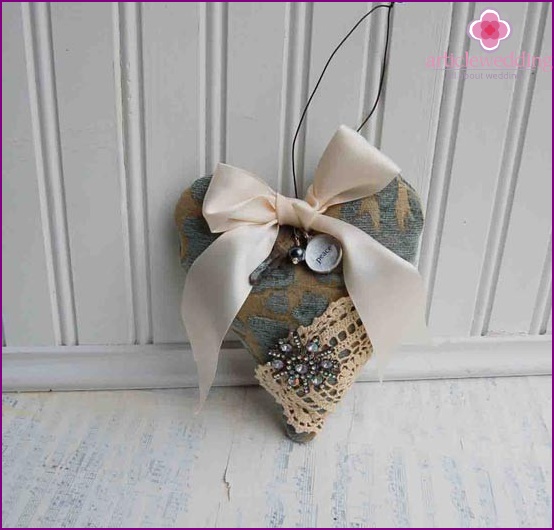 The wedding portal www.articlewedding.com offers you a huge number of stylish master classes in creating bonbonnieres. Your wedding will pass flawlessly, and all guests will certainly be satisfied! And you can have fun.