Contents
---
---
After many years spent together as husband and wife, there comes the third big round date - thirty years of marriage or a pearl wedding. The spouses have already spent a lot of time in one house, most likely a child has grown up in the family, or even several, all minor troubles have subsided. At this stage, the husband and wife already understand each other at a glance, have learned to resolve issues without conflict and appreciate the presence of a partner nearby. Friends and children have an obvious question: what to give for a pearl wedding? After all, such a serious anniversary is usually celebrated by spouses.
What to present for 30 years of marriage?
There are many options for presentations that are presented to the heroes of the occasion at the pearl wedding. It matters who the giver is - they will be the children of the spouses, their grandchildren or close relatives, friends. Traditionally, for each anniversary, including the thirtieth, the partners themselves present gifts to each other - usually from this they begin their day. If there is a river nearby, the culprits can give each other a pearl and go to perform a ritual: throw two natural beads into the water, pronouncing vows of allegiance, love, respect.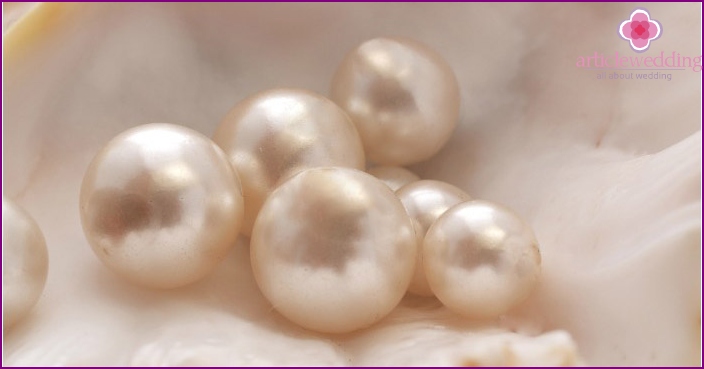 Observance of traditions on the day of the pearl wedding will further strengthen the family of the spouses, help them to re-look at each other, because in everyday hustle and bustle it is easy to forget about what a wonderful person is nearby. Believers guilty of the triumph are recommended to put candles in the church - at the Crucifixion, the Virgin and the Trinity. Each candle during a pearl wedding has a special meaning:
the first is gratitude to each other,
the second is a request for health,
the third is a happy common future.
Wife
A man has hundreds of options for presenting his sweetheart to a pearl wedding. First of all, the hero of the occasion can consider objects directly related to the symbols of this day - products with pearls. A wonderful idea is an elegant necklace of thirty polished pearls that will adorn the neck of the hero of the occasion. Also a pendant with these beads, a ring, a brooch, a bracelet, earrings will do. If the spouse does not have enough money, he can buy beloved good jewelry or a gift certificate.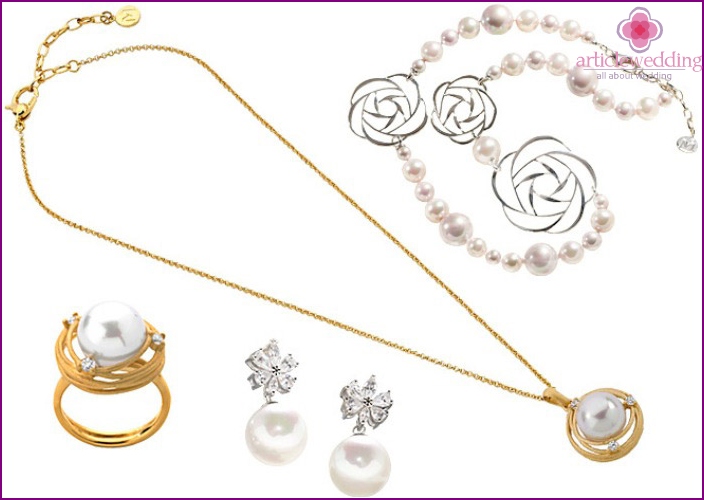 And vice versa, in the case when financial opportunities allow, the hero of the occasion can choose an expensive gift and give an elegant box decorated with pearls, and in it a set of accessories (earrings with a bracelet, necklace with a ring, earrings with a necklace, etc. .). Such a gift for a pearl wedding will definitely please the main character of the holiday. If a wife does not like jewelry of this kind, a man should not be upset: having lived together for so many years, he will surely be able to choose a suitable gift, albeit without a pearl reminder of the date.
To her husband
If you follow the symbolism of a pearl wedding, the hero of the occasion can present her husband with an original accessory that will fit his image well - it can be elegant pearly cufflinks, an elegant tie clip if the husband wears one. It is believed that in a pair for an anniversary it is not customary to give a watch, but provided that the hero of the occasion does not have it. The wife can present this gift to her partner - a silver watch or even a gold one, with a mother-of-pearl dial.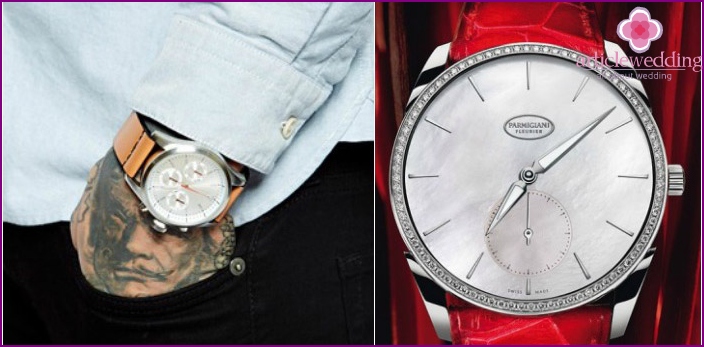 Giving pearl gifts is traditional, but not necessary. In the end, a wife can give her lover something he had long dreamed of:
for fishing lovers - new baubles,
«fresh» a set of tools - if the husband has golden hands,
expensive hunting knife with carving and engraving.
Here it is important not to make a mistake with the model, the functional, so that something is not presented to the pearl wedding.
Pearl Wedding Parent Gift Ideas
As a rule, by the time of the thirtieth anniversary, children had already grown up. Perhaps they themselves have already started a family, found a job, so there are quite ways to give their parents a good gift. But the question of what to present for a pearl wedding remains open. If the heroes of the occasion give each other expensive or symbolic gifts, children can give preference to spiritual, useful things that will remind of this day. For instance:
Photo and video presentation - gifts from the category of spiritual, touching. Children can look into the family archive, find old photos from the wedding, find videos that are probably recorded on cassettes, then rewrite them in DVD format. They can bring a projector to a pearl wedding, hang a canvas or a sheet and, at the height of the holiday, show guests a beautiful presentation with snippets of past heroes of the occasion - this will definitely please everyone, including spouses, and will certainly help them ignite their old feelings. See how it looks in the video:
Photo frame with a flash drive. Now there are special digital frames with a screen for photographs, where frames are transmitted using a flash drive, and are replaced one after another. Spouses are already around or after fifty, so this innovation will seem interesting to them. Previously, children can upload there photos from the wedding, when the heroes of the occasion were still newlyweds, as well as from subsequent anniversaries.
Banquet organization. Spouses are already people of age, so the organization of the anniversary may seem tedious to them, or even the couple will want to abandon it. Therefore, a wonderful gift from children is to take responsibility for holding a pearl wedding. Sons or daughters can come up with a script, invite guests to a celebration, prepare a festive menu, rent a restaurant or arrange a home holiday - the main thing is that the wedding is cozy for spouses.
Great cake. If the spouses independently organize a celebration, but do not provide a chic cake, children can give this anniversary a confectionery product specially prepared for a pearl wedding. This can be a multi-tiered cake decorated with edible pearls or a treat made as a shell with a pearl. It is better to choose a cake with a light, not too greasy filling.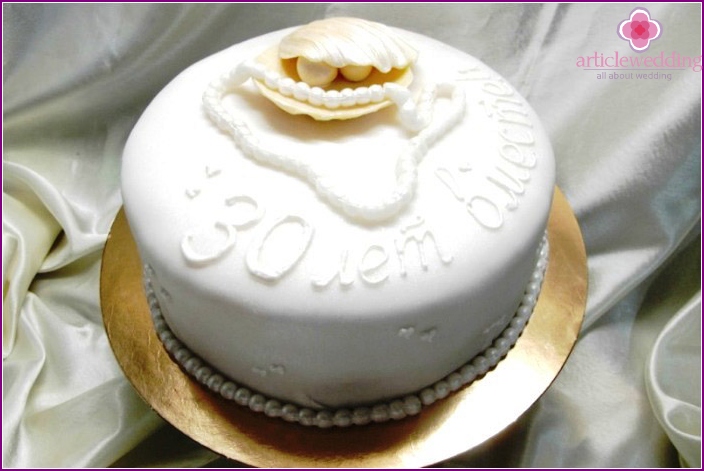 Special medals, certificates, decorations to be signed as «Best couple», «Most wonderful parents», «Hardy mom and dad». Then, the heroes of the occasion can keep such a funny gift somewhere in sight, surprising and amusing the guests who arrived.
Book kind. This unusual gift will be a wonderful reminder to the heroes of the occasion about the roots, and then will be inherited by the grandchildren and great-grandchildren. Studying a pedigree is a difficult task, it is often impossible to track beyond the fourth, fifth knee, but if the children are firmly committed to this goal, then their parents will receive a wonderful, original gift for a pearl wedding.
Pet. Many people think that giving parents a pet is real madness, but if the heroes of the occasion love animals and spend a lot of time at home, there's nothing to worry about. Quite the contrary: after the children left, the couple probably got bored, the house was not so fun, lonely. A live gift presented at a pearl wedding will be a real joy for parents. However, children should be prepared that at first such a surprise will be perceived strangely. To avoid too violent reactions, you should first discuss this with at least one of the parents.
What can I present to my friends besides pearls??
Pearl gifts are a popular option for presenting on the thirtieth wedding anniversary, but friends may want to give something else, in their opinion, more useful or interesting, in addition, the couple will probably give each other pearls. A suitable gift for this important event could be:
Appliances. This type of gift becomes no less relevant over the years, suitable as a present for almost any holiday. Things that make life easier are ideal for people who have already reached the fifty-year mark. Friends can give the heroes of the occasion a food processor, a slow cooker, a modern microwave, a double boiler that helps to cook quickly and without fat, an electric kettle - you need to choose what the spouses really lack.
Portrait. Now it's easy to find an artist and order a portrait from a photograph for a certain amount, the Internet is full of thousands of such ads, you just need to find the right service for the price. Previously, you should familiarize yourself with the portfolio of the artist to be sure of the quality of the gift for a beautiful pearl wedding. A more expensive gift option is to buy a certificate from the artist, which will allow the heroes of the occasion to come to his workshop to draw their portrait in oil or pencil.
Textile. Textile gifts may seem hackneyed, but they always come in handy on the farm, so you should not neglect this option for a pearl wedding. The heroes of the occasion may be happy to receive new silk underwear, a warm woolen blanket, bamboo towels, bathrobes, etc. To match the theme of the pearl wedding, guests can look for textiles with pearls or pearls.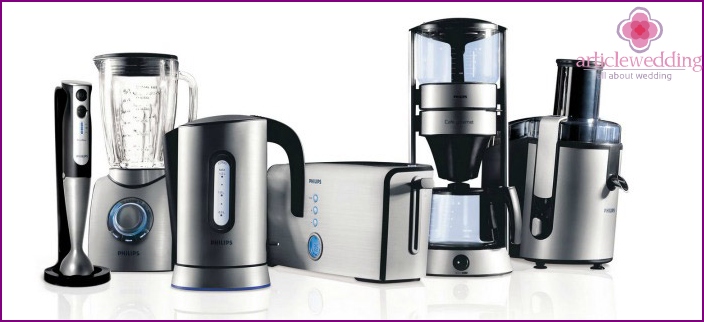 Tableware. New beautiful wine glasses, a set of faceted glasses, crystal bowls, unusual vases - a wonderful gift for friends. Such presentations will take pride of place among the service sets of pearl wedding anniversaries, and can also decorate the next celebration.
Souvenir jewelry and homeware are a wonderful gift. All kinds of figurines with the image of a couple, pigeons, and also - candlesticks, beautiful caskets, wall plates and much, much more. This is only part of the huge number of things that will turn out to be presented to the heroes of the occasion on the pearl wedding day.
Unusual DIY gifts for a pearl wedding
There is nothing better than presentations that will be made independently. There are many options for such gifts for a pearl wedding - guests can come up with something on their own or take advantage of ready-made ideas and find the appropriate master class. A few original gifts that are easy to make with your own hands to please anniversaries:
Children's drawings, congratulations. Surely the friends of the heroes of the anniversary already have grandchildren who are not many years old - the kids always draw sincerely and funny. Guests of the celebration will need to ask the little child to draw something as a gift for a pearl wedding, to tell about the symbolism of this anniversary - something touching and pretty can happen.
Postcards. Using master classes in scrapbooking, guests can create a unique gift - a card, completely made independently. Culprits of the celebration will certainly appreciate the works of friends or children.
Photo of original pearl gifts
Original gifts made with pearls include a lot of things: these are all kinds of brooches, bracelets, earrings, necklaces for women, a beautiful photo frame decorated with pearl beads, a mirror, etc. Pearl gifts look beautiful, durable, and will delight the eye with the beauty of delicate beads. See photos of examples of presentations using pearls: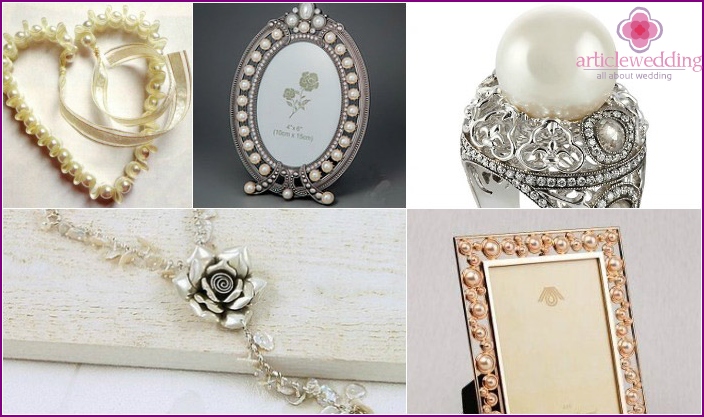 A pearl wedding is a special event, both for the heroes of the occasion and for everyone who is personally acquainted with them, because living together for thirty years is a great happiness and achievement. Surely the family had difficult moments that the couple overcame together, their life span deserves respect, so guests must come to celebrate their anniversary - this round date - with a good gift. The present will delight spouses, give them pleasant memories of this holiday.