Contents
---
---
A linen (wax) wedding is the fourth wedding anniversary. These names come from ancient times, characterizing the family as young, but gaining quality, because these materials have long been considered a symbol of well-being. And in our time, on the 4th anniversary, according to tradition, they give linen and wax things, but because many people ask what to give for a linen wedding, so that the gift becomes special. The choice is wide, because from these materials it is easy to create many useful things. How to make a gift appropriate, relevant and original, read on.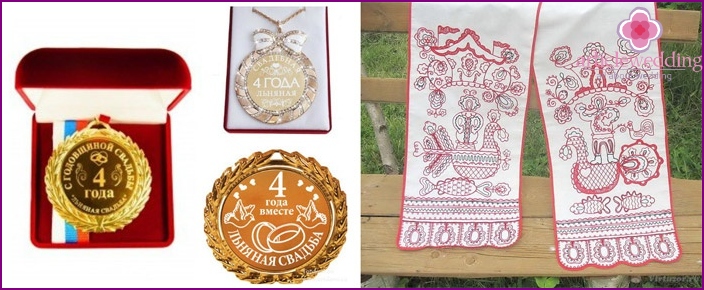 Original Wedding Anniversary Gift Ideas
The choice of gifts for the fourth wedding anniversary is not difficult: there are many useful linen items that will be useful in everyday life, and will also become a good, practical and beautiful present for young spouses. In addition, various napkins, tablecloths that can be donated are easily additionally decorated, becoming memorable objects reminiscent of this important event.
It is more difficult to choose gifts that are original, unusual, but suitable for the theme of the anniversary. A guest who decides to stand out from the crowd invited by his present should think carefully to find an interesting option. In addition, the specificity of linen items is more suitable for a woman than a man, which means that if you want to give differentiated gifts (for husband and wife separately), this aspect should be taken into account.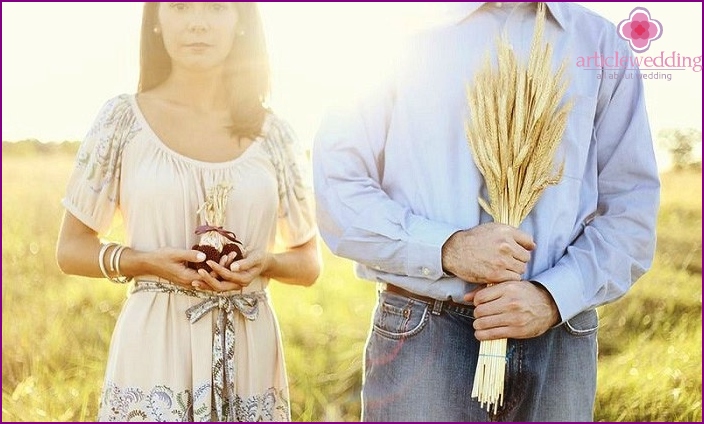 The husband and spouse often give gifts to each other, which even more requires an individual approach, originality and gender orientation when choosing a presentation. Below we have identified the main areas and nuances that are useful to take into account, choosing a memorable thing for each spouse separately. Both spouses themselves can use them when choosing a gift, or invited guests.
Gift Options for Husband
When choosing a gift for a husband, the first thing to do is pay attention to his hobbies, character and opportunities of the giver. There are many options, the main thing is to choose creatively and with the knowledge of the person to whom he will be presented. So if the husband:
He is fond of drawing - give him linen canvas, it is a great value in the art world, they paint real paintings on them.
He loves extreme sports - prepare him tickets for a parachute jump, a hot air balloon ride, a trip to a ski resort, wrapping it in a cover made of linen yourself.
He loves gadgets - make a case for him for a mobile phone, tablet, e-book, for flash drives, chargers or adapters.
Wearing glasses (sun or for sight) - you can sew a convenient case for glasses.
He works a lot and appreciates «lazy» rest - order or sew for him a nightgown and pajama sleep pants, which can be embroidered with ethnic-style ornaments or decorated with initials. From the earliest times, such a gift was given by wives to husbands for a linen wedding.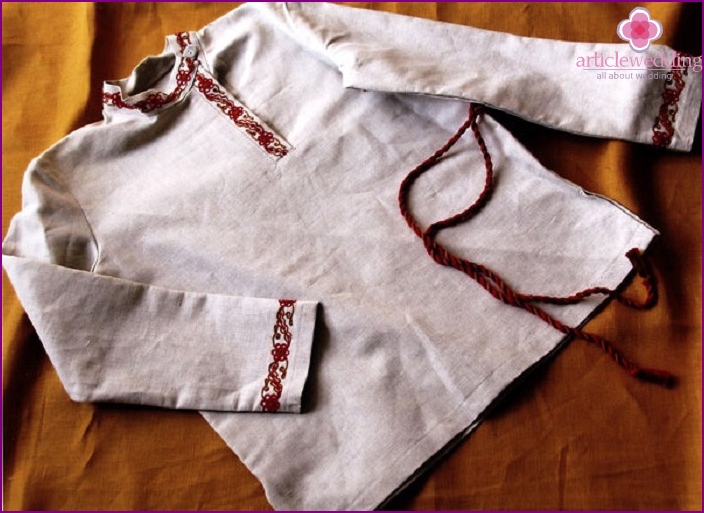 Unusual gifts for his wife
Women can use any gifts that are classically accepted for a linen wedding, but if you want to give a gift directly to her, and not to the family as a whole, it is better to refrain from household items (if you do not ask for them yourself). In the case when a husband gives a present to his wife, it is especially important that the subject is personal, but reflects the beauty and sensuality of the joint relationship. May fit:
linen cosmetics bags filled with cosmetics;
good perfume in a linen case;
large linen toys;
items of clothing;
album for photographs or a diary lined with linen.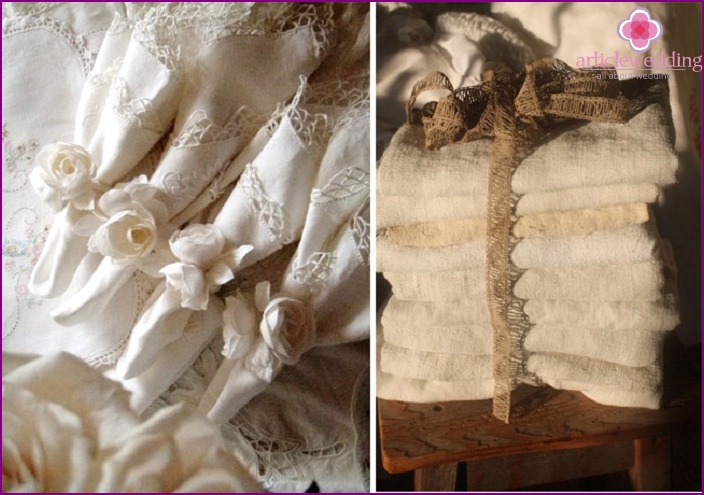 An original gift will also be the organization of a linen date, which is a candlelight dinner (a must, because the wedding is also a wax), planned for a light linen tent in a picturesque place. During dinner, a valuable gift tied with a bow made of linen fabric can be given. The main thing is that the whole event is imbued with romance, nobility and love - that women value most.
What is customary to give to a linen or wax wedding?
What is allowed to be presented for a linen wedding is not only a matter of personal preference for the heroes of the occasion, but also of relevance, depending on the person giving the gift. So, friends and relatives, who are often invited to such events, should prepare a present for the spouses. But these gifts often have a different character - serious and practical from relatives, playful, decorative and original - from friends.
To friends
Gifts from friends can be varied - from fun trinkets to expensive, useful things. The only requirement is that they must be linen or wax. If you really want to give the heroes of the occasion something special, but not made of fabric, make such a package by wrapping a gift in linen fabric and bandaging it with a bow made of twine, lace or ribbon.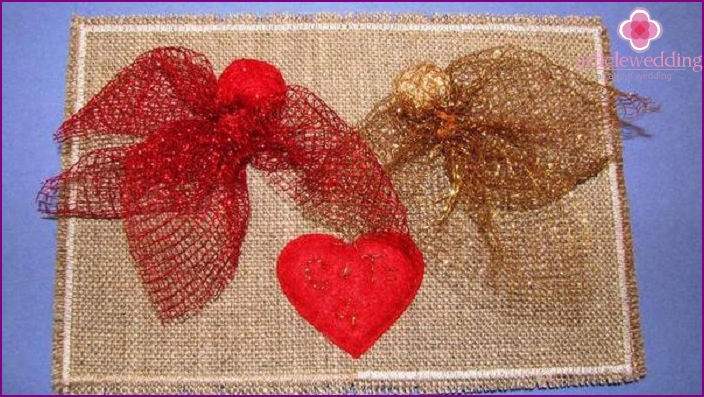 Another feature of gifts from friends is their decorative or playful character. If relatives necessarily give useful, sacred objects for a young family, such as tablecloths, bedding, then friends can move away from the semantic load and give something less serious:
beautiful tapestry,
linen bags for herbs and memorabilia,
toys in the form of a bride and groom,
funny linen pillowcases and much more.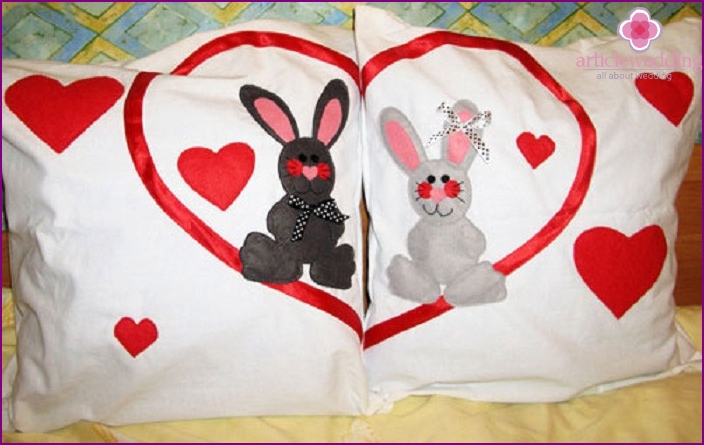 Wax presents are usually candles, but you can give something more original, such as a wax seal with the coat of arms of the family or the initials of the spouses, which is available to order in specialized stores or on the Internet. In general, wedding anniversary gifts are welcomed with the symbols of the newlyweds, and if the initials of the couple are incorrectly knocked out on a candle, carving on metal candlesticks is easy and inexpensive.
To relatives
If the heroes of the occasion are relatives, then you should think about gifts with a deep traditional meaning. They should serve to maintain the fortress of the clan and its well-being, and therefore gifts from relatives are necessarily useful linen items that will find their place in the household or wardrobe of the spouses. The classic gift options from relatives are a set of bed linen, a tablecloth, towels, napkins with initials embroidered on them, a set of clothes for sleeping from linen.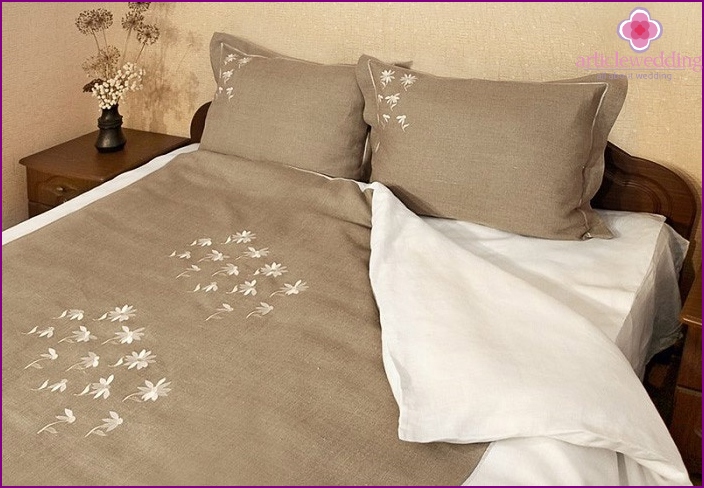 It is believed that they will bring harmony to family, intimate life, prosperity in the home. Through such gifts, the kind is shown to care for a particular family, a cozy and reverent atmosphere is created in a young, but already held, family. Even if different relatives give identical gifts, this will not become a problem, because such objects in everyday life are not superfluous.
DIY gift workshop
There are many options for gifts for linen weddings that are easy to make or decorate with your own hands. These are lace napkins tied with lace with the initials of the spouses, sets of tablecloths or bed linen, decorated with linen bows, cards with appliqué made of linen and much more. We will tell you how to make decorative linen bags. Spouses can use them to store small items from memorable joint days, which will be pleasant from time to time to review with family, recalling happy moments spent together.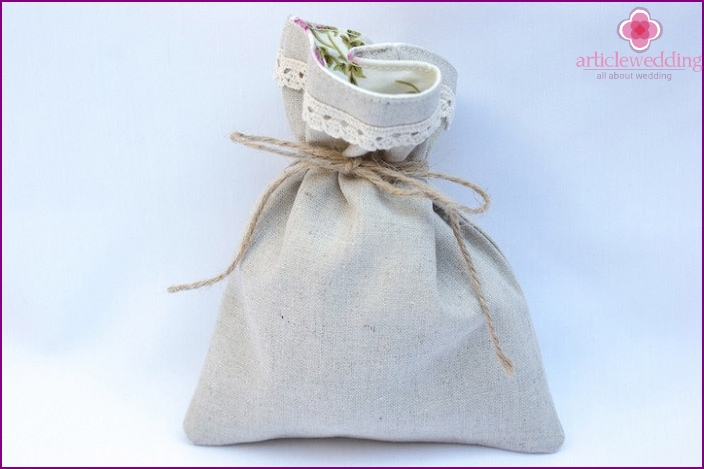 Take everything you need: linen, cotton with print (to be lined), lace, matching color threads, twine.
Cut out the details - rectangles 15 by 18 cm in size (there may be other proportions), use linen for 2 rectangles, cotton for 2 more.

Fold the linen part with the cotton part on the front. Get two of these sets.
Mark an allowance of 1 cm, pins a narrow edge of the rectangles stacked together.

Sew along the line with a sewing machine.
The result is two separate halves of the future bag.

Unfold fabric and seams from the center, iron.
Attach lace to the front of the linen part (1 cm from the seam). Make money.

Sew the tape to the fabric. Do the same with the other half of the bag.
Fold both ready-made halves together (apply with the front sides and in expanded form).

Pins around the perimeter.
Sew on a sewing machine.

Leave 3 cm unstitched (to unscrew the product), this area should be on the side that connects the cotton fabric to each other.
Cut corners.

Turn the product through unbroken space.
Sew the stock manually.

Insert the purl inside the pocket with the pocket inside, the front linen bag.
Iron the top fold.

Make a decorative seam along the upper fold with flaxen color threads.
Put the present inside the bag, tighten with twine - the linen bag is ready!
Do not forget that the second name of the 4th anniversary is a wax wedding, and therefore, a present made by yourself with wax using will be appropriate. A wonderful gift from friends for «flaxseed» spouses will have aphrodisiac candles, which will definitely become the most useful and original gift. They are easy to make at home, and the cost of money and time will be minimal..
Choosing a wedding anniversary gift is always a way to show attention to a young family, express your feelings, a good attitude, and therefore give young people what they truly need, which will truly please them. And even if the gift is not completely linen, packaging made of linen will always become the link that will make the gift thematically appropriate.