Contents
---
---
There are many options for decorating the festive premises where the newlyweds will spend time with the guests: these are balloons, all kinds of garlands, fresh flowers, ribbons, fabrics. One of the hall decor elements is colorful, original posters. They can be congratulatory, funny, playful. It's easy to make wedding posters with your own hands - it will bring a lot of pleasure during production, will serve as a wonderful decoration of the hall for the celebration.
DIY wedding posters
This type of room decor has several significant advantages: a poster can hide wall defects - cracks, dents, create an additional festive mood, attract the attention of guests. From such a poster, you can make a collage with photos of the bride and groom, using funny inscriptions painted in bright colors or printed, different drawings reflecting future family life, photo wallpaper. Show your imagination by creating interesting posters.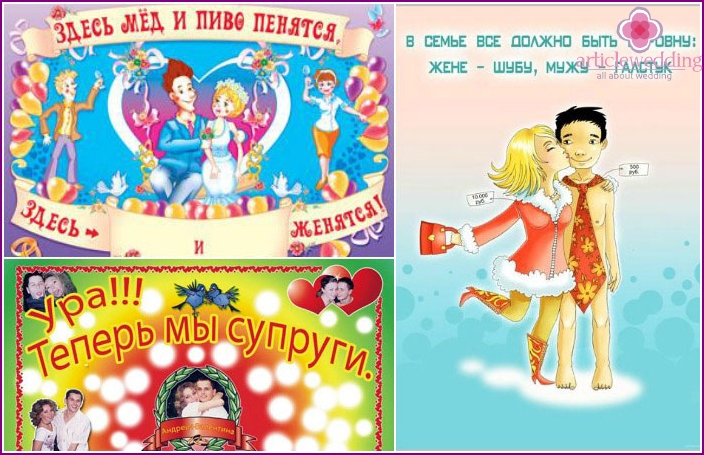 With the names of the newlyweds
A laconic text poster, where only the names of the spouses will be written, will be an excellent option for decorating the hall for a celebration. Take a rectangular sheet of paper, a pencil, draw thin lines with the outline of letters, flowers, hearts, rings - all that you want to portray. After - color the work with gouache or watercolor. If you are unsure of your artistic abilities, use stencils that are easy to find on the net..
To buy the bride
DIY do-it-yourself wedding posters will create an additional atmosphere. There can be depicted girlfriends demanding money from the groom, and also written a variety of funny tasks for the groom during the ransom, poems, jokes that are appropriate for the occasion. What can be themed posters for ransom, see the photo below.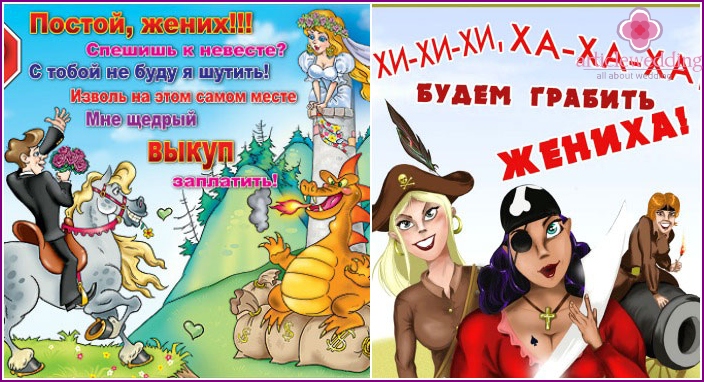 For a wedding photo shoot
You can make your own wedding posters for the photo shoot. They should reflect the event, and most importantly - decorate the pictures. Make garlands that will hang on the background, or unusual details from thick paper - arrows, signs: they will be kept by spouses. To make photos look good, approach the work in an original way, because this wedding props will be captured by the camera forever.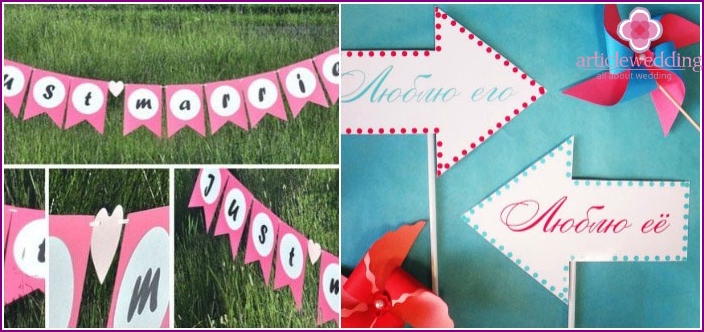 For the wishes of the young
Posters for wishes - a classic decoration. You can simply write all kinds of congratulations for happiness and love - they will not only please the eye, but will also help guests who are not experts in making toasts, quickly navigate, looking at the poster. There is another option: hang an empty sheet of whatman paper, hang a marker next to the nail - let the guests draw it with congratulations themselves, and the newlyweds will pick up a poster in memory of the holiday.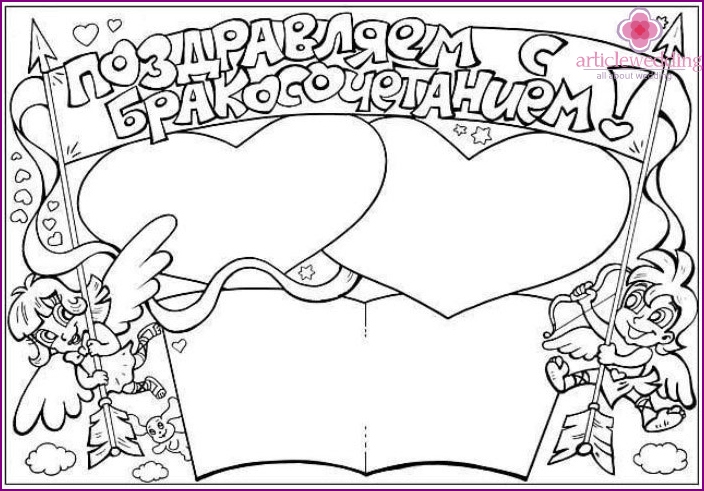 Wedding anniversary
DIY wedding anniversary posters can be made in the form of a collage of joint photographs of a married couple. This will be a wonderful surprise prepared by family, friends, and can also be an independent work of the spouses: creating a poster will certainly bring the couple even closer.
Funny, comic options with photos
Wedding posters need to be made funny, fun, using classic undying jokes about the mother-in-law, mother-in-law, mother-in-law, the severity of legal marriage, future tots - this theme will surely amuse the guests, dilute the solemn mood with a share of healthy humor. Funny colored posters will decorate the restaurant hall and provide a pleasant, relaxed holiday atmosphere..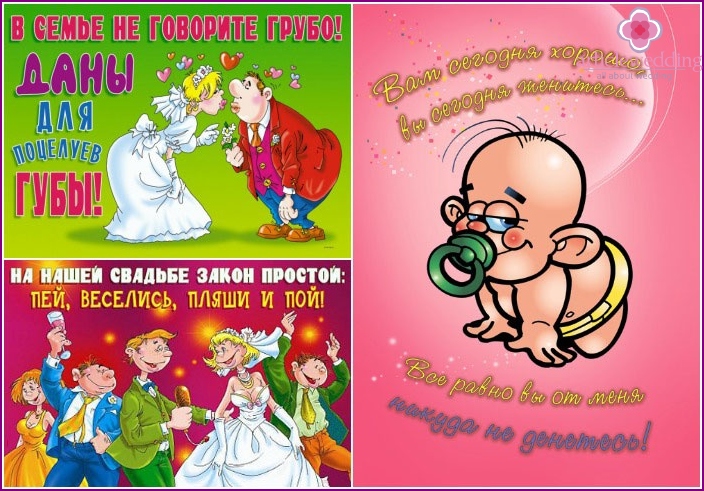 Funny wedding phrases, inscriptions, slogans.
Funny sayings, inscriptions can become a wonderful decoration of a banquet hall. You can invent something yourself, using your talent, as well as apply the good old jokes that you find on the net. Expressions that will decorate the wedding poster during the gala dinner with the guests:
«Beauty to the crown, mind to the end!»
«Love is blind, but marriage is a terrific optometrist»
«To whom it is bitter, but to us it is sweet!»
Beautiful ideas for poster design. Where to download templates?
A classic wedding poster wishing newlyweds advice and love is a beautiful design idea. Ready-made models of this simple decoration option can be found on thematic sites. For example, on Together nearby.ru, Tili-Dough. com, Kemerovo wedding.ru.
Below you can familiarize yourself with examples of finished posters and download them.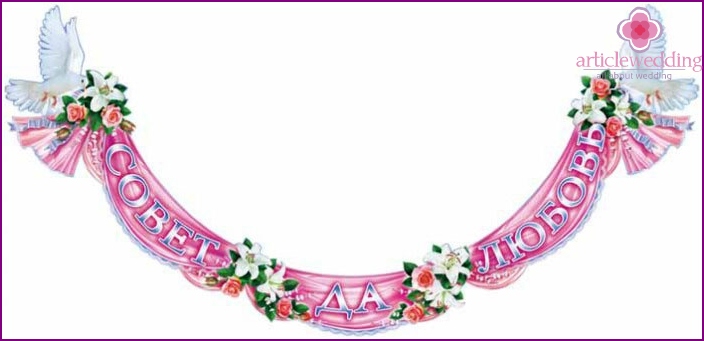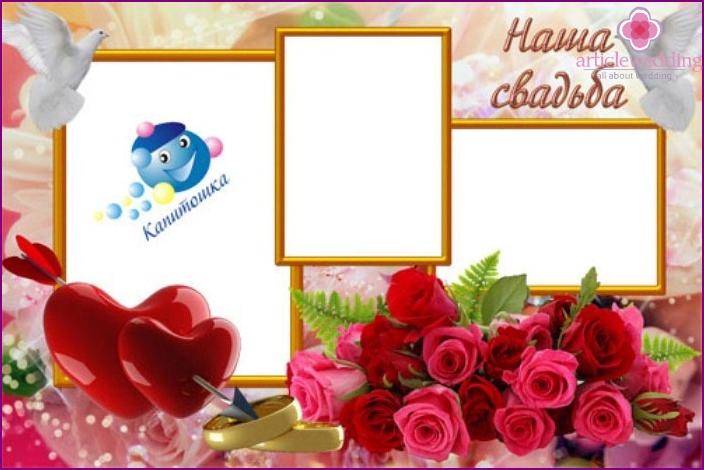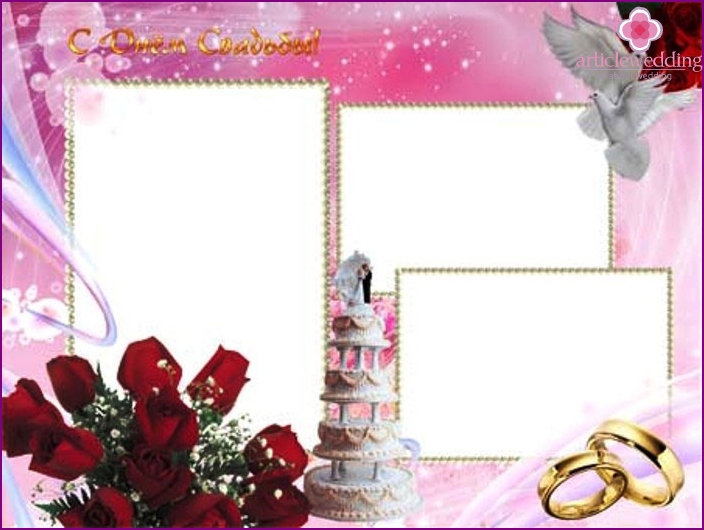 It is also necessary to follow the concept of a wedding, if any. At a maritime celebration, posters illustrating the ships, the sea, and the spouses who stand at the helm and set off on a long voyage together will look interesting. If this is an oriental-style wedding, draw blooming sakura, pink petals, and the pair that stands under them..
The original ideas shown in the video below will help you create beautiful wedding posters with your own hands:
How to make a bright, catchy poster
Present the newlyweds with a poster that will reflect their future life: draw a child, a beautiful house, a car, suitcases symbolizing travel. This bright decision will touch the husband and wife, they will surely keep it. Make a wedding poster from the heart, then it will forever be remembered by the heroes of the occasion.
The poster created for the wedding celebration will be a pleasant highlight of the holiday. You can use ready-made ideas for jewelry or come up with them yourself, most importantly - be guided by your taste.
What ideas did you like? Leave a comment.