Contents
---
---
The process of preparing for the wedding is accompanied by the search for memorable gifts for the newlyweds. How you choose a surprise for the bride and groom depends on your imagination. A great idea is to make a souvenir with your own hands, because it is a pleasure to receive such a surprise. The wish tree is considered an original wedding present: it serves to ensure that all guests can leave their wishes to the culprits of the wedding. A do-it-yourself wish tree for a wedding is easy. How to make this souvenir yourself?
How to make a DIY wedding wish tree?
To independently create a souvenir for the newlyweds for the wedding, you need to stock up on materials at hand and turn on your imagination. Think over all the details of your craft, consider several possible options for souvenirs, and only then proceed with its creation. There are several varieties of this gift: paper, wire, created using living branches. Consider the ways to create each variety, as well as the necessary materials.

Paper wish tree
A paper souvenir is the best option for a wedding. It can easily fit on a banquet table where all guests can leave their wish to the bride and groom. In addition, to make this priceless gift, you do not need to make much effort.
What materials will be needed
To make paper crafts, you need to purchase high-quality paper, as well as a frame where a template will subsequently be inserted. The size of the frame depends on the paper size. Also in the future, bright plug pillows, a pen and napkins will be needed. It is worth saying that now ready-made templates for this paper souvenir are available for sale..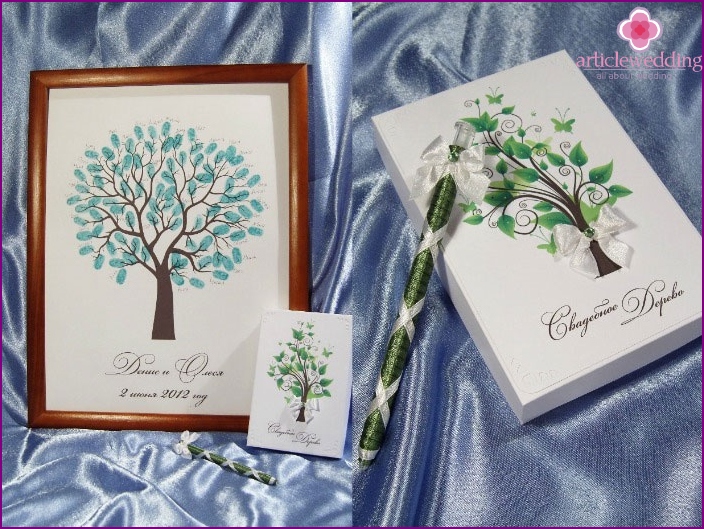 Stages of creation
Follow the step-by-step instructions that will help you make a wonderful paper product:
Draw a trunk, as well as branches, let the plant symbolize the bride and groom who create a young family. Sketching is preferably done with a black pencil or felt-tip pen. In addition, you can buy or print your favorite plant templates..
Insert the template into the frame. It would be nice to decorate the finished craft with beads, artificial flowers, ribbons - this will make it original.
During the celebration, guests alternately write their wishes on a branch, after which they leave a fingerprint using stamp pads. Do not forget to put napkins next to which guests can wipe paint residues from their fingers.
If you are having difficulty creating a paper tree, watch the video master class, which describes step-by-step instructions for creating a wish tree with your own hands:
For this solemn moment to remain in the memory of the newlyweds for life, take a photo or video during the process of leaving guests wishes. Viewing wedding photos and videos is a great way to refresh your experience..
Paper tree patterns
The template is the basis of the craft. As mentioned above, templates are allowed to draw on your own or print ready-made. If you draw poorly or don't have time to create a template manually, use the templates below. Colorize black and white patterns, decorate them with stylish decor elements - and you get an unusual craft!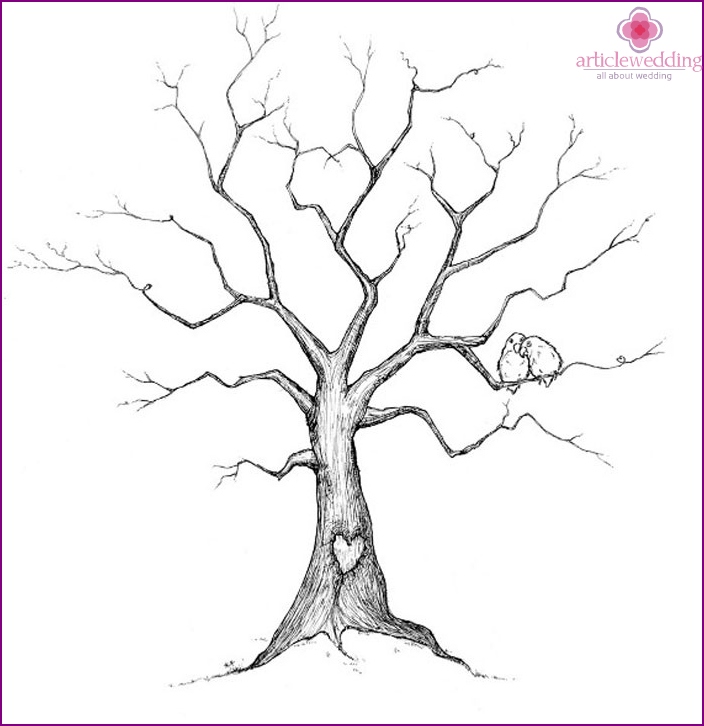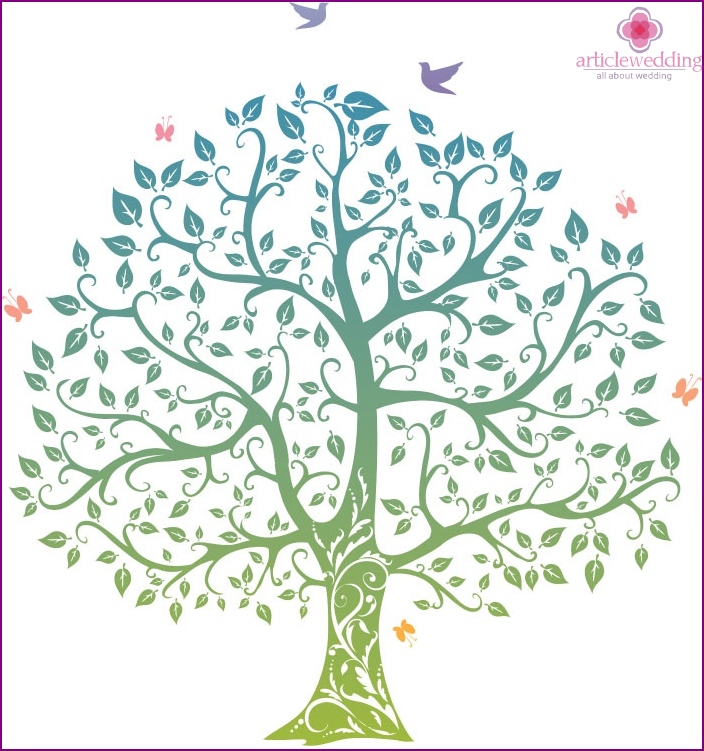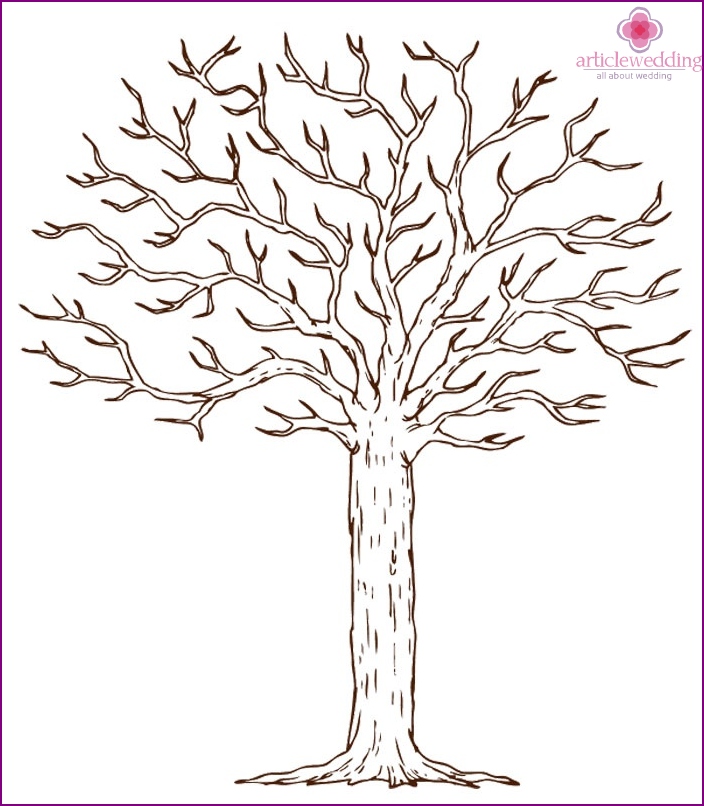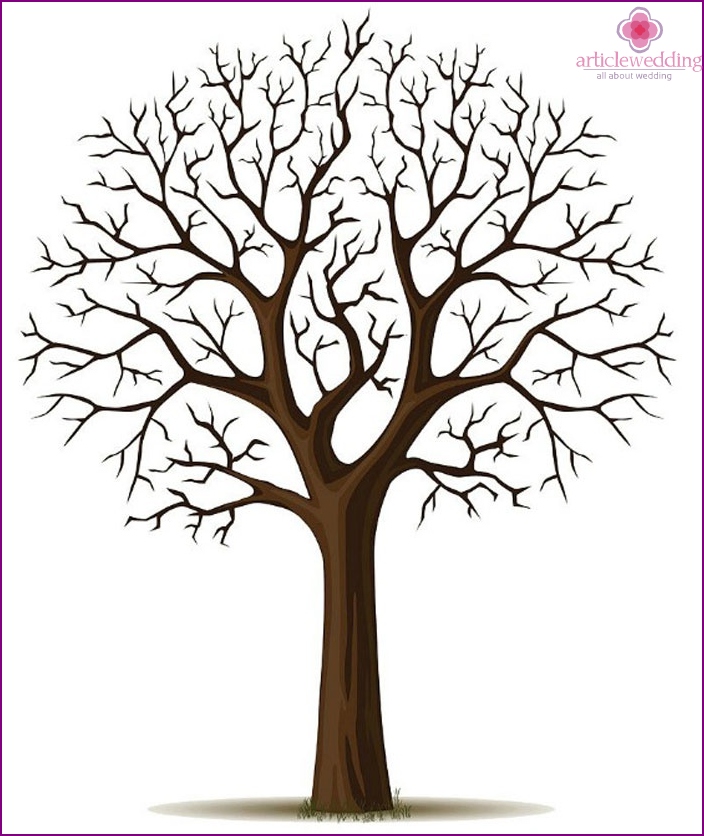 Wire tree?
This option is as simple as paper. To create it, you need a minimum of materials that can be found in every home. In addition, the product creation process does not take much time..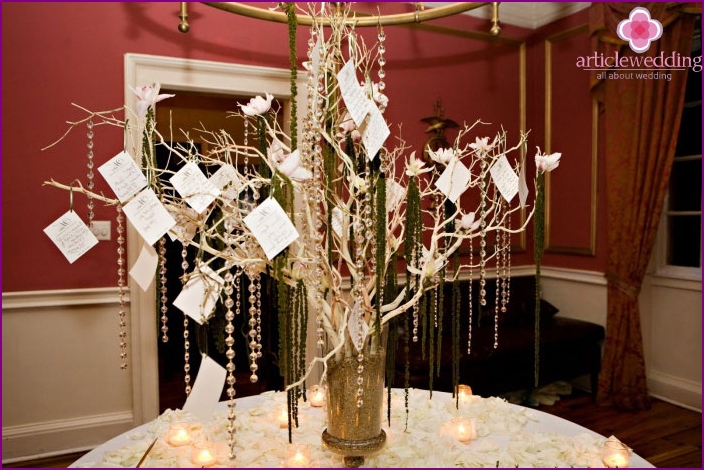 Necessary materials
To make such a tree, you will need a small glass or a vase, where you will later put the tree structure. The composition is created using a bundle of thin golden fishing line and pieces of wire. Also buy corrugated cardboard, double-sided tape, artificial glass flowers or birds for decoration. Additional materials are scissors, rice, stapler, colored paper - all of them will help you bring your idea to life.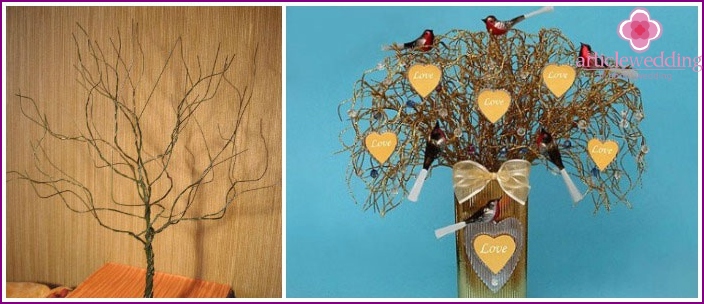 Stages of creation
Step-by-step instructions will help you do the crafts using your own wedding wire:
Fill a vase or glass with rice. Wrap a container with a rectangular piece of corrugated cardboard, secure it with tape or a stapler.
Next, create leaves where those present at the wedding will write their wishes. Cut cardboard and paper hearts, the number of which should equal the number of guests at the wedding.
Fasten cardboard and paper hearts together with glue. In the upper part of the heart, make a small hole where you need to pass a piece of wire. Thanks to her, the heart will be attached to the structure of the tree.
On long pieces of wire, plant decorative ornaments - birds or flowers. Attach them to the wire using tape or glue..
Insert a bundle of golden fishing line into the vase, which will serve as the basis and decoration of the composition. Next, insert the wire with decorations on the end. Hearts for wishes need to be hung on a fishing line or wire.
As you can see, a do-it-yourself wish tree made of wire for a wedding is easy, you need to acquire the necessary materials and be patient.
Tree of living branches
An original and special souvenir created with the help of living branches will complement the solemn ceremony of marriage and will surprise guests. Fashion for such a tree came to us relatively recently. More and more newlyweds prefer to decorate their wedding with this craft, which is made from natural materials. To create it, you will need improvised materials that you will purchase in any stationery store. Let's consider in more detail what you need to buy for the wish tree.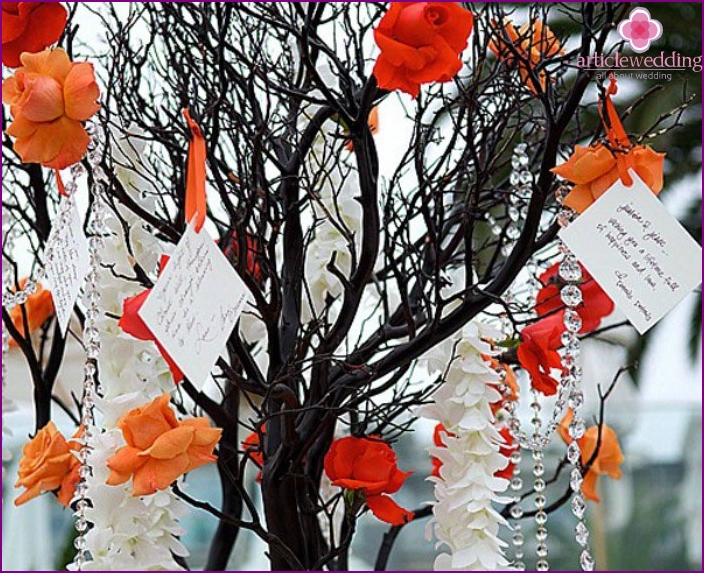 Necessary materials
The main element that you will need is several live branches. Their length should be approximately 1 m. Clean them from hard growths of the cortex, if any. To paint the branches, buy a regular spray with a golden or silver color. You will also need a vase, decorative pebbles, sheets of dense colored paper, ribbons, a hole punch.
Stages of creation
Consider how to make a wish tree from branches with your own hands for a wedding. Follow the detailed step-by-step instructions: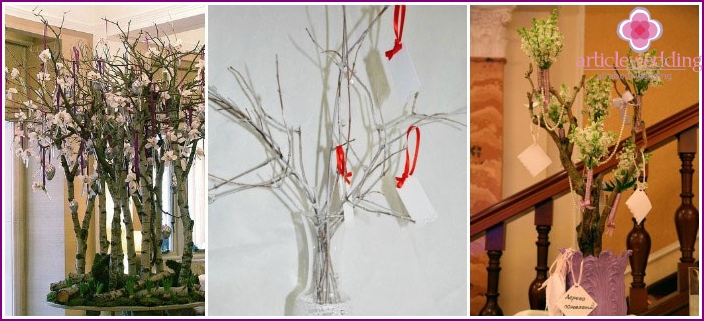 Spray the cleaned branches, leave them to dry.
Fill the vase with decorative pebbles. Insert dried branches into it. Keep them steady in the vase.
Cut out paper hearts or cards where guests write wishes to the bride and groom.
Using a hole punch, make holes in the leaves. Pass pieces of ribbons in them and tie.
Hang up wish lists.
Next to the wish tree, it is advisable to make an appropriate sign. Do not forget to put pens or felt-tip pens next to the vase so that guests can leave wishes.
Pictures of trees
To make the craft beautiful, look at pictures of finished souvenirs. In addition, pictures will become a source of fresh, original ideas if you are not able to come up with a wish tree design yourself.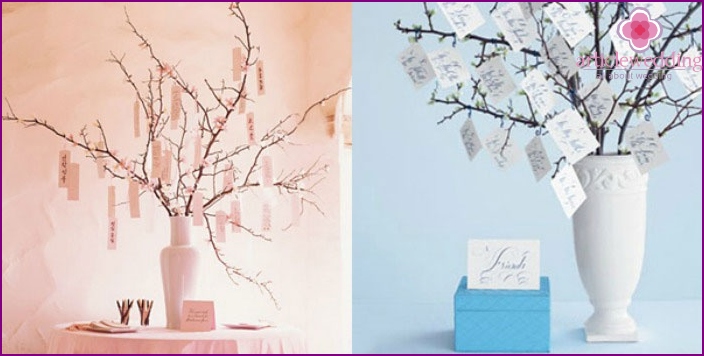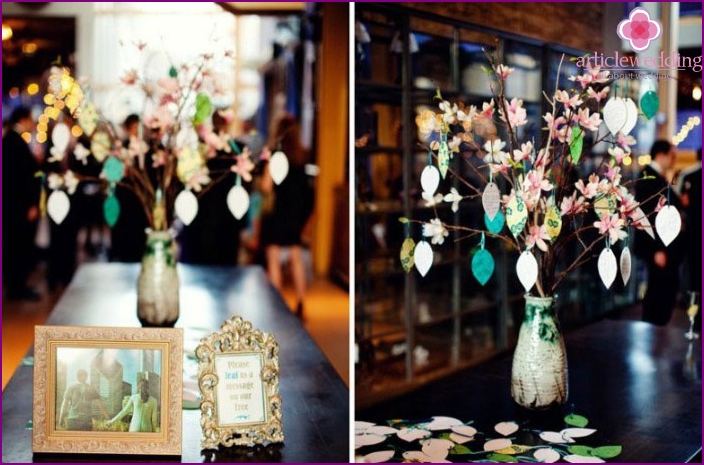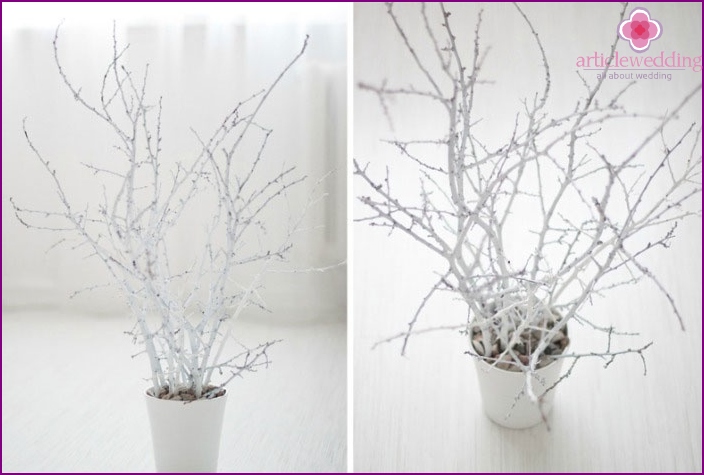 A souvenir tree will leave joyful memories of the wedding. Reviewing the guest wishes cards, the bride and groom will be charged with positive energy for further actions and the realization of their dreams.
Have you created such a tree yourself? Leave a few words about your experience in the comments to the article.!